Eight years ago, on his first visit to Europe after taking the presidency, Xi Jinping proposed that China and the EU "need to build four bridges for peace, growth, reform and progress of civilization, so that the China-EU comprehensive strategic partnership will take on even greater global significance," when addressing the College of Europe in Bruges, Belgium on April 1, 2014.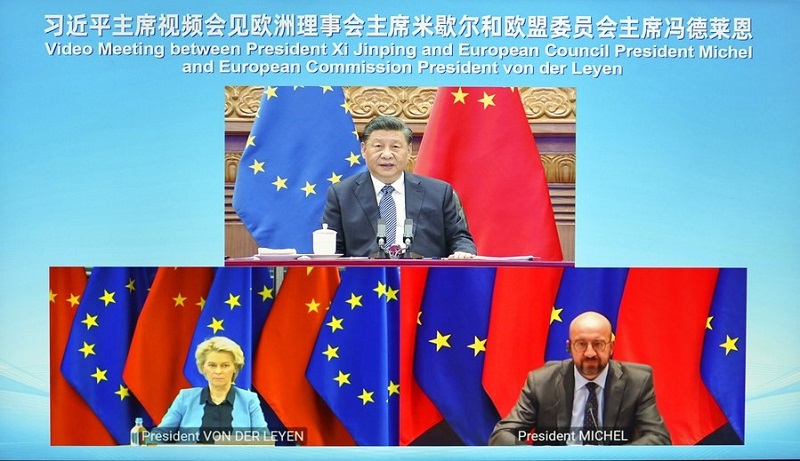 Chinese President Xi Jinping meets with European Council President Charles Michel and European Commission President Ursula von der Leyen via video link in Beijing on April 1, 2022. (Xinhua/Yin Bogu)
Showing the consistency of China's EU policy, in his virtual meeting with leaders of the European Council and European Commission on April 1, 2022, President Xi indicated, "China's vision remains unchanged. If anything, it has become more relevant under the current circumstances."
President Xi Jinping has emphasized on multiple occasions that as two major economies in the world, China and the EU should promote common development and deepen economic globalization through more cooperation. On May 6, 1975, the People's Republic of China and the European Economic Community, the predecessor of the European Union, officially established diplomatic ties, opening a new chapter in China-EU relations. Since then, the relationship between the two sides has witnessed steady progress from a constructive partnership formed in 1998 to a comprehensive partnership in 2001, and then lifted to a comprehensive strategic partnership since 2003. Bilateral Economic and trade cooperation has played an important role in advancing their partnership. Their trade volume reached an impressive US $800 billion in 2021, a veritable meteoric rise from the US $2.4 billion in 1975. It registered a 27.5 percent year-on-year growth last year, showing the great resilience and vitality of bilateral economic cooperation, despite the pandemic-induced negative factors. Continually bucking the global trend, the first two months this year saw their trade volume secure more than US $137 billion, an increase of 14.8 percent year-on-year, making the EU China's largest trading partner during the period.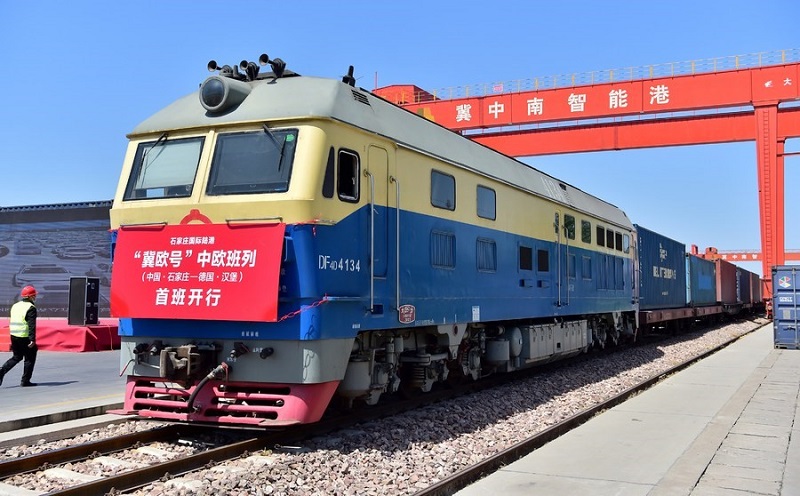 A freight train bound for Hamburg, Germany is ready to depart at the Shijiazhuang international land port in north China's Hebei Province, on April 17, 2021. (Photo by Zhang Xiaofeng/Xinhua)
The China-Europe freight train service, which started in 2011, has greatly facilitated their trade and economic activities. The cumulative number of China-Europe freight train trips topped 50,000 in early 2022. Data from the China State Railway Group show that during the period of 2016-2021, the value of goods transported by the freight trains rose dramatically from US $8 billion to US $74.9 billion. According to the railway group, with 78 routes planned, freight train service now links China with 180 cities in 23 European countries. Known as "steel camel fleets," China-Europe freight trains have helped stabilize global supply chains and ensured smooth transportation of much-needed medical supplies and assistance for countries along the routes during the pandemic.
When co-hosting a China-Germany-European Union (EU) leaders' meeting on September 14, 2020, President Xi Jinping stressed that as important trade and investment partners, the two sides should step up macro-policy coordination, take more measures and unleash more cooperation opportunities. On the same day, the landmark China-EU agreement on geographical indications (GIs) was officially signed, which went into effect on March 1, 2021. Intended to protect over 500 Chinese and European GIs in each other's markets, the agreement has set a milestone in intellectual property protection between the two sides. Now, under the agreement, a range of Chinese products like Anji White Tea, Pixian Bean Paste, and Yantai Apple, along with a series of goods from Europe including Danablu cheese, Alsace wines, and Brandy de Jerez, are becoming even more popular in each other's markets, benefiting consumers with guaranteed quality and authenticity.
Meanwhile, the expanding investment of the two sides in each other is another highlight of their economic ties. Despite the COVID-19 pandemic, the two-way investment between China and EU surpassed US $270 billion in 2021. In his latest virtual meeting with EU leaders in April, President Xi indicated that China welcomes European business investment and expects the EU to provide a fair, transparent and nondiscriminatory environment for Chinese business investment and development in Europe.
The Business Confidence Survey 2021, released by the European Union Chamber of Commerce in China, shows that 68 percent of the 585 responding member companies are optimistic about future growth in China, and their commitment to the China market remains strong, with a mere 9 percent of respondents considering shifting any current or planned investment out of China.
Meanwhile, Chinese enterprises also registered an uplifting performance in Europe. An annual report published by the China Chamber of Commerce to the EU reveals that Chinese enterprises saw a total turnover of €150.3 billion in the 27 EU member states in 2020, up 1.4 percent year-on-year, creating 320,000 job opportunities.
In recent years, cooperation between China and the EU has branched out from the original economic sphere into a wide range of sectors, including peace, security, environment, science and technology, culture, education, and health care among many others. China and the EU have correspondingly established more than 70 consultation and dialogue mechanisms. Bilateral exchanges and cooperation have thus been greatly expanded and enhanced.
Forging a China-EU green partnership has been frequently highlighted in Xi's meetings with EU leaders over the past several years. The EU declared its European Green Deal in 2019, with the set goal of reaching carbon neutrality by 2050. Doing what it can, China is honoring its commitment to peaking its carbon emissions before 2030 and becoming carbon neutral by 2060. Great cooperation opportunities are being tapped by the two sides in their endeavors to achieve green transformation. Malta's Gozo Island, which aims to become the EU's first carbon-neutral island, is benefiting from the expertise of China's Shanghai Electric Power Company in wind, solar and hydrogen power. Owing to their mature technologies, Chinese companies have been involved in many wind farm construction projects in Europe, including the Mediterranean's first offshore wind farm in southern Italy and Croatia's largest wind farm. Meanwhile, in China, the Denmark-manufactured wind turbines installed in Fuxin are helping the once coal-dependent city in northeast China's Liaoning Province to achieve their green development goal.
China and the EU, representing two great civilizations that have advanced progress of humanity, have the potential to play a leading role in steering the now turbulent world towards peace and prosperity by working together. China has been sticking to a consistent and continuous independent EU policy. However, the EU side has been constantly held hostage by its U.S. ally in its China policy. The suspension of the EU-China Comprehensive Agreement on Investment is one such example. President Xi Jinping, in his latest virtual meeting with the EU leaders, called on the EU "to form its own perception of China, adopt an independent China policy, and work with China to promote the steady and sustained growth of China-EU relations and to add stabilizing factors to a turbulent world."
In the much anticipated China-EU virtual summit on April 1, the two sides' stances on the Ukraine crisis have drawn great global attention. President Xi stressed that China advocates the vision of common, comprehensive, cooperative and sustainable security. He also shared his views regarding how to settle the Ukraine crisis. "China supports Europe, especially the EU, in playing a primary role, and supports Europe, Russia, the U.S. and NATO in holding dialogue to face up to the tensions that have built up over the years and find solutions, so as to build a balanced, effective and sustainable security framework in Europe," Xi emphasized. In particular, he cautioned that the international community should prevent the regional conflict from magnifying, and must not "allow attempts to politicize or weaponize the world economy as a tool to serve one's own agenda, as such attempts will trigger serious crises in global finance, trade, energy, technology, food, industrial and supply chains among others."