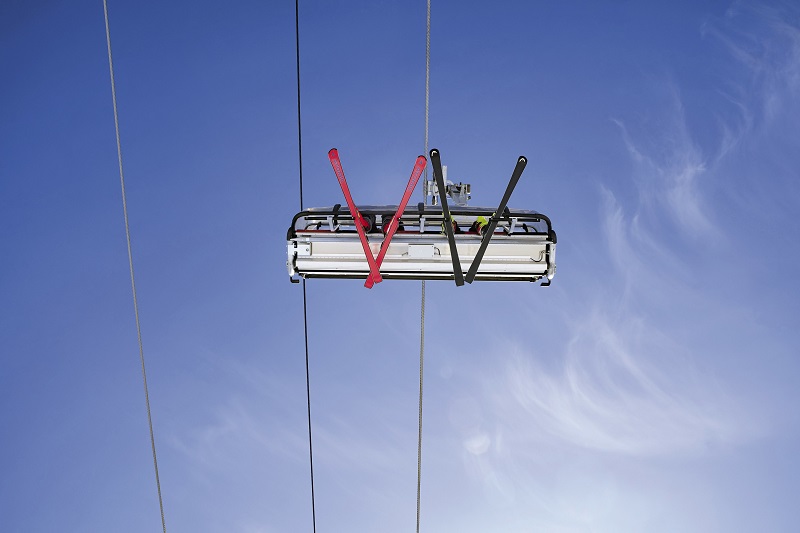 A chair lift passes over the ski resort. Photos courtesy of Li Yichen
Attached to Skiing
Li studied nuclear engineering at Sun Yat-sen University and in early 2016, he was selected for an exchange program at Grenoble Alpes University in France to finish his last year of study and complete his thesis. Instead of applying to stay at the university dormitory, Li chose to rent a room in a local house, hoping to become immersed in the local culture and practice French with his roommates. In addition to his research at the SIMaP laboratory affiliated to the university, he also actively made the most of his leisure time. For example, he tried various types of food in Lyon, enjoyed the beauty of Annecy, and even traveled to countries around France. In addition, he got to take his first skiing trip to Grenoble and was lucky enough to enjoy a concert by his favorite band Green Day.
As the transportation hub and ski resort in the Alps region, Grenoble has well-developed industrial, science, education, and tourism sectors. Several snowfields surrounding the city attract skiers from all around the world. Li's first skiing trip was to Morzine-Avoriaz near the Swiss-France border. He enjoyed the splendid beauty of the snowy mountains, and despite feeling exhausted afterwards, began to become interested in the the sport. Li later managed to visit other ski resorts in France, and gradually developed his skills.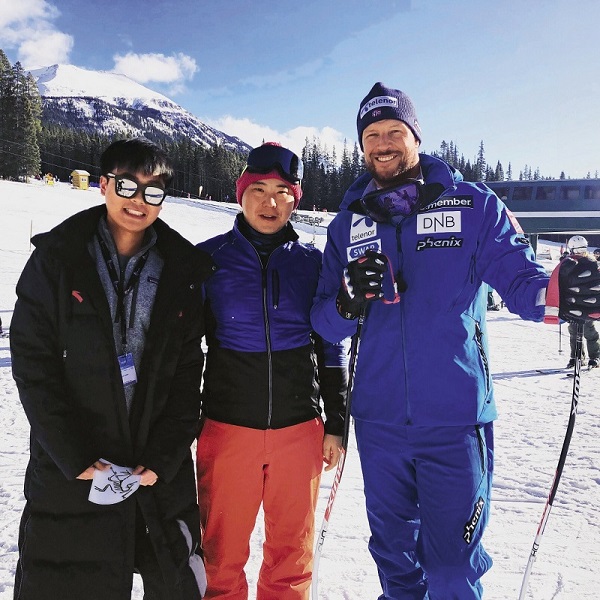 Li Yichen (left), his leader, and Norwegian former World Cup alpine ski racer Aksel Lund Svindal (right) at FIS Alpine World Ski Championships 2019 in Åre, Sweden.
Link up with Beijing 2022
In July 2017, Li obtained his master's degree and returned to Beijing. At that time, he received a Ph.D. offer in France, while also considering finding employment. During this time, a message from his French alumni group caught his attention: Compagnie des Alpes (CDA), a leading French company that operates many ski resorts in Europe, was looking for someone with knowledge in engineering and French to be part of their consultation in design, operation, and marketing for the Thaiwoo Ski Resort at the Zhangjiakou competition zone of the Beijing 2022 Winter Olympics. Li applied and secured the position. Although his field of study was not related to the sports industry, Li quickly adapted to his new job, using his French language and culture skills to great advantage. After a year at the Thaiwoo Ski Resort with CDA, he accumulated valuable working experience and quickly became familiar with all sectors of the skiing industry.
In 2018, Li left CDA and joined a company under the Beijing Enterprise Group Company Limited, which manages the operation of Yanqing competition zone. The Yanqing competition zone, located in the northwest of Beijing, has the most newly built venues among the three competition zones of Beijing 2022, including the National Alpine Skiing Center and the National Sliding Center. It boasts the highest standards of construction in Olympic history. Li now mainly handles overseas visits for the operation team, liaison with technical officers of International Ski Federation (FIS), and cooperation with business brands. During the last three years of operation, he has ensured that more than 120 foreign technical experts could participate in relevant events in Beijing. During this time, he has also worked with the French food brand Andros to bring high-quality fruit-based foods for the Olympic athletes and support staff. In the coming winter Olympic Games, Li will work as FIS Technical Officer Liaison to serve domestic and foreign teams.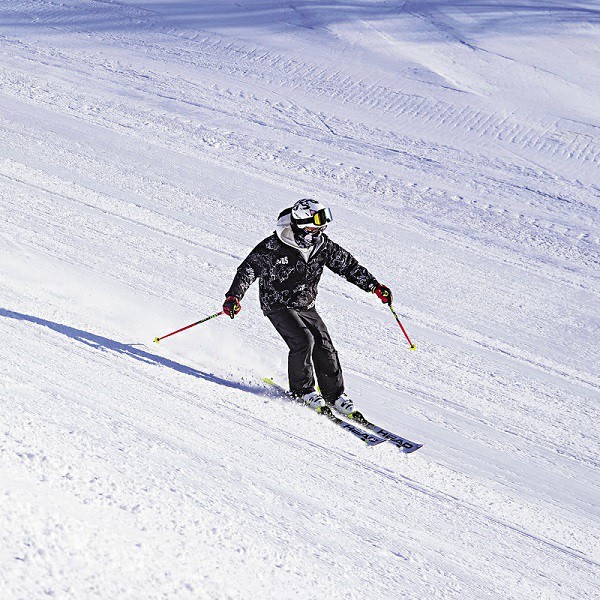 Li Yichen is skiing at the National Alpine Skiing Center.
A Shared Future
According to the post Winter Olympics plan, the alpine skiing field will be redesigned and the competition area will be rebuilt into the Yanqing Olympic Park. This will provide a high-quality venue for skiers, while promoting the sustainable use of Winter Olympic facilities. "The successful holding of Beijing 2022 will be another starting point," said Li.
Li believes that along with the atmosphere of Beijing 2022, the Chinese people are getting more and more enthusiastic about winter sports, which will also allow the sports industry to enter a stage of rapid development in the near future. "We can seize this opportunity to enhance exchange and cooperation between Chinese and foreign sports industries, competitions, and brands," said Li. He also said there is a large potential for the cooperation between Europe and China in the fields of event commercialization, commercial sponsorship, ski clubs, technical and safety standards for games, chain operation of ski resorts, and sports technology.
Li is committed to supporting the exchanges of sport events and brands between China and the world. Coinciding with the Olympic Day on June 23, 2021, Li, together with Hou Kun, member of the IOC Culture and Olympic Heritage Commission, Pascal Gentil, a famous French taekwondo practitioner, and other outdoor fashion and cultural celebrities founded the China-France Sports Friendship Association, enhancing sports diplomacy between China and France. Events like Beijing 2022, Paris 2024, and the 60th anniversary of diplomatic relations between China and France will further promote communications in the fields of Olympic Games, sports, culture, and business.