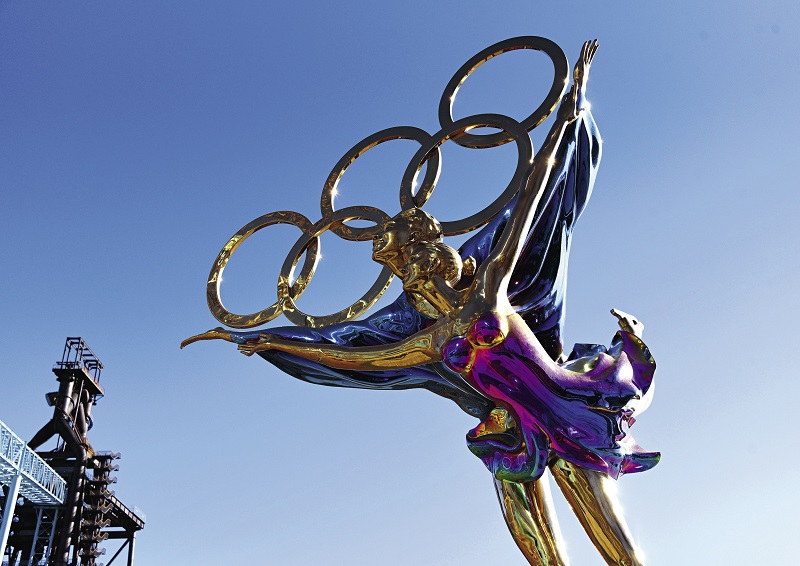 As the Olympic Winter Games Beijing 2022 is drawing near, Olympic elements can be spotted everywhere in the vicinity of the Shougang Industrial Park, a competition venue for the Games in Beijing.
The final countdown to the XXIV Olympic Winter Games Beijing 2022 has already begun. The Olympic Winter Games will take place between February 4 and 20, followed by the Paralympic Winter Games from March 4 to 13. Hosting this Olympics will make Beijing the only city in the world to have ever held both summer and winter Olympics. With the motto "Together for a Shared Future," Beijing 2022 will demonstrate to the world how sports can inspire people to overcome global challenges as a community of a shared future and unite under the Olympic flag, transcending political, religious, and ethnical differences.
Committed to being "green, inclusive, open, and clean," Beijing 2022 will set a new record in Olympic history for its low-carbon arrangement and sustainable plan that includes supplying 100 percent renewable-energy-generated electricity. Meanwhile, closed-loop management as well as necessary facilities for COVID-19 testing, quarantining, and emergency response will be in place at all competition venues to ensure a safe Winter Games amid the still raging pandemic. In addition, new technology has been applied in each venue and the Winter Olympic Village to bring more convenience to athletes and add a hi-tech touch to the Games.
With seven major events that include 109 minor events to be held in three competition zones, Beijing 2022 is now ready to welcome athletes as they testify the Olympic creed, "The important thing in life is not the triumph, but the fight."