In the sprawling Daxing International Hydrogen Energy Demonstration Zone in southern Beijing, adjacent to the new international airport, a white building resembling a spaceship is an eye-catcher. It is Hypower, the world's largest hydrogen refueling station. With eight machines and a daily hydrogenation capacity of 4.8 tonnes, it beats all competitors across the globe hands down.
The demonstration zone is supported by special policies and funds, and the 139 enterprises operating in it are provided with hydrogen testing facilities and business services, as well as application scenarios. According to Ren Juanjuan, deputy director of the Economic and Information Bureau of Daxing District, the enterprises include both upstream and downstream hydrogen companies, who have built their R&D and manufacturing centers here. The result is a full industrial chain of hydrogen fuel cell vehicles and an integrated "hydrogen energy innovation ecosystem" serving Beijing and its two neighbors, Tianjin and Hebei Province.
Future of Hydrogen Fuel Industry
Hydrogen is a clean secondary energy that is easy to store, renewable, and with wide sources but zero carbon emissions. Therefore it is becoming a new key to solving the energy crisis and building a clean, safe, and efficient modern energy system.
In March 2022, China issued a medium- and long-term plan for development of the hydrogen energy industry by 2035. One target of the plan is to build five hydrogen fuel cell vehicle demonstration city clusters. Beijing, one of the core cities, has its own plan for the development of the hydrogen energy industry. By 2025, the plan envisions the construction of a hydrogen energy industry chain ecosystem and a high-end hydrogen equipment manufacturing and application demonstration zone in the capital's southern part. By 2023, there should be five to eight leading enterprises in the industry chain with international influence, and the scale of the Beijing-Tianjin-Hebei industrial chain should cross RMB 50 billion (US $7.1 billion). The capital will also have 37 hydrogen refueling stations.
Hydrogen fuel cell manufacturer SinoHytec, the first company of its kind to be listed on the Shanghai Science and Technology Innovation Board in 2020, is located in the Daxing demonstration zone. Though its production line has an annual output of 3,000 hydrogen engines, there are only eight human workers, whose job is to assemble the precision parts. Hi-tech robots shuttle back and forth along the production line doing the manual tasks such as lifting parts.
Yu Min, executive vice president of SinoHytec, said the company's new generation hydrogen fuel cell engine, over which it has core intellectual property rights, is of advanced international standards.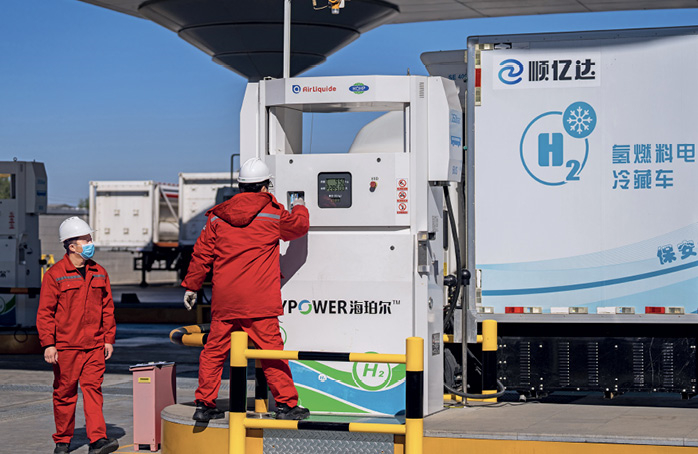 Workers filling up a hydrogen fuel cell vehicle at the Hypower hydrogen refueling station.
Net Zero Efforts
Today, Beijing's hydrogen fuel cell vehicles cover a wide range of areas, including public transport, sanitation, and logistics. As of October 20, 2022, there were over 200 hydrogen buses running in the city.
The engines of these buses have gone through rigorous tests. In January 2020, they were tested in extreme cold weather in Inner Mongolia. The buses were kept at -30oC for more than eight hours and then tested for ultra-low temperature start. The engines started in 116 seconds. The successful test led to their deployment at the venues of the Beijing 2022 Winter Olympic Games. It also showed their roadworthiness in the cold northern parts of China.
Compared with traditional fuel vehicles, hydrogen fuel cell vehicles have three unique advantages. They have a short refueling time and high mileage. The 12-meter-long hydrogen fuel cell bus, for example, takes only 10 minutes to refuel and can be driven up to 300-400 kilometers. Second, they are pollution-free. They emit only water vapor. Also, they can operate normally at temperatures as low as -30oC to -60oC.
With China's new energy drive adopting a multi-track solution, hydrogen fuel cell vehicles and pure electric vehicles can complement each other. While electric cells can be used for carrying light loads and short distances, hydrogen fuel cells can serve heavy loads and long distances to achieve zero emission in transport.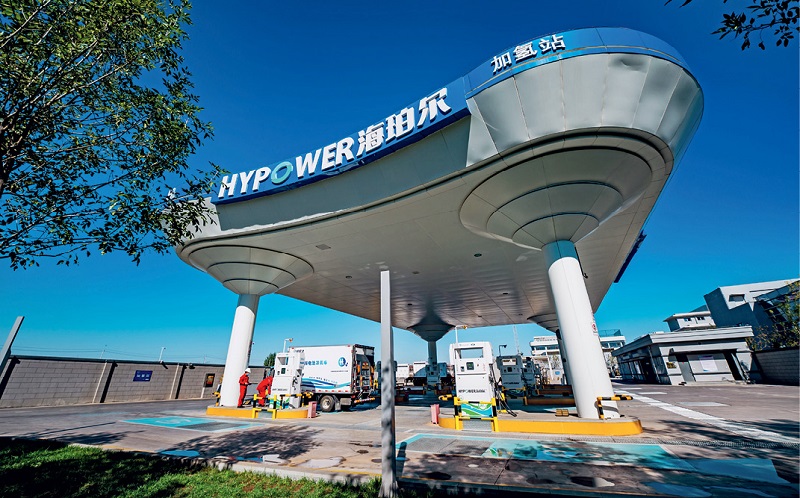 Hypower is the world's largest hydrogen refueling station. Photos by Zheng Liang
New Growth Pole
The Daxing demonstration zone has 139 registered companies. Ren Juanjuan said that in the early years, most of the key components and materials of hydrogen fuel cell vehicles were imported. Today, they can all be found locally, except for a few components like semiconductors. Ren said local companies now have the technology to manufacture the eight core components of hydrogen fuel cells. The supply of products has sped up, while the cost of key raw materials has gone down.
Beijing Wenli Technology, a domestic hydrogen engine R&D and manufacturing enterprise in the zone, has independently developed a series of fuel cell products. These are used in commercial vehicles and engineering machinery and have been expanded to non-vehicle fields like mobile power sources. Kewell Technology, established in 2011, is a hi-tech enterprise manufacturing test power equipment. Tai Kun, the company's vice chairman, said they provide professional test power supplies and systems for the many businesses in the demonstration zone.
Infrastructure construction is a key link in the industry chain. According to the National Energy Administration, by June 2022, there were more than 270 hydrogen refueling stations in China, the highest number in the world, accounting for about 40 percent of the global total. Within the Daxing zone, the engines assembled on the production lines of SinoHytec and Beijing Wenli Technology can be tested in Kewell Technology. Hydrogen is directly transported from Hypower to the test center through pipelines. All these coordinated facilities mean fast, convenient and efficient service for the Beijing-Tianjin-Hebei region.
"If there are more hydrogen refueling stations, there will be explosive growth in hydrogen fuel cells," said Zuo Linlin, deputy general manager of Beijing Wenli Technology.
With the maturity of hydrogen energy technology and the mounting pressure created by climate change, the hydrogen energy industry is growing worldwide. The United States, European Union, Japan and other developed countries are making developments of the industry part of their national energy strategy and have taken substantive steps in the industrial application of hydrogen energy. Both governments and industrial capital are promoting the development of the industry.
The International Association of Hydrogen Energy estimates that by 2050, 20 percent of carbon dioxide emissions will be reduced by the use of hydrogen energy. The industry will create 30 million jobs, reduce six billion tonnes of emissions, and create a market value of more than US $2.5 trillion. Hydrogen energy vehicles will account for 20-25 percent of all vehicles in the world, and hydrogen cells will meet more than 18 percent of the world's energy demand, taking the lead in shaping a decarbonizing society.
According to the China Hydrogen Energy Alliance, the output value of China's hydrogen energy industry will reach RMB 1 trillion (US $145 billion) by 2025; by 2050, the country's hydrogen demand will be close to 60 million tonnes, and the annual output value of the industry chain will be RMB 12 trillion (US $1.7 trillion), becoming a new economic growth pole.