Green was a theme running throughout this Winter Olympics. Hydrogen, a clean energy, was widely used in the Beijing Winter Games because of its quality of only forming water after being burned. In addition to torch fuel, hydrogen energy was also used in vehicles in the various competition zones.
According to data provided by Zhangjiakou Hydrogen and Renewable Energy Research Institute (hereinafter referred to as "the Institute"), 710 hydrogen fuel cell vehicles were distributed throughout the Zhangjiakou competition zone for use during the Winter Olympics, 623 of which were in Chongli District, a major competition site for the snow events.
According to Wang Hewu, executive director of the Institute and associate professor at Tsinghua University, the Beijing Winter Olympics set a precedent for the large-scale use of hydrogen in Olympic events. "During the Beijing 2008 Olympics and the Tokyo 2021 Olympics, a small number of hydrogen fuel cell vehicles were put into operation, but during this Winter Olympics, more than 1,200 such vehicles were used, the largest number in the history of the Olympic Games," said Wang.
To ensure athletes had a comfortable environment, vehicles were generally left in a standby mode when not in use, and energy consumption was relatively high. "Ideally, one kilogram of hydrogen can replace about five liters of diesel, reducing carbon dioxide emissions by about 15 kilograms," Wang explained. According to data from the Institute, during the 2022 Winter Olympics, the Zhangjiakou competition zone used a total of 94.3 tons of hydrogen, reducing carbon emissions by 1,414.5 tons, equivalent to the absorption of more than 68,000 trees.
"Compared with traditional fuels such as diesel and gasoline, hydrogen is free of the emission of particulate matter, nitrogen oxides, and other pollutants. As regards to the reduction of carbon emissions, although no effect can be seen in the short term, it will have a considerable impact on reducing the greenhouse effect in the long run," said Wang.
Energy Revolution Promoter
Since 2017, Zhangjiakou has been actively promoting the coordinated development of hydrogen energy and renewable energy, and advancing technological innovation and demonstration applications in the hydrogen energy industry.
"In 2019, the Zhangjiakou municipal government, Beijing Tsinghua Industrial R&D Institute, and China EV 100 Association jointly established the Institute with the goal to help accelerate the realization of low-carbon energy use, provide renewable energy solutions that can be used for reference and be replicated nationwide, and promote the application of hydrogen energy in a wider range of terminals," Wang said.
The Institute gives full play to its role as a think tank and provides strong support for the government's decision-making on the development of the hydrogen energy industry. It also helps integrate industry resources to carry out technical innovation and application of scientific and technological achievements. In addition to this, the Institute holds forums, symposiums, and international exchanges on hydrogen energy and renewable energy, and extends invitations for cooperation to domestic and foreign experts and relevant international organizations.
"We took Zhangjiakou as an example for the use of hydrogen fuel cell vehicles in cold areas, providing experience for follow-up promotion," Wang said, adding that today's domestic fuel cell technology can meet the needs of actual operation. "We have mastered the cold start technology, which allows fuel cell vehicles to start quickly in an environment of minus 35 degrees Celsius. This was unimaginable 10 years ago," said Wang.
To better serve the Beijing Winter Olympics, an energy big data center was built on the basis of the Institute's research. All data of hydrogen production, refueling, transportation, and vehicle operation in Zhangjiakou were accessed. Wang further explained that by tracking and analyzing the data of the whole industry chain, the overall layout was optimized to ensure safety and reduce costs. The data center participated in the Hydrogen Energy Travel project of the Ministry of Science and Technology for the Winter Olympics, provided data storage and display, and provided scientific and technological guarantees for the green Winter Olympics.
Up to now, the data center has completed the development of 15 data products, including carbon peaking and carbon neutrality process analysis and analysis of the Winter Olympics electricity economics. Its work has assisted new energy stations in improving the quality and efficiency of their services, promoted social progress, helped improve people's livelihood, and supported the Winter Olympics.
Independent Innovation
Major breakthroughs have been made in independent innovation regarding hydrogen energy in recent years. Taking the vehicle application as an example, according to Wang, the most critical part of fuel cell vehicles is the fuel cell system. Ninety percent of domestically made fuel cell vehicles used imported systems in 2015. By 2019, home-made systems had reached more than 50 percent.
During this Winter Olympics, a hydrogen fuel cell system, fuel cell stack, and some hydrogen storage cylinders, and air compressors used in Chongli were all provided by Chinese enterprises such as Beijing SinoHytec Co., Ltd. and Shanghai Shenli Technology Co., Ltd. SinoHytec also cooperated with automobile enterprises to provide technical support in Yanqing and Chongli competition zones by investing more than 700 hydrogen fuel cell vehicles. SinoHytec has carried out research on key technical issues such as gravimetric energy density and environmental adaptability of hydrogen fuel cell systems. Relying on its own independent research and development, SinoHytec has developed internationally advanced vehicle fuel cell systems and related products with independent intellectual property rights.
According to China's hydrogen fuel cell vehicle development roadmap in 2019, by 2025 nearly 100,000 fuel cell vehicles will be put into operation, and this number is expected to skyrocket to one million between 2030 and 2035. China has so far established five fuel cell vehicle demonstration city clusters, and this number is expected to grow in the near future.
When discussing the misunderstanding that some people equate hydrogen energy with fuel cell vehicles, Wang explained that the application of hydrogen energy in transportation plays a pilot role, and it can actually be applied in a wide range of fields, such as manufacturing, electric power, and construction. "We hope that the use of hydrogen at the Winter Olympics will promote the use of this clean energy in more domestic fields, which would be of great benefit to the realization of the carbon peaking and carbon neutrality goals."
The White Paper on China Hydrogen and Fuel Cell Industry 2020 released by China Hydrogen Alliance in April 2021 shows that China's hydrogen energy production currently ranks first in the world. And it is expected that the output value will reach RMB 1 trillion by 2025. To achieve the carbon neutrality goal in 2060, hydrogen will play a significant role in hard-to-decarbonize sectors such as heavy industry, transportation, and interior heating. "The annual demand for hydrogen will quadruple to about 130 million tons by 2060, and the hydrogen consumption in the transportation sector will exceed 40 million tons," predicted Yu Zhuoping, director of the Expert Committee of China Hydrogen Alliance and professor at Tongji University.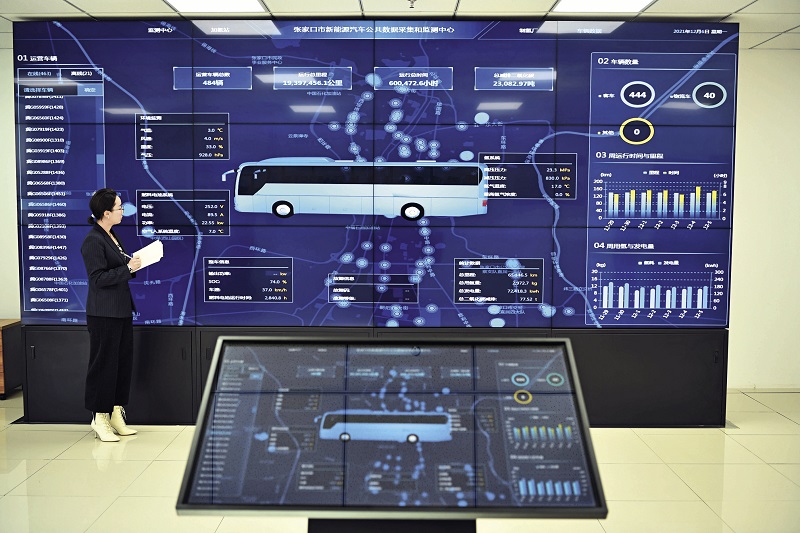 A worker checks the data of new energy vehicles at Zhangjiakou Hydrogen and Renewable Energy Research Institute on December 6, 2021.
Boosting the Economy
The 2022 Winter Olympics undoubtedly showcased China's achievements in the field of hydrogen fuel cell vehicles. In fact, hydrogen buses appeared on the streets of Zhangjiakou as early as 2018. The city now has put 484 hydrogen fuel cell vehicles (including a small number of logistics vehicles) into operation, and 444 buses of them have carried over 62 million passengers and covered 21 million kilometers. Zhangjiakou is one of the cities operating a large number of fuel cell vehicles with stable performance in China. It was evaluated as the largest fuel cell bus operation area in China by the United Nations Development Program.
Zhangjiakou established China's first provincial-level hydrogen energy industry innovation center in 2020. The Fuel Cell Vehicle Demonstration City Cluster, which is led by Zhangjiakou and includes 13 cities such as Tangshan in Hebei, Wuhai in Inner Mongolia, and Fengxian District in Shanghai, was officially approved in December 2021. Currently Zhangjiakou has issued a number of policies for development of the hydrogen energy industry.
Relying on the strength of its hydrogen industry, Zhangjia-kou has cultivated and introduced 18 upstream and downstream firms such as SinoHytec, striving to build China's first-class hydrogen energy industrial cluster and equipment manufacturing base. At present, integrated development of upstream and downstream industries such as production and storage equipment manufacturing, fuel cell engines, key components, hydrogen vehicle manufacturing, and hydrogen fueling infrastructure is taking shape.
"In the future, Zhangjiakou will continue to focus on key areas and links of the hydrogen energy industry, carry out projects to extend and strengthen the industrial chain, and create full-chain development of the hydrogen energy industry," said Yin Xuguang, director of the High-tech Department of Zhangjiakou Development and Reform Commission.