The continuous opening-up of China's service sector has boosted the global economic recovery.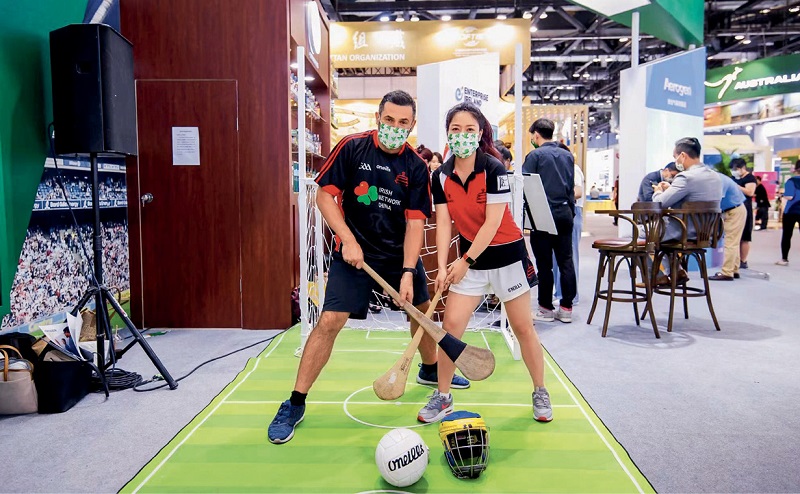 Visitors to the Ireland Pavilion of the CIFTIS 2022 playing Gaelic football.
The China International Fair for Trade in Services (CIFTIS) held annually in Beijing is regarded as one of the three major platforms for China's opening-up to the international community, together with the China International Import Expo in Shanghai and the China Import and Export Fair in Guangzhou. This year's edition, held from August 31 to September 5, was special as it marked the 10th anniversary of CIFTIS with statistics to rejoice at.
The service industry currently accounts for 65 percent of the global GDP, and provides two thirds of employment in developing countries and four fifths in developed countries. According to the Report on China's Development of Trade in Services (2021), China's service trade has seen an annual growth of 6.1 percent over the past decade, twice the growth rate of services trade globally. For eight consecutive years, China's services import and export volume has ranked second globally only after the United States with partners from more than 200 countries and regions.
This "circle of friends" is still expanding. This year, 71 countries and international organizations exhibited at the CIFTIS, 13 more than in 2021. They included 10 first-timers, including the United Arab Emirates (UAE), Switzerland, Italy, and Australia. In addition, more than 400 of the world's Top 500 companies and other leading enterprises joined in on the scene.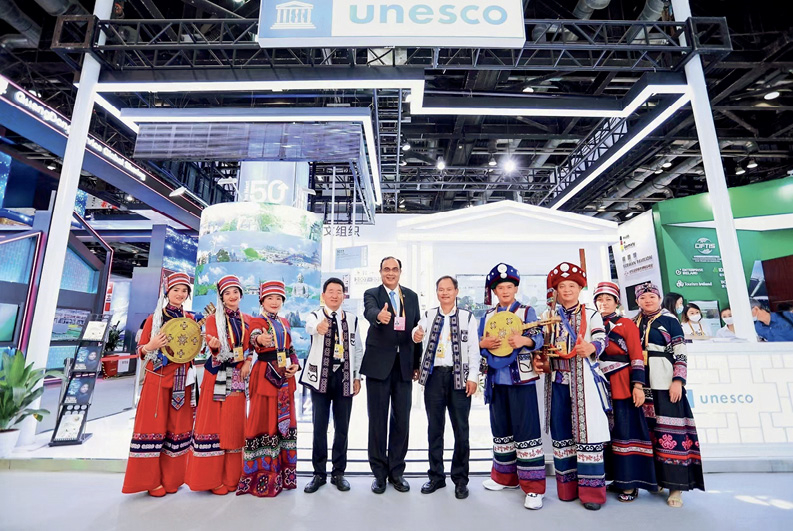 Representatives from UNESCO's flagship programs for sustainable development of ethnic groups in southwest China's Yunnan Province show up at the CIFTIS 2022.
Growth Trends
The 8,000-square-meter exhibition area for the national pavilions of different countries was particularly eye-catching. At the Irish pavilion, visitors vied to taste cream liqueur and honey whisky. Since its CIFTIS debut in 2017, Ireland has become one of the permanent attendees and was the guest of honor last year.
Joseph Keating, counselor of science and technology innovation at the Irish Embassy in China, was seen in front of the product display booth with the logo of China-EU Geographical Indications (GIs). A GI is an intellectual property right given to a product certified to originate from a particular location and having had the qualities attributed to that location. He called the CIFTIS "an opportunity to present Ireland's industrial strengths – an ideal investment destination with top agricultural products, hi-tech innovation capability, prestigious higher education, and tourism with a unique culture." The natural materials, quality and high food safety standards coincide with the healthy lifestyle being pursued by the Chinese middle class, he added.
As a small economy, Ireland is reliant on international trade and increasingly on trade in services. From 2010 to 2020, total Irish trade rose 171 percent from €295 billion to €799 billion. While trade in goods increased by 78 percent, trade in services increased a whopping 254 percent.
Ireland is looking to digital economy to power innovation. Keating told China Today that Ireland is the fifth largest financial service center in Europe. Its financial services sector made its debut as a group at this year's CIFTIS. Industrial Development Agency Ireland, the Irish agency for attracting foreign direct investment, presented Ireland as an investment destination with a business-friendly environment.
"We have a young, international, and highly educated workforce and our tax regime is one of the most consistent, open, transparent, and competitive systems in the world," he said. This has made Chinese tech giants such as Huawei, Tencent, and TikTok make significant investments in Ireland. Tourism Ireland and Tencent Culture and Tourism have together developed the "Explore Ireland," which gives a virtual tour of Ireland and its festivals, complete with instructions on how to obtain a tourist visa.
Keating shared a set of data on China-Ireland trade. From 2010 to 2020, total trade in services between the two countries rose nearly sixfold from €2.1 billion to almost €12 billion. The acceleration has been especially discernible during the past three years. Given the sluggish global economy under the pandemic, it is a testimony to the potential of trade in services.
Ireland is also the second largest exporter of medical technology products in Europe. At this year's CIFTIS, two Irish medtech firms Aerogen and Novaerus displayed portable air disinfection equipment and needle-free atomized drug delivery.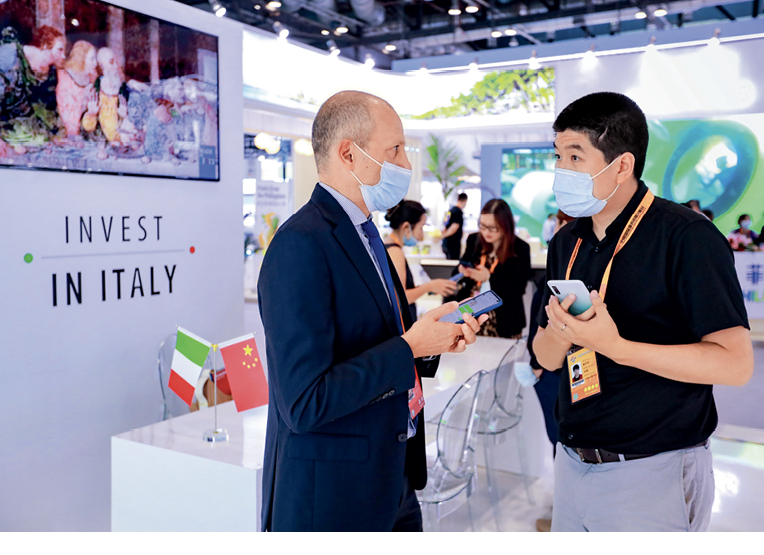 Giacomo Ricciotti (left), deputy trade commissioner of the Beijing Office of the Italian Trade Agency, is talking about cooperation at the Italian Pavilion with a visitor during the CIFTIS 2022.
Innovation-Driven Free Trade
The UAE, the guest of honor of this year, saw the CIFTIS as an opportunity to showcase its enterprises in aviation, finance, and high-end manufacturing as well as its unique cultural and tourism resources. At the 9th China Inbound-Outbound Forum co-organized by the Center for China and Globalization (CCG) and the Beijing Two Zones Office, Ali Obaid Al Dhaheri, the UAE's ambassador to China, said both the emirates and China are leading in scientific and technological innovation and digital economy. In 2018, China and the UAE established a comprehensive strategic partnership, and now, they will pursue collaboration on digital economy.
Al Dhaheri said the CIFTIS, as an inclusive, sustainable and diversified platform facilitating free trade and globalization, plays an essential role in reviving the global economy. It also demonstrates the resilience of China's service industry. "The Chinese government has taken strategic steps forward to develop the service sector, which is internationally competitive. The UAE is also a beneficiary of open and globalized trade. So the two countries share similar forward-looking visions," he said.
This year was the first time Italy made a group appearance at the CIFTIS. The Italian pavilion, featuring the colors of the national flag – green, white, and red – showcased Italy's soft power in creative design as the world's fashion center. Gianpaolo Bruno, director of the Italian Trade Agency's Beijing office, said the service industry plays a crucial role in the Italian economy, representing about 73 percent of its GDP. Well over half of the nation's workforce work in the sectors of tourism, leisure, trade, transport and communications as well as public administration.
Trade between China and Italy has seen a decade of growth, with cooperation in a wide spectrum of services, such as education, science and technology, and culture. "In the face of global challenges such as the COVID-19 pandemic, Italy strongly believes that the two countries should work together to promote bilateral relations and facilitate free trade globally," he said. "All services relevant to high value-added production are globally demanded and direly need teamwork across national borders."
Bruno said China has shown the world its resolve to continue a higher level of opening-up, especially in services trade. This year China rolled out a national negative list of cross-border trade in services, which is expected to unleash the potential of the industry's trillion-dollar-value market. "We definitely won't miss this opportunity, and hope that we can be an active player in this market," he said.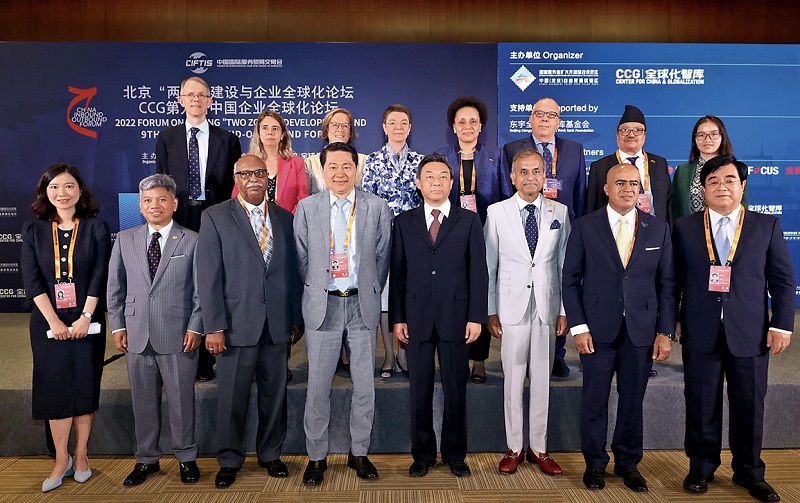 The 9th China Inbound-Outbound Forum, which showcases the success of Beijing's "Two Zones" and corporate globalization, is held on September 2, 2022 at the China National Center in Beijing. Participants take a group photo at the event. Photo courtesy of CCG
High-Quality Development
Speakers at the CIFTIS forums showed their support for globalization and open economies, calling knowledge-intensive services trade in digitalization, artificial intelligence, and green development the new driving force for the world economy. At the Forum on Trade Facilitation in Services: Perspective of Multinationals, Marcos Troyjo, president of the New Development Bank, said globalization is still the most rewarding strategy for a country or a company to compete in the international market.
Mara Warwick, the World Bank's country director for China and Mongolia and director for Korea, said with face-to-face transactions becoming difficult due to the pandemic, traditional services trade such as tourism and transportation is facing a tough challenge. In 2020, global services exports dropped by 19 percent. However, it has prompted governments, enterprises, and individuals to invest in digital technology, thus accelerating the global digital transformation.
According to China's Ministry of Commerce, by 2025, imports and exports in China's digitalizable services trade could be worth US $400 billion, approximately half of the country's total services trade.
Wang Yunfeng, vice chairman, president and CEO of HSBC, said that with the huge demand for green finance, clean energy will be an opportunity for not just Chinese enterprises to go global but for financial institutions as well. He said the London Stock Exchange has noticed that since China put forward its "double carbon" goal, promising to peak carbon dioxide emissions by 2030 and achieve carbon neutrality by 2060, socially conscious investors are taking into consideration companies' environmental, social, and corporate governance standards to decide whether or not they should invest in them.
Danny Alexander, vice president of the Asian Infrastructure Investment Bank, said the bank's three priorities for infrastructure investment in the future are all related to the UN sustainable development goals. They will support member countries' transition to a low-carbon economic model; help realize interconnection through digital infrastructure; and make full use of investment from the private sector for financial, environmental, and social sustainability.
Siddharth Chatterjee, the UN resident coordinator in China, called multilateralism the only option, "Through global partnerships with governments, enterprises, and individuals, we can act together to innovate and deliver on the UN 2030 Agenda for Sustainable Development and its core commitments, leaving no one behind."
The CIFTIS, connecting domestic and international services markets, has helped Chinese service providers to "go global" while bringing in high-quality services from overseas. As China works toward a higher level of development and opening-up, it has been relaxing market access in the service sector and improving cross-border trade. This will build a high-standard service industry and create new opportunities for the sustainable development of the world economy.