China works to build the BRI into an initiative of peace, prosperity, openness, green development, and innovation that brings different civilizations closer.
Eight years have passed since President Xi Jinping proposed the Belt and Road Initiative (BRI) in September 2013. This proposal was a move by China to deepen its reform on all fronts, widen its opening-up more actively, and promote common prosperity for all of humanity. It is a platform for the building of a community with a shared future for humanity.
As is stated in the Resolution of the Central Committee of the Communist Party of China on the Major Achievements and Historical Experience of the Party over the Past Century, "Adhering to the principle of achieving shared growth through consultation and collaboration, China has promoted high-quality development of the BRI. We have advanced a large number of cooperation projects that can fuel economic development and improve people's lives in countries along the BRI routes, and worked to build the BRI into an initiative of peace, prosperity, openness, green development, and innovation that brings different civilizations closer, and a widely welcomed public good and platform for international cooperation in today's world."
Over the past eight years, joint efforts by all parties involved have turned the BRI from an idea into reality. As international consensus extends, new infrastructure is built, and trade and investment have increased. Countries and regions along the BRI routes are making remarkable progress in high-quality development, financial integration and people-to-people connectivity. This has made the BRI a widely welcomed public good, the largest platform for international cooperation in today's world, and an important avenue for promoting world peace, development and cooperation, and realizing the UN Sustainable Development Goals.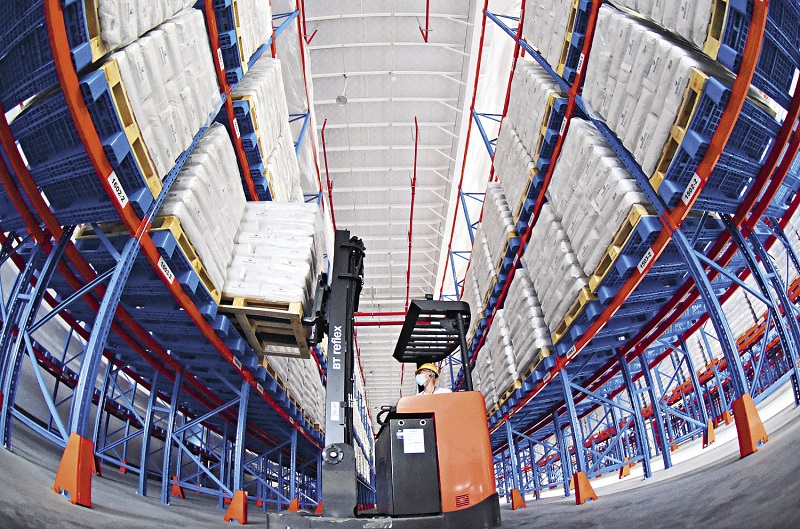 A worker is stacking goods at a warehouse in the supply chain base for BRI in Lian-yungang, east China's Jiangsu Province, on August 9, 2021.
Fruitful Results
The BRI aims at promoting win-win cooperation by strengthening policy coordination, infrastructure connectivity, unimpeded trade, financial integration, and people-to-people bonds.
The BRI covers Southeast Asia, South Asia, Central Asia, West Asia, North Africa, and Central and Eastern Europe. The combined land territories of those regions account for more than one third of the world total, population around 60 percent, and GDP 32 percent. When meeting the press during the Second Belt and Road Forum for International Cooperation, held in April 2019, President Xi reiterated that though the BRI was first proposed by China, the opportunities and benefits it generates will be shared by the entire world.
Policy coordination is a precondition for connectivity along the BRI. When working with other countries in advancing the initiative, China pays close attention to aligning the initiative with the development strategies of participating countries, as well as regional and global development initiatives. For example, synergy has been established between the BRI and the Bright Road Initiative of Kazakhstan, the Connecting Europe and Asia strategy of the European Union, and the UN 2030 Agenda for Sustainable Development.
Through effective communication and coordination, China has expanded consensus with other BRI participating countries and won broader support from them and international organizations. China earnestly performs its international responsibilities, and seeks closer cooperation with international organizations under the BRI framework. As a result, the initiative and its core ideas have been embraced by the UN, G20, Asia-Pacific Economic Cooperation and Forum on China-Africa Cooperation.
Infrastructure connectivity is a priority of the BRI. Particularly to developing countries, economic takeoff cannot happen without the development of infrastructure. Over the last eight years, the BRI has seen China and Russia, Mongolia, Myanmar, Laos, India and other countries in Southeast Asia, South Asia, Central and Eastern Asia and Europe connected by a network of economic corridors. A cross-border transportation system covering land, sea, air and oil pipelines have taken shape. Flagship projects include railways connecting China and Laos, China and Thailand, and Hungary and Serbia, the Jakarta-Bandung High-Speed Railway, Gwadar Port, Hambantota Port, as well as cross-border oil and gas pipelines built by China, Myanmar, Russia and other countries. Infrastructure connectivity saves transportation time and cost, unleashes trade and investment potential, and lends impetus to global economic recovery from the pandemic.
Unimpeded trade is a focus of efforts in advancing the BRI, and a strong driving force for sustained growth of the world economy. At the first Belt and Road Forum for International Cooperation in 2017, China put forward the Cooperation Initiative of Promoting Belt and Road Trade Connectivity, which was aimed at liberalizing and facilitating trade and investment, and reducing trading costs so as to involve more countries in economic globalization. Currently, more than 80 countries and international organizations have joined the initiative for trade connectivity.
By 2020, China had reached free trade agreements with 13 countries along the BRI routes. Several platforms for international trade have been established. They include the China International Import Expo, China Import and Export Fair, and China Beijing International Fair for Trade in Services. Trade in both goods and services between China and other BRI countries has registered steady growth. Cooperation and exchanges under the BRI have also led to emerging new technologies, new forms of business and new models of trade.
Despite the heavy blow dealt by the COVID-19, imports and exports through cross-border e-commerce platforms have increased, keeping countries connected, creating jobs, and bringing convenience to people's lives as well as more development opportunities.
Financial integration fuels the advancement of the BRI. Infrastructure construction needs huge investments, which will be recovered over a long period of time. To meet the demand of financing infrastructure projects, four multilateral financial institutions of the Asian Infrastructure Investment Bank, the New Development Bank, the SCO Development Bank, and the Silk Road Fund have been created. Investments by multilateral financial institutions significantly lower risks.
People-to-people bonds are the social foundation of the BRI. Over the past eight years, countries along the routes have carried out cooperative programs on culture, tourism, education, think tanks, poverty reduction, and epidemic control, all of which have brought their peoples closer. China and countries along the routes launched activities including the year of culture, and art, film and music festivals, along with book fairs, joint archaeological research, and joint bid for world heritage inscription.
In addition, the BRI boosts international cooperation on education. By February 2019, China had signed agreements with 24 other BRI countries on mutual recognition of academic certificates and degrees in higher education, and 60 Chinese universities had launched academic programs in partnership with local institutions in 23 BRI countries.
China has also worked with other participating countries to tap into the tourism potential of the BRI, by launching tourism years and the Silk Road Tourism Promotion Union among other efforts.
Seeking high-quality development of the BRI, China offers assistance to countries along the BRI routes in combating poverty.
In fighting the COVID-19 pandemic, China has been making the vaccines a public good for the international community. By September 2021, China had provided 500 million doses of vaccines to more than 100 countries and international organizations, a good number of which are along the BRI routes.
China's latest government work report stressed, "We will promote high-quality cooperation under the BRI. We remain committed to the principle of achieving shared growth through consultation and collaboration. We will, on the basis of consolidating cooperation on enhancing connectivity, move steadily to open up new areas of cooperation."
As the BRI moves forward, China will continue to lead the way, coordinate with other countries along the routes, and remain committed to win-win cooperation, common prosperity and development, and the building of a community of shared future for humanity. The goal is to make the BRI a shining example of regional cooperation that will bring tangible benefits to all countries involved.
Bright Prospects
The BRI connects China's development more closely to that of the world.
Collaboration is a defining element of the BRI, as the initiative is not about China or its development alone. The BRI is an inclusive initiative that is open to all parties. It is an initiative to share development opportunities with the world. The fundamental driving force for the initiative comes from people's common desire for development and a better life. Therefore, the BRI represents a common aspiration shared by all beyond national borders.
The BRI also opens a window for the rest of the world to better understand China.
To ensure high-quality development of the initiative, amity among peoples is essential, allowing participating countries to understand, respect, and engage with each other. The BRI puts social benefits first while also stressing economic returns. Harmony within diversity is the cornerstone of a peaceful world. By building the BRI, the world will become a closely-knit community of a shared future.
XIA YIPU is an associate research fellow with the Research Center of Xi Jinping Thought on Socialism with Chinese Characteristics for a New Era under the Chinese Academy of Social Sciences.