In mid-April, a batch of photovoltaic cells worth nearly RMB 10 million arrived in France by the China-Europe freight train. It was the fifth shipment exported by Chengdu-based Tongwei Solar in southwest China's Sichuan Province to Europe in 2022. In the first quarter alone, the solar cell producer secured export orders with the value exceeding RMB 400 million.
Yan Yi, deputy chief of Qingbaijiang Customs, a branch of Chengdu Customs, said that in Q1, the export and import by private enterprises in Si-chuan doubled from last year, and their exports to France, Italy and other countries expanded at a growth rate of more than 60 percent.
"More and more products from foreign countries are on board the dedicated train," said Yan, noting that the number of businesses exporting and importing goods via the train service in Sichuan and European countries had risen from some 200 in 2017 to more than 17,000 at present.
The busy train service is indicative of rapidly developing China-Europe trade ties. Li Junfeng, deputy general manager of Chengdu International Railway Service, Co., Ltd., said that from the day it opened to April 2022, the China-Europe freight train service connecting Chengdu with Europe had operated more than 9,500 trains heading to 69 cities abroad.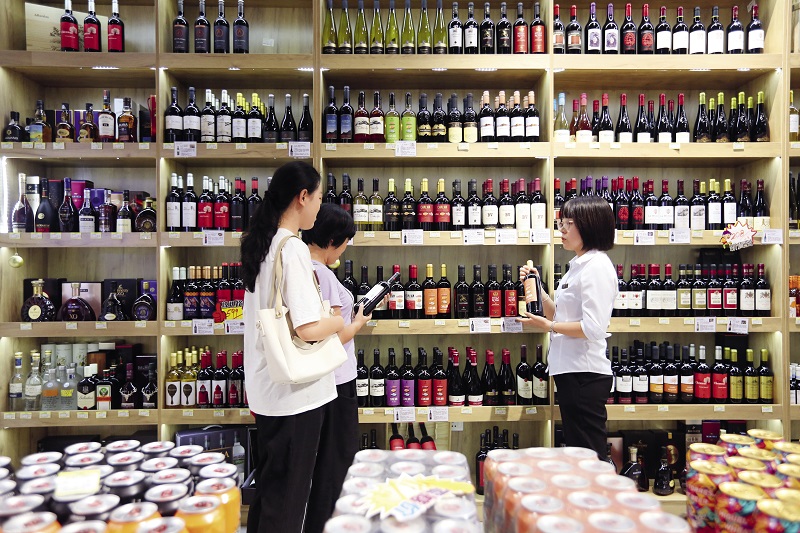 Imported French wine is popular among customers at the French pavilion in the Chengdu-Eurasia National Pavilions.
New Business Opportunities
Tongwei Solar is a private company specializing in making photovoltaic cells. Taking full advantage of local incentives for foreign trade in the Chengdu-Chongqing area, the company has emerged as the world's largest exporter of solar cells for five consecutive years and takes up a substantial market share in the European Union (EU).
"The EU's photovoltaic industry started and developed earlier than China's, but in recent years, we have gradually caught up and gained a stable market share. In the first quarter of this year, our overseas orders of smart photovoltaic [products] were on the rise. All of our products are sold out, while we operate at full level of productivity," said Zhai Xujin, deputy general manager of Tongwei Solar.
Many companies like Tongwei Solar are benefiting from the opening of the freight train service.
It has been gaining widespread popularity due to its low cost and high efficiency, especially since the start of the pandemic. More cities across China have been connected with the service.
On the morning of January 18, 2022, a train loaded with 50 containers of goods worth RMB 10 million departed from Quanzhou, southeast China's Fujian Province, and headed to Russia's capital Moscow. It was the first China-Europe freight train sent by Quanzhou. The goods on board ranged from sanitary products to bags, suitcases, shoes, clothing, and handicrafts among others.
"Eleven out of the 50 containers on the train came from us in Jinjiang," said Zhong Hong, director of Jinjiang Dry Port Company in Quanzhou. Zhong added that the pandemic of the past two years had resulted in insufficient shipping capacity globally and a shortage of containers. Manufacturing and export-oriented businesses in Jinjiang bore the brunt.
"Instead of using nearby sea ports, some companies chose the China-Europe freight train service to export their goods to European destinations or countries along the Belt and Road. In this case, they had to make a detour in Shanghai or Ningbo," said Zhong. The opening of the service in Quanzhou lowered the exporting costs for those businesses, Zhong added.
On February 7, the train arrived in Moscow after traveling 10,960 kilometers in 20 days, saving 25 days compared with shipment by sea.
New Channels for French Wine
At the Chengdu International Railway Port, the departure station of China-Europe freight train service in Chengdu, there is a Chengdu-Eurasia National Pavilions, where a steady stream of customers come to shop every day. It houses pavilions from 32 countries, selling items ranging from maternal and infant supplies to cosmetics, snacks, clothing, luxury goods, furniture, automobiles, and other commodities from all over the world transported by train.
"In addition to providing customers with products from around the world, we also carry out online and offline cultural exchange activities, including French wine tasting and Italian beer brewing. Customers can have a taste of European cultures without leaving China," said Zeng Yi, chief of the international liaison department of the Chengdu International Railway Port Administrative Committee.
"Customers can buy an imported product in 10 minutes, with every procedure from placing an order to customs clearance handled online," said Chen Ying, manager of an online-to-offline cross-border e-commerce experience center in the pavilion region. "All a customer needs to do is to scan a QR code with their mobile phone." Chen said that 80 percent of the products sold at the experience center were duty-free goods.
Chen indicated that with the stable operation of the China-Europe freight train service in Chengdu and the rapid development of the Chengdu International Railway Port, the company's business has rapidly expanded from freight transportation to international trade and cross-border e-commerce. "In terms of the foreign trade alone, the company's annual turnover has risen from RMB 20 million when the company began to make a foray into the sector to nearly RMB 600 million last year."
France is one of the 32 countries operating a national pavilion in the railway port in Chengdu. "We regard French wine as a medium and we are shifting our focus from sales to cultural and trade communications," said Shi Ruifeng, head of the French pavilion.
He added that over the years since it opened in 2018, the pavilion's annual sales of wine once reached 100,000 bottles. "It is a whopping figure," Shi said. Meanwhile, the pavilion has organized more than 200 Sino-French economic and trade exchange activities. "In the future, we will work with some large logistics joint ventures to explore customized wine-related services, and finally establish a more complete French wine industrial chain around the railway port." Shi said the French wine industry will bring more economic value to Chengdu, and the stable operation of the China-Europe freight train service in Chengdu is the foundation for achieving this goal.
The Chengdu-Eurasia National Pavilions at the Chengdu International Railway Port.
New Accelerator for Trade
In the context of the global fight against the pandemic, the China-Europe freight train service provides a reliable, low-cost, and efficient solution to cross-border transportation.
According to data by the National Bureau of Statistics, in Q1 of 2022, China's total imports and exports of goods amounted to RMB 9.42 trillion, 10.7 percent higher than the previous year. Trade between China and Europe expanded to US $205.87 billion, largely thanks to the freight train service.
In Berlin, one can buy electronic gadgets from China simply by placing an order online. In Paris, 15 days after an order is placed, fresh kiwi from Chengdu will arrive on the customer's doorstep after traveling 11,000 kilometers.
"The freight train service brings people closer both physically and emotionally," said Li Junfeng. He added that over the past five years, trips made by freight train service were increasing at an annual growth rate of 55 percent. In addition, the variety of products has expanded, covering groceries, cell phones, computers, auto parts, chemicals, electromechanical products, and 50,000 other items.
In Q1 2022, China-Europe freight train service operated 1,941 trains across China and 174,000 TEUs of containers were shipped, registering annual increase rates of 15 percent and 18 percent, respectively. This major artery that traverses the Eurasian continent and connects China with 180 cities in 23 European countries has already seen more than 50,000 trains traveling back and forth between China and Europe.
Yao Ling, an expert on European studies with the Chinese Academy of International Trade and Economic Cooperation, said that through the successful operation of freight train services, reliable industrial and supply chains had been established in many fields to underpin China-Europe trade ties. The service is becoming a stabilizer and accelerator for closer China-Europe economic cooperation, Yao said.