Ansteel, one of the largest iron and steel producers in China, is a pioneer of high-quality development of China's iron and steel industry, a spearhead of the rejuvenation of old industrial bases in the country's northeastern provinces, and a pacesetter in the reform of state-owned enterprises (SOEs).
Ansteel has incorporated the guiding principles of the central authorities into corporate strategies, policies, and tasks, and drawn inspiration from the history of the Communist Party of China for its endeavors to build up China's standing in manufacturing, including the iron and steel industry.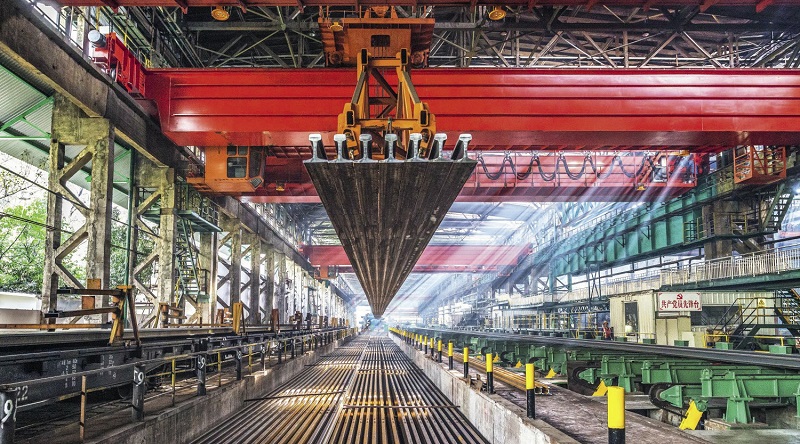 The heavy track beam produced by Pangang Group under Ansteel is loaded and ready to leave the plant.
Industrial Restructuring
In pursuing high-quality development, Ansteel strives to elevate itself to a leading position among international corporations. For the 2021-2025 period, it plans to expand its output of crude steel to 70 million tons, and iron ore concentrate to above 50 million tons, and increase its revenue to RMB 300 billion and profits to RMB 10 billion. To achieve these goals, it will align itself with China's regional development strategies and supply-side structural reform, carry out business merging and restructuring to enhance the competitiveness of SOEs and reshape the iron and steel industry.
On October 15, 2021, the Bensteel Group Corporation Limited, a subsidiary of Ansteel, was inaugurated in accordance with its restructuring plan. The steel maker then witnessed an increase of crude steel output amounting to 63 million tons, the second highest in China and third highest in the world. It emerged as one of the steel makers worldwide to operate a complete industrial chain and have a marked advantage in resources.
During the first nine months of 2021, Ansteel set a new record in profits, which exceeded RMB 23.27 billion, up 445 percent over the same period of 2020. It also outperformed other centrally-administered state-owned enterprises and the average in the iron and steel industry as a whole in terms of major business indexes. The Bensteel also reported a remarkable performance: its profits during the period grew exponentially by 1,837 percent year on year to around RMB 3 billion.
SOE Reform
Ansteel has been carrying out the three-year action plan (2020-2022) for SOE reform. It sets the focus on spurring business vitality and improving efficiency to ensure sustainable development. As a state-owned holding company, Ansteel leads the way in this reform in northeast China and beyond.
Highlighting the overarching importance of innovation, the company worked to incubate novel technology. It focused on optimizing business structure and building up its strength along the industrial, value, and supply chains, particularly in the middle and high reaches of the chains. Faster moves were taken to launch and upgrade products. The focus of developing new production procedures and technology was set on steel products for automobile manufacturing, shipbuilding and marine engineering.
It plans to build supportive platforms to spur innovation in technological research, steel making procedure, and commercialization of research results. To strengthen the two national-level laboratories it operates, Ansteel is working to remove throat-cutting barriers in iron and steel production. It has made encouraging progress in the research of core technologies in key fields, playing an exemplary role in enhancing China's technological self-reliance and serving national strategies.
Acting on China's pledge to reach carbon peaking by 2030 and ultimately achieve carbon neutrality by 2060, Ansteel announced its goals last May, to become one of the first steel makers in China to achieve carbon peaking and neutrality. For this purpose, it advances smart manufacturing, and has launched a program of going digital. When a digital Ansteel comes into being in 2025 as scheduled, the group will have a stronger competitive edge in future development.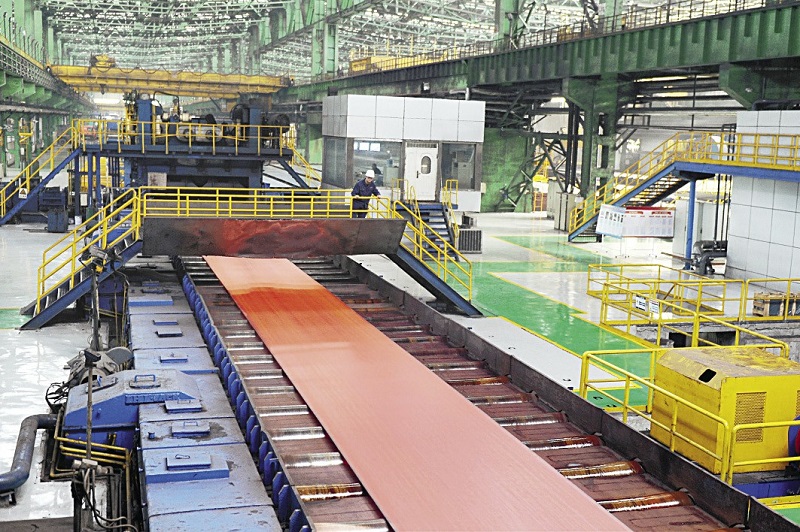 A piece of high-end 2,150 mm strip steel produced by a hot rolling mill under Ansteel.
Dual Foci Strategy
President Xi Jinping once said, "Industrial and supply chains must hold up under stress at critical moments. This is a defining feature of a major economy." Ansteel's mission is to ensure the security of China's industrial and supply chains for iron and steel products, as the country shifts to a new development paradigm.
Steel making and iron ore mining are the two core lines of business for Ansteel. For the former, the group adopts platform-based, market-oriented, specialized, and intensive management, integrating iron and steel resources while taking customized measures for the development of different sidelines of business. A new corporate development pattern with a competitive main line of business and multiple supportive sectors that is capable of mitigating cyclical risks has taken shape. Meanwhile, it has highlighted the importance of iron ore mining in corporate development strategy, and made systematic planning for the exploration of iron ore resources in Anshan, Benxi, and other mining zones. After the restructuring, Ansteel will emerge as China's largest iron ore concentrate producer and one of the world's top five. With its elevated standing in the global steel and iron ore sectors, Ansteel will make greater contributions to the rejuvenation of China's northeastern region and the development of the national economy.