Hamburg remains key platform to bring China, Europe together.
While every new year brings changes in its course, in 2022 there is certainly one change that we can already put a face to: Germany has a new chancellor after 16 years of Angela Merkel's stewardship. Olaf Scholz assumed office on December 8 and while that has broad international bearings, for this article, it has a closer context as well. The 63-year-old grew up in a district in Hamburg, the port city in northern Germany that has the third busiest port in Europe, studied law at the University of Hamburg, and was the first mayor of Hamburg for seven years from 2011.
While Hamburg revels in the ascent of one of its own, there must be expectations and anticipations in China as well. Noah Barkin, research organization Rhodium Group's China watcher in Europe, tweeted an article by German business news weekly Wirtschaftswoche on December 6, which said Scholz asked Charles Michel, President of the European Council, to pass on the message to Chinese President Xi Jinping that there would be no change in Germany's policy towards China.
Amidst a fresh anti-China drive by the Joe Biden administration in the United States and its allies, which has been applying a set of diverse measures targeted at China – from boycotting select Chinese companies to the more recent announcement of the diplomatic boycott of the Beijing 2022 Winter Olympic Games – Hamburg has remained a pragmatic and reliable business partner of China.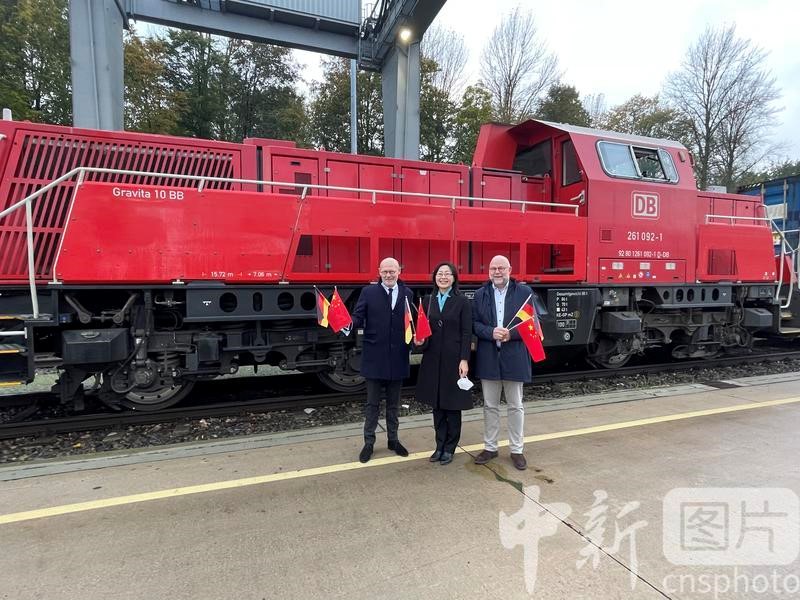 The first China-Europe freight train from Shanghai arrives at the German port city of Hamburg on October 26. Wang Wei (center), China's deputy consul general in Hamburg, Michael Westhagemann (left), Hamburg's senator for economic affairs, and Axel Mattern (right), CEO of Hafen Hamburg Marketing at the welcome ceremony for the first "Shanghai Express" in Haumburg.
China is Germany's biggest trade partner and the Port of Hamburg plays a major role. According to official statistics from Hamburg, the port handles over 50 percent of Germany's trade with China. That means about one third of all the containers passing through the port are either China-bound or coming from China. Nearly 900 Hamburg-based businesses trade with China while Hamburg has more Chinese companies than any other European city, numbering around 550. And the volume of trade is likely to go up further this year on the strength of logistics alone.
There are now over 200 weekly rail connections between 20 cities in China and Hamburg, as well as more than 11 shipping services, making Hamburg a gateway to Europe for Chinese companies, both by land and sea. The land connections especially have received a boost thanks to the Belt and Road Initiative. In October 2021, another rail service was added with the first Shanghai Express chugging in, bringing 50 containers of auto parts, garments, and solar panels to Hamburg. After an initial trial period of one train every week, the service is expected to become more frequent.
This is reassuring news for TEDi, the German retailer with shops in eight European countries and plans to expand to 5,000 stores in 2022. TEDi, which opened its 2000th store in Hamburg, sells a wide range of non-food items, from bath supplies and stationery to toys and accessories, and much of it is sourced from China.
"There are different categories in our shops, which we all sourced from China. We would like to grow together with our partners. We prefer long-term relationships and reliable partners," Victoria Baykan, purchase/sourcing manager at TEDi, told Jinhanfair.com when she was at the annual Jinhan Fair for Home and Gifts three years ago. Held in Guangzhou in south China, the Jinhan Fair is a must-visit for TEDi officials for outsourcing.
"Securing the supply of goods is our top priority," Ingo Ricken, in charge of import, customs, and freight purchase at TEDi, said at an event for logistics and transport companies last November organized by the Port of Hamburg. China, he added, will remain one of the most important sourcing markets for his organization as Chinese companies are improving their products.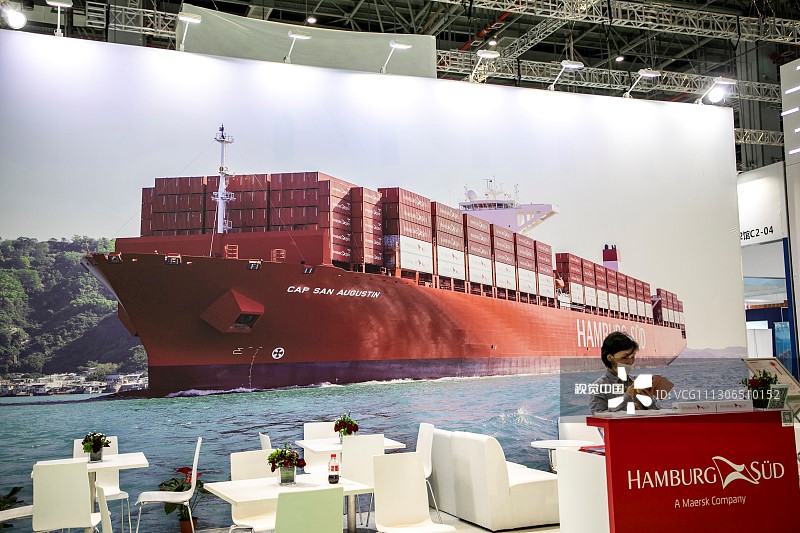 At the trade in service exhibition area of the third China International Import Expo in Shanghai, the Port of Hamburg showcases its service capability on November 10, 2020.
Since 2004, the Hamburg Chamber of Commerce has been hosting a biennial economic conference to cement ties between China and Europe, bringing businesses, investors, and decision makers from both sides together. The 2021 event, "Hamburg Summit: China Meets Europe," held online in November due to the pandemic, presented several points worth pondering.
First, the positives. In 2020, China became the European Union's largest trade partner in goods, overtaking the United States, and European companies doing business with China remain upbeat about the future.
"Most European companies I talk to face positive business prospects," Clas Neumann, chairperson of the Board of Directors of the German Chamber of Commerce in China, said at the Hamburg summit. A recent survey of German companies showed 96 percent have no inclination to leave China while 77 percent expected better business in 2021 as compared to 2020.
China's role in global trade and economy remains unmarginalizable. As Gerhard Schröder, former chancellor of Germany and honorary chairman of the Hamburg summit, said that today it is more important than ever to build a better understanding of China and to continue the dialogue between China and Europe.
"The global economic and political landscape has changed fundamentally in the past few years," he said prior to the Hamburg summit. "China is on its way to becoming the world's leading industrial nation by 2049. Its economic and geopolitical rise affects us all. China is an indispensable actor to solve global challenges such as climate change and building resilient supply chains."
Now here comes the nub: politics. While there are disagreements between China and Europe over issues such as intellectual property rights protection, market access, non-tariff trade barriers, and protectionism, these are economic issues and can be sorted out if there is no underlying political tension. However, the United States' insistence on regarding China as a competitor, indeed, its biggest competitor, has muddied the waters and European countries face U.S. pressure over their business with China.
One example of that is the Comprehensive Agreement on Investment (CAI) that China and the European Union have been negotiating for almost a decade but which is yet to be ratified. CAI would open up each other's markets wider, ensure labor and sustainability standards for China and create a dispute resolution mechanism. However, it prompted urgings by Washington for the EU to reconsider it and the European Parliament later asked for it to be put on hold after the EU sanctioned select Chinese officials over allegations of human rights abuse in Xinjiang Uygur Autonomous Region in northwest China. The step has been interpreted as following the U.S.'s lead and pressure and triggered counter-sanctions by China. As Jörg Wuttke, president of the European Union Chamber of Commerce in China, said at the Hambrg conference, "We are politicized, whether we like it or not."
One way to look for progress in in 2022 could be by pushing the CAI forward. It would entail some give and take but once ratified, will ensure China-EU trade relations don't jump off the track easily. Also, as some experts have said, since CAI addresses some EU concerns that are similar to the American ones, once it is ratified, the EU could act as a bridge between Beijing and Washington.
Last but not least, on December 1, the European Union announced its new Global Gateway strategy, which will mobilize up to €300 billion by 2027 to "boost smart, clean, and secure links in digital, energy, and transport and strengthen health, education, and research systems across the world."
Some are regarding this as an anti-China initiative, an effort to rival the Belt and Road Initiative in a "scramble for influence, alliance, and priority access to strategic resources in faraway lands." However, I don't think we have to be so pessimistic. Emulation, after all, is the sincerest form of admiration. Despite the adverse comments in the Western media against the Belt and Road, it must be a good and effective initiative since now it has the EU following it, as well as Biden with his Build Back Better initiative. And since the Belt and Road has already built some of the links the Global Gateway wants to, what better than to synergize the two visions just as the Belt and Road has with the African Union's development vision Agenda 2063? It will save a great deal of money, time, and trouble.
Coming back to the Hamburg summit, where both the critics and champions of China agreed that despite differences, there needs to be cooperation between China and Europe to tackle the current global crises. "Crises including climate change, pandemics, and migration flows did not stop at national borders," Schröder said. "The international community could meet these challenges only by working together."
For example, China plans to become carbon neutral by 2060. But according to Schröder, with the support of German companies and technologies, it could be achieved even faster. On the other hand, as Dennis She, president of global sales and marketing at Chinese solar technology provider LONGi said, Chinese companies have expertise in green energy technology, especially solar energy, and can also help Europe fight climate change.
____________
SUDESHNA SARKAR is a journalist and editor based in Beijing. A former commentator for a regional program of Deutsche Welle Radio, she follows China's development, culture, and international links.