T
HE traffic lights of Haikou, the capital city of Hainan Province, which possess the capacity to "think on their own," are called "AI (Artificial Intelligence) control signals." They can adjust the change time in real time in light of the traffic flow at the intersection. As a result, the traffic speed is improved and waiting time at the light is reduced. With the accelerated construction of new infrastructure in China, cities are becoming increasingly intelligent.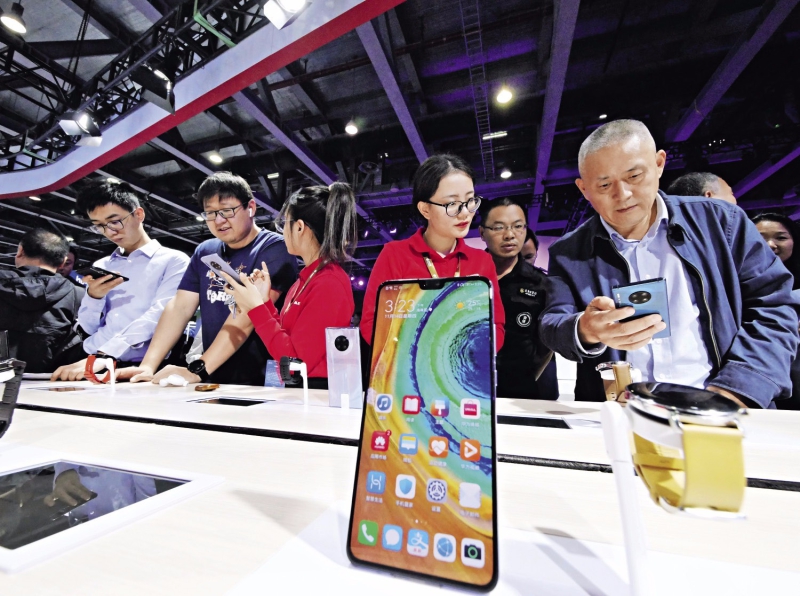 The 2019 China Mobile Worldwide Partner Conference opens in Guangzhou on November 14, 2019. Citizens visiting Huawei 5G exhibition area try out 5G mobile phones.
Innovation of Social
Governance
In recent years, the "new infrastructure" represented by 5G networks, data centers, artificial intelligence, and Internet of Things, is transforming a myriad of realms, including social governance, manufacturing, and people's daily lives. All of this helps regional authorities tackle issues in government affairs, transportation, emergencies, and other fields.
New infrastructure makes social governance more tailor-made. The administrator of the "city brain" on Chaoming Street, Xiacheng District in Hangzhou City of Zhejiang Province, one day after discovering that a 93-year-old man in the neighbourhood had not opened the door of his home for 24 hours, immediately informed the community staff
to
contact the old man. His fears were soon relieved after he learned that the elderly man was safe and secure. Chaoming Street's "city brain" has made
new progress in monitoring elderly people's safety by collecting data concerning door opening and closing of 150 elderly people living alone through the door magnetic alarms.
The application of big data in public security management in Minhang District, Shanghai provides a more tailored social governance, as the peak period, high incidence area, and types of public security cases can be monitored with a higher accuracy.
Xu Zhifa, director of the Industry and Planning Research Institute of China Academy of Information and Communications Technology, believes that with big data and other new technologies, social governance has been driven towards accurate prediction and intelligent decision-making.
New infrastructure enhances the efficiency of social governance.
"Wearing a black coat, black pants, and long hair..." In the past, looking for a missing person through this simple description of characteristics was like looking for a needle in a haystack. Now, in the social governance big data center of Hechuan District, Chongqing, after such simple descriptions as "black coat" and "black pants" were put into the system, in just a few seconds, tens of thousands of photos emerge that meet the query conditions and are taken by the district's surveillance cameras within the last 24 hours. After analyzing the time and locations, the missing person can be initially identified.
On March 10, the "urban brain demo room" in Haidian District of Beijing was completed and opened, displaying the scenes of smart urban management in Haidian District. In order to prevent and control pollution in Haidian District, satellite remote sensing technology was introduced to collect urban geomorphic data every month. By comparing all of this data, problems such as illegal construction can be found in a timely manner.
River course inspection was carried out in the Wulongjiang Wetland Park in Fuzhou City, Fujian Province via the utilization of AR (augmented reality) technology. Wearing an AR device, park staff can directly see relevant information of the river in front of their eyes. The device helps the staff to complete real-time data collection and routine inspection on the ground, and then quickly locate problems and determine solutions according to prompts of abnormities.
New infrastructure promotes urban security. During the novel coronavirus epidemic, new infrastructure has played a prominent role, as the key places under the jurisdiction of a certain place have been monitorted in real time and the residents' movement dynamic are also collected in real time.
Intelligent epidemic prevention was carried out in the comprehensive administrative service center of Guodian Street, Licheng District in Jinan City of Shandong Province, as the center commanded and coordinated 16 village grids and 63 epidemic prevention and control work points under its jurisdiction. With the help of big data, Internet of Things, and other technology, Guodian Street has achieved efficiency in the prevention and control of the outbreak. The online smart pass is generated when the information is filled in online, making sure that the staff do not need to collect residents' information on-site, thus realizing the "zero contact" community service. Once a key individual being closely monitored goes out, the system will immediately sound an alarm to notify an on-duty staff, solving the management challenges facing an open community.
Not only Jinan City, but also some communities in Zhengzhou City of Henan Province have installed intelligent face recognition systems, so that residents can quickly enter the community after face scans. Yingkou City in Liaoning Province, through big data analysis, has charted the city's epidemic situation, thus improving the efficiency of emergency management for epidemic prevention and control.
Shi Qian, director of the Shanghai Institute for Science, said that the COVID-19 epidemic has served as a major test of the national administration system and capacity. One of the important testing points is how to better adapt to and use big data and artificial intelligence technology to improve social administration. Relying on information technology, each department innovates the administrative mode and optimizes the process, and at the same time promotes data interconnection between sectors of communication, transportation and public security, accumulating experience for improving governance capacity.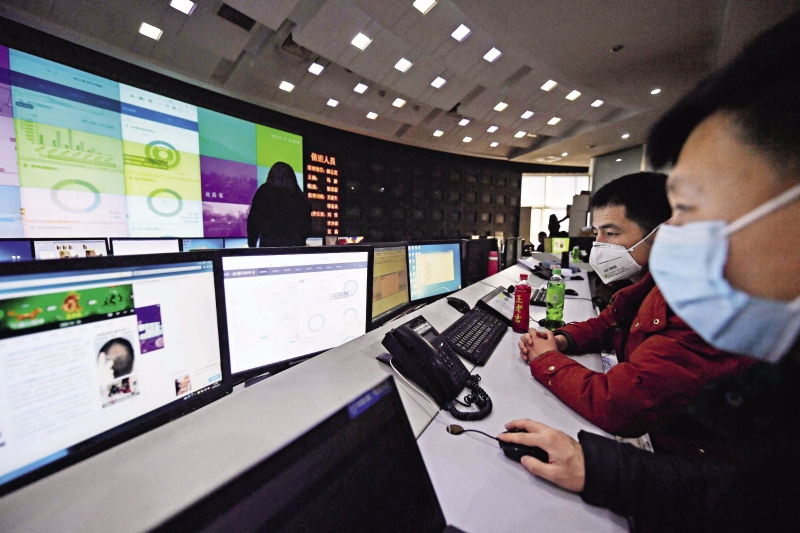 The city brain epidemic prevention and control platform of Haidian District government, Beijing.
Accelerating Intelligent
Production
At the beginning of this year, the Chinese government advocated "vigorously developing advanced manufacturing industry, introducing investment support policies for new infrastructure such as information network, and promoting intelligent and green manufacturing." Now the drive is injecting new vitality into production and manufacturing. It has spawned a number of smart factories.
In Chongqing Changan Minsheng APLL Logistics Co., Ltd., which has 1,469 storage locations in the automobile logistics plant, the main work force is a team of 40 automatic guided vehicles (AGVs). When parts need to be delivered out of the warehouse, the AGV system issues instructions to an AGV, and the vehicle then carries the parts to the delivery channel. Only a few workers are on duty to label and deliver goods. The handling work in the warehouse is completed by AGVs, and 800 cases of auto parts can be put in and out of the warehouse every hour, saving the enterprise about RMB 2 million every year.
Recently, intelligent production and manufacturing again received policy backings. On March 20, the Notice on Accelerating the Development of Industrial Internet issued by the general office of the Ministry of Industry and Information Technology pointed out that industrial Internet platforms should be guided to enhance the new technology support capabilities such as 5G, artificial intelligence, blockchain, augmented reality, and virtual reality, and strengthen the integration of digital functions in the whole process of design, production, operation, maintenance, and management.
Agricultural production is equally intelligent. Nowadays, "raising cattle based on cloud computing" has become a trend. All cows are connected to the Internet of Things, and a mobile phone and a set of software are all that is needed to manage the pasture. This is the "digital milk source smart pasture management platform" jointly built by Mengniu Group and Alibaba Cloud Computing Co., Ltd. On some farms, cows are also equipped with pedometers. According to the number of steps per day, the system can judge their health status. Zhang Jue, chief information officer of Mengniu Group, noted, "With this intelligent platform, one million cows in more than 800 pastures now have 'cloud stewards' and 'cloud doctors'."
"Air humidity of 76 percent, too high, should be controlled below 70 percent. When the light is too strong, you should pay attention to check the soil moisture," Wen Chao, a technician with the oasis agricultural intelligent park in Zhangzhou City, Fujian Province, sent this timely instruction via his smart phone. March is the ploughing season, but as a result of the travel restrictions enforced during the COVID-19 epidemic, Wen was unable to return to his post after the Chinese New Year holidays. Thanks to a series of equipment such as intelligent sensors and an automatic sprinkler system introduced by the park, he was able to monitor the sheds in real time and guide production by merely using his mobile phone.
Decision-making becomes more intelligent. With the popularization of Internet of Things, 5G network, and industrial Internet, more and more data in the production process will be effectively collected and saved. After in-depth analysis, the data will then provide an important basis for decision-making.
According to the Haier Group, "97.8 percent of users consume water for less than five minutes each time, and 71.1 percent of users consume water for less than one minute. In terms of heating mode, the proportion of daily heating time of less than 60 minutes is about 38 percent, and the proportion of 60-120 minutes is about 28 percent..." This is an accurate portrait of the electric water heater users made by the group with "Haier U+" big data. With such big data analysis, Haier is able to put forward a more targeted water and electricity saving plan on the premise of ensuring end-user experience during product development.
Zhang Pengzhu, a professor at Shanghai Jiaotong University, believes that big data can effectively solve the problems of incomplete information and unreasonable analysis encountered by enterprises in their innovation and decision-making, while at the same time help them keep their business on a track of sustainable development.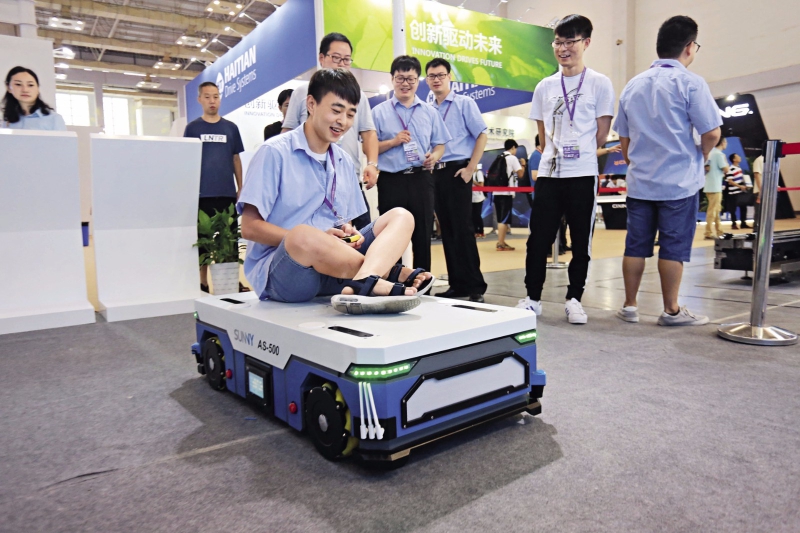 Domestic cutting-edge technology and intelligent products appear in the Smart China Expo on September 8, 2017. AGV cars exhibited at the expo can move in all directions, equipped with automatic obstacle avoidance and emergency stop functions.
Making Our Life Easier
New infrastructure brings many new application scenarios that greatly facilitate people's education, medical care, travel, and other aspects of life.
"The patient's condition is complex, with metabolic problems and bradycardia..." On February 27, at the remote consultation center of Wuhan Leishenshan Hospital, medical experts from Beijing, Shanghai and Guangzhou conducted online diagnosis and treatment of a patient through a 5G remote CT. By using a 5G network, a large number of medical images can be transmitted in real time, and experts in the three places can clearly see a variety of data about the patient. A 5G network has the characteristics of high speed, broad connection, and low latency. Relevant research shows that the time lag of remote operations based on a 5G network is only between 20-30 ms, while it takes 300 ms for every blink of an eye. In other words, the 5G transmitted images seen by doctors are close to the real-time ones.
China's operators and enterprises have gradually taken a leading position in the 5G development process. Chinese consumers show more enthusiasm for 5G and are more willing to accept innovative services and new terminals. Thanks to the results of early pilot project cooperation with operators, Chinese enterprises in the fields of industrial manufacturing, port logistics, transportation, health care, and education are more willing to embrace 5G.
New infrastructure makes home life more intelligent.
"Tinkle."
"What floor, please?"
"6th floor."
"A moment, please."
The above is a dialogue between an elevator passenger and the elevator intelligent system. During the epidemic prevention and control period, an elevator company in Mianyang City, Sichuan Province, developed an intelligent epidemic prevention elevator. When taking the elevator, you don't need to touch the elevator button. You can operate the elevator through voice or mobile phone code scanning. The old elevator can be upgraded to an intelligent elevator by means of merely adding an intelligent module.
Nowadays, artificial intelligence, Internet of Things, and 5G networks are transforming thousands of households into smart homes. "Intelligent magic mirrors" can provide suggestions for clothes to wear based on weather conditions and users' dressing habits; "intelligent lighting" can sense outdoor light and automatically adjust the light and shade, and is more energy-saving and practical; "an intelligent sweeping robot" can be remotely controlled by the users and clean floors according to the specified outline of the floor...
The new infrastructure promotes convenience in handling public affairs.
At present, convenient online applications are created in succession all across China. Beijing launched the "Beijing Tong" app, a platform which integrates the handling of 55 kinds of certificates and licenses such as marriage license and driver's license. Guangdong Province launched the "Guangdong Provincial Affairs" WeChat public account, making available online various inquiry services related to social security, housing provident fund, and motor vehicle traffic violation fines. Presently, the number of registered users has exceeded 25 million.
Xu Hongcai, deputy director of the Economic Policy Committee of China Association of Policy Science, believes that the new infrastructure involves the reconstruction of a new industrial chain, whose upstream covers the base stations, antennas, sensors, storage and fiber optic cables, and downstream covers the terminal hardware and software development services such as smart phones, smart cars, smart homes, and smart machine tools. They are all capital-intensive and technology-intensive industries, and the potential of development in each of their specific sectors is huge.
PAN XUTAO and TAN YICHEN are reporters of
People's Daily
Overseas Edition.