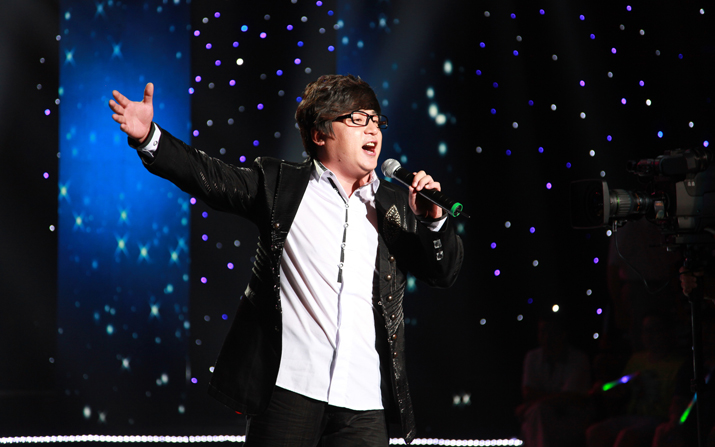 Li Guangzhou performs in a program on Shanxi Television in August 2012 (COURTESY PHOTO)
Even the smallest star can shine bright, and even the tiniest bud can reach full bloom. Be firm in your vision, and don't underestimate your power. Dreams will invariably spread their wings, and all your efforts will bear fruits…
These are lyrics from a song named Light Up Dreams, which was composed by Li Guangzhou.
With a good sense of humor, a beautiful voice and a pair of big eyes, Li is a singer that often appears in television musical programs and talk shows. He dazzles on stage just like other artists, except that he has never seen his audience because he was born visually impaired. In fact, none of the people involved in producing the song and the music video can see except for the lyricist.
After Beijing won the bid to host the 2022 Games, Li began thinking about producing related musical works, and wrote the song. "I believe that people with disabilities are also capable of producing music for such a grand event," he told Beijing Review. "I wanted to try, so I wrote the song."
In 2020, he established a band called Chinese Blind Traveler Orchestra, and invited some 20 visually impaired singers across the country to produce a musical video featuring the song, with each of them singing a line or two. At that time, the Beijing Organizing Committee for the 2022 Olympic and Paralympic Winter Games (BOCOG) was soliciting musical works for the Games, so the team submitted the song.
"Every member of the team dreamed this song would be chosen. Through the upbeat song, we wanted to inspire our fellow people with disabilities, and help them realize that no matter how small a star is, it can shine bright," Li said.
Their dream came true. In March 2021, the team received a certificate from the Culture and Ceremonies Department of BOCOG, confirming the song was on a list of Outstanding Musical Works for the Olympic and Paralympic Winter Games Beijing 2022.
Since then, the song has been performed in some TV programs and on ceremonial occasions to usher in the 2022 Games, including the torch relay ceremony in Beijing's Yanqing District on March 3.
Light Up Dreams is performed at the torch relay ceremony for the Paralympic Winter Games Beijing 2022 on March 3 at the Beijing World Expo Park in Yanqing District, Beijing (COURTESY PHOTO)
The call of music
Li was born in the northeastern province of Heilongjiang in 1981, with congenital optic atrophy, which was passed to him and his younger brother from their father's family.
He has a flair and passion for music, but the family was too poor to afford a private music teacher. So Li taught himself basic music theory. He began to learn to play musical instruments at 12, to sing at 13, and to write songs at 18. He was so infatuated with music that he saved half of his food expenses to buy books and audio-visual materials for self-study.
Though Li's father also enjoys singing and playing musical instruments, he insisted that visually impaired people should learn traditional Chinese massage—a common occupation for visually impaired people in China. Working as a doctor in the physiotherapy department of a hospital in their hometown, Li's father believed that opening a massage clinic would provide a good living for his son in the future and that pursuing a profession in music would be unrealistic.
At the strong request of his father, Li entered Heilongjiang University of Chinese Medicine at the age of 19 to study acupuncture and massage. After graduation, Li worked in a hospital, and once ran a massage clinic. But his dreams of becoming a musician did not die, so he quit his stable job to pursue his dream. He learned to sing from a voluntary mentor, through touching the teachers' mouth and chest.
In 2008 and 2009, he participated in several singing contests in popular musical TV programs hosted by China Central Television (CCTV). After winning several contests, he gradually became increasingly known as a singer. He released two songs in 2010, and later his own albums.
Since then, he has been invited to perform in more TV programs, including the Avenue of Stars, a talent show program on CCTV. While developing his musical talent, Li also worked for many years to master the skills of judo. Having once won a silver medal in a national competition, he has also been invited to sing at large sporting events.
In December 2019, Li was elected as a member of the Music and Art Committee of China Association of the Blind (CAB). He met some brilliant visually impaired musicians across the country, and decided to set up Chinese Blind Traveler Orchestra. Light Up Dreams is the first song released by the band.
"I hope people enjoy the music we create," Li said. "And I hope we can serve society in the same way as able-bodied producers."
Keeping up with the times
Li is currently a member of Beijing Musician's Association and Hebei Musician's Association. He is promoting music learning and employment for the visually impaired.
To Li, if visually impaired people cannot participate in online life, they will be abandoned by modern society. Participation in online life can help people with disabilities better integrate into society and greatly improve their quality of life, he said.
His efforts have been done through a musical platform by providing guidance to musicians with disabilities to use this app to upload and share their musical works, live-streaming their performances and musical production process, and communicate with fans. The app is also an e-commerce platform for people to buy and sell musical instruments and courses.
With the development of barrier-free apps, visually impaired people can now use smartphones and surf the Internet using text-to-speech software. They can hail taxis, order delivery services, and use Internet navigation to get around, which has made life much more convenient.
"Increasing online information accessibility for visually impaired people is similar to laying a tactile pavement that guide them along the street," said Li Qingzhong, a member of the National Committee of the Chinese People's Political Consultative Conference and Chairman of CAB, ahead of this year's annual session of the CPPCC National Committee. "But building virtual tactile paving to enhance information accessibility is even more important," he said.
Information accessibility has a great impact on the disabled, especially the visually impaired, who depend on it for learning and living.
In recent years, the government has issued laws and policies to promote information accessibility, and also formulated related standards. As a result, the overall environment of information accessibility, which enables visually impaired people to explore more employment opportunities, has been greatly improved.
"Nowadays, the employment environment for the visually impaired or other disabled people is different from that in the past. Previously, they worked as masseurs, tailors, as well as repairers of watches, shoes and household appliances, but now few people still have these things repaired," Li Guangzhou told Beijing Review, explaining that in the current era of self-media, one can try live-streaming and e-commerce, and other new things.
"A new era has arrived, and there are many new opportunities," he said.
Copyedited G.P. Wilson
Comments to wanghairong@cicgamericas.com