I
N April 2018, China announced the plan to build Hainan Province into a pilot free trade zone, gradually exploring and steadily promoting the establishment of a free trade port with Chinese characteristics. While embracing its new mission, the largest special economic zone in China welcomed historic opportunities.
An aerial view of Haikou City, Hainan Province, taken on June 20, 2019. The island province is now on the move to create a world top-class business environment and establish itself as a global hub for tourist consumption.
Since then, Hainan, has been advancing reforms revolved around institutional innovation, keeping itself aligned with international economic and trade rules, and taking initiative in opening more sectors to foreign investors. At the same time, it made great efforts to foster tourist businesses and establish itself as a global hub for tourist consumption.
Hainan has made some bold advancing in reform. It made integrated plans for economic and social development, rural and urban development, land using, and environmental protection at the provincial level. Its pilot program to streamline administrative procedures has been widely promoted, and practices
of institutional innovation are springing up across the island.
Over the past two years, the island province has rolled out 71 typical institutional reform measures, covering a wide range of areas from administrative systems, intellectual property rights protection, finance, trading, and talents, to medical reforms. Many practices were a first-of-their-kind nationwide. The measures have effectively improved the local business climate and accelerated the building of an open economy.
Days ago, a subsidiary of Hainan Weite Electric Group Co., Ltd. applied to change its company name and lines of business. In just half a day, it was able to finish the whole administrative process from beginning to end, thanks to the local government's online platform. Launched in January 2019, the platform enables companies across the province to handle business registration and other applications online without having to visit government offices, which sometimes may be located in another city.
Thanks to the convenience, Hainan saw a 70.82 percent year-on-year surge of newly registered businesses in 2019. Of the total 244,400 newly increased market entities, 243,400 businesses completed their registration through the online platform.
In 2020, construction of the Hainan Free Trade Port started. The province selected 11 key parks to experiment with opening-up policies to foster an enabling business climate. The administration mechanism for these key parks has been undergoing a unified reform. The provincial government has delegated some of its administration power to these parks to make their administration more effiecient and timely.
"It's like a person's might is redoubled. The move created a favorable environment," said an official with the Hainan Resort Software Community Administration, which was unveiled in April. "It means we can save a lot of trips to provincial government offices to handle various business formalities."
The central leadership encouraged Hainan to take the initiative in opening up its market and exploring measures to build a new system of open economy, particularly focusing on the Pacific Ocean and Indian Ocean.
Free mobility of personnel and visitors is a hallmark of a free trade zone. On May 1, 2018, the National Immigration Administration allowed Hainan to offer 30-day visa-free access to tourists from 59 countries. As of April 8, 2020, more than 771,800 people had benefited from that policy.
"It is the first time for me to visit Hainan and China. It's so convenient," said Bjorn Erik, a tourist from Norway who was on a honeymoon holiday with his wife in Hainan last December.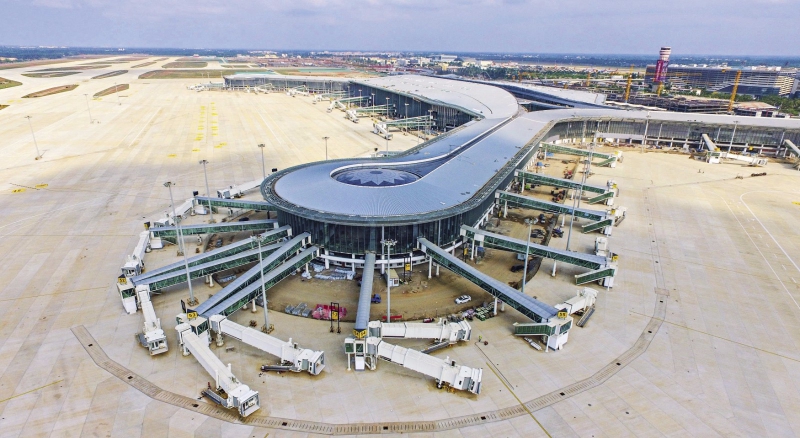 An aerial view of the phase II expansion project of Haikou Meilan International Airport taken on April 15, 2020.
In July 2019, the policy was further upgraded. Foreigners who are eligible could apply for visa-free visits to Hainan individually or upon the invitation of a local receiving organization for business, sightseeing, visiting family or friends, medical tourism, a conference, exhibition, or sports game.
Connectivity of transportation always precedes opening-up. On December 23, 2019, Hainan opened an international regular airline flight from Sanya to Chungju in South Korea, passing Yantai in east China's Shandong Province. The airline was the 100th overseas airline of the island. Up to that time, Hainan already had air flights connecting it with 62 cities in 20 countries and regions. In terms of transportation by sea, the province is accessible to countries and regions including Vietnam, Singapore, Malaysia, Myanmar, and Bangladesh via eight sea routes at the Yangpu Port.
In tapping its great potential for an open economy, Hainan focuses on tourism, modern services, and high-tech industries. Over the last two years, many global big names including the British Harrow School and Singapore-based global investment company Temasek have expanded business in Hainan.
According to the Department of Commerce of Hainan Province, the island in 2019 witnessed the registration of 338 new foreign-invested companies, an increase of 102.4 percent. Foreign investment actually used reached US $1.5 billion, logging an increase rate of more than 100 percent, far exceeding the national average.
Steps have been taken to further optimize the structure of foreign capital utilization. High-tech manufacturing and modern service businesses are increasingly attracting more foreign investments. In 2019, leasing and business services absorbed US $340 million of foreign capital, accounting for 22.5 percent of the provincial total. Besides that, 19.1 percent, totaling US $289 million, went to companies for use in scientific research.
Hainan is also a pilot province that implements experimental new measures for foreign trade in services. Bolstered by favorable policies brought by the building of a free trade zone, Hainan has witnessed rapid growing trade in the service sector. In 2019, in contrast with the national deficit, Hainan had a surplus of RMB 653 million and established service trade partnerships with 123 countries and regions across the world.
A raft of new favorable policies for attracting foreign trade and investments is bolstering the opening-up of Hainan Province. Free trade accounts can be set up in Hainan starting last year. In February, the State Administration of Foreign Exchange approved new policies, allowing Hainan to experiment in implementing simplified procedures of foreign exchange registration by foreign-funded enterprises, offering qualified foreign limited partners more convenience in terms of cross-border capital transfer.
Fostering Tourist Businesses
During the Tomb-Sweeping Festival in April 2019, Madam Wei from east China's Zhejiang Province came to Sanya to spend a vacation with her husband and two children. She took her children to the aquarium of Atlantis Sanya, where the children were so happy to come in close contact with starfish and sharks among other marine creatures.
It was the second time they visited Hainan. This time, the family spent the whole holiday in the Atlantis hotel. "The amenities they provide kids with are amazing," said Wei.
Tourism is one of the pillar industries in Hainan. Presently, the tropical island has 161 five-star hotels in business or under construction. Seaside tourist resorts and hotel clusters are also taking shape. Building the island into a global hub of tourist consumption is part of the task of turning it into a free trade zone and free trade port.
Over the past two years, Hainan has been active in fostering new business models for tourist consumption so as to accelerate the upgrading of its tourism.
Hainan Boao Lecheng International Medical Tourism Pilot Zone, a new face of the tropical island, is exploring ways to grow medical tourism of internationally leading standards. Recently, 25 globally leading medical device makers including Johnson & Johnson, Boston Scientific, and Carl Zeiss AG exhibited more than 300 new products in the medical tourism pilot zone. "Medical expertise, equipment, and pharmacy in the pilot zone are now on par with the high international level thanks to new reform and opening-up measures," said Gu Gang, head of the administration for the medical tourism pilot zone.
Duty-free shopping has been injecting momentum into tourist consumption in Hainan. In December 2018, the island adjusted the policy for the fifth time, lifting the ceiling on duty-free purchases to RMB 30,000. Visitors, including those from the island, can make duty-free purchases when leaving the island either by air or sea. As of last December, sales of duty-free goods amounted to RMB 12.89 billion, a year-on-year increase of more than 30 percent.
In addition, Hainan made focused efforts to intensive integration of tourism with cultural and sports industries. Concerts, international music festivals, and film festivals among other cultural events brought swarms of visitors and tourists to the island, boosting its hospitality, catering, and transportation sectors. The tourist destination is also witnessing brisk business brought by sports events including marathons, the Tour of Hainan, and the annual Round-Hainan Regatta.
In 2019, the island saw 83.11 million trips, a year-on-year increase of 9 percent. Of that number, inbound trips rose 13.6 percent to 1.44 million. The tourist destination raked in RMB 105.58 billion of revenue, a surge of 11.3 percent from the past year.
"We will continue to stay aligned with international top standards, diversify tourist products and services, and offer tourist from home and abroad more choices and a better experience," said Ao Liyong, deputy head of the provincial tourism and cultural authorities.
WU MAOHUI & ZHOU HUIMIN are reporters with Xinhua News Agency.