AS night falls, the egg-shaped architecture in the heart of the Wujiaochang commercial circle in Shanghai's Yangpu District displays a unique charm as it is lit up, attracting passersby to take out their smart phones and cameras to snap pictures of the mesmerizing sight.
Inspired by the traditional Chinese painted red eggs, the landmark represents the vitality of Yangpu District where it is located as an incubation base for technology.
Statistics show that the Wujiaochang region, with an area of 7.6 square kilometers, is home to nearly 4,000 start-ups. In other words, there are 510.9 hi-tech companies per square kilometer there. On a heat map representing the distribution of enterprises, the entrepreneurship center located in Sanhaowan Square on Guoding Road is a large red dot, showing a cluster of companies in high density. Another report on the innovation of Yangpu District shows that by the end of 2019, the district had attracted 682 high-level talent, an increase of 77.1 percent over the previous five years. Besides, Yangpu District has 66 academicians from the Chinese Academy of Sciences and the Chinese Academy of Engineering, accounting for 38.2 percent of Shanghai's total.
"Talent always comes first in scientific and technological innovation." said Li Yueqi, secretary of the Yangpu District Committee of the Communist Party of China. Owing to the talent pooled there, the small Wujiaochang region can now be compared to Silicon Valley in terms of innovation. In the environment of entrepreneurship and innovation, talent from universities and young entrepreneurs from all over the world are as abundant as fish in the water here.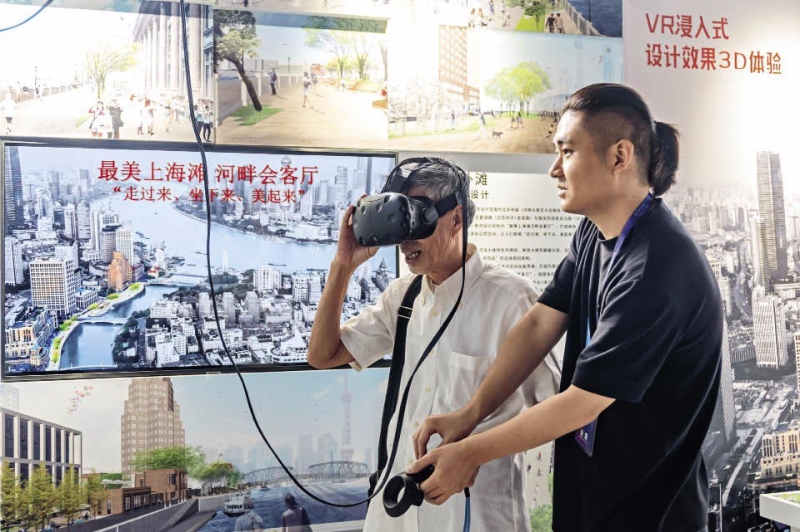 A Nest that Attracts Phoenixes to Settle
Yangpu is never short of talent. It is home to 10 universities, boasting nearly one-fifth of Shanghai's undergraduate students and one-third of its graduate students. This has empowered Yangpu to build itself into a nest of rising talent. Yangpu has been building itself into a district that is attractive to higher education, tech businesses and residents.
Against this background, Wei Jie founded Shanghai Accuracy Intelligence Co., Ltd., a solution provider for advanced manufacturing. The premise of his company is located by the Huangpu River. Here, drawing up blueprints in the office while listening to the melodies created by seagulls frolicking about the water outside is the daily activity of many engineers.
Thirteen years ago, Wei Jie's company was in an office of merely 15 square meters. Before starting a business in the National Science Park of the University of Shanghai for Science and Technology (USST), he was an honor graduate student at the School of Mechanical Engineering in the USST with an offer from a leading company on hold. However, he heard incidentally from his supervisor that Shanghai was encouraging young entrepreneurship with much support. Together with Wang Wei, his schoolmate, he declared his "high-precision turntable" project to the Shanghai Technology Entrepreneurship Foundation for Graduates.
This project not only won RMB 300,000 angel fund support from the foundation, but also secured them a rent allowance from the national science park. Step by step, Wei got his first order of RMB 78 million, built nine workshops in seven cities, and hung his company's logo along the Huangpu River. Since then, his career has taken off.
Today, Shanghai Accuracy Intelligence has formed a management team of 60 people, a research and development (R&D) team of 150 people, and a technical team of 210 people. Relying on the talented resources of the USST, it has developed new technologies and projects, and obtained more than 200 invention patents and application-oriented patents.
Yangpu District has supported and witnessed the growth of Wei's company. According to Wei Jie, how far an enterprise can go relies on the talent it owns. For years, he has been making innovations on a talent training mode. In 2010, after the establishment of the central factory, Wei Jie acted as a mentor to new employees and taught them knowledge in technology, sales, and logistics. Other talent training measures include skills competition and annual selection of outstanding employees.
Wei Jie said he did not initiate these activities to get something in return for his company, but did so because he wanted them to play a bigger role in China's intelligent manufacturing industry in the future.
An Enlarging Circle of Talent
Different from Wei Jie's entrepreneurial path, cloud service provider Ucloud was not "destined" to settle in Yangpu. Ji Xinhua, 39, is the chief executive officer (CEO) of Ucloud. He said that a friend who knows you is always hard to find. For hi-tech companies, the more important thing is not how much financial support they get, but whether the local government really understands the trend of the industry.
"I have introduced several Internet enterprises to Wujiaochang," Ji said, noting his "circle of friends" in Wu-jiaochang is getting bigger and bigger, and joked that he is Yangpu's "private investment ambassador." On the list of businesses and talents he brought in are leading enterprises and key talent from emerging areas. Behind the influx of so many enterprises, it is a comprehensive ecosystem for innovation and entrepreneurship created by Yangpu.
Over recent years, Yangpu has introduced a series of policies to attract talent. In 2016, it introduced 16 new policies for startups, overseas high-level talents, and entrepreneurs with their businesses entering the acceleration period. A large amount of subsidies and preferential policies in medical care, education, registered permanent residence, and other exclusive services were provided. In 2018, Yangpu promoted its services for the implementation and promotion of talent policies in the free trade zone.
In 2019, on the basis of collecting information on pertinent issues and matters of concern for talent through surveys, another 20 new policies were introduced to facilitate the introduction and training of regional talent, especially talent for entrepreneurship and innovation.
Since 2016, Yangpu has carried out entrepreneurship competitions for three consecutive years. A total of 415 "entrepreneurship stars" have been selected from more than 4,100 outstanding entrepreneurship projects that have been collected at home and abroad. Up to now, a number of unicorn and quasi-unicorn companies [A unicorn company or startup is a title given to a privately owned company valued at over US $1 billion] have been discovered through competition, and many innovative and entrepreneurial talent have made their names on the Forbes 30 Under 30 chart.
"For start-ups, success is accidental, while failure is inevitable," Ji Xinhua said, adding that so many people dared to "fight" in Wujiaochang because there was an environment of tolerance for failure. Lin Jinwen, CEO of Lechebang, an online vehicle maintenance service provider, is a man with clear thinking and original insights. He has made Lechebang a company covering 48 cities with a cumulative financing amount of more than RMB 500 million, and more than 14 million registered users in just two years. Kong Yao, born in the 1990s, also got tens of millions of yuan of strategic investment from Alibaba, and turned his Mingwo Technology into a star enterprise with over RMB 100 million in annual sales and providing smart office products for over 100,000 small and medium-sized enterprises.
A set of data is enough to show the vitality of Yangpu. For example, the elite enterprises selected by Yangpu in the previous two entrepreneurship competitions have an average annual sales volume of RMB 20.655 million, an average tax payment of RMB 4.2 million, and a year-on-year growth rate of 450 percent in operating revenue.
Besides, various kinds of friend circles are created here. Though Yangpu and Tsinghua University are geographically apart, there is an entrepreneurship circle comprised of Tsinghua graduates.
For example, after graduating from Tsinghua University with a bachelor's degree and Princeton University with a doctorate degree, Wang Yi returned to Yangpu and founded Liulishuo, an AI-powered English learning mobile app. Wan Xin, a schoolmate of Wang, also followed suit and founded a company in Yangpu dedicated to radiation-resistant semiconductors to break foreign monopolies.
Today, Yangpu pays more attention to the business model, financing ability, and growth potential of an enterprise. It also needs to build a platform to gather a group of leading enterprises and key talents. In May 2018, the "Shanghai Unicorn Garden" was spontaneously planned and established by several Internet unicorns in Yangpu. Ji Xinhua, as the secretary general, attracted 20 to 30 enterprises to participate in the organization. "We support all kinds of companies, big or small. Our support is not exclusive to some individual enterprises."
This magnetic effect also radiates to the "circle of friends" in the Yangtze River Delta. Last April, 25 state-level demonstration bases for entrepreneurship and innovation in four places in Shanghai, Jiangsu, Zhejiang, and Anhui established the "Yangtze River Delta demonstration base alliance," which expanded previously limited exchange of visits at the macro level and the cooperation between local enterprises and universities, and made the resources in these places flow smoothly.
"Shanghai has a large number of investment institutions and investors, Jiangsu has a solid manufacturing base, while Zhejiang's private enterprises are dynamic. There needs to be an optimal allocation of these resources," said Zheng Haojun, director of the enterprise innovation service center of the China Association for Science and Technology (CAST). The alliance has realized effective resource reallocation on 41 occasions, and a number of cooperation projects have been gradually implemented. The 25 bases that once existed only in the contact book have now been pulled offline to form a real "circle of friends."
Favored by Silicon Valley Talent
"The motto of Stanford University is 'The Wind of Freedom Blows,' and Shanghai's Yangpu is a place of vigor and hope, of action and innovation, as well as of history and modernity," a delegation of Yangpu said in a presentation during a tour for talent recruitment to Stanford University and the Global Innovation Exchange (GIE) Institute in Seattle in the United States on March 4 and 6, 2018. The GIE is a global partnership between the University of Washington and Tsinghua University launched in 2015.
Yangpu gathered a recruitment team made up by heads of more than 20 leading companies across the world with business operation in the district including EMC², Nike, and Splunk. In the tour, they planned to present more than 70 senior positions, as well as Shanghai's excellent business environment and talent policies to overseas talent.
Before coming to Yangpu from the Silicon Valley in the United States, Splunk had already been famous in the global big data industry. "In the United States, if you need to look up some big data, people Splunk," He Ning, general manager of Splunk's Shanghai R&D center, said in his open-plan office in Huangpu. He said that the data that takes a traditional platform one or two months to process, only takes Splunk two or three days, thanks to the latter's strong R&D team.
"Tech companies need R&D talent the most. Before 2014, Splunk, already a listed company, faced a difficulty in the Silicon Valley. It could not recruit sufficient R&D talent," He Ning said, adding that there are four universities around here in Yangpu, in addition to businesses of various sizes, which could provide a huge talent pool for Splunk. Under a steady stream of human resources, now Splunk's Shanghi branch can equal its United States headquarters, and become one of the world's biggest big data R&D bases.
Also attracted by the strong magnet of Wujiaochang is Zhao Bin, president of Agora. After years of experience in the field of online audio, video, and live broadcasting, Zhao only wants to "achieve real-time audio communication to serve both big companies and the public." To get started, Zhao wrote the initial code for Agora in a Silicon Valley garage and took it to Shanghai's Wujiaochang, where Internet companies were booming. "We started out with a 10-person team, and then our group grew. Today Agora has become the world's first 'PAAS platform' providing real-time audio and video communication. We need to expand and move to a new office building, but still in Wujiaochang. I've never thought of leaving this place."
Of course, for new talents, what really keeps them here is the open-mindedness. Lots of innovations are happening on University Road, or the "Silicon Alley" of Wujiaochang. Businesses here are allowed to operate outdoors, so that people can sit outside to relax. Business hours are also extended to meet the needs of young people at night; and a variety of cultural elements, such as music, technology, and retro ones, are infused into the traditional restaurant bar and cafe scene to attract and engage young people.