TONGCHUAN is resource-based sustainable development pilot city, a demonstration city of energy conservation and emission reduction fiscal policy, and a demonstration area of national ecological protection and restoration projects. In recent years, Tongchuan has been successfully established as a national model city of green development and a promoter of good public health. It was ranked the happiest city in China for two consecutive years in 2017 and 2018.
Founded in 1958, Tongchuan is the second city under the jurisdiction of Shaanxi Province, and also one of the first industrial cities established after the founding of the People's Republic of China. During the First Five-Year Plan period, the construction of Wangshiwa Coal Mine and Yaoxian Cement Plant, two national key projects, made Tongchuan an energy and building materials base, and also initiated its development as a resource-based city. During the planned economy stage, Tongchuan accounted for 70 percent of Shaanxi's coal output, and has contributed over 600 million tons of coal and 200 million tons of cement to the country during the past 70 years.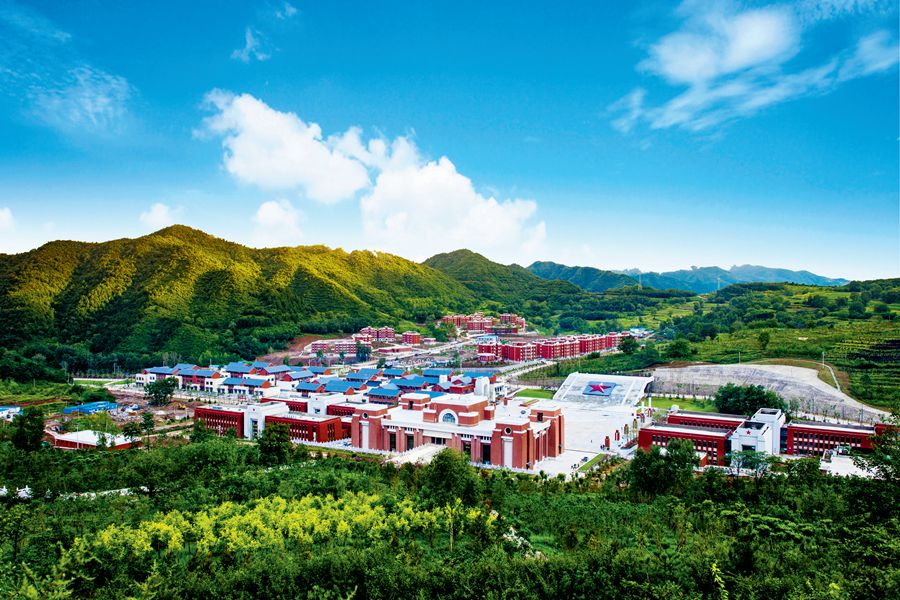 Zhaojin, located in the northwest of Tongchuan City, Shaanxi Province, is a famous tourist town.
With the deepening of reform and opening-up, the drawbacks of the mechanisms, urban foundation, and industrial structure have gradually emerged. Under the stress of low-end overcapacity, Tongchuan has embarked on the road of transformation, facing the ever-growing domestic demands and market pressure. The 13th Party Congress of Shaanxi Province, held in 2017, put forward the goal of "building a model city of transformation and upgrading of traditional industries in the west," and further strengthened the confidence and determination to propel Tongchuan's transformation. A comprehensive transformation of multiple domains including industry, urban development, society, and relevant systems and mechanisms has brought new vitality to the city as well as more happiness to its citizens.
In 2018, the city's per capita GDP exceeded RMB 40,000, 534 times that in the early years of the PRC, and the per capita disposable income of rural residents was RMB 9,289, 151 times that at the beginning of reform and opening-up. In the first half of this year, local economy maintained a growth rate of 7.6 percent, and the per capita disposable income of urban and rural residents increased by 8.6 percent and 9.8 percent respectively.
Industrial Transformation
Over the years, Tongchuan has prioritized industrial optimization and restructuring, focusing on the transformation and upgrading of traditional industries, as well as the development and strengthening of continuous industries (an industry in which most of the material is received at one point from which successive operations turn it into a finished product). Efforts have been made to develop new industries, hi-tech, culture, tourism, and other industries, and construct a more dynamic and diversified industrial system.
The traditional industry is pioneered by manufacturing of aluminum for planes and automobiles, forming a circular industrial cluster of coal power generation, electrorefining aluminum and deep processing of aluminum. Manufacturing of aluminum for planes and automobiles has become the main engine driving the local economy. The automotive hub project with an annual output hitting six million and the construction of an automotive parts industry park have improved the quality and efficiency of traditional industries. Continuous industries are propped up by the provincial hi-tech industrial development zone, new industries such as the digital economy and the new materials industry have achieved breakthroughs, and 16 aerospace science and technology enterprises have been stationed in the region.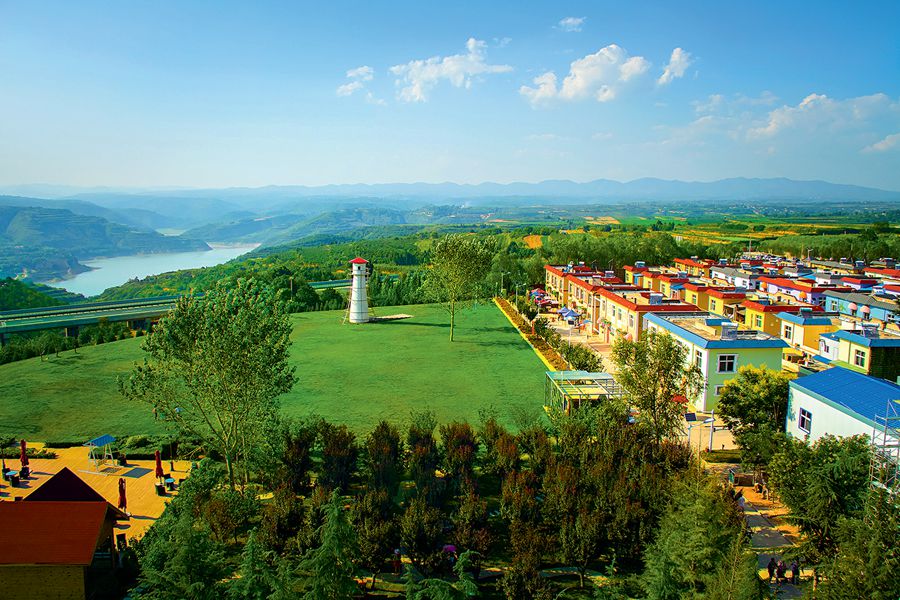 The newly revamped Mazui Village, located in Shizhu Town, Yaozhou District, Tongchuan City, Shaanxi Province.
Relying on its many parks and scenic spots, it is vigorously developing the "culture+" industry, transforming and upgrading the old industrial concentration areas, built the Yaozhou kiln cultural base, and cultivating a number of new cultural formats. There is in-depth integration of culture and tourism here. Various kinds of culture have been integrated into tourism such as red tourism focusing on revolutionary culture, health tourism themed on the "King of Remedies," Silk Road tourism themed on Monk Xuanzang, industrial site tourism themed on coal production, and rural tourism to learn folk culture, all of which have developed rapidly. The annual reception of tourists has exceeded 21 million. With the continuous improvement of business environment, Tongchuan has been selected as the most valuable city for investment and business in China in 2019.
Beautiful Scenery
Over the years, Tongchuan has firmly upheld the idea that the objective of tackling environmental pollution is to catalyze development and pursue happiness. It has dismantled backward cement production lines, stopped building new cement production lines from 2013, and reduced the number of cement enterprises from more than 30 to six. A total of 91 demonstration projects of energy saving and emission reduction have also been implemented. De-sulfurization and de-nitrification have been enforced for cement enterprises in the city, and ultra-low emission renovation has been carried out for Huaneng Tongchuan Zhaojin Power Plant. In the end the city was rated as excellent in the evaluation of the comprehensive demonstration work on energy conservation and emission reduction for three consecutive years .
In 2016, Tongchuan closed 21 coal mines, which cut excessive production capacity of 10.58 million tons, accounting for 36.5 percent of the city's total coal production capacity in that year. Today, green has become the dominating color of Tongchuan, with the urban forest coverage rate topping 46.5 percent. The number of days that it has good air quality in a year ranks it first in central Shaanxi, and it has been named as a healthy city and a model city of greening.
In 2017, Tongchuan was designated as a demonstration area of the ecological protection and restoration. Within three years, it will invest RMB 5.863 billion and implement 17 major projects. Scarlet ibis are witnesses and beneficiaries of the changes in Tongchuan. More than 100 scarlet ibis can be spotted in the fields of Tongchuan, and 85 of them were born here.
Better Services
Development always benefits the people, and everyone's happiness is the primary objective and the ultimate goal of transformation. Tongchuan has always adhered to the people-centered development concept, addressing the most vital interests and concerns of the people. It protects people's livelihood, optimizes services, and constantly enhances the sense of happiness in the city.
The livability level of the city has been ranked among the top three in Shaanxi Province for many years. Since 2003, Tongchuan has started the relocation project in rundown urban areas and sunken areas, and has solved the housing difficulties of more than 200,000 middle-income and low-income people.

Dongjiahe Industrial Park, located in Tongchuan City, Shaanxi Province.
In addition to this, it was the first in the province to build a network of four-level public service centers covering cities, counties, townships, and villages, and established the mechanism of "Online Mass Work Department" to bring more convenient services to the citizens. Efforts have also been made to build a healthy Tongchuan, building three first-class hospitals. It was designated the first batch of pilot cities in China to integrate medical and elderly care services.
Following President Xi Jinping's letter of reply to students at Beiliang Red Army Primary School in Zhaojin, Tongchuan has made efforts to provide better education to the masses, covering school bus services, school heating facilities, public kindergartens, rural primary and secondary school teachers' housing, drinking water in kindergartens, primary and secondary schools, and bathrooms in boarding schools. Tongchuan has been selected as "the happiest city in China" for two consecutive years.
Cultural and Ethical Progress
Cultural and ethical progress is the spiritual foundation and yardstick of local development. Tongchuan has launched the initiative to establish a "city of good people with morality that nourishes Tongchuan." To this end, it has rolled out a series of programs to identify and commend good people and good deeds, and issued two regulations to reward these people and deeds.
Yang Changya, secretary of Tongchuan Municipal Party Committee, noted that standing at a new historical starting point, Tongchuan will hold high the great banner of Xi Jinping Thought on Socialism with Chinese Characteristics for a New Era, strive to promote high-quality development, and celebrate the 70th anniversary of the founding of the PRC with new achievements in its transformation.