UPON completing the poverty eradication task at the end of this year, China will achieve the poverty alleviation goal set in the United Nations 2030 Agenda for Sustainable Development 10 years ahead of schedule, which is of great significance to both China and the world. "No country in the world has ever lifted so many people out of poverty in such a short period of time," Chinese President Xi Jinping said on March 6 at a symposium on winning the tough battle against poverty.
A clean and well-equipped new village delights the relocated children. Dong Ning
In the interests of epidemic prevention and control, the symposium was held in the form of teleconference. Participants included officials from provinces, autonomous regions, and municipalities throughout the country, as well as county-level leaders in 22 provinces in the central and western regions facing particularly challenging poverty alleviation tasks.
This meeting took place less than 300 days before the deadline of the completion of poverty eradication, at a time when about 5.51 million people in 2,707 impoverished villages in 52 counties remained mired in poverty. The final part of the poverty eradication fight is particularly challenging.
How Difficult?
Poverty reduction has been an important task of the Chinese government since the country implemented the policy of reform and opening-up in the late 1970s. There were, according to prevailing standards, 98.99 million rural poor at the end of 2012, prior to which China had successfully lifted approximately 700 million people out of absolute poverty. In 2015, China specified the task of eliminating rural poverty and rehabilitating all impoverished counties by 2020.
To fundamentally solve the poverty problem, in 2012, the State Council Leading Group Office of Poverty Alleviation and Development explicitly identified 832 poor counties. At the end of last February, 52 of these 832 impoverished counties had not risen from poverty.
The 52 impoverished counties are distributed over seven provinces and autonomous regions, including Guangxi, Sichuan, Guizhou, Yunnan, Gansu, Ningxia, and Xinjiang, all of which are located in remote, often inaccessible areas of western China. Many of these places are ethnic minority areas where standards of education are low, so communication is often problematic.
A worker moves flowers in the greenhouse in the Gaofeng Village Organic Ecological Agriculture Industrial Park in Yanhe Tujia Autonomous County, Tongren City, Guizhou Province on June 23, 2020.
Natural conditions are inhospitable, and scant arable land impedes agricultural and industrial development. This is starkly apparent in 14 concentrated contiguous areas of extreme poverty, 11 of which are named after the natural mountainous areas they are located in. The areas are exemplified by 38 impoverished counties in the Wumeng mountainous area. By the end of 2019, at least 13 impoverished counties still remained mired in poverty. Liangshan Yi Autonomous Prefecture of Sichuan Province was also identified as a contiguous area of extreme poverty as it still has seven counties remaining in the distress.
This constitutes only part of this year's poverty alleviation task. Liu Yongfu, director of the State Council Leading Group Office of Poverty Alleviation and Development, said earlier this year that, according to survey statistics, the 2 million people who have risen from poverty remain vulnerable and are at risk of slipping back, and among the non-impoverished population, about 3 million marginalized people are on the brink of poverty. All this adds up to "this year's poverty alleviation task [which] involves about 10 million people."
Moreover, the elderly and people living with an illness or disability account for 45.7 percent of the remaining 5 million registered impoverished people. Lacking the necessary working capacity, they do not fit the more commonly applied industrial poverty alleviation models. Meanwhile, a small number of impoverished people lack the determination to rise from poverty, rather waiting for and demanding help. Motivating them relates not only just to the overall results of poverty alleviation, but also to the general public's satisfaction with poverty reduction efforts. That is to say, if the government helps people who profit from other people's toil rather than the toilers themselves, the negative impact it exerts on poverty alleviation work as a whole is disastrous. Although such exploiters are relatively few, this is nevertheless one of the hardest issues to resolve.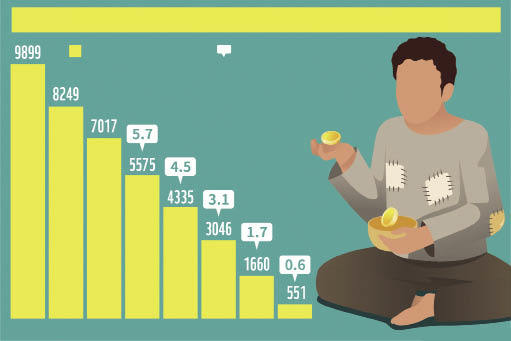 Targeted Measures
After the general task of eliminating poverty and rehabilitating impoverished counties was specified in 2015, the heads of Party committees and governments of 22 central and western provinces and autonomous regions which saw a concentration of poverty-stricken counties signed letters of commitment to the central government, and promised to root out poverty by the end of 2020.
According to Liu Yongfu, at the beginning of 2020, China ordered governments at each level to designate officials to supervise the implementation of various poverty reduction measures in 1,113 out of 2,707 villages throughout the 52 counties which are still mired in poverty. Authorities of all villages, counties and provincial-level regions should come up with a specific work plan.
The poverty line in China changes by consumer price index. In 2011, it was set at an annual per capita income of RMB 2,300. Rural households living below the threshold were identified as impoverished households and would get government support. In 2019, the standard was RMB 3,218. And at the end of this year, the poverty line will be around RMB 4,000, Liu said.
He emphasized that income is not the only criterion. China promised that only when people have no worries about food and clothing, and have access to nine-year compulsory education, basic medical services, and safe housing, can they be considered lifted out of poverty. At present, the net enrollment rate of school-age children in China's primary schools stands at 99.94 percent, and more than 8 million impoverished households live in safe houses. Meanwhile, about 10 million impoverished residents living in inhospitable regions have moved to new homes through relocation programs for poverty alleviation. The basic medical care scheme in China has also ensured that the rural poor have access to medical services.
In response to the current situation where impoverished people must contend with inhospitable natural conditions, inconvenient transportation, absence of industry, and other challenges, the Chinese government has introduced targeted poverty alleviation measures including relocating them to new residential communities, improving local infrastructure, and boosting agricultural businesses based on local conditions. Some measures are even introduced based on the condition of a specific household.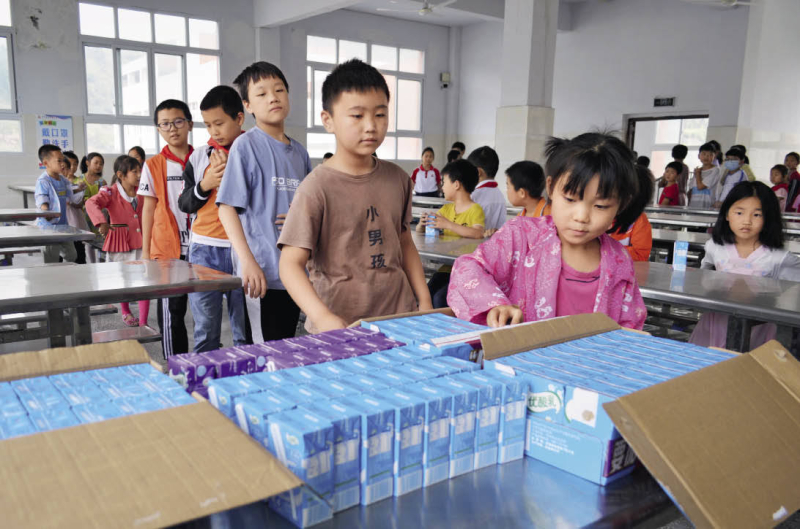 Left-behind children line up for milk during break time at Pengyongwu Primary School in Yunyang County, Chongqing on June 10, 2020.
As of the end of March, China had built over 2.66 million apartments earmarked for more than 9.6 million impoverished people from inhospitable places. Meanwhile, at least one of the relocated families with working abilities have been offered a job.
Taking Guizhou Province as an example, 1.88 million impoverished people from inhospitable areas have now lived in new homes thanks to the poverty alleviation programs. The figure represents 15 percent of the total number of rural poor to be or having been relocated.
There have also been comprehensive improvements to infrastructure in poverty-stricken areas. People now have access from their villages to the outside world by surfaced roads, and village clinics. A total of 108,000 schools of the compulsory education stage have had their conditions improved. Meanwhile, 99 percent of poor rural areas have access to stable power supply, and 98 percent to the Internet.
For less advantaged laborers among the poor, the employment problem has been eased through the setting up of public welfare posts. For example, tens of thousands of village-level photovoltaic power stations have been built in poverty-stricken villages across the country. Each power station's RMB 200,000 or more annual income is contributed to the village collective income, which is used to set up public welfare posts, such as road maintenance, elderly care, and cleaning. While conducive to public welfare undertakings, the creation of these posts enables disadvantaged poor people to work and support themselves rather than rely solely on social relief and other policies.
China is well aware of the role of education in rooting out poverty, and has invested heavily in education in poverty-stricken areas. The country reserves more than 100,000 college admissions for poverty-stricken areas every year, and provides scholarships and financial support to college students from impoverished families. In addition, there is also financial support to junior high school students so that they can pursue vocational education.
This year, the COVID-19 epidemic posed even greater challenges to poverty alleviation. However, in early March, 99 percent of village working teams began their work while making sure epidemic prevention and control measures were in place. Over the past few years, China has dispatched a total of 255,000 such teams, involving 2.9 million officials from Party and government departments, public institutions, and state-owned enterprises to help fight poverty in poor villages. In 2020, 918,000 of them are stilling working there. Thanks to their contributions, many people have changed their mindsets and are active in fighting poverty. They are developing rural industries and enhancing their capabilities to fight for a better life.
Continuing the Cause
When impoverished people gain access to education, basic medical services, and safe housing, the next task is to ensure that the access is stable, Xi said at the symposium in March. However, some children are still at risk of drop-out, some rural medical facilities are not capable of quality services, some houses renovated under the poverty reduction program are poor in quality, potable drinking water supply is not stable in certain places, and there are seasonal water shortages, Xi noted the challenges in poverty reduction head on.
Consensus was achieved at all levels of the Chinese government on specifying a transition period during which supportive measures and policies continue. It is necessary to ensure that "main policy measures are carried on, and village working teams are not withdrawn."
Liu Yongfu emphasized that the main task in the fight against poverty is to eliminate absolute poverty, a problem which has remained unsolved in China for thousands of years. But that is not to say that once absolute poverty is eliminated, there will be no poverty in China. Poverty alleviation work will never end, but shift its focus from solving absolute poverty to alleviating relative poverty. "Bridging the development disparity is another task," Liu said.
In September 2018, UN Secretary-General Antonio Guterres came to China for the Beijing Summit of the Forum on China-Africa Cooperation. When taking media questions, he said that after 2020, China will continue its systematic program to reduce less extreme poverty that might still exist, and will aim to create a society in which the fight against inequality and the capacity to bring all people into the benefits of the modern era will be achieved.
"Completing the building of a moderately prosperous society in all respects" is more than a slogan. China is delivering its promise that no single individual, no family, will be left behind in the endeavor with concrete moves and undisputable achievements.