ON May 30, BBC for the first time used EE's recently launched 5G network for live broadcasts. As the camera zoomed in on the Huawei equipment, the excited reporter Rory Cellan-Jones told the audience that it was the apparatus that made the first 5G broadcast in the U.K. possible. Posts by British users on social media that day showed that the 5G network speed reached as high as 980 Mbps.
The new generation of mobile networks has entered a critical phase of global commercialization, in which China has a competitive edge. On June 6, China's Ministry of Industry and Information Technology issued the first commercial licenses for 5G to three major telecom carriers – China Mobile, China Telecom, and China Unicom – as well as the China Broadcasting Network Corp, ushering in the 5G era in the country.
Time to Get Your 5G Phone
With the popularization of 5G technology, a day in the future might unfold like this: As you wake up in the morning, the window curtains slide apart automatically, the smart mattress displays the stats of the quality of your sleep the previous night, the bathroom faucet has heated up water to your preferred temperature, the coffeemaker has brewed the drink of your favorite flavor, and an automatic car is parked outside the door of your house waiting for you… The scenes from a science fiction movie will become reality in the foreseeable future with the development of 5G networks.
5G is the term for the next generation of mobile networks. It is already known to many people for having a higher download speed and smoother streaming. In addition, it also has the merits of broader band and lower latency, which are critical elements for many hi-tech applications, such as unmanned driving. If a driverless vehicle is unable to receive or respond to an order in real time, driving at a high speed only increases the risk of having an accident. Under the 5G network, the reaction distance of unmanned cars is only 2.8 centimeters, compared with 1.4 meters under a 4G network.
What mobile technologies of previous generations have done, figuratively speaking, is made expansions to the road, while 5G has not only made the road wider but built a bypass as well to reduce the traffic, said some experts. Under the 4G network the inter-person connection grew; while under the 5G network, the person-to-person, person-to-things, as well as things-to-things connections are all intensified, creating an era of networks that connect all people and all things.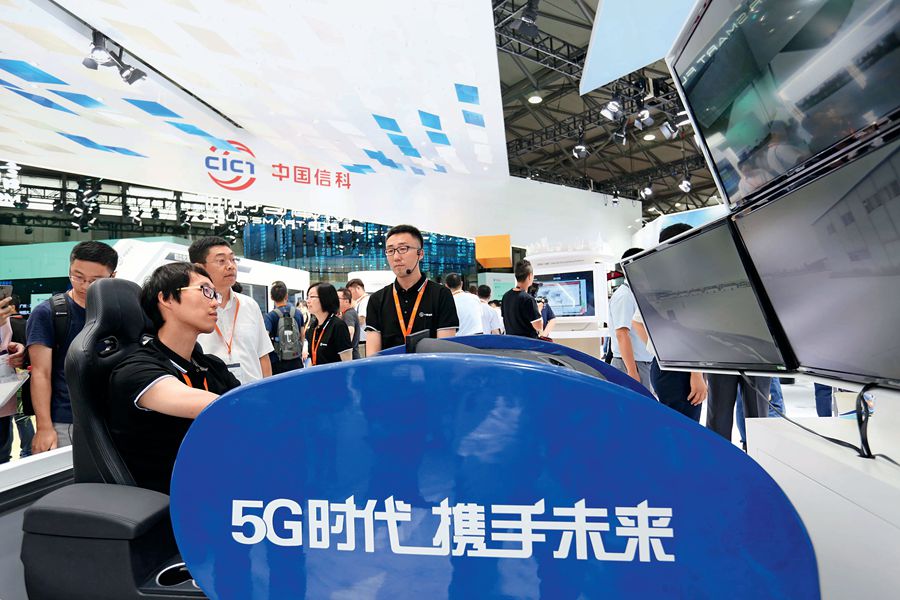 The Mobile World Congress 2019 is convened in Shanghai on June 27, 2019. It is the largest 5G-covered international event so far.
At present 5G networks are in the process of being trial run in several Chinese provinces, and were available on such big events as the 2019 CCTV Spring Festival Gala and the Two Sessions in March. But for the application to be able to cover the whole country, it needs time.
4G phones cannot receive 5G signals, 5G handsets however can receive 4G signals. Consumers thereby need new devices to connect to the new-generation network, but fortunately for them they do not have to change to a new SIM card or a new phone number like they did during the transition from 3G to 4G. This saves users lots of trouble.
Many Chinese phone makers have rolled out their 5G models. In February the world's first 5G foldable AI phone, Huawei's Mate X, debuted in Barcelona, Spain, followed by products of other Chinese brands like ZTE, OPPO, and Xiaomi.
"A small number of 5G phones will enter the market in the latter half of this year, but large-scale sales will not come until next year. By that time, we will be truly enjoying 5G services of larger bandwidth, better quality, better performance, and high intelligence," said Zheng Yunyong, president of China Unicom Research Institute, at the Two Sessions in March.
The price of 5G services is a point of major concern among users. To field this question, Cao Lei, chief of the Technological Strategy Section of China Telecom, said, "In the 2G, 3G, and 4G technology replacements, we can see the trend of lower charges for data traffic, which conforms to the law of economies of scale. But it takes time to bring down the unit price."
The higher connectivity and lower latency of 5G networks will have tremendous impact on people's life and social-economic development. According to a report by China Academy of Information and Communications Technology (CAICT), 5G Industry's Contribution to the Economy, the commercial application of 5G technology in China is estimated to directly generate RMB 10.6 trillion worth of economic output during the 2020-2025 period and create more than three million jobs.
A Big Boon to Everyday Life
On January 18 this year, the Mengchao Hepatobiliary Hospital of Fujian Medical University and the Beijing-based Chinese PLA General Hospital (PLAGH) conducted the world's first remote surgery using 5G-powered technology. Two months later the No. 1 Medical Center of PLAGH and the hospital's branch in Hainan Province 3,000 kilometers away successfully completed the world's first brain surgery remotely controlled with 5G-powered technology on a patient with advanced Parkinson's disease.
On May 14, West China Hospital in Chengdu, Sichuan Province, in cooperation with its branch in the city's Longquanyi District and Suining Central Hospital 200 kilometers away, conducted a demonstrative surgery under the fiberoptic bronchoscopy, the first collaboration between Chinese medical practitioners in multiple locations under a 5G network. With its broader application in China, 5G technology will be more involved in medical diagnosis and treatment.
"How is the patient doing?" A doctor wearing VR glasses asked a colleague on the screen in front of him. "Vital signs are stable, heart rate 75 beats per minute, and blood pressure 110/65 mmHg," came the reply.
This scene was from an emulated first aid operation at the emergency center of the Second Affiliated Hospital of Zhejiang University School of Medicine. With 5G technology, various data was transferred in real time from devices in an ambulance to the emergency room of a hospital, where doctors monitor full-dimensionally the condition of the patient and the response of paramedics on the scene through VR glasses.
"5G VR glasses enable doctors to see what's happening thousands of miles away, and therefore provide onsite assistance to emergency workers," said Li Qiang, a doctor of emergency medicine at the Second Affiliated Hospital of Zhejiang University School of Medicine.
Deployment of 5G technology is also opening up new horizons of learning for children in mountainous areas. "Why do potatoes from high-altitude regions taste better than those grown here?" Biology teacher Cheng Yamei raised the question at a class in Tianfu No. 7 High School, one of the best in Chengdu. After asking the question, she paused for a moment, then picked a student to answer it – a boy hundreds of miles away at a school in Liangshan Yi Autonomous Prefecture. He and his classmates in that underdeveloped region were sitting in at the same class taught by Cheng, all with the help of 5G+VR technology.
"It never occurred to me that we could have biology and science classes this way. The moment I put on VR glasses, I feel like I am in a totally different world," said Aer Axia, a student of the Liangshan School. "I can't wait until the next class, wondering what teachers in Chengdu will bring to us."
This is an example of 5G technology facilitating the sharing of prime educational resources by students in different places. "In the future, we will open 5G cloud classes to extend our teaching to more impoverished or remote areas, so that more students have access to prime educational resources, and our poverty alleviation through educational programs will become better targeted," said Chen Gang, headmaster of Tianfu No. 7 High School.
The commercial application of 5G technology is expected to trigger a revolution in how people live and work, the economy and the society, and spur the development of a smart society, opening up immense possibilities.
An Open Network
In the 3G era, China adopted foreign standards for mobile networks; in the 4G era, its homegrown mobile communication standard became one of six global benchmarks; but in the 5G era, China leads the world in terms of technology, standards, deployment, and development of the industry.
On May 30, mobile carrier EE launched the U.K.'s first 5G service in six cities in the country. It used the Chinese telecom provider Huawei's products in its network. Another mobile operator Vodafone turned on its 5G service in seven British cities in early July, also using Huawei equipment.
Huawei has signed 5G deployment agreements with several mobile carriers in Spain, and established an open lab for a 5G wireless network in South Korea. So far several countries in Europe, the Middle East, Asia, and the Americas have reached cooperation deals for 5G commercial deployments with Chinese companies like Huawei and ZTE.
China is open to international cooperation in the entire process of 5G development. In 2013, it set up the IMT-2020(5G) Promotion Group, whose members include such foreign companies as Ericsson, Nokia, Qualcomm, Intel, and Rohde & Schwarz. On the platform of this promotion group, Chinese and foreign companies work together on research, technological experiments and product testing, and jointly formulate technology and test standards.
On the back of collaboration between producers of system equipment, chips, terminals and test instruments worldwide, and domestic innovation, China has now taken a leading position in the development of 5G networks globally, with a clear competitive edge in this realm. Chinese firms account for more than 30 percent of standards-essential patents (SEPs) pertaining to 5G. China's 5G technology and products are maturing, and key links of the 5G industrial chain have by and large reached the commercialization stage, laying the foundation for 5G commercial deployment in the country.
In April, the Defense Innovation Board of the U.S. Department of Defense released the report, The 5G Ecosystem: Risks & Opportunities for DoD. The report states that China now has deployed 350,000 5G-operable base stations, which is nearly 10 times as many as are deployed in the United States. Globally, China's large manufacturers (Huawei and ZTE) are pushing 5G deployment through commercial sales of 5G-enabling equipment and devices primarily for non-standalone networks, and Huawei has already shipped upwards of 10,000 base stations to overseas suppliers.
The Ministry of Industry and Information Technology has announced that China welcomes the participation of domestic and foreign companies in the design, deployment, and promotion of 5G networks in China, and share in the advances of China's 5G sector. For years, Chinese firms have been active in the formulation of international telecommunication standards, network construction, and industrial promotion, making their contributions to the development of international telecom industry. Now China opens its arms to the rest of the world to enjoy together its 5G networks.
LIU SHAOHUA is a reporter with the international edition of People's Daily.