The Chinese government has announced bold plans to forge ahead as a global leader in the research and development (R&D) of 6G mobile networks, which is expected to be five times faster than peak 5G networks and dramatically upgrade key technologies integrated with the next generation of wireless internet. The Chinese Academy of Information and Commercial Technology (CAICT) hosted a press conference in the capital city to introduce its recently published White Paper on June 5.
China is already recognized as the world leader in 5G and that status will likely stay the same for 6G in the decade to come. The nation aims to commercialize 6G by 2030, according to the Global Times. China's Mobile companies – China Mobile, China Unicom, as well as China's largest telecom equipment manufacturer ZTE have invested into 6G R&D starting in 2019. Washington hopes to surpass Beijing here, but they are a year behind schedule jumping into 6G research in 2020. China Unicom and ZTE have signed a cooperation agreement to boost R&D for 6G.
Diving into the details
The Chinese government industry body publishing the White Paper is highlighting Beijing vision for the future of 6G and how Chinese companies and investors can tap into it for a more successful tomorrow. The CAICT IMT-2030 6G promotional group authored the White Paper. They addressed the grand vision, highlighting eight business scenarios along with ten key potential technologies and sector development.
According to the authors, we can anticipate three major development trends from 6G – immersive, intelligent and universal, while the eight business scenarios that will transform industries are connected to immersive cloud XR, holographic communications, sensory interconnections, intelligent interactive communications, digital twins and global coverage.
The White Paper takes note on how immersive services can be applied to the fields of entertainment, medical care, health and industrial production that will be supported by 6G ushering in a new era of digital transformation that would sweep in amazing new upgrades in a rising number of industries.
6G will create many new lines of businesses and social development. Basically, 5G was great but there were some shortcomings so 6G developers will close the gaps and think big on how to introduce new inventions alongside science and hi-tech innovations that could change the world as we know it forevermore.
A staff member shows 5G-supported telemedicine technology during the 2019 World 5G Convention in Beijing, capital of China, Nov. 21, 2019. (Photo/Xinhua)
Upgrading for a better world
5G developments have led to significant upgrades in IoT (internet of thing), robotics, AI (artificial intelligence), smart technologies, automated manufacturing, self-autonomous vehicles, drones, and plenty more but 6G can take the upgrades to a much higher level by spurring forward on machine-learning, virtual reality, AI-brains, sensory adaptions and other applications. We will enter an age with 6G delivering more realistic and optimal experiences that can jumpstart intelligent transportation and smart healthcare sectors.
The way in which people live their lives could be dramatically altered after China begins to commercialize 6G by 2030. Chinese hi-tech firms know the great potential for success and are eager to invest into it. You will see a widening of spectrum options to serve as the basis of 6G infrastructure. China Mobile is testing terahertz waves and visible light as potential spectrum selections. It is possible hologram technologies will look so real we could easily confuse their images for the real thing.
Additionally, China has learned deep lessons from their prior mistakes in 5G networks. Beijing was not prepared for the rising level of trade protectionism and anti-China attitudes that had been spreading in some Western countries.
Localizing 6G as the trend
The United States, United Kingdom, European Union and Australia have all announced their intentions to curtail Chinese companies including Huawei Corp., ZTE among others from participating in 5G government contracts. They argue that Chinese firms could be accessing into public bids to pursue espionage activities. Beijing has denied such claims but still we are witnessing rising levels of 'blame China' attitudes among Westerners. The Chinese government will be hard pressed to change their mindsets in the near future, therefore localization will be a better approach.
In regards to 6G development, Beijing has called for the country to employ more self-reliant technologies, Made in China, and to be less-reliant on patents held by foreign enterprises. The shift towards an all-China ecosystem for 6G could be the way forward. The Chinese discovered that with the 5G rollout, the nation was subject to "bottleneck technologies" and that hampered 5G development in the country when domestic hi-tech firms struggled under blacklistings and economic sanctions imposed by Washington, London and Brussels. Beijing believes that localization will keep 6G running strong in the country as geopolitical disruptions won't be a factor.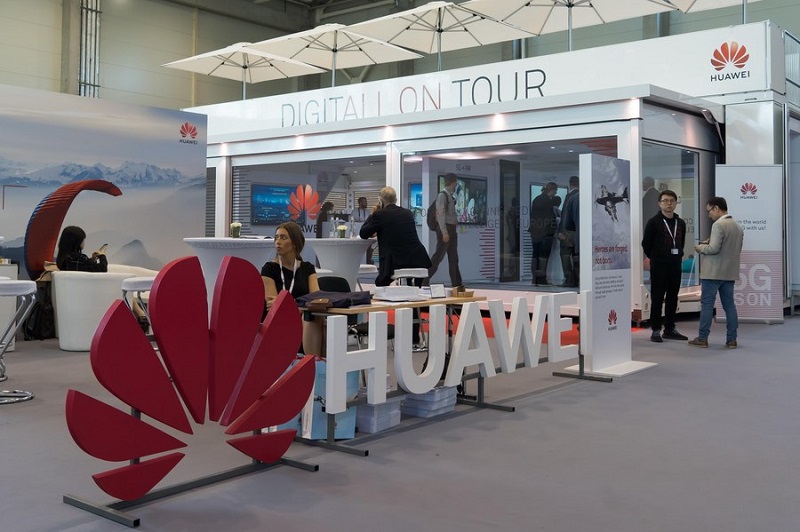 People visit the booth of China's telecoms company Huawei during the International Telecommunication Union (ITU) Telecom World 2019 held in Budapest, Hungary, Sept. 10, 2019. (Photo by Attila Volgyi/Xinhua)
US jumps into the 6G race
The US government does not like a fair playing field if they are losing. China is far ahead of the US in the 6G race but Washington feels determined to catch up and surpass China even if they must resort to dubious deeds. The US State Department has approached many sovereign governments and urged them to back away from collaborating with China on 5G and 6G networks and threatened to sanction countries that refuse to follow US' instructions.
In October 2020, the US-based Alliance for Telecommunications Industry Solutions, a telecom standards developer, launched the Next G Alliance to push forward North American leadership in the 6G global competition. Members who have joined are Apple, Qualcomm, Google, AT&T and others. The US alliance intends to work closely with European, Australian and Japanese tech firms to race in front of China on 6G.
Meanwhile, the US Senate has passed the 'US Innovation and Competition Act' that pledges US$250 billion to fund the domestic hi-tech and manufacturing sectors. The bipartisan sponsored bill passed with a 68-32 vote in favor. American taxpayers will fund more scientific research, provide subsidies to chip-makers, robot makers and overhaul the National Science Foundation (NSF), as well as reroute rare earths supply chains. Washington will pour $52bn into semiconductor production.
"Senate passage of USICA is a pivotal step toward strengthening U.S. semiconductor production and innovation and an indication of the strong, bipartisan support in Washington for ensuring sustained American leadership in science and technology," John Neuffer, CEO of Semiconductor Industry Association, told CNBC. "Enactment of these investments would help strengthen America's economy, national security, technology leadership, and global competitiveness for years to come."
Playing catch up, not enough
Washington may hope with passage of the 'US Innovation and Competition Act' that throwing big money will deliver winning results in the 6G race but they are mistaken. Chinese hi-tech firms are presently way ahead on R&D for 6G and the Chinese government has been very generous as well. Nonetheless, the competition over 6G advancements could create amazing innovations in the science and hi-tech industries and that will be welcomed by one and all from people across the world.
The article reflects the author's opinions, and not necessarily the views of China Focus.