THE Chinese economy has been growing exponentially as the country opens up its market to the outside world. During this process, a mutually beneficial relationship has developed between business and consumer, at home and abroad. At the same time, an institutional environment conducive to globalization has been established. Amid uncertainties created by trade protectionism, China continues to commit to opening up with stable, transparent, and predictable actions.
The free trade concept is one of the cornerstones of Western economics. Western economists and most of their governments recognize the essential role of the "invisible hand" in market activities. In an open market system, competition leads to the optimization of resource allocations and lower costs for trade cooperation. As businesses expect little intervention from government in this system, they can have a more efficient decision-making process.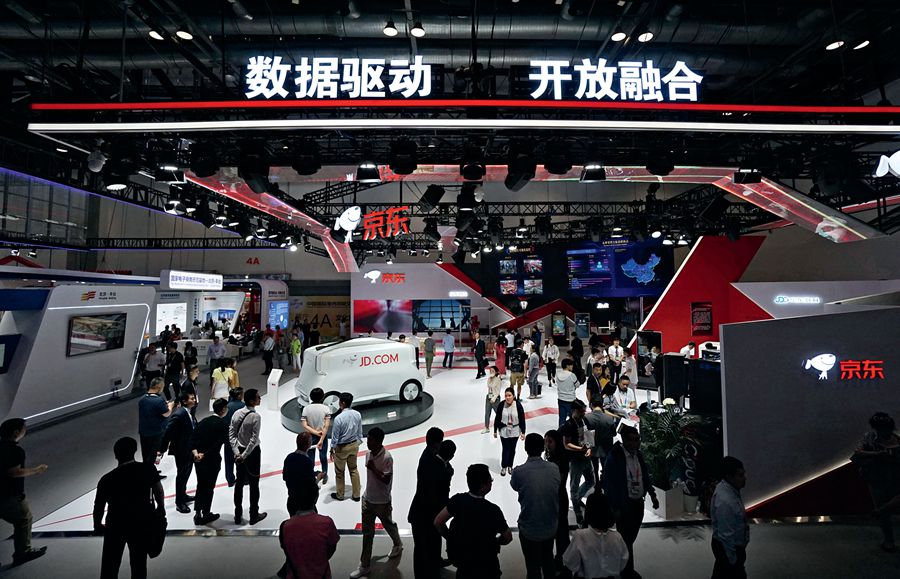 On May 28, 2019, the China International Fair for Trade in Services officially opens.
It was based on the idea that competition and cooperation would lead to a win-win outcome that the multilateral trade system of the World Trade Organization (WTO) was established. For the same reason, global economic integration was strengthened. The number of WTO members has increased over time and contributed to the institution that lowers trade tariffs and settles trade frictions. The WTO has also become more inclusive and gained respect from members for the open and free trade concept.
Since China began to transform its planned economy into a market-based economy in the 1990s, the factor price has played an increasingly greater role in resource allocation. China's WTO membership since 2001 has provided Chinese enterprises with a broader market, and foreign investment a more transparent business environment and level playing field.
The open business climate creates important economic and social benefits for China and the global community. Chinese enterprises' active participation in trade of goods and services as well as their investment on foreign markets help other countries to maximize their comparative advantages. After becoming a member of the WTO, China reviewed, adjusted, and improved its laws and policies regarding foreign trade according to the commitments it made when joining the WTO. At the same time, China has stepped up efforts to synergize its development with other members.
China's membership of the WTO has had a major impact on the global economy. Statistics from the white paper titled China and the World Trade Organization showed that China has contributed close to 30 percent to global economic growth and emerged as the major trade partner for more than 120 countries and regions since 2002.
Since 2013, China has become the second largest importer of services, making great contributions to boosting exporters' consumption, employment, and economic growth. The World Investment Report 2019, released by the United Nations Conference on Trade and Development, showed that the flow of foreign direct investment (FDI) into developed economies in 2018 was down 27 percent from the previous year, reaching the nadir since 2004. By contrast, the FDI flow to developing countries increased two percent. China saw an FDI rise of four percent, with the sum hitting US $139 billion.
The Doha round of trade talks commenced in 2001 with development at the heart of its agenda. It was planned that the talks would finish up on January 1, 2005, but they were finally suspended in 2006. Under the umbrella of the WTO, negotiations covered the eight areas of agriculture, market access of non-agricultural products, services, intellectual property rights, trade rules, dispute settlement, trade and environment, and trade and development. In the process, participating parties made higher level commitments than those for the establishment of the WTO. However, none of the commitments took effect as the parties agreed that "every item of the negotiations is part of a whole and indivisible package and cannot be agreed on separately."
Despite this, China intensified efforts in pushing forward economic globalization and adopting international rules. It rolled out more measures of opening up, lowering tariffs on foreign goods, facilitating trade, and expanding market access to the service sector. China actively participates in globalization and continues to create a more open development environment.
Determined to Open up
Chinese leaders have pledged on many occasions that China will not close the door to its markets, but only open it wider. China has taken many concrete measures in this regard. While firmly defending the multilateral institution of the WTO, opposing unilateralism, and taking an active part in WTO reform, China works to eliminate barriers of regional and bilateral trade and investment cooperation and provide strong support to economic development of various parties.
Lowering tariffs on imports boosts the consumption of foreign goods in China. The weighted mean applied tariff of China was 1.5-2 percentage points lower than that of the U.S. and European Union. On this basis, China has further lowered tariffs on a wider range of products since 2018. With the incentives of tariff cuts, the country imported cosmetics valued at US $9.3 billion in 2018, an increase of 67.5 percent from the previous year. The imports of seafood valued at US $11.4 billion, up by 39.9 percent over 2017. Thanks to tariff cuts starting from July 1, 2018 imports of automobiles from Japan and Germany rose by 1.4 and 15.5 percent respectively.
Measures for trade facilitation were taken simultaneously. The China International Trade Single Window network has linked up with 11 custom clearance authorities and covered major clearance procedures. The clearance of imported goods can now be completed within 20 hours on average and in less than two hours for exports.
China has also expanded market access for foreign investment and improved the legal system to better protect investors. With experience gained from pilot regions, China has managed foreign investment under the system of pre-establishment national treatment plus a negative list, streamlining the procedure and providing stronger protection for foreign investors.
Since 2018, China has broadened market access to general manufacturing and financing sectors. It also lifted restrictions on the proportion of foreign shares in a company in many industries. They include ship designs, manufacturing and maintenance, the manufacture of large passenger aircraft, utility aircraft, helicopters, drones and airships in the aircraft industry, and the making of special-purpose and new-energy vehicles.
Foreign financial institutions are granted market access to securities, insurance, credit rating, and clearing services. MSCI, a global market research and index company based in the United States, and FTSE Russell, based in the United Kingdom, have announced the inclusion of China A-share equities in their global indices. Bloomberg also added Chinese RMB-denominated government and policy bank securities to the Bloomberg Barclays Global Aggregate Index starting in April. And the Shanghai-London Stock Connect program opened for trading in June of this year. These pragmatic moves speak volumes about China's commitment to creating an open market for global financial services and foreign investments.
In terms of arrangements for regional trade, China has established open platforms for trade and economic cooperation with regional partners. A total of 16 free trade agreements have been reached between China and 24 of its trade partners.
More than 90 percent of goods under the free trade agreements that have been concluded enjoy tariff-free treatment. China also pledged to increase the 100 service sectors it had committed to open up to foreign investors when joining the WTO to close to 120. China also takes an active role in the Regional Comprehensive Economic Partnerships advocated by the Association of Southeast Asian Nations and promotes trade talks of China-Japan-South Korea Free Trade Agreement with the aim of building a high-standard free trade network that is centered on China's neighborhood, and extends to countries along the Belt and Road and beyond.
A Rule-based System for Opening-up
Strengthening institutional building for opening-up based on China's realities is also an essential part of China's integration into economic globalization. While widening opening-up and broadening market access, China is also adapting itself to the changes taking place on the international market, and has established a system of rules for opening-up. China has made great efforts to improve the legal system for intellectual property protection, enhancing law enforcement, and promoting the social credibility system.
In the area of international trade, the WTO Trade Facilitation Agreement, the only multilateral agreement concluded since the WTO was established 20 years before, plays an important role in synergizing efforts of various parties in effectively lowering the costs for international trade.
In October 2018, the Chinese government formulated a work plan for improving the business climate in ports for cross-border trade facilitation. Aligned with international standards, the document specified measures to streamline custom clearance procedures, expedite the custom clearance process, lower corresponding costs, and create a stable, fair, and transparent business climate in trade ports.
According to the work plan, the variety of licenses and documents needed for imports and exports have been reduced from 86 to 48. Other than national security reasons, all these licenses and documents can be applied for and handled online by the end of 2020. Inspections by customs, border, and maritime authorities will be unified. Mineral products and other resource commodities will first undergo customs clearance procedures and then the inspection process. By the end of 2020, all major customs procedures will have been handled on the China International Trade Single Window platform. The customs clearance time will be shortened by half at the end of 2021 compared to 2017.
As for investment, a milestone foreign investment law will take effect on January 1, 2020, replacing the three former related laws enacted in the 1980s and 1990s. The law makes it clear that foreign investment is managed in line with the system of the negative list, and defines the boundaries of government and enterprises as well as has the rights and obligations of relevant parties in investment facilitation, protection and administration. This will ensure domestic and foreign enterprises are subject to a unified set of rules and compete on a level playing field.
ZHOU MI is deputy director of the Institute of American and Oceania Studies of the Chinese Academy of International Trade and Economic Cooperation under the Ministry of Commerce.