By SHI XUN
THE Beijing Farmers' Market has come to life as a fad. It's run by a small group of consumers who paid close attention to issues related to agriculture, rural areas, and farmers. Over the past seven years since its founding, it has organized over 500 fairs, which have encouraged consumers to buy food directly from reliable farmers. The concept of "mutual trust and help" has continued to attract more and more vendors and consumers.
The Birth of the Market
The latest session of the Beijing Farmers' Market was held in a yard of the No.5 Lechunfang Lane in the city's Xicheng District, where consumers could shop for newly picked corns, carrots, chili peppers, eggplants, and homemade haw strips (a local snack made from the fruit of the Chinese hawthorn), beancurd, free-range eggs, and mushrooms, as well as handkerchiefs, socks, and scarves dyed with natural dyes.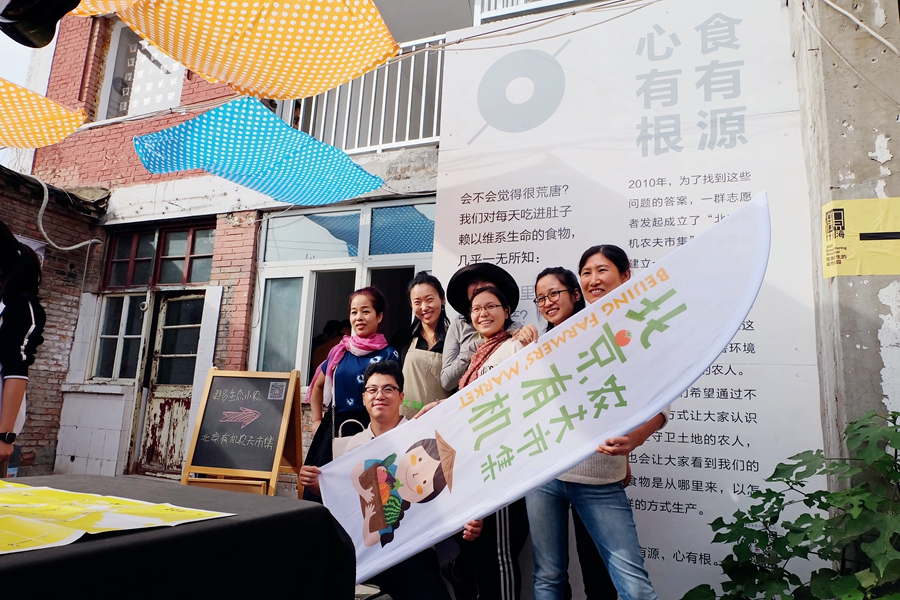 Over the seven years since its establishment, the Beijing Farmers' Market has held many activities in residential communities.
However, at the very beginning, the Beijing Farmers' Market was considered a sort of performance art. In September 2010, Emi Uemura, a Japanese girl living in Beijing, launched the first session of the Beijing Farmers' Market, creating an opportunity for farmers engaged in organic agriculture to meet directly with consumers. The fair she organized attracted some foreign artists and anthropologists, who were willing to discuss and explore the relationship between food and society, and between urban and rural areas.
At that time, very few farms in Beijing produced organic products. The Little Donkey Farm, which has gained some fame now, had just been launched then. To seek sustainable development of the market, the volunteers found venues. Shi Yan, the founder of the Little Donkey Farm, helped to organize five to six small and medium-sized independent and reliable organic farms, and held regular group discussions with consumers. That was how the market grew.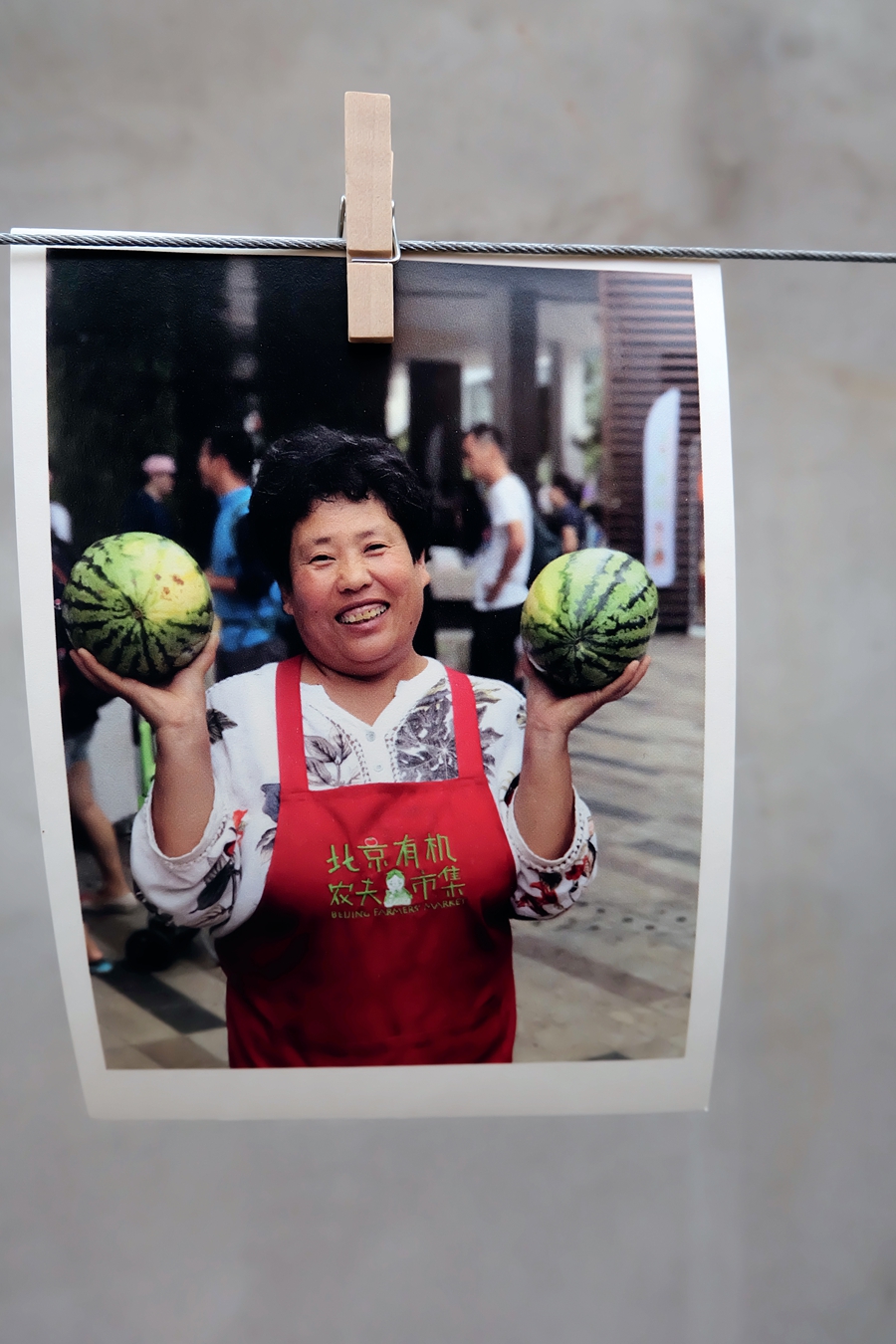 Chang Tianle used to be a journalist with China Daily. After quitting her job, she taught in Laos, worked at a Global 500 enterprise, and studied in the U.S. After returning to China, she participated in the establishment of the Beijing Farmers' Market.
With more and more vendors and consumers joining in, the market has developed more varieties of activities, such as visiting the farms, regular meetings for people to share their ideas, as well as farming experiences. The number of vendors has grown from five to around 50, and the number of visitors has soared to more than 4,000 from about 100. The market has seen 800,000 individual visits since it was opened. The venues for its sessions have moved from art zones in the beginning to densely populated residential communities enjoying better transportation.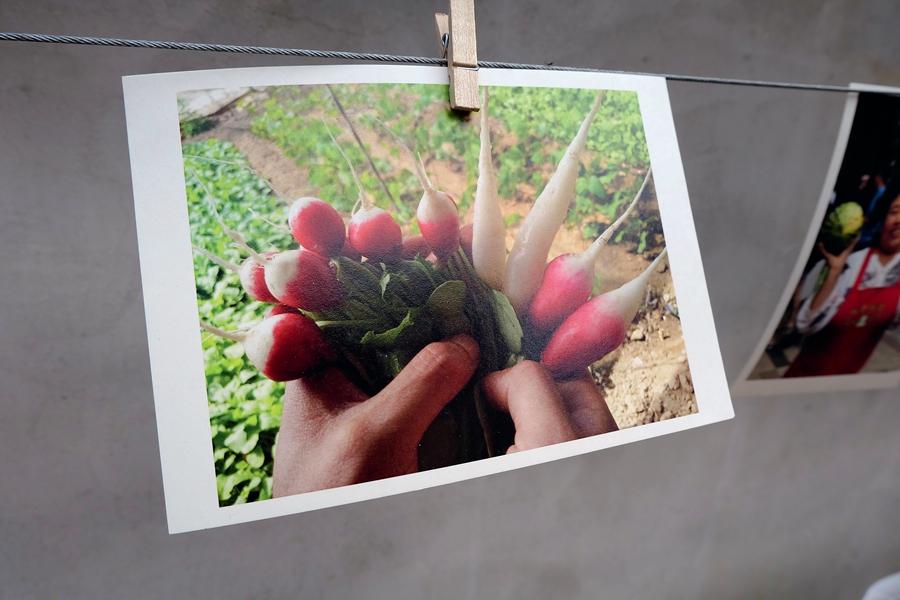 The volunteers include artists, white-collar workers, and teachers at colleges and universities. One such volunteer is a director of investment operations in a state-owned enterprise, who deals with contracts of large figures. On the weekend, however, the director is happy to collect just 10 or 20 yuan for farmers.
Today the market is run by over 20 staff members, who have taken the operation of the market as their full-time job. They earn money by charging the vendors and some venue providers who have seen benefits brought by the market such as the growing flow of customers.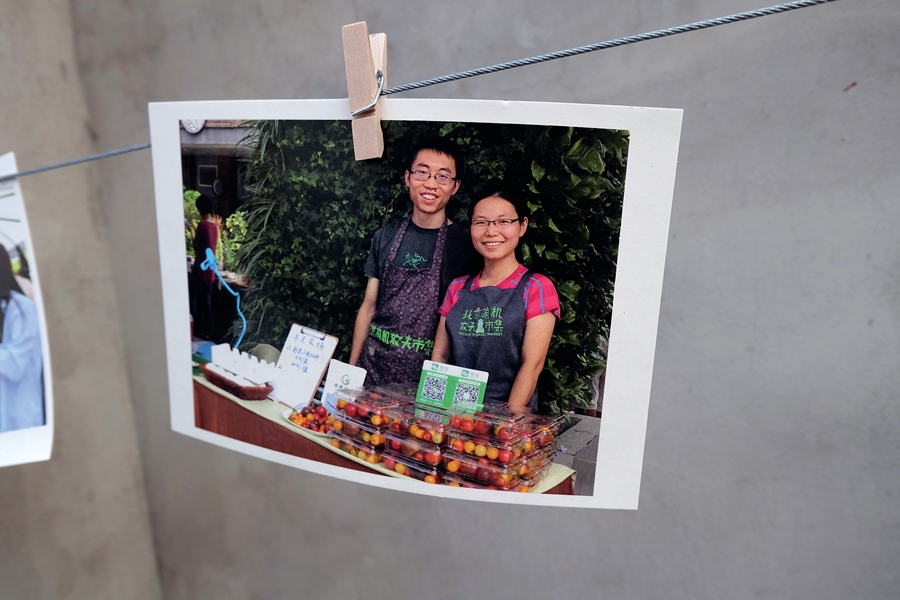 The operators believe the market should be run and managed like social undertakings. The market is only open to independent small to medium-sized farms which must meet a number of minimum requirements. For example, they must adhere solely to organic agriculture. They should not use pesticide or chemical fertilizers, and the animal feedstuff used should not contain antibiotics or hormones. They should guarantee proper planting density and free-range farming is encouraged. They should also make their process of production (including the sources of seeds, fertilizers, and feedstuff, and methods for preventing pests and diseases) transparent. To ensure this, a mechanism of supervision has been established. The market organizes several "farm visit" activities a month, during which the invited producers, consumers, technical experts, journalists, and staff from relevant NGOs visit those farms with the aim to both supervise their production and help them improve their ability in management and technology development.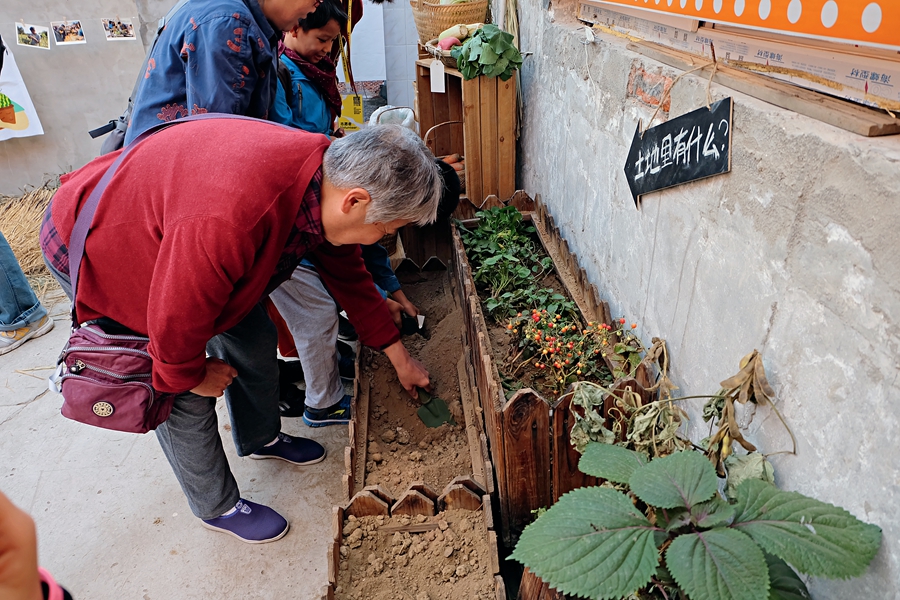 Residents participate in various activities at the farmers' market.
"The market aims to seek sustainable development, which allows more independence and choices for both consumers and producers. The only way to make it sustainable and healthy is to connect producers with consumers and let them support each other," said Chang Tianle.
Dreams of Young Farmers
Liu Huiping, born in the 1990s, graduated from Xi'an University of Finance and Economics. She has a baby face and likes laughing a lot. Now, she is responsible for the sales of Qimin Farm, whose owner is Wu Yunlong, Liu's husband. Wu started to explore farming techniques when he studied at Beijing Forestry University.
The young experts at Qimin Farm all graduated from well-known universities and used to have well-paid jobs. But now, they share the same dream of building a farm to provide consumers with high quality and healthy products at affordable prices, inheriting and passing down the wisdom of Chinese agriculture.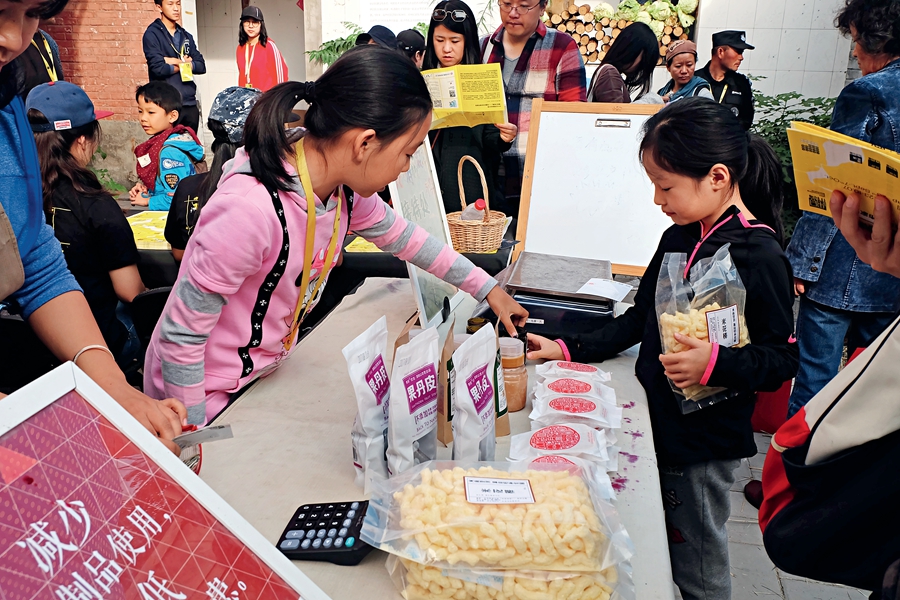 Organic snacks are adored by children at the market.
Professor Qiao Yuhui from the College of Resources and Environmental Sciences of China Agricultural University led her team to conduct a soil quality test at Qimin Farm a couple of months ago. Wu Yunlong took them to visit 38 standardized greenhouses, chicken sheds, and other places to grow seedlings. Li San, a researcher with the team, admitted that the management of the farm is stricter than she expected. The farm creates compost heaps to make their own organic fertilizer and adopts microbial bio-fertilizers. The mulching films are all degradable, so their cost is about 5 to 10 times an ordinary one.
According to Wu, his farm can produce over 150 varieties of vegetables a year, with over 20 species of tomatoes. They select non-GMO species and hybrid varieties which taste better. They use organic fertilizers and utilize drones to pollinate the farm to improve production. They also use mantis and ladybugs to prevent the spread of unwanted insects. "Now, tomatoes have become our signature product," said Wu.
"These young farmers, with dreams of protecting the environment and developing China's rural areas, as well as expertise in techniques and management skills, brought hope to restore this piece of land which was once plagued by soil compaction and pests," said Li San, who admitted that she likes these young dreamers because they stick to their beliefs and take what they are doing seriously.
"We want to grow tasty vegetables and fruits, but food safety is the priority," said Liu Huiping.
From Liu's point of view, China's pursuit for economic development also needs more young people with enthusiasm to develop organic agriculture. She expects consumers to spend more on what they eat to protect our environment and benefit future generations.
There are many interesting people at the market. They are ordinary farmers, yet they have a dream and are brave enough to pursue it.
Liu Yueming, who was born in the 1970s and majored in biology at Beijing Normal University, used to be an editor in downtown Beijing. However, she likes farming very much, and eventually returned to her home in Shunyi District in the outskirts of Beijing, where she launched the Meitian Yangguang Farm with her family members. Seven years later, besides running the farm, she also published a book – I Have a Farm.
Liu Shu is from Harbin in Northeast China's Heilongjiang Province and was born in the 1980s. After her parents moved back to Guyuan Town, Daxing'anling Prefecture of the province, a place surrounded by forests, Liu Shu became interested in promoting mountain produce. She explores the markets for mountain produce together with her husband Jin Peng, who also likes recording what they see by taking pictures and writing articles, thus becoming a poet and photographer in the wilderness.
Zhang Zhimin is the owner of Tianfuyuan Farm. What surprises everyone is that Zhang used to be a senior manager of a state-owned enterprise. She can speak several languages, and worked in the field of international trade of agricultural products for over 20 years. In her 40s, she decided to try her hand at organic farming, and has been working in the sector for more than 20 years.
Cheng Pengfei, who was born in the 1960s, worked as a government official for poverty relief, and was an official with an international public service organization. He decided to return to his hometown in the rural area of Zhangjiakou City, Hebei Province, and established a farm with his fellow villagers. He likes collecting seeds and is a fan of various farm machines. He also likes developing different types of equipment that could make farm work more efficient.
Bringing People Together
Karen, a college teacher, is a volunteer at the market. She first saw a farmers' market when she was a visiting scholar at North Carolina State University in the U.S. Once she heard her teacher mention the local farmers' market, she asked: "Why are people willing to buy food at a farmers' market considering the things sold there are even more expensive than those in a supermarket?"
"Don't you think that something is missing at a supermarket?" the teacher asked. From his point of view, the connection between people is missing. Modern supermarkets are places meant to make money, completely separating the producers and consumers as if they are irrelevant to each other. Another reason is that the farmers who work really hard only receive 10 to 20 percent of the price as the profit, which he thinks is unfair to them.
"When you see the products on shelves, you can't see how the farmers have worked so hard to turn the seeds into fresh vegetables and fruits. The deals are only about money, which is boring, tedious, and cold. They don't reflect a close connection between people," the teacher explained.
His answer had an impact on Karen who used to only pay attention to prices. When she strolled around the market for the first time, she enjoyed the atmosphere, able to see people's smiling faces and talk with them to understand their life and work. She said at the market she could see the natural way that people communicate not only with each other, but also with nature. Upon her return to China, she was inspired to work as a volunteer at the Beijing Farmers' Market.
Mutual trust and help is the cornerstone of the development of the market. As the cost for organic farming and obtaining organic certifications is high, some farms don't have the organic certification, which has triggered some doubts at the market. The market operators advocate mutual trust, and currently adopt their own supervision mechanism of inviting people of various works of life to participate in the supervision. They believe this way is more meaningful and practical.
"Some people think being organic means that you should first get the certification to show the product has reached certain standards, but we think organic farming is a concept which means to build sustainable agriculture and reduce the negative impact on our environment," said Chang Tianle. From the viewpoint of the market's operators, organic farming is never just about getting organic certifications, abandoning the urban life to return to the countryside, and very expensive prices, but about a lifestyle that is fairer, healthier, and sustainable.
To coexist with nature and consume natural resources without harming our environment, as well as letting the farmers and consumers shoulder the responsibility and share the fruits together is the foundation for the smooth operation of the Beijing Farmers' Market.
SHI XUN is a freelance writer.