SOUTHEAST China's Jiangxi Province recently introduced a forest-chief system to oversee environmental conservation and sustainable exploration of forest resources in the quest for forestry modernization.
"It is a move designed to safeguard the enironmental balance in Jiangxi," said Qiu Shuiwen, director of Jiangxi Provincial Department of Forestry, in a news brief in August this year. By the end of 2018, heads of local government and Party committees at five levels of province, prefecture, county, township, and village will have worked as forest chiefs and will be held accountable for all mountains and forests across the province, according to Qiu.
Lake and river chiefs, as well as mountain and forest chiefs are all part of the reform of China's environmental governance system. In Jiangxi, the dedication to build a green environment is an example of the country's efforts to build a beautiful China.
Institutional Innovation
Forest protection is the premise of environmental conservation. "The practice of appointing forest chiefs is an institutional innovation to reform the oversight system for environmental protection. The instructive move is reinforced by the systems of river and lake chiefs," said Qiu, explaining that river and lake chiefs could not work effectively without the support of forest chiefs.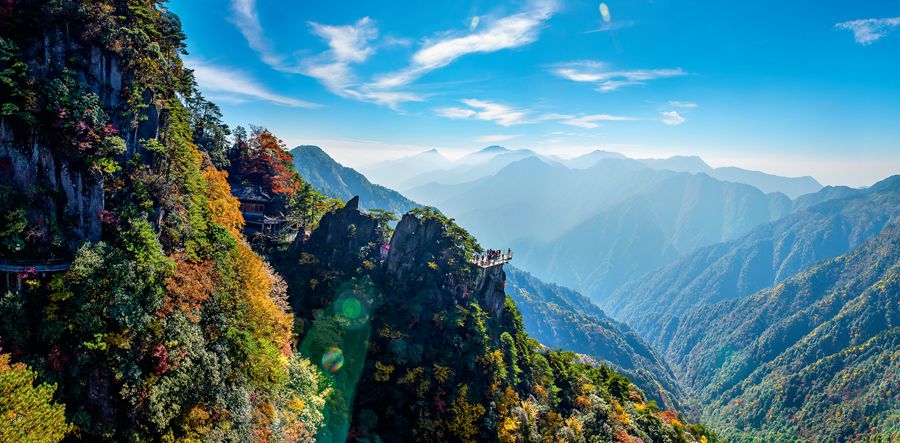 Colorful forests abound around the Mingyue Mountain, Anfu County of Jiangxi Province.
Water and forests form an ecosystem. Once the forest is destroyed, the resulting soil erosion will exacerbate the siltation of rivers and lakes, which will in turn threaten the river ecosystem and environment that human beings rely on.
Jiangxi boasts rich water resources thanks to the reputable Poyang Lake, the passing Yangtze River, and the Ganjiang River. Forests account for 63.1 percent of the entire area, making it one of the "greenest" provinces in China.
However, with accelerating industrialization and urbanization, Jiangxi faces the daunting challenge of protecting forestry resources. In some places, forests and woods were overexploited for short-term gains, while rampant poaching, disordered woodland occupation, and deforestation are jeopardizing local forestry and environmental conservation. Unclear accountability and supervision systems are also contributing factors to this challenge.
Chinese President Xi Jinping urged local governments to protect the natural environment and strike a balance between economic growth and ecological conservation during a tour to Jiangxi in February 2016. Following Xi's instruction, Jiangxi has been stepping up efforts in this regard. It first piloted the practice of appointing mountain and forest chiefs in Fuzhou, Wuning, and gained valuable experience before expanding the practice province wide.
Green Income
"My family's yearly income has now grown to over RMB 40,000 (about US $5,848) more than tenfold of the past as we have an agritourist business, offering bed and breakfast services and selling vegetables and home-made honey," said Guo Zhihong, a resident in Changshui Village, Wuning County of Jiangxi. Instead of exploiting the forest and woods on mountains, local villagers like Guo turned to tourism based on rich local forest resources, and saw their livelihoods greatly improve.
Wuning County was the first to adopt the forest chief practice across the province in 2016. With forest chiefs held accountable at the levels of county, township, and village, the county has reached a balance between environmental conservation and economic development.
"Over the past two years, Wuning County has explored a successful path of green growth," said Du Shaohua, the county's Party chief and general chief of forests. There are 29 forest resorts, several forest sight seeing bases and leisure centers in the county, which is densely covered by woods. In the first quarter of 2018, these places received about 100,000 tourists in total.
In addition, the local government took advantage of its rich resources and fostered agribusinesses by supporting orchards, planting herbs, flowers and tea, and raising livestock and bees. Luxi Town, for example, turned a vast wasteland into a tea-planting base. A total of 66 poverty-stricken households in the town secured a stable source of income from this initiative. One of the priorities for local government this year is to build a 140-km-long green corridor along its main highways.
Old camphor trees stand tall in Niutian Township of Le'an County, Jiangxi Province. Photos courtesy of the Department of Forestry, Jiangxi Province.
At present, the county has 96 forestry demonstration bases including 9,867 hectares of orchards, 2,667 hectares of herb fields, 1,733 hectares of flower fields, a bee-keeping facility with a capacity of 35,000 cases, and 6,133 hectares of high-yield camellia sasanqua farms.
Wuning County took the initiative in Jiangxi to allow farmers to raise a mortgage on management rights of the woodland, expanding the financing channel for starting an agribusiness. Meanwhile, it encourages transfer of the management rights for intensive forestry on a moderately larger scale. As a result, there are six agricultural enterprises at provincial or higher levels and 40 forestry cooperatives throughout the county. One cooperative specializing in planting Chinese chestnuts has been approved as a national demonstration cooperative.
These reforms have given momentum to green development. Besides overseeing environmental conservation, forest chiefs also function as leaders of poverty alleviation campaigns in every village. A green economy is prioritized as they combine these two tasks. While learning from successful practices in boosting forestry-related businesses adopted by other regions, the forest chiefs have passed on their knowledge to rural residents so that they are capable of self-development.
In Le'an County, local government has launched four training programs on plantation and animal husbandry for forest keepers, enabling them to spearhead poverty alleviation efforts. Local villages are able to increase their income by developing forestry-related agribusiness instead of felling trees.
For Sustainability
According to Qiu Shuiwen, Jiangxi's forest chief system aims to achieve five goals: First, to protect forests by carrying out the strictest management system. Second, to harness the forest resources following the principle of ensuring afforestation instead of deforestation. Third, to accelerate the building of a grid management system (a management system down to the primary level) for forest conservation. Fourth, to tighten oversight on forests using technology and onsite inspections. Fifth, to improve the supervision system through cultivating capable personnel so that management can be conducted on a regular basis and cover the entire area.
To this end, the provincial government introduced a system to evaluate the forest chiefs' performances and incorporated their work into the assessment of prefectural and county governments in terms of high-quality development and efforts for ecological progress and ecological compensation. Officials' performance as forest chiefs are used as important references for promotion. Those who fail their responsibilities and cause damage to the environment will still be held accountable even if they have left office.
The province has set out specific goals of the forest chief system. By the end of 2018, a management system with forest chiefs covering five levels of province, prefecture-level city, county, township, and village will be put in place. By 2020, the province will maintain a woodland area of 10.7 million hectares, and a forest area of 9.87 million hectares, more than 63.1 percent of the province's total area. The goal of securing expanding forest resources with a high quality, beautiful environment, and thriving forestry-related businesses will be achieved. By 2035, the province will basically achieve its forestry modernization with well-preserved forests, improved ecological functions, and more prominent green benefits.