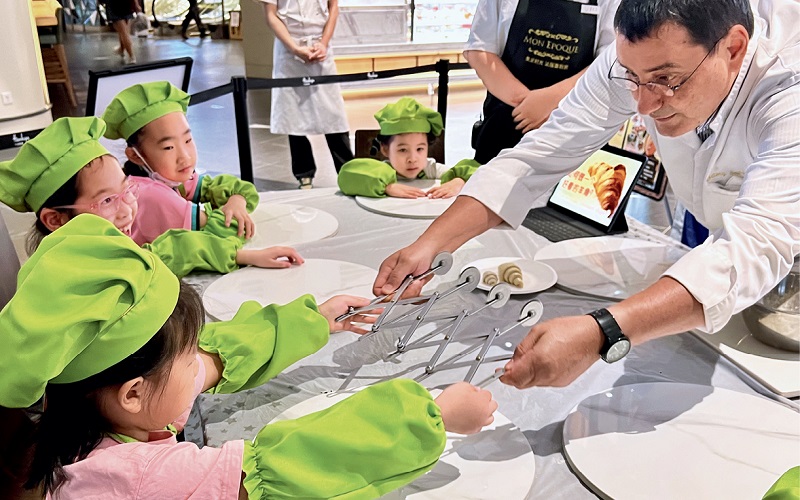 Samy Snoussi gives children a lesson in French bread making.
"Ningbo is a bustling city thanks to its very enterprising residents and the pleasant living environment," said Samy Snoussi, owner of the French bakery Mon Époque in Ningbo, a coastal city in eastern China's Zhejiang Province. Snoussi moved to Ningbo in 2006. To overcome his homesickness and promote authentic French bread in the city, he opened a bakery, which soon became popular and earned him the nickname "French uncle" among local bakers.
An Authentic French Bakery
Born in 1961, Snoussi first came to in China in 1983. At that time, he was a law student at Aix-en-Provence University and accompanied his father on a business trip to China. This visit was a culture shock for him, with new fragrances, new dishes, exotic flavors, and different cultural habits. Even though his first visit lasted just two days, he fell in love with China, hoping to return soon.
In March 2006, Snoussi moved to Ningbo to help his father who had set up his export business in 1999 near the Beilun Port, close enough to visit his suppliers in the surrounding towns.
After residing in Ningbo for more than seven years, Snoussi realized that what he missed most was a traditional French bakery. "We had good bakeries in Ningbo, which made Chinese, Korean, or European-style bread, but we couldn't find that specific French taste. It was unlike our daily bread, because at home, bread is a bit like rice in China," he explained.
In June 2013, Snoussi opened an authentic French bakery in Ningbo. Though he had no baking experience, he quickly learned the ropes from a French baker. He named his brand Mon Époque, a name that combines one of France's most prestigious eras, the Belle Époque, and the idea of being rooted somewhere, tinged with nostalgia. He remarked, referring to his mother's dishes and pastries, "In French literary culture, we often talk about 'Proust's madeleine' which symbolizes happy memories. Fragrances and smells take you back to your childhood and evoke emotionally charged memories."
What makes Mon Époque unique is its authentic French identity, which guarantees a genuine French taste every day. "We are one of the few French bakeries in China that directly imports flour from France, produced in the Cognac region from French wheat. The butter used is also imported from France. These are the two most important ingredients in baking. This allows us to guarantee the same taste and quality day in, day out. If you loved our baguette eight years ago, you'll still love it today because it's made from the exact same ingredients. We pay attention to the quality and the taste of our products so that our patrons can experience the same feeling every day," he said.
Thanks to the authenticity of its products and the quality of its service, Mon Époque has gained growing popularity over the years, and has opened three additional stores in Ningbo so far. "We value our customers' satisfaction, and it makes me happy to see their smiling faces in the shop or outside," he said.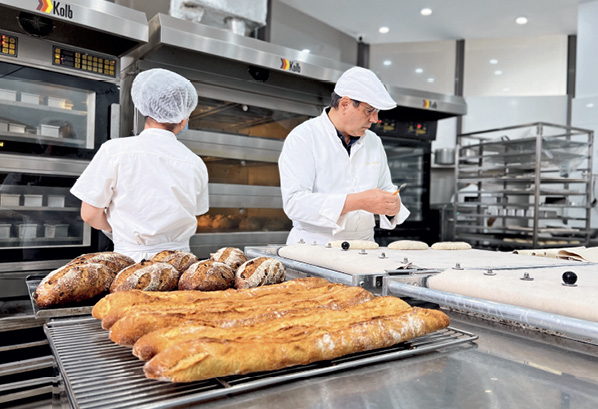 Samy Snoussi and his team are making French bread in the bakery.
Sharing a Passion
Snoussi is passionate about promoting French bread and baking culture, and provides skill training in several schools in Ningbo. "We adapt the content and the duration of our classes according to the students, so that it always remains a pleasant, instructive, and fun moment of sharing, always revolving around the history and culture of bread in France," he said.
Apart from French bread, Snoussi has also introduced other French cuisine in Ningbo. In 2018, he opened Le Resto for people to experience French culinary culture through a bistro-type seafood restaurant — Ningbo being one of the cities in China where the seafood culture is paramount.
Under the influence of his mother, a generous person, Snoussi is keen on humanitarian work and enjoys helping people in need. In 2008, he donated over RMB 30,000 to Wenchuan, after a devastating earthquake hit the area. He also cares a lot about the young people. In Ningbo, he donated T-shirts for students with disabilities and gave scholarships to outstanding students at a school. For several years, he sponsored the Pink Ribbon Campaign organized by a team of foreign women to raise awareness about breast cancer. He also sponsored activities to encourage more people to look after stray dogs. People he helped are all unique, he remarked, and it brings him happiness when he sees joy on their faces.
Snoussi has lived in Ningbo for 17 years, and has witnessed the city's rapid modernization. Among the most impressive transformations he saw is the level of social development that has been achieved in such a short time.
"Ningbo is a big city that is very enjoyable to live in. It takes only 30 minutes to get to the countryside, so it's easy to get away regularly. The education system is up to families' expectations, so they are willing to settle and invest," he said. He would like to see more international cultural activities organized in the future, especially international music and theater festivals, to give Ningbo a real cosmopolitan aura.