More than half a century of studying China, its history and present, has given rise to a love in the German sinologist for humanity of China, which kindles his optimism to further cultivate the humanistic legacy of peoples towards the basis for a shared future.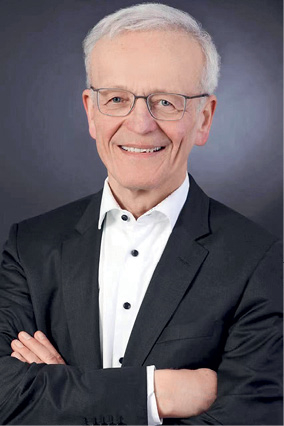 German sinologist Helwig Schmidt-Glintzer.
It was after graduating from high school in the summer of 1967 when, realizing that the world and humanity encompassed far more than just Europe, I began to study Sinology. Reflecting on the ancient oriental civilization and becoming ever more fascinated with the language of ancient China made me wonder if there had ever been a Chinese equivalent of the Western world's "Sophists."
At that time the philosophy of language, or reflections on human communication in general, was a popular topic in European academia, particularly the works of Ludwig Wittgenstein and Benjamin Whorf. I, however, was drawn to an essay, written by a Sinologist from the German city of Göttingen, on Confucius' "rectification of names."
My sinology studies, which included classical Chinese as well as the contemporary spoken Chinese language, were at that time considered by many people to be, in the German vernacular, a "breadless art." Yet, upon continuing my studies in Munich in the summer of 1968, it soon became clear to me that studying the culture and history of China was not just a labor of love; it also held rich promise.
The next matter to address, however, was my passage to China.
The publicist Wolf Schenke gave me the address of Lisa Niebank, originally from Hamburg, who translated Chinese books into German at the Foreign Languages Press in Beijing. In response to my letter she sent a list of the most recent FLP titles that she had worked on.
In the meantime I read the treatise, Shenmie Lun by Fan Zhen, on the theory of the immortality of the soul. I also came upon the debates between Buddhists, Taoists, and Confucians documented in the Hongming Ji, a collection of Buddhist apologetic writings from the time of Emperor Wudi (464-549) of the Liang Dynasty.
With the support of Austrian journalist Wolfgang Bauer, I made the intellectual history of China and the educational history of the literati, including the role of Buddhism in China, my research topics. A doctoral scholarship from the German Academic Scholarship Foundation (Studienstiftung des deutschen Volkes) enabled me to complete and submit my dissertation in 1972. To improve my Chinese further I then went to the language institute of Fu Jen Catholic University in Taiwan.
After spending a few months at the Academia Sinica in Nangang near Taipei, I travelled to Kyoto in Japan to the Research Institute of Humanistic Sciences of Kyoto University, which was carrying out intensive research on the history of Buddhism in China. Fujieda Akira, whom Herbert Franke had asked to be my supervisor, then introduced me to the distinguished Sinologist Makita Tairyo. The research environment in the summer of 1974 was ideal. I travelled via Korea and Taiwan to Hong Kong. From there, mainly following Marco Polo's footsteps, I travelled overland to Thailand, Burma, India, Afghanistan, Iran, and Turkey before finally returning to Germany.
The diversity and richness of China's facets that I observed in the everyday lives of the people, the educated elite in particular, continued to fascinate me. But owing to the few Sinologists in Germany who are prepared to focus on aspects of China beyond their particular subject, I constantly faced fresh challenges. One of those was to fulfill the request of a syncretism research group for a German translation of Manichaean texts, handed down in Chinese. The publication Chinese Manichaica, published in 1987, was the result.
Distinguished Sinologist and historian Rolf Trauzettel brought me in as an assistant at the Sinological Seminar in Bonn, then the seat of the Federal Government. It was in that city that I witnessed the beginnings of a lively political exchange between the People's Republic of China and the Federal Republic of Germany. It was also in the former capital that I met the diplomat and Ambassador to China from 1976 to 1980 Erwin Wickert with whom I remained friends until his passing in 2008.
In 1981, I succeeded Herbert Franke at Munich University, to become Bavaria's youngest full professor in its longest-established chair for Sinology. Having made my first trip to China from Munich in 1980, I made several more from that city in my capacity of professor. I thus personally witnessed China's rapid changes and the blossoming of its new scholarship.
As guest of a publishing house, I had the privilege in November 1982 of travelling to many places in China. My stay in Hangzhou, east China's Zhejiang Province, was in a hotel overlooking the famous Xihu, better known as the West Lake. From there I made excursions on country roads through rice paddies, passing by ponds where water buffalo wallowed, and onwards to Shaoxing and Ningbo of the same province.
One understands China best through cultivating a deep familiarity with a particular region. Hangzhou was the capital of the Southern Song Dynasty (1127-1279), and present day Zhejiang Province was once a center of Buddhist culture. As far back as the Middle Ages, Hangzhou was a vibrant point of convergence with the rest of the world, from Japan through to the Pacific region. The cities of Taizhou and Wenzhou, as well as coastal Ningbo, were also important hubs. Majestic mountains like Tiantai and their history, meanwhile, invited exploration.
My aim was hence to immerse myself in this region and its contemporary life through regional studies.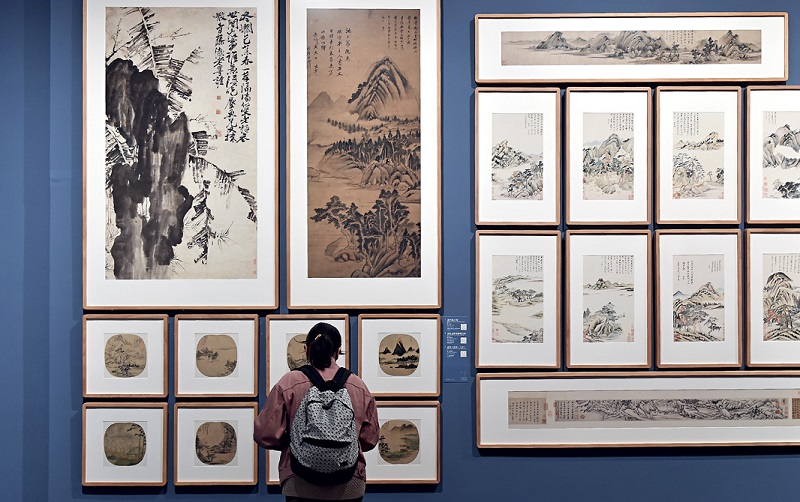 A visitor pores over a series of Chinese landscape paintings at an exhibition about traditional Chinese painting schools held at the National Museum of China in Beijing on October 9, 2022.
I also planned a major research project on the educational history of the Chinese elite under the theme Politics, Publicity and Morality in China – On the History of the Chinese Public Sphere. One offshoot – a history of Chinese literature from its nascence through to the present – was published in 1989. It has since also been translated into Chinese.
The cultivated literati or nobleman, whose image we see in countless ink wash paintings, sometimes purely in the guise of a bamboo trunk, held a particular fascination for me. This figure embodies the tradition of the junzi (a man of noble character), and his commitment to the Confucian maxim he er bu tong (harmony in diversity), a duty that precludes retreat, rather exhorting willingness to assume social responsibility.
This is what ren (仁), often translated as "humanity," actually meant in ancient China. Each era raises its own challenges. But what is certain today, as it was centuries ago, is the necessity for responsible action and upright speech.
Interplay of speech, written texts, and appropriate action has always played an integral role in China's education and political culture. High standards of cultural tradition and character formation in China, invoked over and over again through time, remain ingrained in the consciousness of today's educated elite.
It should be emphasized that throughout its modernization process China has never abandoned its past, rather drawing on essential features of its historical and cultural heritage. Strong optimism is the basic tenor of Chinese culture, along with the belief in man's ability to educate. This, however, entails a teacher, in accordance with Confucius' famous observation whereby, "Walking among three people, I find my teacher among them."
Further trips to China ensued. I was one of the few foreign guests standing on Beijing's Tian'anmen Square rostrum at the celebration of the 35th anniversary of the founding of the People's Republic of China on October 1, 1984. The first fruits of Deng Xiaoping's economic reforms were indeed evident at that time.
I also visited Lanzhou and Dunhuang's Mogao Grottoes in Gansu Province. But I thought constantly of the banks of the Qiantang River as it is also known – Zhejiang Province's largest river.
In my head were images of a solitary figure, an angler or fisherman, at the water's edge, a scene that has epitomized Chinese classical landscape paintings for millennia. The Chinese tradition of depicting the encounter of a single human with nature in all its vast magnificence was not seen in Europe till much later.
Chinese tradition has thus remained essential. But no less so are the reflections and glorious recollections of 20th century reformers and revolutionaries. As it was during Europe's age of Enlightenment, the crucial question has always been how to instill the moral code in the hearts of the people, and remains relevant today throughout the world.
I have long since entered into a dialogue with historians, including sociologists, and was a member of the Max Weber Gesamtausgabe circle of editors. I found following in the footsteps of such personages as Gottfried Wilhelm Leibniz and Gotthold Ephraim Lessing by transforming the Herzog August Library in Wolfenbüttel (also known as Bibliotheca Augusta), in 1993 in my capacity as director, into a research and study center for European cultural history no small challenge.
So I did not go to the banks of the Qiantang River, but instead to those of the Oker, a river that originates in the German Harz. Certain people were surprised that a Sinologist should take on this post. However, I soon realized that a global outlook is necessary to gain an understanding of both European cultural history and Europe in general.
The astute observation, voiced by the young Sinologist and philosopher Fabian Heubel, that: "One way to become European is to become Chinese," has long resonated with me.
Over the years, China has drawn closer to my heart. I feel certain that in the future China will continue to be an important partner of Europe, and especially of Germany. In any event, we can only realize our world citizenship in the spirit of the European Enlightenment by understanding the traditions of other cultures as intimately as we do our own.
In doing so, it is important not only to remain in dialogue with each other, but also to engage reflexively and critically with our own traditions as well as with those of China. It has long been clear that humanity as a whole has good cause to be concerned about its future. Combining and harmonizing our own particular interests with those of all others, therefore, is now essential.
Unfortunately, many people still fail to understand that we will not be able to achieve all we would wish in a single generation: that we, like the old man in the Chinese story "Yu Gong moves mountains," must look to succeeding generations in that respect.
More than half a century of studying China, its history and present, has given me a good understanding of the great changes that digitalization has wrought. Interactions have become closer, but economic and political tensions have intensified. It becomes ever clearer that rivalry between countries supersedes and pushes into the background humanity's most important tasks.
Yet, our many intellectual encounters, past and present, with Chinese scholars and writers, politicians and artists, as well as students, have given rise to a love for humanity in China equal to that for our own poets and thinkers. This kindles my optimism that we can continue to cultivate the humanistic legacy of our peoples towards the basis for a shared future.
HELWIG SCHMIDT-GLINTZER is a German sinologist and director of the China Center in Tübingen, Germany. He served as director of the Herzog August Library in Wolfenbüttel between 1993 and 2015.