At the start of every work day, Uwe Brutzer writes down the quantity and ingredients required for making the bread and desserts of that day on a board in the kitchen of his Bach's Bakery. During work hours, amid the sounds of the machines, the bakery kitchen is especially orderly and quiet.
The quiet atmosphere of the several bakers working here is not the result of some kind of bakery rule against talking during working hours, but rather, it is because all of them are hearing impaired. They are dedicated, attentive, and professional in their work, and use sign language to communicate with each other from time to time.
Bach's Bakery is located at No. 34 Xiangchun Alley, Changsha City, in south China's Hunan Province. It sells various kinds of German flavored bread, cakes, and coffee. The reasonably priced pastries are generously stuffed without too much cream or sugar, and the bakery is frequented by local residents.
Besides its products, the story of a German who opened a bakery to help local people with disabilities has attracted customers who travel across the city to buy bread to support the bakery's cause.
Uwe Brutzer and his wife Dorothee Brutzer have been running the bakery for a decade. Ten years ago, they started it up with the intention of creating more jobs for people with disabilities in the locality.
Finding Their Purpose in Life
Over 20 years ago, Uwe Brutzer, then in his 20s, was pursuing a chemical-related career in Germany. After getting married, he and his wife Dorothee heard about a public benefit project for providing language training to local deaf-and-mute children in China's Hunan Province that was short of trainers. With the common desire to do something meaningful in life, the newly-wed couple decided to apply. To make themselves more qualified, they spent two years studying Chinese and attending special education courses. After that, they applied for the post and were accepted. In March 2002, they set off for Hunan, where they settled down in the capital city of Changsha.
In Changsha, they lived in a dormitory inside the rehabilitation center of the Hunan Disabled Persons' Federations (HDPF). Uwe still remembers how every day, together with other trainers, he and his wife helped train children improve their hearing and language pronunciation. Every little progress each child experienced was a great encouragement to him.
Most of their students studying at the HDPF at that time were young children who were taken there by worried parents. In their work, Uwe and his wife met many children who recovered over time after receiving training and later were able to attend regular public schools. Most of them did not suffer from severe hearing loss, and they were cooperative with trainers, and their parents also attached great importance to all the training courses. But there were other students who had to enter special education schools after rehabilitation training. Nevertheless, they could receive good education.
After helping hearing-impaired children for nearly a decade, Uwe found that many hearing-impaired adults face even bigger challenges than children. Unable to communicate smoothly with others, they had no professional skills and it was difficult for them to integrate into normal social life and be independent.
It was then that Uwe got an inspiration to open up a bakery to train them. After thinking it over, he and his wife decided to put their idea into action. "We found a pastry chef from Germany and invited him to Changsha to teach me and other apprentices how to make bread," he said.
Today, Bach's Bakery has trained around 30 hearing-impaired apprentices, several of whom have stayed on to work at the bakery after they completed the training. However, the bakery was not big enough to accommodate all of them. Some skilled bakers found jobs in other bakeries and hotels and have been able to live on their own, which gave them more confidence in life.
"As of yet, no one has ever opened up his or her own bakery after going through the training here," said Uwe. To start a bakery requires much more work than just baking in a kitchen, therefore, without the help of family members or friends, it is out of reach for the hearing-impaired bakers.
For those bakers who stayed on to work at the bakery, they were provided with good welfare. Their social insurance was provided by the bakery and they earned a salary each month, even in times of great operating difficulties affected by the COVID-19.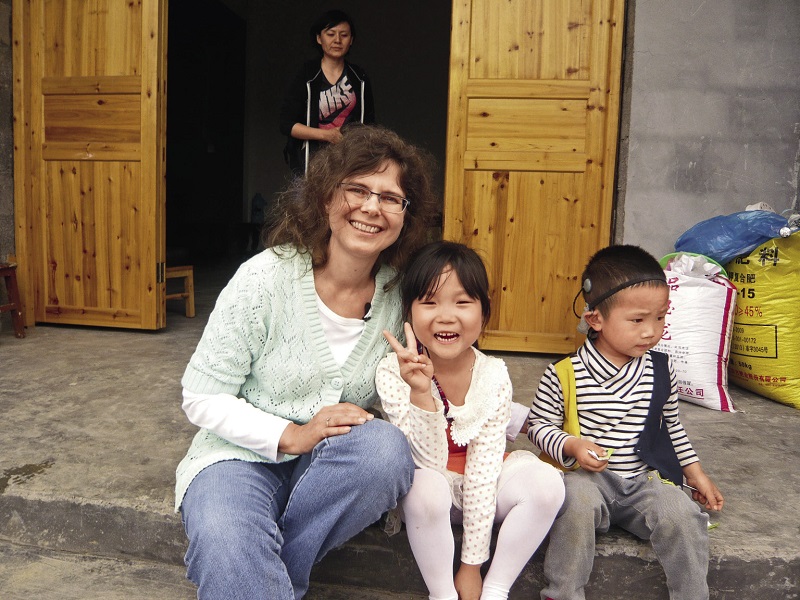 Dorothee Brutzer with two hearing-impaired children she has helped with training for improving their pronunciation skills in Hunan Province.
Do Something Meaningful for Others
"When my wife and I first came to Changsha 20 years ago, there was no sufficient government program in place to support the hearing impaired. Now, we're seeing more and more government programs ranging from special education to career planning. That's something we are excited to see," Uwe said, then added that after the successful hosting of the 2008 Beijing Paralympics, great progress has been made in helping people with disabilities.
By March 2022, Uwe and his wife had been in Hunan for 20 years, and they are now well in their early 50s. His wife missed her hometown very much, so he decided to respect her wish and move with her back to Germany.
Uwe and his wife have lived a simple and comfortable life for two decades in China, and both were very contented. Their parents and siblings back home have also been very supportive of their work in China, especially his mother. When she was alive, she often told him that everyone should do something meaningful for others in their life.
"When my mother was still alive," he recalled, "every time we went back to visit her, she would tell me to go back to China as early as I could. My wife's parents have also been very supportive of what we do in China." Their parents were taken care of by their siblings, and the support of their families made them more determined to continue their work in China.
Their work has also gained the support of many people in China. Someone once paid for all the expenses to renovate the bakery, which helped them create a more comfortable working environment. What's more, with the wide coverage of Chinese media, many netizens learned about Bach's Bakery and its inspiring story. As a result, many local residents in Changsha as well as visitors from other parts of the country also come to buy their products.
Uwe said that media coverage has helped to boost the bakery's business, resulting in employees getting higher salaries. In addition, what he values more is that, through media reports, more people have come to understand that people with disabilities can work as well as other people when they are given equal opportunities.
Faced with pouring heart-felt thanks from people, Uwe was modest and said what he and his wife did was nothing out of the ordinary. He said that if they were more capable, they would have devoted more time to training and hiring more people with disabilities, such as those with intellectual disabilities, who have greater difficulties finding jobs. He hopes that the government will encourage businesses to provide employment opportunities for the disabled through tax subsidies.
Now, as they are preparing to return to Germany, they have found a German couple teaching in China as their successor, and handed over the backery to a public welfare organization. Their wish is to continue providing free training for the hearing-impaired and that the bakery will never be commercialized.
In May, Uwe and his wife will return to Germany. Upon hearing about their plans to leave China, many Changsha locals went to the bakery to express their gratitude for their 20 years of selfless service. Uwe said that the children they have trained, the food and people in Hunan, the sunshine in the Xiangchun Alley, and the wonderful moments celebrating Christmas and Spring Festival with the staff will forever be imprinted in his and his wife's memories.
As for what their work will be after returning to Germany, he said they will look for suitable opportunities to train the disabled people in their hometown. And although the Bach's Bakery is about to be taken over by someone else, it will always remain close to their hearts.