SINCE April 8, 16 aircraft have arrived at Mexico City International Airport from Shanghai carrying personal protective equipment to fight the coronavirus pandemic. As of now, more than 170 tons of medical materials have landed and been distributed among the medical personnel of public hospitals across the country.
Fully loaded with medical supplies from Shanghai, the 10th such flight from China (using the China-Mexico air corridor) to Mexico lands in Mexico City on May 12.
The unprecedented operation was dubbed the "China-Mexico Air Corridor," allowing the Latin American nation to stock up on much needed medical supplies to cope with the current pandemic. On average, there have been two flights per week, each carrying approximately 10 tons of materials. The plan will use 20 aircraft to transport 200 tons of medical supplies, including KN95 and surgical masks, protective goggles, COVID-19 test kits, and ventilators, among others.
This feat has not only involved streamlining diplomatic channels, but also entailed solving technical issues to allow 20 aircraft, all from Aeroméxico, to safely cross the Pacific Ocean 40 times in just 10 weeks, completing more than 600 flight hours.
According to Ricardo Cárdenas Orozco, executive coordinator of Sanitary Supervision and Surveillance of the Federal Commission for Protection against Sanitary Risks, the supplies meet the highest quality standard and comply with all the necessary commercial regulations.
Solidarity Among People
This complex operation was motivated by the profound friendship that unites both countries ever since diplomatic relations were established on February 14, 1972, during Luis Echeverría's government (1970-1976). Forty-eight years have gone by since then, and now, in the midst of the current pandemic emergency, the bond has been further reaffirmed through these friendly deeds.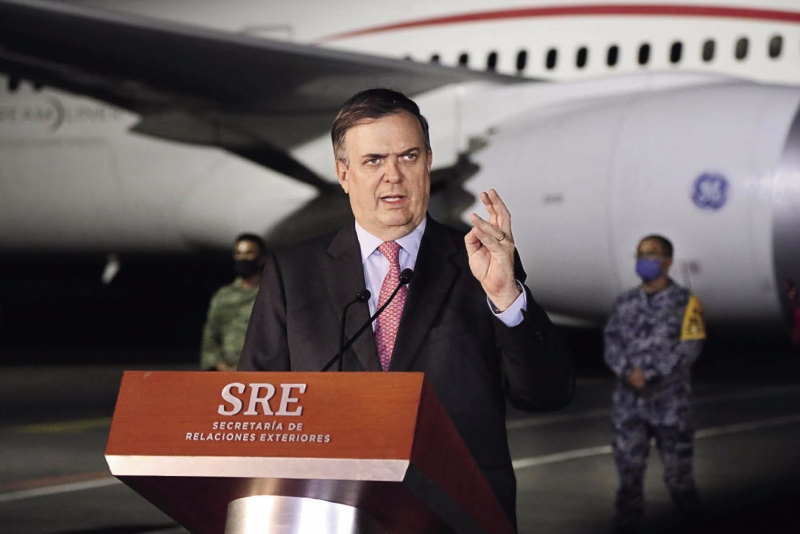 Mexican Foreign Secretary Marcelo Ebrard and Chinese Ambassador to Mexico Zhu Qingqiao speak at the handover ceremony for medical supplies from China.
Marcelo Ebrard, Mexico's secretary of foreign affairs, spoke highly of the bilateral relationship. "We have built this air corridor because we have a very good relationship with China," he said. The proof of it, he added, is the unconditional support between both countries during these times of crisis and uncertainties in the world. "Mexico helped China when the pandemic started, and now when we need support, you (China) have also been there [to help], because relations between peoples do matter," Ebrard told the media on May 12 when the 10th flight landed at the Mexican capital.
This 10th flight – which brought the first 48 ventilators – marks the second stage of this international cooperation effort. "We are in agreement about the need for a global, multilateral response to this pandemic. China was one of the first countries that supported us in the recent UN resolution to guarantee universal access to medicine, equipment, and a potential vaccine," said Ebrard.
In turn, Zhu Qingqiao, Chinese ambassador to Mexico, said he appreciated the solidarity that both countries have shown in these trying times. "China and Mexico are good friends and partners. The [Mexican] government and its people gave us their valuable support, which we will never forget. Today, the country is facing the threat of the virus, which is something we understand by first-hand experience. So we are doing everything we can to support it."
The Chinese ambassador also indicated that both countries have shown their determination to defeat this deadly virus. To do so, he explained, "Government agencies and companies, in both China and Mexico, have closely collaborated and worked against the clock to fulfill the important consensus reached by Chinese President Xi Jinping and his Mexican counterpart Andrés Manuel López Obrador, to strengthen bilateral cooperation in battling the pandemic, and thus further enhancing Sino-Mexican ties."
Zhu said that upholding the concept of building a community with a shared future for humankind, China will intensify cooperation with Mexico and other countries in the world, and join forces to fight the pandemic, defending the common home of humankind.
A Friend in Need
Despite the high domestic and global demand, China has managed to meet, in record time, Mexico's urgent need for medical supplies. On March 25, the Chinese company Meheco Corporation was designated as one of the suppliers to provide Mexico with the much-needed medical materials, upon the request of Mexico's Ministry of Foreign Affairs. Soon the Mexican government imported US $56.48 million worth of personal protective equipment from China.
On April 8, the first aircraft – a Boeing 787 baptized Peace Missionary, which was the same aircraft that took Pope Francis to Rome in 2016 – arrived in Mexico City, thus officially opening the Mexico-China air corridor.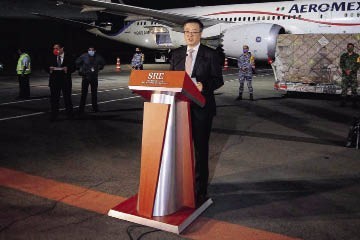 The supplies that have arrived surpass 18 million units: 16.37 million surgical face masks, 1.49 million KN95 face masks, 1.22 million pairs of gloves, 523,000 protective masks, 411,000 pairs of protective goggles, 466 ventilators, 300,000 test kits for COVID-19, 40,000 test collection and transport kits, as well as nine cubic meters of meltblown microfiber for the production of KN95 face masks.
According to congressman Alberto Villa Villegas (of Morena, the ruling political party), who is president of the Mexico-China Friendship Group of the Chamber of Deputies, the air corridor is vital for Mexico to face up to the current pandemic. As of June 5, Mexico had registered more than 110,000 COVID-19 cases and 13,000 deaths. "This help comes to us as if it had fallen from heaven amidst this global pandemic," Villegas told China Today. "Without a doubt, it has been very significant for us because it shows how generous China has always been to the Mexican people."
Villegas said in times of crisis true friends extend a hand to help. "In this case, China has shown us once again that we can count on it, and that friendship transcends borders, distances, and languages. We, in turn, want to reciprocate that help and let China know that we are always willing to extend a helping hand."
He also noted that, in addition to the help from the Chinese government, private individuals from the Chinese community in Mexico have also reached out. "They have donated face masks to the Chamber of Deputies, and we cannot thank them enough for all their help," said Villegas. He then added that once the pandemic is over, his group would resume the work to further strengthen and facilitate the mutually beneficial economic exchanges and trade.
One of the Mexico-China Friendship Group of the Chamber of Deputies' objectives is to bolster diplomatic, technological, and cultural exchanges, and to work in legislative initiatives that foster foreign trade as well as scientific, technological, cultural, and tourist exchanges.
In this regard, Ambassador Zhu indicated China's willingness to cooperate with Mexico in its economic recovery. "We are partners, and cooperation will help overcome the economic crisis and make new breakthroughs. We believe that after the pandemic, China's relations with Mexico should take on an even more important role and China is ready to boost cooperation," said Zhu in an article published by the Notimex agency.
Mexico is awaiting the arrival of four more aircrafts to complete the 20 flights of this air corridor built with hope and affection.
The pandemic has presented us with difficult times, but it has also shown China's supportiveness and fraternity to Mexico. After all, as an old Mexican saying goes — true friends really get to know each other in times of sickness.