WANG Fumei, 33 years old, knows the power of education from personal experience. The woman, hailing from a poor family in a remote rural area in Sichuan Province, never expected that she could lead the agenda of ensuring rural girls' access to nine-year compulsory education as the deputy head of a township named Dala in southwest China.
The "Linlan Spring Buds Class" of Laojuntang Primary School in Qiaocheng District, Bozhou City, Anhui Province, is officially opened on May 29, 2007. Fifty girls from impoverished families in the first grade are able to continue their studies under the support of the "Spring Buds Program."
Eighteen years ago, Wang was one of many poor girls in need of help. An education support program called Spring Buds Program ignited the hope of the 15-year-old girl who had dropped out of school three years before. Thanks to the support, Wang continued her education, secured a diploma, and got where she is now.
Wang is one of thousands of poor rural girls whose fates have been changed by the Spring Buds Program launched in 1989 by the China Children and Teenagers' Fund with an aim of helping poor girls who had dropped out of school to resume their education. To date, more than 3.69 million girls have been assisted by the program, making it the most widely funded and longest running public welfare program for girls since the founding of the People's Republic of China in 1949.
Preparing Girls for Tomorrow
About 30 years ago, many children in poor areas across China had to quit school due to strained financial conditions. About two thirds of these children were girls. Their lives have been transformed thanks to the "Spring Buds Program."
Lan Zhilin, a member of the Yao ethnic group, comes from Rongshui Miao Autonomous County in southwest China's Guangxi Zhuang Autonomous Region. Before 1989, no Yao girl had ever gone to school or been educated. Benefiting from the Spring Buds Program, Lan became one of the first local girls who received education. She completed her studies at a nursing school in Nanning, the capital of the autonomous region.
Firmly believing that she was capable of doing whatever her male peers could do, she became a gynecologist and has been serving her community. Lan was also the first female doctor in the history of her ethnic community. Inspired by her achievements, her peer villagers, ignoring their language barrier, began to make use of modern medical facilities and go to hospitals to give birth and undergo other medical treatments. Lan said women who received education now have the courage to defiantly break established rules dictated by society that affect women. Attending school has transformed many females' lives, molded their independent personality, and even helped a minority to transform from being closed minded to a state of being open to all possibilities.
To keep up with modern trends, the Spring Buds Program is also constantly evolving and innovating. The beneficiaries have expanded from poor girls in compulsory primary education to high school and university students. Since 2001, the program has shifted its focus to financially supporting girls in high schools and universities, with a particular focus on those with outstanding academic ability and good character so as to inspire them to become self-reliant and self-motivated.
Twenty-two "Blue Sky Spring Buds" girls dressed in their ethnic costumes come to Changchun to participate in the activities on aviation, celebrating the 70th anniversary of the founding of the people's air force on October 19, 2019.
Over the past 30 years, the Spring Buds Program has tirelessly promoted its public welfare effectiveness, maintained its vitality, and broadened the development space, thereby illuminating the way forward for more girls.
Cohesion of Social Power
Since its establishment, the Spring Buds Program has raised RMB 2.12 billion (US $299 million) in donations from corporates and more than 27 million individuals from all walks of life. This has made it possible to build 1,811 Spring Buds schools.
The Sinopec Group has donated RMB 51.74 million (US $7.31 million) to the program since 2004 and provided financial backing for 23,678 girls. The Evergrande Group donated RMB 80 million (US $11.3 million) to the China Children and Teenagers' Fund to support the charity's various programs including the Spring Bud Program. The Shandong Rizhao Iron and Steel Holding Group Co., Ltd. has donated RMB 130 million (US $18.4 million) to resettle, raise, and educate 672 children left orphaned by the 2008 Wenchuan earthquake.
Changes brought by these efforts have gone beyond the fates of individual girls. They have also enabled a change of mindset. In the past, families were compelled to send girls to school, but they now volunteer to do so.
In some poverty-stricken ethnic minority areas, the program has transformed people's lifestyle, production output, and personal circumstances. People began to reverse underdeveloped agricultural production methods, develop innovative methods of production, and migrate to other places to search for employment opportunities — thereby turning their backs on the grips of poverty.
Surge of Female Brilliance
Li Yonghua was born in Minhe Hui and Tu Autonomous County, northwest China's Qinghai Province. During her primary school years, numerous girls in the village dropped out of school before entering a senior grade. Li always harbored a passion for studying, but suffered from the constraints of a poor family. Fortunately, the Spring Buds Program was able to assist her and with her determined dedication, Li was admitted to the Law School of Peking University before going on to further her studies in Turkey.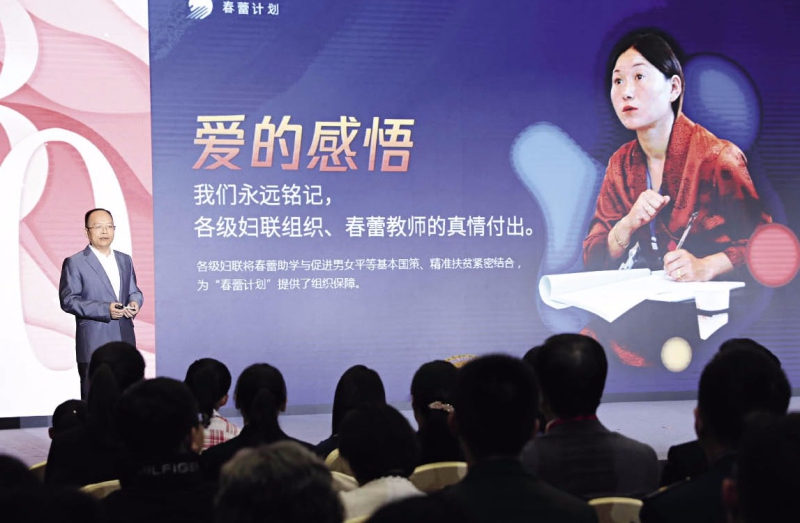 A press conference on the "Spring Buds Program" 30-year results is held in Beijing on October 10, 2019.
However, an important part of Li's journey has not only been about her own benefits, but also about her commitment to assisting other children who come from a similar background. In Turkey, she worked as a volunteer and got herself deeply involved in the cultural exchanges and education drives for more than 40 Syrian refugee orphans in an orphanage in southeast Turkey, encouraging them to study hard and overcome their circumstances. After returning to China, Li opted to work as a Turkish teacher in a college, and is engaged in research on the Belt and Road Initiative, something in which she has a deep interest. Thanks to the financial support, a rural girl who almost dropped out of school was able to walk out of the mountainous village, expand her horizons, and take up a career that involves people-to-people exchanges between China and foreign countries.
As the name implies, in the past 30 years, the Spring Buds Program has seen many spring buds like Li bloom in various walks of life. With concrete resolve and results, they have embodied the spirit of unremitting self-improvement, promoted a desire to do good, and pursued glory through showcasing the potential of females.
Among these females, there are pioneering leaders with outstanding achievements in academic and professional life, as well as ordinary people. They, as wives and mothers, have dedicated their efforts and contribution to being the best they can be wherever they are.
Last September, the China Children and Teenagers' Fund launched the Spring Buds – Dream of the Future Initiative, the upgraded version of the Spring Buds Program. This new initiative is dedicated to helping more students to fulfill their dreams with social activities and financial support, safeguarding the health and growth of young girls, and making use of the Internet platform to involve more people in the undertaking.
According to the sponsor, the Spring Buds Program will not stop its steps, but will continue to compose the stories of transforming young lives and creating new miracles in the process.
_______________
WANG PENG is a reporter with Xinihua News Agency; WANG RUOYAO is a staff of China Children and Teenagers' Fund.