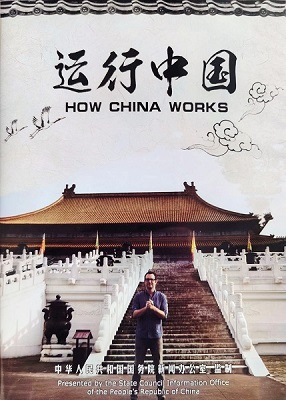 How China Works
Length: 3 episodes
45 minutes per episode
Produced by China Intercontinental Communication Center & Discovery Networks Asia-Pacific
Released by China Intercontinental Press
The three-episode documentary series How China Works, jointly produced by China Intercontinental Communication Center and Discovery Networks Asia-Pacific, examines through the eyes of a foreigner how a vast country like China operates so efficiently by uncovering some of the country's most ambitious projects, its cutting-edge technologies, people's lifestyle changes, and the impact of Internet on society.
Danny Forster, an established architect and well-known TV host in the United States, contributes a lot to the documentary with his expertise and sense of humor as the host of the series. Forster graduated from Harvard and shot to fame on TV for hosting the Discovery Channel documentary series Extreme Engineering, which features major construction and engineering projects across the globe.
This time, Forster traveled across China to explore the country's most ambitious projects and technological innovations and to gain insights into China's urbanized society. In the world's most populous country, he saw how innovations and new approaches are thriving, and how local emerging technologies that lead global trends are being applied. He also met some of the country's brightest minds as he attempted to understand how China works at an incredible scale and pace and with vision seen nowhere else in the world.
In the first episode, Forster started his adventure at the top of the 632-meter-tall Shanghai Tower—the city's tallest building located in the newest Pudong District, which is home to a burgeoning cluster of skyscrapers. Who could have imagined that a deserted patch of farmland could be transformed into one of the most stunningly modern and futuristic areas of a thriving metropolis in the span of just two decades?
Having left the megacity of Shanghai, Forster flew southward to Guizhou Province, where his team was the first ever foreign film crew permitted to record the construction of the 500-meter Aperture Spherical Radio Telescope (FAST), known as the world's largest single-dish radio telescope, with a receiving surface area equivalent to 30 football fields. This program will allow China to see further into outer space than anyone has before and it is expected that FAST will maintain its world-class status for the next 20 to 30 years.
In Forster's viewpoint, modern China is just trying to reclaim the status that ancient China already held as a hub of scientific innovation. "Just think about the great Chinese inventions such as paper-making, printing, gunpowder, the compass, and even the mechanical clock," he said, pointing out that with the government's bold investment in science, China is again making itself a world leader in science and technology but at a faster pace this time.
The rapidly modernizing landscape comes with its own costs. Once close-knit communities in China are being separated by urban migration. New media has jumped on this opportunity to bridge that gap.
In the second episode, Forster visited the headquarters of Tencent, a world-leading Internet and technology company based in Shenzhen. WeChat, a mobile-only social media platform developed by the ambitious company, has almost 1.1 billion active daily users, which helps alleviate the problem of alienation faced by Chinese people by bringing people back together virtually. "As technology evolves, it has revolutionized the way families and friends stay in touch," said Forster. The next step for Tencent is to connect all the hardware in the physical world and create an entire ecosystem in which individual users, companies, and media are all connected in new interactive ways.
Then, Forster returned to Shanghai, where innovators are springing up from the creative fringes into the commercial mainstream. ChinaJoy, or China Digital Entertainment Expo & Conference, is the largest Asian digital entertainment expo held in Shanghai, which draws over 200,000 young gamers annually. It has set a pan-entertainment strategy for the Internet aimed at integrating gaming, anime, literature, film, and music. After interacting with several entrepreneurs, Forster discovered that they are not just leveraging a huge market, but also capitalizing on a young tech-savvy generation that is looking for ways of self-expression.
The third episode peeks into the middle class in China. After decades of urbanization and a real commitment to domestic innovation, China has cultivated a large middle class with huge and more diversified demands. To eat safer and better, top priority has been given to food safety and quality. Chinese people also become the largest buyers of luxury goods in the world. Opulent high-end shopping malls are mushrooming all over the country, with nearly 300 gigantic malls built in a year to serve the public's growing appetite for consumer goods.
China also hosts more museums than anywhere else on Earth. The Shanghai Long Museum was China's largest private art museum at the time of its opening with a mix of ancient and modern Chinese arts and artifacts. "It is a good way of imparting cultural education and awareness to the newly wealthy people," Forster commented. According to official data, a new museum has opened in China every two days on average over the past five years, with the total number of museums nationwide rising from 4,692 in 2016 to 5,788 in 2020. In Europe, it took centuries to develop this kind of cultural infrastructure, he said. Moreover, new technologies such as big data and cloud computing have been adopted for the construction of smart museums, and the cultural and creative products exhibited by museums are shaping a new consumption trend.
Chinese people in megacities are the first who revel in new innovations and emerging technologies. Given the huge size of China's population, already topping 1.4 billion, its middle class is bound to have a direct and profound impact on the rest of the world.