Peking Opera has been continuously reinventing itself over the centuries. While retaining old traditions and classical repertoire, it is looking for new forms of expression through productions of contemporary themes and exchanges with the rest of the world.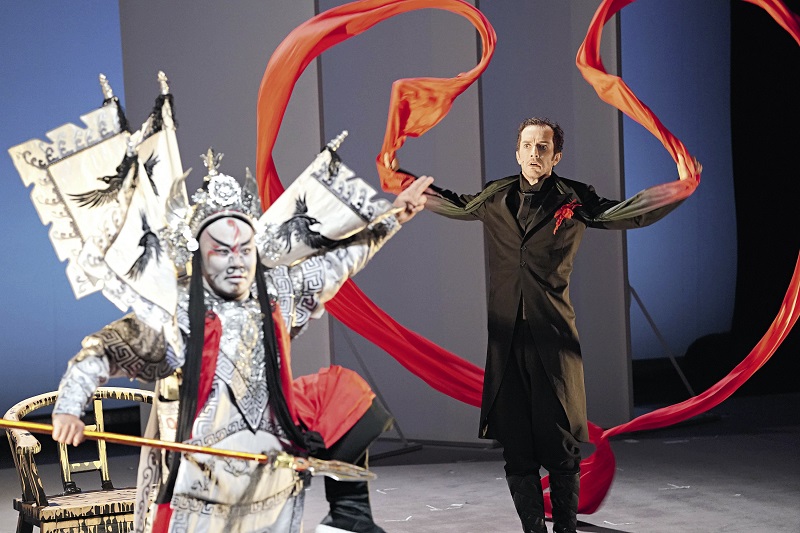 Experimental Peking Opera play Der Ring Des Nibelungen, adapted from the opera by German composer Richard Wagner, is staged on December 20, 2019, in Germany in both Chinese and German.
Going Global
In 2009, recorded segments of the Red Cliff, an epic aria of the Peking Opera presented by the National Center for the Performing Arts, were exhibited on the giant screen at the iconic Times Square in New York City, making it the first exhibition of a traditional Chinese art form on that platform. Ninety years earlier in 1919, Peking Opera master Mei Lanfang was the first to stage a performance of Chinese opera outside China. It has since become known and appreciated by people across the world.
"Mr. Mei made indelible contributions to the spread of Peking Opera out of China," said Zhang Yafeng, vice president of the National Peking Opera Company (NPOC). After his performance in Japan in 1919, Mei toured the U.S. in 1930, which also proved a resounding success. His performance was spoken highly appreciated by Charles Chaplin, Douglas Fairbanks, and literary critic Stark Young among others.
In the years that followed, more Peking Opera performers appeared on the international stage, and foreign performing artists came to China for exchanges. Though these events were of modest scale and limited reach, they heralded the beginning of a global presence of the ancient Chinese art.
After the founding of the People's Republic of China (PRC) in 1949, Peking Opera got a new lease of life. From 1951 to 2020, Chinese Peking Opera troupes staged overseas performances on all continents except Antarctica. Since 1955 when the NPOC presented the White Snake and Farewell My Concubine starring Ye Shenglan and Du Jinfang to audiences in western Europe, the company's artists have traveled around the world to promote traditional Chinese culture and build friendly ties with other peoples in this process.
In recent years, the company has been producing Peking Opera plays adapted from Western opera every year through partnerships with foreign art institutions and attempting to tell stories of the broader world expressed in the language of a Chinese art form. Among these plays are Faust, Turandot, and Der Ring Des Nibelungen, which were jointly produced with Emilia Romagna Teatro Fondazione of Italy and Young Euro Classic in Germany. Eugene Onegin, a production co-created by the NPOC with a Russian theater, is scheduled to debut in October 2022.
As the Peking Opera reaches a more global audience, it has found ever greater numbers of fans. Increasingly larger amounts of aficionados are coming to China to learn more and experience this form of art. Among the best known of them is Elizabeth Wichmann-Walczak from the U.S., a student of Shen Xiaomei, who was a student of Mei Lanfang. Wichmann-Walczak has honed her skills to the point that she can hardly be distinguished from a Chinese performer on the stage. After her return to the U.S., she devoted herself to studying, writing about, and translating Peking Opera plays in an effort to make the art form better known in her home country.
Zhang Yafeng believes that to pass on Peking Opera to future generations, a cultural heritage of the whole world, it requires the efforts of all people who love it worldwide. The art is not exclusive to China but instead should become a treasure shared and co-created by all humanity.
Revolutionary Gene
Earlier this year, in celebration of the centenary of the founding of the Communist Party of China (CPC), the NPOC staged the first Peking Opera festival featuring modern productions, most of which were inspired by stories that happened during the war against Japanese invasion and the Chinese revolution.
Patriotism runs deep in the blood of Chinese people, including Peking Opera artists. During the years Chinese people fought against Japanese occupation, Mei Lanfang and Cheng Yanqiu, both men playing female roles in Peking Opera, grew beards in protest and refused to play for Japanese invaders.
Many modern Peking Opera plays have been written after the founding of the PRC, including revolutionary classics The Red Lantern, Shajiabang, Takeover of the Weihu Mountain, Azalea Mountain, and Sea Harbor.
Over the past years, the NPOC has explored China's revolutionary history in great detail. Some examples are the Xi'an Incident, a historical event of Chinese people putting up a united front to fight foreign aggression; Daughter of the Party, a story of a rural woman laying down her life for the cause of the Chinese revolution; Story of the Red Army, a trilogy about the Long March during which the Red Army triumphed over all sorts of difficulties and marched toward victory.
Zhang said that members of different age groups of his company were engaged in the creation and performance of these revolutionary plays, carrying forward the mission of older-generation Peking Opera artists and making their contribution to the nation in the new era.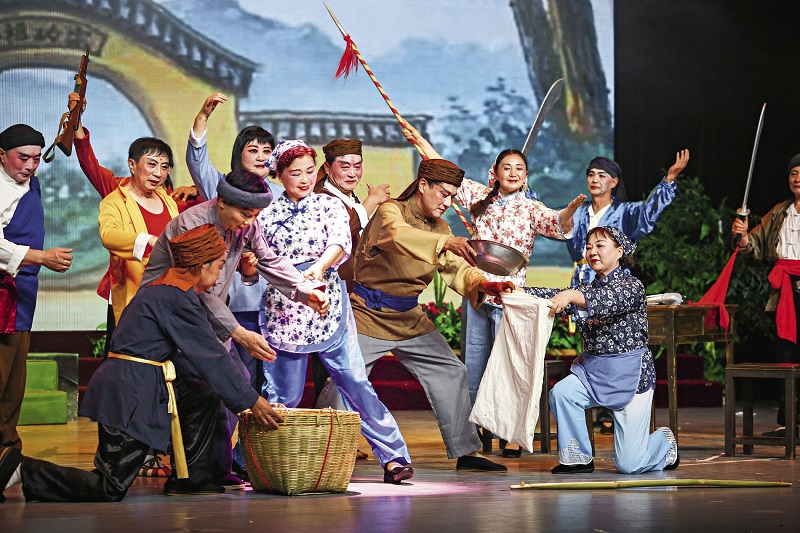 The Cultural Center Theater of Rugao City in Jiangsu Province putting on a performance of the red classic Azalea Mountain on July 1, 2021, the centenary of the founding of the Communist Party of China.
Tradition and Innovation
As early as during the Old Democratic Revolution period (1840-1919), progressive Peking Opera artists began to produce plays about modern life. This trend reached a pinnacle after 1949. It is a challenging task to make modern stories and an ancient art form coalesced in a way that appeals to audiences.
How to create strong characters, how to adapt to modern lives, how to exchange with other art forms, and how to attract more viewers? People dedicated to Peking Opera have been working on these issues for the past decades.
In March this year, a modern Peking Opera production Mother debuted in Wuhan, Hubei Province. It is based on the life of Ge Jianhao, mother of Cai Hesen, who was a founding member of the CPC. In addition to the replacement of traditional costumes by contemporary clothing, the play borrows elements from Western opera and modern dance. And the innovation was well received by the audience and critics alike.
In the view of Zhong Chengxiang, an art critic, it is the right path moving forward for Peking Opera to appeal to more people, especially the youth, by adopting elements of Western opera, modern drama, film, TV drama, and other art forms. In this regard, Mother has made valuable explorations.
Story of the Red Army also boldly experimented with the integration of different genres of Peking Opera. In a particular section, an older performer and three young female roles, each from the Cheng, Shang, and Mei schools, sing in a quartet, expressing individuality while also highlighting their shared feelings.
The Beijing-Hangzhou Grand Cannal, a co-production of Beijing Symphony Orchestra and the NPOC, is a hybrid of the two art forms. According to its composer, Yang Nailin, the play is unconventional Peking Opera and Chinese-style symphony.
For more than a century, Chinese artists have passed on Peking Opera from generation to generation and brought a greater level of vitality to it. Today, this ancient art form is seeking new expressions to thrive in the new times.