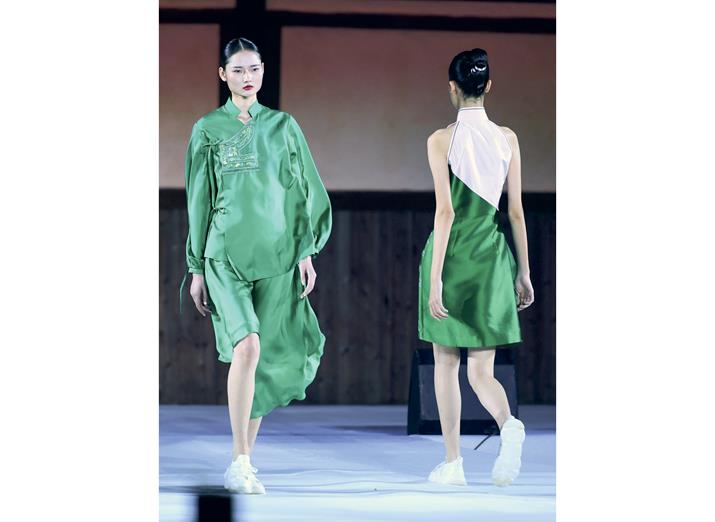 Models present Chinese-style clothes at a fashion show held in Fuzhou, Fujian Province, on September 25, 2020 (CNSPHOTO)
Hu Chunqing is perhaps the most well-known person in the business of hanfu, the traditional clothing of China's Han ethnic group, in Daji Township, Caoxian County of Shandong Province in east China. Holding a Ph.D. in metal materials, he decided to return to his hometown and joined his wife in the clothing business in 2018.
Caoxian County is known as the largest manufacturing base for clothing for performers in China. However, the business was severely affected in 2020 due to canceled performances across the country as required by the epidemic control.
Hu was among the first in his township to have switched to hanfu for survival, as this traditional style of clothing was emerging as a new trend.
The transfer proved successful. With a series of popular hanfu designs, Hu's shop achieved annual sales of around 10 million yuan ($1.5 million) and their income was much higher than what they could earn in their previous business. They even cooperated with a dozen other factories to finish their orders, which created job opportunities for hundreds of locals.
Hu's approach represents a necessary choice for players in China's clothing sector to grow: catering to the new demands of the consumers. Since the country has finished its campaign to eliminate absolute poverty last year, in which access to adequate clothing was a basic criterion, what the people are expecting from clothing now is far beyond warmth and appearance.
Return of tradition
Behind the booming hanfu industry is a strong revival of traditional-style clothing. In 2020, the number of hanfu fans in China reached 5 million with a market value of over 6 billion yuan ($0.92 billion), according to a report by iimedia.cn.
According to a survey released by China Youth Daily in 2019, around 65.4 percent of Chinese people are fans of hanfu, while about 44 percent have experience wearing such clothing in the past.
On April 17, the Fourth Chinese National Costume Day was held in Macao and broadcasted to the world. First launched in 2018 in Xi'an, Shaanxi Province, the festival, held on the third day of the third month in the Chinese lunar calendar, is part of the country's efforts to revive this precious tradition.
While most of China's ethnic groups have kept a legacy of their own costume, the Han people, having the largest population in China, saw their costume tradition disrupted for hundreds of years after the Qing Dynasty began to rule the country in 1636.
As more people embrace hanfu, events themed on the clothing are also being held locally, especially during traditional festivals.
On March 27, which was the Flower Fairy Festival, or the birthday of flowers, in China's lunar calendar, an event in the Wuhan Garden Expo park attracted close to 1,000 visitors wearing hanfu. Similar events were held in many other cities such as Hefei, Jiaxing and Hangzhou for the festival.
In Zhengzhou, Henan Province in central China, visitors wearing hanfu and traditional costumes of other ethnic groups, will be offered free tickets to the city's garden expo park during the May Day holiday which lasts from May 1 to 5.
The clothing is also becoming popular among those who don't wear it themselves. Zhao Bei, a 35-year-old mother in Beijing, bought a set of hanfu for her three-yearold daughter. "Although I am not ready to wear hanfu myself, it is really an enjoyment to see others wear it," she said. The increasing demand for hanfu has brought changes to the clothing industry. In Caoxian County, hanfu manufacturers found it more challenging to make a profit from hanfu clothing other than that for performances. There are higher requirements regarding pattern and appearance of the products, and since the target customers are individual admirers rather than performing groups, the clothes must be of high quality.
The old model of running a business with just a computer and a few sewing machines is no longer viable. Both design capacity and production equipment need to be upgraded.
This led Hu's wife Meng Xiaoxia, who has a degree in art, to pick up her sketchbook again and spend her free time studying traditional Chinese patterns and culture.
As the county's reputation in hanfu production grew, more people came to work there, which allowed Hu to put together a team of designers. So far, the company has designed over 40 hanfu models and obtained 12 copyright patents for original art creation.
Currently, the county has about 2,000 companies involved in the production of hanfu and is becoming another supply center for this young people's new favorite after cities like Hangzhou, Guangzhou and Chengdu.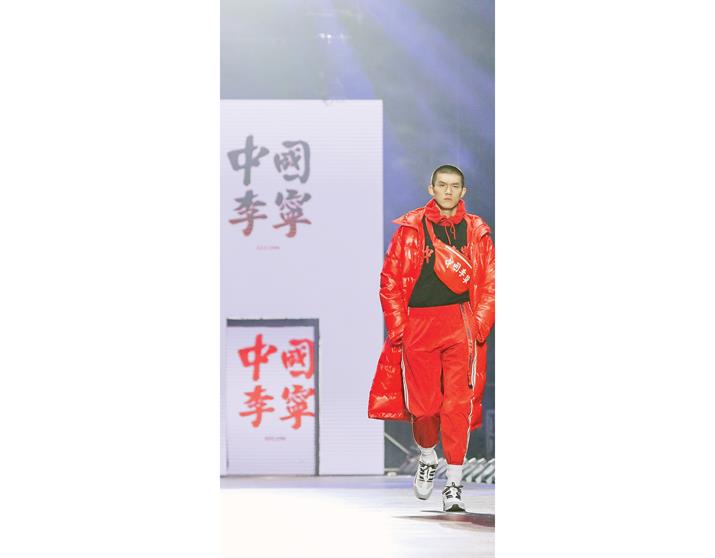 A model displays Li Ning clothes at a fashion show held in the Water Cube in Beijing on October 20, 2018 (CNSPHOTO)
Chinese elements
On December 18, 2020, at a conference hosted by the China National Garment Association in the city of Shishi, Fujian Province, Lin Congying, Chairman of JOEONE, a Chinese brand focused on men's trousers founded in 1989, announced that the company will remove the English word "JOEONE" from its logo, leaving only the Chinese characters, as part of its new branding strategy.
This represented a sharp reversal of the conventional way of branding, where some companies tended to brand their products with a name that sounded more "foreign."
Examples include Metersbonwe and Semir, both founded in Zhejiang Province. The names don't have any literal association with Chinese.
Recent years have seen an increasing trend of Chinese companies becoming popular by embracing Chinese elements in their design and marketing operations, forming styles known as China Chic.
Li Ning, a professional sportswear company founded in 1990 by renowned gymnast Li Ning, is one example. In 2012, the company suffered a major setback with a huge annual loss of over 20 billion yuan ($3 billion). The situation of the company did not significantly improve in the following years.
But a major turnaround came in February 2018 at the New York Fashion Week, where the brand gained a lot of attention for its distinctive Chinese elements such as Chinese characters and old photos of Li Ning from the 1990s. The new products were quickly sold out and the company returned to the center of the fashion world with a brandnew image.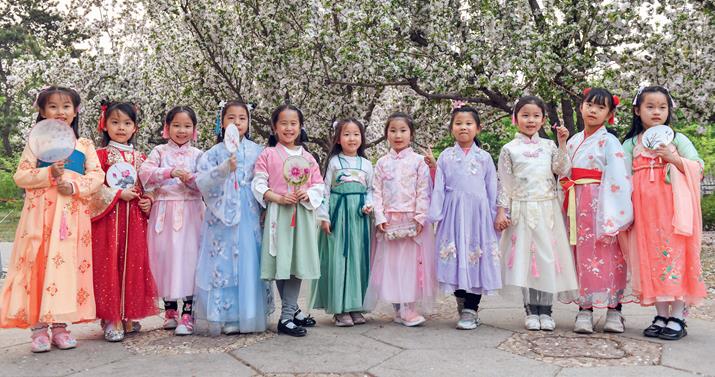 Little girls wear hanfu in a park in Beijing on April 9 (WEI YAO)
Xstep, another leading Chinese sportswear brand, chose to cooperate with Shaolin Temple to add Chinese culture to its brand.
It designed products with Shaolin Kungfu elements and was the first company to hold a fashion show in front of the 1,500-yearold temple.
A report on the post-2000 generation by Tencent attributed the increasing confidence in the Chinese culture shown by local brands to the shift in the mindset of the younger generation. Young people of the post-2000 generation, born in an era when the country is strong, are much more confident in Chinese culture and their identity as Chinese people.
According to the report, more than half of this age group believe that a foreign brand by itself is not an advantage. They tend to focus on the experience of using the products.
As the quality of products of local brands continues to improve, people's affection for these brands is also growing.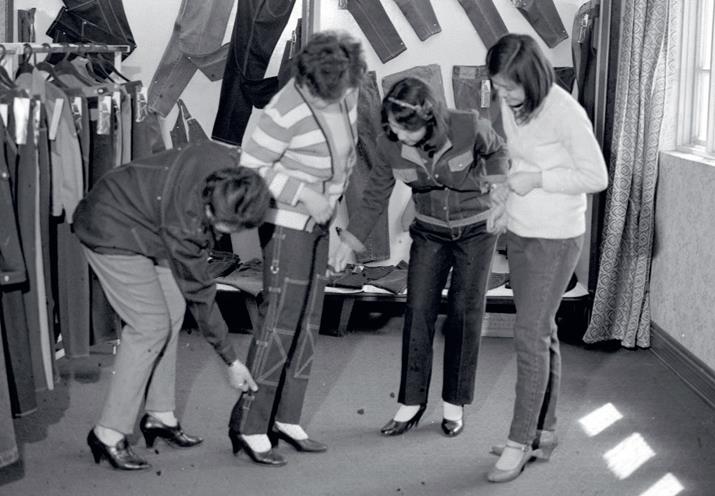 Women shop at a clothes store in Tianjin in 1987 (XINHUA)
Emphasis on health
The epidemic has reinforced health considerations in buying clothes, with the demand for antibacterial and antiviral products becoming stronger.
Accordingly, health fabrics are being used more frequently in textile and apparel products to meet consumer demand. According to a report by the China National Textile and Apparel Council, 27.8 percent of innovations in apparel in 2020 involved anti-microbial or anti-virus elements.
On April 10, Lark, a brand based in Zhejiang Province, launched China's first anti-virus school uniforms in Shanghai. With the help of nanotechnology, the material for the uniforms is embedded with anti-virus ingredients which can withstand washing. Zhu Tao, President of the China Industrial Design Association, stressed in his speech at the launch ceremony of the uniforms the importance of health protection in the post-pandemic world and praised the invention of the uniforms. "They represent what the clothing industry can do to guard the happiness of the people," he said.
(Print Edition Title: Apparel Matters)
Comments to hufan@chinafrica.cn