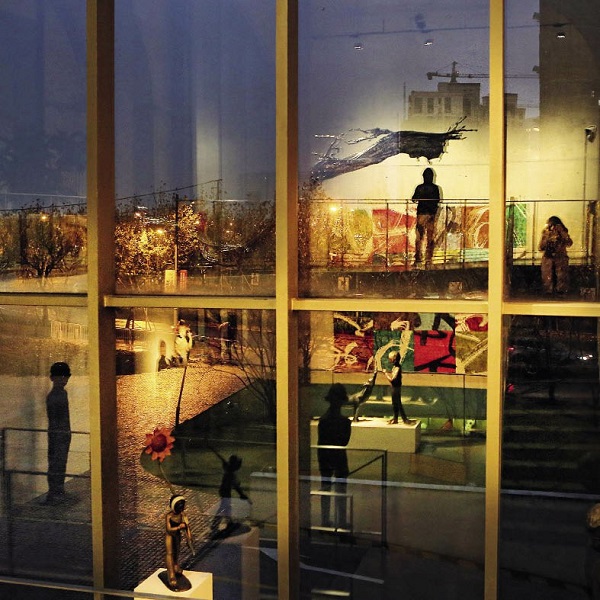 The Long Museum is currently one of the top runners of Shanghai private museums.
COMPARED with large state-owned museums housing rich collections, changes in private museums and industrial museums can better reflect social changes. The remarkable increase in China's manufacturing capacity and the great abundance of materials both verified Chinese people's advances on the road to a well-off society.
From Antiques to Contemporary Works
Wu Shaohua, the founding chairman of the Shanghai Collectors Association, grew up in the older district of Shanghai City. Many people there love to collect old stuff.
The Shanghai Collection Appreciation Society, the predecessor of the Shanghai Collectors Association, was established in June 1986. Compared with its current scale of more than 6,000 members, Wu, now in his 70s, recalls back in the early days when there were only 20 people, and the collections they had were mostly old stuff. Private museums that gradually became well-known include: Wang Anjian's Timepiece Museum, Chen Baoding's Abacus Museum, Lan Xiang's Chopsticks Museum, and Feng Yiyou's Cigarette Museum.
Since the late Qing Dynasty (1636-1911), Shanghai has been well known for its large number of collectors. Many respected collectors there used to find treasures at state-run second-hand goods stores on Huaihai Road in the 1960s and 1970s.
According to Wu's memory, owners of private museums during the 1980s mostly collected old items such as tickets, candy wrappers, yearly calendars, monthly bus pass, old newspapers, cigarette labels, and matchboxes. Later with the deepening of reform and opening-up and the continuous improvement of people's livelihood, not only has the number of collection enthusiasts grown, but the collections of the museum owners have also become richer and more artistic. "Oriental jasper, dark-red enameled pottery, thangkas, contemporary paintings, and calligraphy intrigue many people," Wu said. "The increase of diversified collections is a major sign of people moving from struggling to meet the basic needs of life to being comparatively well-off. Some collectors are obsessed with collections. For example, Wang Anjian has been keen on collecting timepieces from the 18th to the early 20th century. More commendably, he also learned on his own how to repair clocks and watches. Many of the items in his collection, he fixed with his own hands. Now, more people are bringing art into everyday life. For instance, they have introduced calligraphy, painting, and jade wares as home decorations. As a result, it has created a need for more categories and more levels of collections in the market."
Some experienced collectors in Shanghai have also begun to collect both antiques and contemporary works. The Zidongge Art Museum in Pudong District mainly collects Shanghai-style redwood furniture, displaying old furniture and contemporary works including contemporary vintage works. According to Wu, since contemporary works are much easier to identify than antiques, more collectors have gotten involved in this field.
The significance of collecting contemporary works is not only due to the fact they are easier to identify than antiques. Today's private museum collectors are enjoying the cultural heritage of their predecessors; likewise they must leave something for future generations!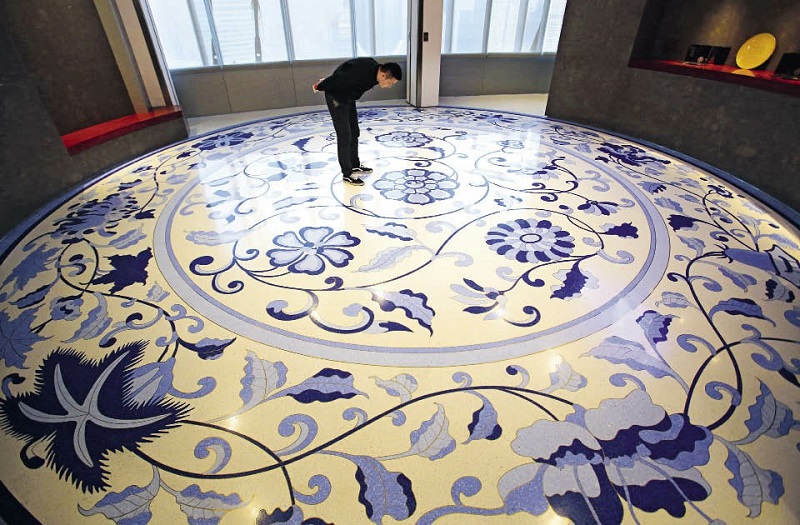 A visitor is studying the blue-and-white enamel floor at the entrance of Guanfu Museum in Shanghai.
Diversified Operation
In 2014, the famous Long Museum owners Liu Yiqian and his wife Wang Wei bought the Chenghua "chicken cup," a piece of porcelain dating back to the Ming Dynasty (1368-1644), for HK $280 million and an imperial embroidered thangka from the reign of Emperor Yongle of the Ming Dynasty for HK $348.4 million. The couple have opened two private art museums on both sides of the Huangpu River.
Even though Shanghai already has the Museum of Contemporary Art, Shanghai (MoCA Shanghai), and its Shanghai Biennale is also gaining an increasing amount of attention, generally speaking, there are few contemporary art collections or exhibitions on display. In this respect, the Long Museum has been able to complement the work of MoCA Shanghai.
In 2011, the number of Chinese private museums had reached 456. Four short years later in 2015, new museum regulations were introduced and the number of Chinese private museums exceeded 1,000. During the 13th Five-Year Plan period (2016-20), the country added one museum every two days on average, and there is one museum for every 250,000 people. According to data from the National Cultural Heritage Administration, by the end of 2019, 5,535 museums had been registered nationwide, an increase of 181 from 2018. Among them, the number of non-state museums is 1,710.
The Long Museum and the Yuz Museum, opened in Shanghai by Budi Tek, a Chinese-Indonesian entrepreneur, art philanthropist, and collector, are currently the top runners of Shanghai private museums. "The world has reached some consensus on the standards of urban civilization which includes the number of museums. The number of museums in Shanghai is continuing to increase. In addition to state-owned museums, there are also various other kinds of museums such as joint-stock and private museums," said Wu.
Once a country or economy reaches a certain development stage, there will be an increased interest of individuals or companies to invest heavily in the museum field, the result of which can complement the state-owned or public museums to enhance the level of urban civilization. Now as China is entering an all-around well-off society, Wu believes that in addition to private art galleries and museums, foundation-based museums will also emerge.
According to Wu, during the collecting craze which occurred a few years ago, many people aimed more at investing instead of collecting. Even though this may not be bad, some antique identification TV programs had good ratings and the so-called "national treasure culture" actually focused on making a fortune. As some private collectors set up museums and bought artwork at sky-high prices in the auction market, the mentality of some collectors and art investors gradually became impetuous.
"If more private museums followed the foundation-based model, it would be a better model to guide entrepreneurs in investing or giving back to society by investing in artwork," said Wu.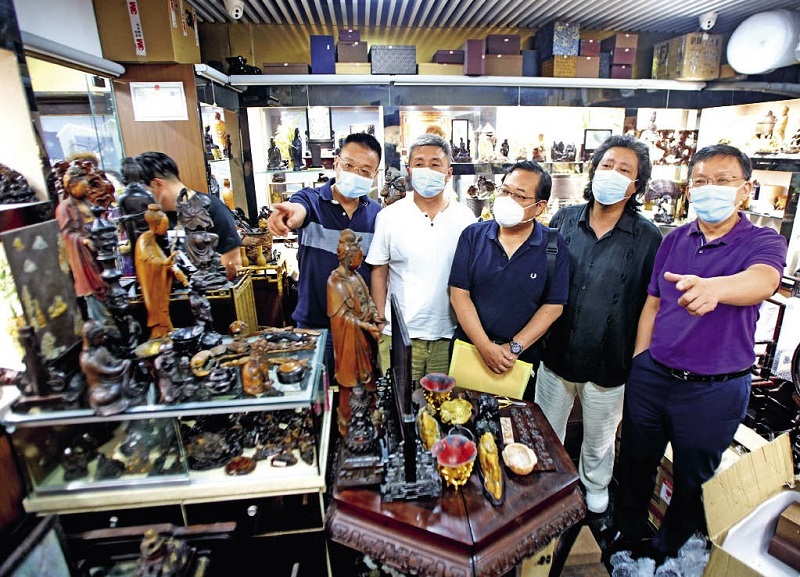 The Yangtze River Delta Collectors Association Alliance initiated by the Shanghai Collectors Association and formed by the four collectors associations in Jiangsu, Zhejiang, Anhui provinces and Shanghai, is established on August 6, 2020.
Contributions to Society
In addition to doing farm work, 53-year-old Wang Jijia likes looking for objects at recycling depots and old book shops. More than 30 years ago, his hometown Zhuanglang County in Gansu Province was similar to many rural areas in western China, having nothing more than old ink cartridges, brass locks, and old textbooks to collect.
Over the years, Wang has collected 4,000 folk cultural artifacts, 15,000 books, and 3,000 pieces of archival data. In September 2019, when his Jiahe Museum was inaugurated, he still claimed to be a farmer. But his life and his hometown are obviously different from what they used to be. Within a year, the museum received over 16,000 visitors. Zhuanglang County, which started to build terraces in 1998, finally shook off extreme poverty in March after decades of unremitting hard work.
In 2017, Wang took a loan from the bank to organize his collection and design motifs. In September 2019, a museum with an area of 500 square meters, 14 themes, and a glass greenhouse was built on the second floor of his home. After its opening, the farmer collector, who even fixed his glasses with tape, chose to open it for free. Besides, he also provides voluntary explanations on the displays. Li Fenlin, vice librarian of the Gansu Provincial Library, wrote the following message in the guestbook, "Walking around the Jiahe Museum is like passing through the corridor of Chinese history. In addition to being pleasantly surprised, the museum is quite impressive and moved me a lot."
With the deepening of reform and opening-up and the improvement of people's livelihood, there are fewer family-based private museums. More private museums have greatly improved their collections and exhibition area. For example, Xie Dangwei, an enamel collector, has placed nearly 3,000 enamel items in the Bafenyuan Art Museum in Jiading District, Shanghai. It integrates a garden, art gallery, restaurant, tea room, and library. Xie Dangwei's century-old Chinese enamel exhibition is now a permanent exhibit at the museum.
However, back in the spring of 2014, Xie had to store all his collections in an apartment in a commercial housing complex of Shanghai. Although the community was very private and the house well decorated, he admits the arrangements were more suitable for living instead of running a museum. In a word, Xie had enough collections but not enough space to start an enamel museum.
During summer vacations in recent years, teenagers organized by their schools and communities visited the Bafenyuan Art Museum from time to time. During the four years since its opening, nearly 100 events have been held every year. Students can not only appreciate the century-old history of Chinese enamel, they can also make enamel.
In Wu's view, museums have four major functions: exhibition, collection, research, and education. At the beginning of reform and opening-up, however, many people had limited living space. Then in addition to not knowing how to display materials, do research, and realize the education functions, even the collection aspect encountered problems such as how to control the temperature and humidity of the environment in which artifacts are stored.
Now, the situation has changed dramatically for the better.
According to him, there are fewer collectors who only want to make a fortune from collecting. Many young people nowadays also pay more attention to the presentation of personal artistic accomplishments, whether it is accessories on their clothes or furnishings in their home. In this case, the collection craze is also changing. For example, some of the post-80s generation collect old toys, car models, and cassette tapes. Despite the fact that the collections are not expensive, they are carriers of a certain history and culture, just like an old object left behind by grandparents is full of memories.
When Shanghai photographer He Zhaoya's solo exhibition, Born Again opened at Natuzzi Italia, an Italian furniture boutique in Shanghai on August 7, many of the guests felt the unique warmth of human kindness. According to He, the works she exhibited are mainly about fallen leaves in the lanes during the epidemic, and sketches of these leaves.
"Compared with the new green leaves of spring, the fallen leaves under He's lens and brush show a trace of life," commented the radio host Ye Sha, "How can we keep the bits and pieces of life, those beautiful moments alive, and help them grow in our lives? How can we build a beautiful small space for ourselves? It is better to collect."
When Natuzzi Italia put He's work on display, it also seems to exhibit the taste of a museum. According to Wu, young people nowadays love to collect and focus on their intellectual needs. This shows that the people's yearning for a better life has evolved from merely meeting basic necessities to satisfying intellectual needs while enjoying the arrival of an all-around well-off society. The prosperity of various museums is a full testimony to this aspect.