Starting as a volunteer docent in 2003, Zhang Peng now shoulders the responsibility of museum education for the youth.
"Children, please stand on my left side. Parents and adults, please stand on my right side. Next, please turn left and follow me to see the cultural relic," said Zhang Peng in the ancient China exhibition hall of the National Museum.
Zhang is a promoter of museum education for young people. He has been a volunteer docent since 2003. In 2017, he founded a program of parent-child education called Museum in Ears. And since 2018, he has served as the executive curator of the Beijing Guo Shoujing Memorial Hall. Currently, Zhang is also a member of the 11th Standing Committee of Beijing Youth Federation, and an image ambassador of Beijing Tourism.
In addition to his many achievements, Zhang has visited more than 200 primary and secondary schools across China to give museum-themed lectures, and has published seven relevant books for children. For him, it is his mission and responsibility to educate children about the purpose and value of museums.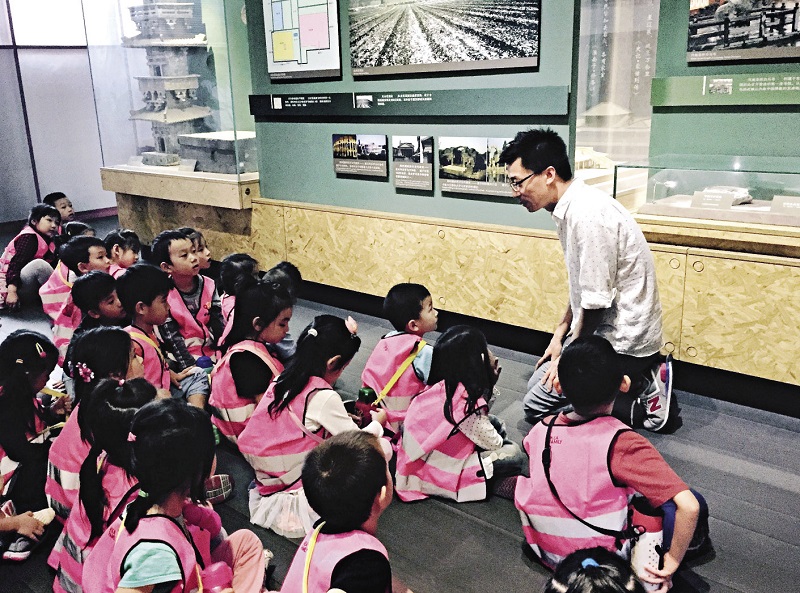 Zhang Peng is teaching kindergarten children at Beijing Ancient Architecture Museum.
Seeds of Knowledge in Young Minds
Zhang has been connected with museums since he was a college student in 2003. It was by pure chance that he became a volunteer docent of the National Museum of China. Every weekend, he took a four-hour round bus trip between the museum and his school. In order to improve their skills and provide high-quality tour guide services, he and other volunteers often spent hours practicing being a docent and visitors.
In 2008, as museums at all levels gradually opened to the public for free, Zhang, who had accumulated a lot of experience, also welcomed more and more young visitors. Whenever he appears at the entrance of the exhibition hall, he attracts a large number of children who follow him into the exhibition in groups. He uses storytelling to help children learn the history of cultural relics. He also invites children to role-play, which helps them better understand history through the interaction. His teaching has reinforced the educational function of museums as a public facility.
Zhang confessed that he has a deep affection for both children and museums and likes nothing better than planting seeds of knowledge in young minds.
During nearly 20 years of volunteering, he has witnessed the results of these seeds. One of his students chose to study protection and restoration of cultural relics in a training program jointly sponsored by the Palace Museum, Beijing International Vocational Education School, and Beijing Union University. Another student listed Zhang as the person he admired the most when answering an examiner's question in an application to study abroad. After going abroad, this student even translated Zhang's published books on museums into English for his classmates to read. "These changes are also the motivation that inspires me to keep volunteering in museums," said Zhang.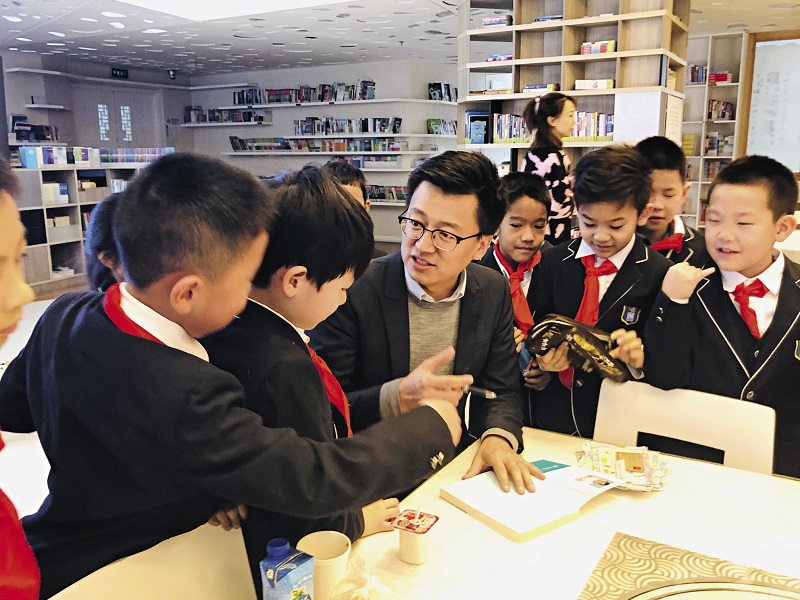 Zhang Peng tells the stories of cultural relics to students at Shijia Primary School in Beijing.
Audio Teaching for Children
In recent years, China has emphasized the cultivation of comprehensive capacity of primary and secondary school students. In the Museum Regulations, promulgated in February 2015, education is listed as the first function of museums. In November 2016, 11 departments, including the Ministry of Education, added students' research and study travel into the education plan of primary and secondary schools.
To spread his teaching to more children, his Museum in Ears program, launched in 2017, organizes offline study tours in various museums, offers online audio courses, and promotes museum-related books for children.
Zhang and his team hope their storytelling can help children grow and be a good company. "On the one hand, we have launched online audio courses, which children can listen to in their spare time. On the other hand, through our offline tours, children can explore history in local museums, which also highlights our company during their studies," said Zhang.
In June 2020, cooperating with the Emperor Qinshihuang's Mausoleum Site Museum, Zhang's team launched a 50-episode online audio course. This was also the first time that Emperor Qinshihuang's Mausoleum Site Museum had launched an audio cultural course for children. After the course was launched, it attracted much attention from all walks of life. Affected by the pandemic, many parents have postponed their plans to take their children to visit Xi'an, where the mausoleum is located. Therefore, this course has allowed children to experience the culture of the Qin Dynasty in preparation for an in-person visit.
So far, Zhang's team has provided free audio guides for more than 130 exhibitions, which have served more than six million people. In the offline tours, they have developed nearly 200 different themed courses about more than 60 museums.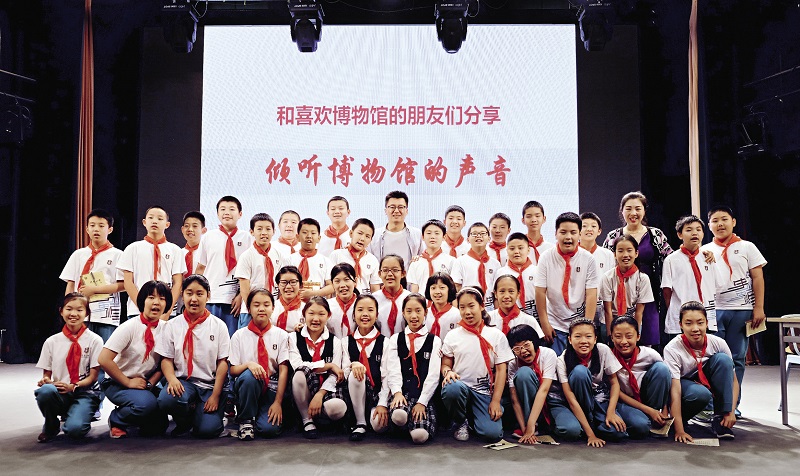 Zhang Peng has a photo taken with students after giving a lecture about museums. Photos courtesy of Zhang Peng
Great Effect of a Small Memorial Hall
Zhang has served as the executive curator of the Beijing Guo Shoujing Memorial Hall since 2018. It is the first memorial hall to be operated with a social group and supervised by the government. Zhang and his team began to mobilize the resources from all sectors of society, so as to help a small museum provide better public cultural services.
Guo Shoujing (1231-1316) was an astronomer and hydraulic scientist in the Yuan Dynasty (1271-1368). He oversaw the construction of the Tonghui Canal connecting the capital Beijing's downtown areas with the suburb town Tongzhou. It is a part of the Grand Canal, which improved the transportation between northern and southern China. In June 2014, the Grand Canal was inscribed onto the World Heritage list. The Beijing Guo Shoujing Memorial Hall displays the achievements of ancient Chinese astronomy and hydraulics.
For children, Zhang and his team have cooperated with more than 10 museums along the Grand Canal and held an online course during winter breaks for two consecutive years, interpreting the history of the Grand Canal and the wisdom of Chinese ancestors through live-streaming. For the past two years, on the World Water Day of March 22, Zhang and his team encouraged children to use their phone cameras to record their own stories about Chinese water culture. More than 100 young volunteers in their docent team have helped children understand and inherit the culture of the Grand Canal, through the volunteer services they provide.