"AS long as I can make a reservation, I'll come and watch the exhibition." Getting a ticket for a cultural show in China seldom poses any difficulty, but on June 11 this year Liu battled to make a booking.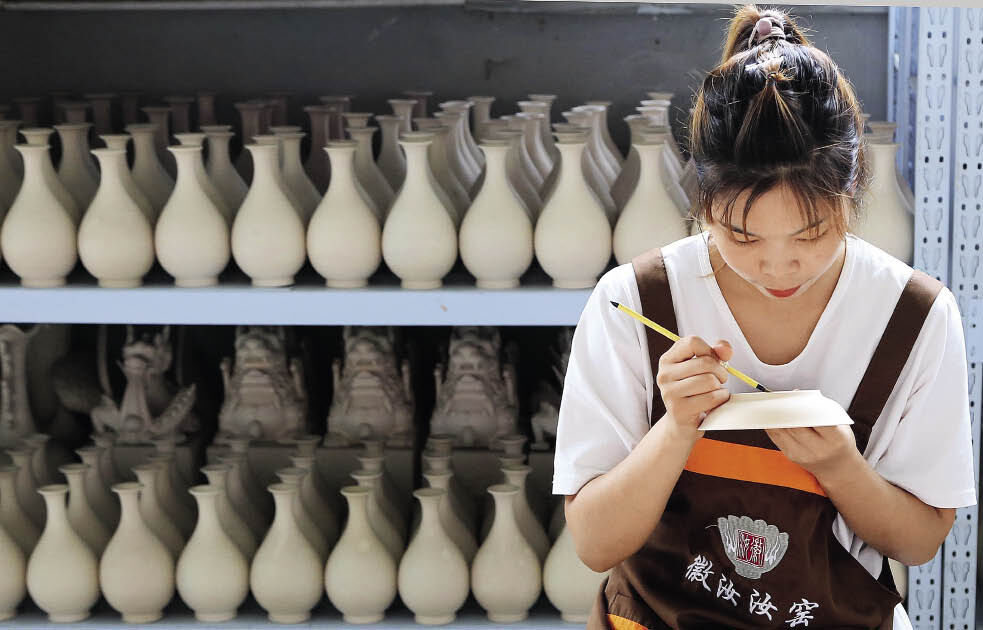 A Ru porcelain artist is busy decorating her craft at a workshop in Baofeng County, Pingdingshan City, Henan Province on July 29, 2020.
The offline exhibition of the achievements in recording works of the national intangible cultural heritage representative inheritors, which was held in the cinema of the National Library in Beijing on June 11, 2020, proved to be a big hit with the public. According to the library staff, since the launch of the exhibition on June 9, every show was well received.
The theme of this year's Cultural and Natural Heritage Day was "Cultural Relics Giving Color to a Moderately Prosperous Society," which aligns with China's overall goal of completing the building of a moderately prosperous society in 2020. In recent years, cultural and natural heritage has brought a sense of spiritual fulfillment to Chinese and played an important role in building a holistic well-off society.
Intangible Cultural Heritage Boosts Social Development
Cultural heritage plays a significant role in social development, from building social confidence, to boosting rural revitalization, and helping poverty alleviation.
Since the 18th National Congress of the Communist Party of China which was held in November 2012, Chinese President Xi Jinping has attached great importance to the protection of cultural heritage. From 2014 to date, Xi has visited the Yuhe River (heritage park) in Beijing, Xi'an Museum, Bacha Village of Bacha Hezhen Township in Tongjiang City of Heilong-jiang Province, Yong Qing Fang in the Xiguan historical and cultural neighborhood of Liwan District in Guangzhou, Chifeng Museum, Mogao Grottoes, the Heshun ancient town, and the Yungang Grottoes.
Xi's intangible heritage footprint not only signals a new era of China's protection and inheritance of traditional Chinese culture, but also promotes an increase in the public consumption of intangible heritage.
The Tangchang cloth shoe shop in Zhanqi Village, western Sichuan is a must see place for many tourists. Before the Spring Festival of 2018, Xi bought a pair of cloth shoes made by Lai Shufang when he visited Zhanqi. For Lai Shufang, Xi's purchase is still vivid in her memory. "I told him that the people are very grateful to him, and I would like to give him a pair of cloth shoes. Xi said that rather than receive them as a gift he would pay for the shoes," recalled Lai.
Lai learned to make cloth shoes from her father when she was very young and has been in the business for 40 years. Now, in addition to offline stores, Ai Peng, Lai Shufang's son, has opened a Tangchang cloth shoes Taobao store. He also adds modern creativity in design and tries to combine it with intangible cultural heritage (ICH) projects such as palm weaving and Sichuan-styled embroidery. In 2019 alone, more than 10,000 pairs of cloth shoes were sold, with a profit of more than RMB 300,000. On the eve of the Cultural and Natural Heritage Day this year, Ai signed up to participate in the Intangible Cultural Heritage Shopping Festival, jointly organized by e-commerce giants Alibaba and JD. He soon found that he had insufficient stock. Over the past two years, more than 10 young people have been hired to learn the art of making cloth shoes. The local government has also organized several training classes for making Tangchang cloth shoes. Lai is often invited to give lectures to trainees. After receiving the training, these trainees have joined in the business and can earn a living with the skills and rise up out of poverty.
Nowadays, intangible cultural heritage is not just about inheriting a skill. A number of ICH poverty alleviation workshops are helping the poor learn the traditional skills, promote employment, and consolidate the achievements of poverty alleviation.
A Shopping Spree
To mark the Cultural and Natural Heritage Day during the COVID-19 pandemic, all the activities were held online. One such event was the first Intangible Cultural Heritage Shopping Festival.
The special live program, which was aimed at bringing ICH products into customer's home, was jointly hosted by CCTV hosts Neghmat Rakhman and Wang Ning and Taobao celebrity Li Jiaqi. The live online broadcast recommended more than 20 kinds of Chinese ICH related snacks, local specialties, silk fans, small craft pieces, and other cultural creations. As Li and Rakhman described the taste of the food they sampled, it struck a chord with viewers, who began to place orders online. Many products were purchased as soon as they were put on the shelves. According to statistics, the live broadcast attracted more than 10 million netizens, and sold ICH products valued at more than RMB 12.61 million.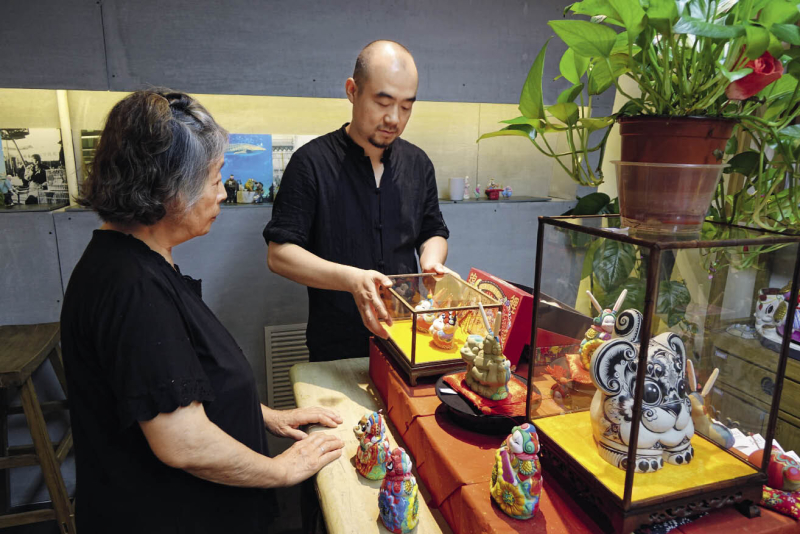 The making of the clay rabbit is an intangible cultural heritage of Beijing for the Mid-Autumn Festival.
In addition to CCTV hosts, many ICH inheritors were also on hand to prepare cultural delicacies. For example, Wang Yongzhong, the inheritor of Cai Linji's hot and dry noodles, prepared the dish using an instant flavor sachet which produced the original authentic flavor of chef master. The live broadcast helped netizens to connect with their culture in an accessible way and received good reviews.
Food aside, the shopping festival saw craft pieces such as the 145-year-old Wang Xingji brand's folding fan fly off the JD platform shelves. On June 13, the sales volume increased by 900 percent year-on-year, bringing this long held Chinese item back into popularity.
Tao inkstone making skills, Qingyang cloth bag embroidery, Longxi embroidery, Shandan papercut pyrography, and Bonan ethnic group's waist knife forging technique are just some of the intangible cultural heritage businesses from Gansu Province which have joined online shopping platform – Taobao 613 ICH inheritors business group. In addition, 48 provincial-level or above ICH poverty alleviation workshops have opened 67 online stores on various major online shopping platforms.
Jinan, the capital city of east China's Shandong Province, also launched online and offline sales activities to promote its intangible cultural heritage products, including donkey-hide gelatin of the brand Fu, Jinan shadow play and Zhangqiu iron pots, to enhance the public's awareness of the achievements in cultural heritage preservation.
In Hebei Province the shopping festival featured handwoven cloth, time-honored gourmet dishes, traditional embroidery, and ceramic products. A total of 354 online stores took part on various e-commerce platforms offering more than 3,800 kinds of ICH products, benefiting 289 cultural inheritors.
According to incomplete statistics, during the shopping festival more than 3,700 ICH publicity and exhibition activities were held all over the country, with nearly 6,500 shops participating. There were more than 80,000 kinds of ICH products involved, with JD showing massive year-on-year sales increases.
Today, intangible cultural heritage has become important intellectual property, popular with consumers from all walks of life. The shopping festival provides a convenient way to make the intangible heritage accessible to a growing consumer base, while also raising awareness about the need for its protection.
Empower Youth to Promote Intangible Cultural Heritage
Youth play an important role in preserving the country's heritage. Be it gold ware restoration, filamentary silver hovering art or Jun porcelain, the post-90s generation are getting tuned in to what's at stake on the intangible heritage train.
Diao Kuan, a post-90 rural young man in Anhui Province, was disabled in his right hand since childhood. Although people around him doubted his ability to learn bamboo weaving, he persisted. After opening a Taobao store to sell his bamboo products, Diao's monthly income amounted to more than RMB 10,000. "Compared with the previous odd jobs I had, my life now is much better and I feel very satisfied," said Diao. On Taobao, he receives a lot of encouragement, from people who appreciate his dedication and skill, which keeps him motivated.
Xiaolu, born in Chengdu in the late 1980s, is a second-generation inheritor of the filamentary silver hovering art which is on the list of National Intangible Cultural Heritage. It takes more than 100 separate procedures to transform silver bars into fine silver threads used in making jewelry, paintings, and other handcrafts. This art, which is on the verge of dying away, is popular among young people on Taobao. This encourages Xiaolu to believe that as long as there is a market, intangible cultural heritage skills will not be lost.
According to Chen Shaofeng, vice president of the Cultural Industry Research Institute of Peking University, in order to attract young consumers, intangible cultural heritage products must be designed in a new way.
Chen said that including intangible cultural heritage as part of tourism will enhance the cultural content of tourism, and let the intangible cultural heritage become a living inheritance of tourism.
According to data from Alibaba, hundreds of millions of users purchased ICH products from Taobao and Tmall last year. Taobao alone has more than 25,000 ICH handicraft shops with an annual turnover of nearly RMB 3 billion. Taobao live streaming has become a new way for the rapid growth of ICH businesses, with more than two million live broadcasts a year. Young people are not only chasing new trends, but are also fans of traditional culture. Two-thirds of ICH consumers are born in the 1980s and 1990s.
Zhao Ying, vice president of the Alibaba Group, said that innovation is the best inheritance, adding that Alibaba's support for the inheritance and protection of intangible cultural heritage will last for a long time, and it will provide innovative wings for intangible cultural heritage protection, creative research and development, and consumption of ICH products on an online platform. After launching the Intangible Cultural Heritage Shopping Festival on June 13, Alibaba, together with the Ministry of Culture and Tourism, will also recommend more ICH craftsmen and popular products to consumers by promoting brands, recommending trustworthy stores, and launching inter-store exploration activities in the foreseeable future.