P
UTTING on a turquoise Han-style traditional Chinese outfit, Zhang Ying left her smartphone outside and stepped into an ancient martial art world. The spry young lady, born in the 1990s, has now became a swordswoman, going on an adventure to crack a mysterious murder case together with seven fellow swordsmen and women in an imaginary Muyun Estate.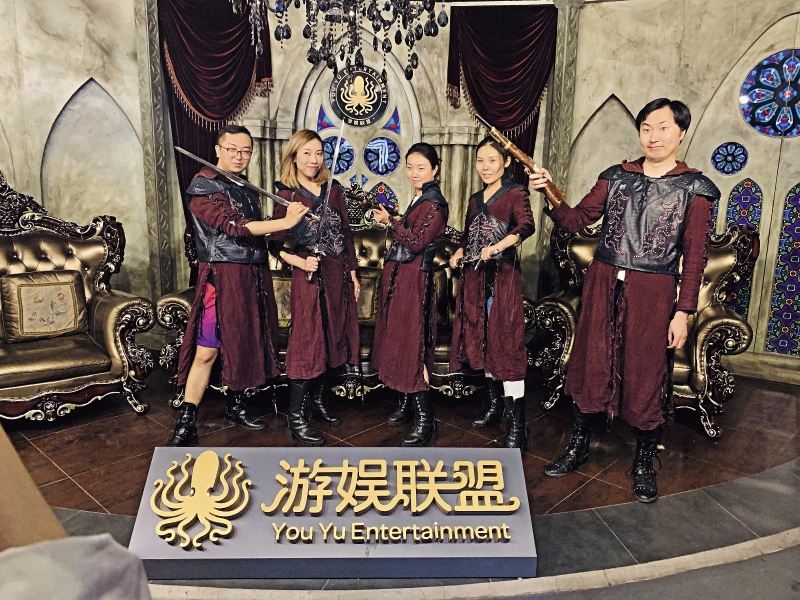 During a LARP game, players enter an alternate reality world with friends or strangers.
Zhang and the other seven young Chinese, who she met for the first time, were playing a trending game called live-action role playing (LARP).
During a period of three or four hours, players enter a completely different world with friends or strangers. They can be a general, a swordsman, a police officer, or a firefighter. "It's like I'm starring a blockbuster movie," said Zhang.
Currently the main consumers of LARP are those aged between 20 and 35. "It actually satisfies the social needs of young people, allowing them to communicate face to face," said Yuan Hang, founder of the FB Murder Mystery Club where Zhang is playing the game in Luoyang City, central China's Henan Province. Speaking from more than two years' experience in running the club, Yuan believed the essence of the industry is creating a platform for interpersonal interaction.
New Social Choices for Youth
After four hours of role playing, Zhang returned to reality, and got familiar with the girl who played the role of her cousin in the game. "Since there are inextricable links with the roles we play, this arouses emotional resonance between us. We share common interests and hobbies, making it easier for us to become friends," said Zhang. She first played the game in early 2019, and since then, Zhang has played more than 20 times.
The game was created based on the Murder Mystery Game widely played at parties in Europe and the United States.
During the game, players need to perform a story based on the script in their hands. Through interactive communication, discussion, and exchange of clues, they jointly uncover the secret behind the story or discover the murderer.
Li Yu is a host of LARP games. His job is to explain the background of the story and promote the development of the plot. Li is a veteran in this genre and has played more than 100 of these games.
His links with the game go back more than two years. He played it for both entertainment and a chance to experience the world views of different script writers. As a book lover, he became immersed in the world described by the writers and the ideas they wanted to convey to readers.
Yuan Hang said that the original scripts were mostly about solving murder mysteries. Thanks to the development of the game as an industry and the efforts of script writers, a growing number of themes have been established.
"Sometimes the background of the story is a homicide case, but the play is not just about the case," said Yuan. "Some players gradually immerse themselves in the emotional part [of the game], and the game then gradually evolves from a reasoning game to a life game. Enjoying the experience becomes more important than acting out the story," Yuan said.
Two years ago, Yuan made a bold business decision, abandoning his thriving full-fledged operation of another type of game club and starting over with the LARP games.
"Players could gain more satisfaction from the game, and it will be a hit," Yuan recalled.
The response of the market verified Yuan's judgment. Before the COVID-19 outbreak, his club had an average of 10 games per day, and became even busier on weekends.
"During the play, you will find that the decisions and words of another player resonate with yours and then you will have a meal together [later] to get better aquainted with each other. Next time you will arrange to play the game together," said Li Yu who has made two good friends from the games.
Experiencing Another Life
As a host, Li has witnessed many new friendships form through the role playing games.
When describing LARP, players mention the experience more than any other aspect. They care about whether the plot is logical and unfolds in an appropriate rhythm, as well as whether the characters and story are interesting. One can experience a completely different life over a few hours. Other similar role playing games cannot create such an experience.
During the game, a student can experience what the life of a doctor or a lawyer feels like, and find out the problems encountered by different professions in real life, said Lin Yuhan, owner of a LARP game club. Some prefer to choose a role in a period drama, and they will learn ancient customs, and fulfill the dream of being a drama star, Lin added.
A number of players believe that the most exciting part of the game is when the host announces the ending. Everyone's true identity is then revealed one by one, and pieces of the puzzle finally come together to present a full picture of the story.
The ending varies depending on players' choices. Li Yu was surprised by how different the decisions are when they were made by those in workplace and those on campus. Compared with college students, those who have a job are more likely to bring their life experience into the play, Li said.
Li clearly remembered that in one script, an undercover police officer fell in love with a woman who broke the law. Almost everyone who played this role chose to forgive the woman. Only once, a player told Li to arrest her. Later Li found out that this player was actually a policeman in real life.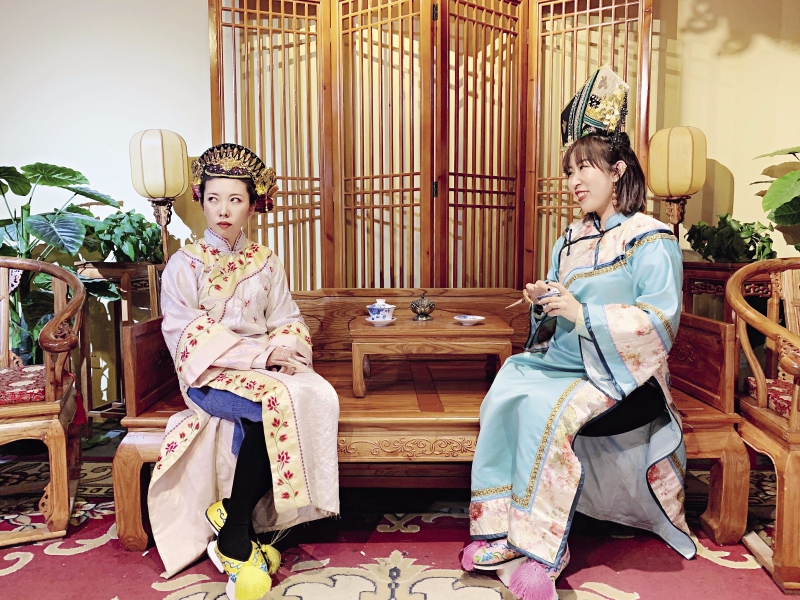 Players wearing costumes during a LARP game.
Value of Good Scripts
A good script is not just about entertainment. After three or four hours, players can really gain an understanding of various aspects of life.
In Yuan Hang's LARP club, the original spy script Yelaixiang, set in Shanghai in 1942, was very popular. "The core of the work is creativity and writing," said Yuan, adding that the birth of the script took some time. From the original idea to the preliminary work, it took more than 10 days.
To turn a story into a good script, it requires repeated efforts in rehearsing, finding familiar players to try acting it out, and printing scripts and prop cards, which can altogether take three or four months before the game is actually published.
Some cheap scripts cost about RMB 300 (US $42.4) and expensive ones are sold for RMB 7,000 (US $989.7). Yuan Hang was able to earn hundreds of thousands of RMB by publishing high-quality work.
"Many professional writers want to try it [writing scripts], but most of them do not succeed because they don't understand LARP and regard it as novel writing," said Yuan, adding that if players have no feeling of being immersed in the world of the script, their experience will be poor. On most occasions, LAPR clubs create their scripts in-house.
In order to reduce costs, some clubs use pirated scripts. This approach infuriates Yuan. "Piracy will damage the reputation of my work and my club," he said.
"As a successful script requires the author to reveal the key to highlighting the core emotional aspects of the script, I will only share this information with buyers of authentic copies."
Interpersonal Interaction Matters
On April 6, Zhang Ying once again walked into the FB Murder Mystery Club. She prefers face-to-face interaction rather than playing games on her smartphone. Only in a club can she really play without distraction.
The COVID-19 outbreak has had a massive impact on the business of LARP clubs. "In Luoyang, a growing number of young people enjoy LARP games. Tantalized by potential lucrative profits during the Spring Festival holiday, many business owners made expansions by opening more clubs. However, the epidemic changed everything," said Lin Yuhan, whose club suffered a loss of over RMB 200,000 (US $28,275).
In September 2019, nearly 700 LARP clubs in Beijing could be found on China's Yelp-like review and rating app, Dazhong Dianping. Today, this number is down to about 200.
"The epidemic has had a devastating impact on this industry. Many well-established clubs cannot sustain their business. This is because these clubs may expand faster, and have high rents and staff costs," said Yuan.
After returning to work after the epidemic lockdown, Li Yu was happy to get back to doing what he loved. The host is part of the service industry and requires a lot of skills. For example, when players do not know what to say next, the host needs to guide them; when someone's reasoning is unclear, the host needs to give the player a clue to let them keep reasoning. This job requires excellent communication skills.
Yuan Hang knows just how important these skills are to the success of the industry.
"Face-to-face communication is always needed," he said, insisting on running brick-and-mortar stores. "During the game, we experience life and death, face common tests, and make choices. How good this feeling is! Interpersonal interaction is the essence of our industry."
LIU YAN is a reporter at
China Youth Daily
.