SINCE setting foot in the African market in 2002, the StarTimes Group has been providing digital TV services to more than 22 million users (11 million mobile users) in more than 30 African countries, including Rwanda, Nigeria, Kenya, Tanzania, Uganda, and South Africa. It has emerged as the fastest growing and most influential digital TV operator on the continent.
StarTimes is committed to providing affordable and quality digital TV services to every African household. It has been working to help African people understand Chinese culture and be connected to the world, especially since the Belt and Road Initiative was launched.
Deepening Partnerships
Hello Mr. Right is a blind dating show that recently has smashed audience rating records in Africa. After its debut in Zambia, Uganda, and Nigeria in 2018, the show has become the most trending topic on local social media. It was produced by StarTimes and its local partners with the former providing technical support and guidance and the latter taking a more active role in program designing.
Zhao Chengxu is director of the Chinese production team. According to her, the 45-minute Hello Mr. Right is a taped show and airs every Saturday evening. Each episode features three men and eight women. Following some interactive rounds such as "first impression," "talent display," and "spectators' prediction," the male contestant can decide to take one woman's hand from among those who kept their lights on for him.
A Chinese girl appears in one episode of Hello Mr. Right.
Compared with a similar Chinese TV program that inspired it, Hello Mr. Right is more entertaining. The expressive nature of African participants and the higher odds of successful matching make the show more tantalizing to audiences.
Wellington Michelo was one of the single men who starred in the show. The Zambian young man works as a senior manager and failed to find a suitable partner due to a packed daily schedule. In the show, Fatuma, who works in a bank, fell in love with him at first sight, and activated the "burst light" to signal her special interest in him. They clicked with each other and started a romantic relationship, receiving best wishes and warm applause from the audience.
Participating guests are chosen after auditions. They hit the stage and showcase themselves and their abilities to find true love. The show, being closely connected with the life of local Africans, has been well received. A survey showed that its highest rating was 4.72 percent, topping the viewership of the same time slot. Many Internet users commented on the program's Facebook account, saying Hello Mr. Right injects vitality to local variety shows and elevates their expectations for love. One post put it this way, "It makes me eager to participate after seeing the guests so happy together."
After the program, Wellington Michelo and Fatuma entered into a relationship. Recently, Michelo said he had made a successful proposal, and they are planning their wedding.
Blind dating reality shows have been airing in many countries over recent years. However, in Africa, there have been little variety of shows or blind dating TV programs. Hello Mr. Right brings fresh programming ideas to Africa, enriching local TV shows, and the African production companies learned how to use advanced devices. Mayor of Livingstone in Zambia Eugene Mapuwo hailed the practice.
A Window to the World
Happiness is an actress from Tanzania. She made her name in a TV drama. "They [the audience] call me Nyamayao, the character I played in the drama, whenever they meet me," she said.
In the drama, Nyamayao's father forces her to marry a man in a manner similar to trading livestock. Happiness said that kind of story was a common occurace decades ago in Africa. However, the idea that "women just need some education and should get married and have children rather than going out and looking for a job" is still prevalent on the continent.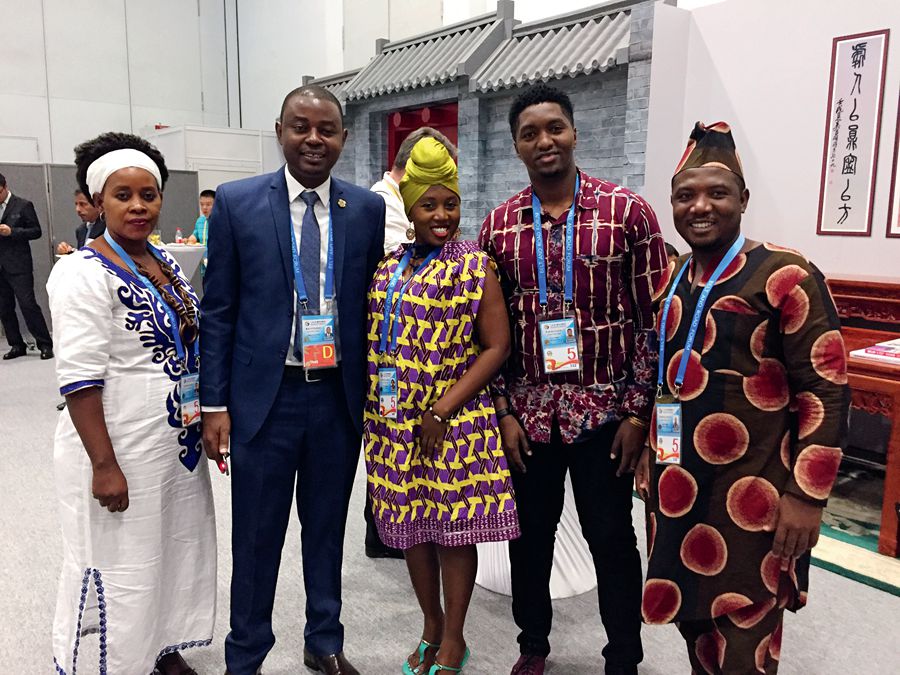 Happiness (center) and her colleagues at the 2017 Belt and Road Forum for International Cooperation.
Happiness doesn't want such a life. She wants to be independent and support herself. "When you count on others to give you everything in life, you live like in hell," she said. "Relying on myself makes me happy. Even if I don't earn much, I have the right to decide my life." In 2016, Happiness got the chance to change her life.
Many African countries have English or French as their official language, but still quite a number of people speak local languages only, and cannot understand English or French due to poor education. In order to make African audiences understand TV programs, StarTimes launched a Swahili dubbing contest in Tanzania that year. Happiness stood out among several thousand competitors and got a chance to work in the StarTimes headquarters in Beijing.
Life in Beijing opened a new window to the world for Happiness. "In my country, only technicians could operate the machines and do the editing. I had no chance. In StarTimes, I could write, direct, and star in my film in the studio after training," she said, enjoying life in Beijing. Like a sponge, she absorbed up all kinds of new knowledge, and learned how to do different jobs from dubbing to editing and hosting. She said it was amazing to host programs for Tanzanian people in a Beijing studio. She would call her family in advance and remind them to watch them on time.
Since 2016, StarTimes has organized 23 dubbing contests in Tanzania, Nigeria, and Cote d'Ivoire. Local contestants compete in dubbing Chinese TV dramas into Swahili, Hausa, Portuguese, and Zulu.
The enthusiastic participants registering for the competitions have an age span from 16 to 71. They include students, company employees, housewives, and movie stars. To date, some 20 voice actors and actresses like Happiness have won the contests and come to work in Beijing, where they have learned recording, mixing, and film dubbing skills. While bringing local people new employment opportunities, the dubbing contests advance the development of digital TV technologies and cultivate talents in the broadcasting and television sector in Africa.
Everybody Loves Chinese Cuisine
Chinese cuisine is one of the most attractive elements of traditional Chinese culture. One survey shows that a lot of foreigners travel to China with the sole purpose of getting a taste of Chinese food.
In the African offices of StarTimes, there is an employee whose dream is to visit every Chinese restaurant and eatery across China, learn how to cook Chinese dishes, and become a great chef. She is Kayitesi from StarTimes' Burundi Office.
Kayitesi, 34, is originally from Rwanda. A mother of four children, she is passionate about cooking. She used to work in a Chinese restaurant and learned to make some Chinese dishes thanks to her diligence. In 2010, she got an offer for her current job, preparing three meals for the office staff.
Despite being away from her hometown, Kayitesi is satisfied with her work. "[The job] supports me and my four children. We live in a big house and bought new home appliances. I could afford to buy things when my children asked for something. It gives me a stable life, and my family supports me," Kayitesi said.
Colleagues in the office are very friendly to her. Her happiest moment comes when some Chinese colleagues teach her how to cook Chinese dishes. She is now capable of making many complicated dishes, such as dumplings and spicy hot pot, in addition to the relatively simple ones such as rice congee, shredded cucumber, or fried scallion pancake. Now, even her family loves eating Chinese food. "My children like stir-fried potato chips the best," she said.
Kayitesi has a plan for her future. With mushrooming Chinese businesses in Africa, the demand for Chinese tastes is growing. Kayitesi sees opportunities in this and plans to open a Chinese restaurant back home. Of course, she has a bigger dream, which is to go to China and taste the various special cuisines all across the country.
The ancient Silk Road was also a route for spreading the cuisine cultures. In international cultural exchanges, cuisine culture has the greatest appeal. By means of the Silk Road, watermelon was brought to China from Africa and became one of the most popular summer fruits in China. The introduction of pepper, carrot, onion, and tomato among others has had significant impact on the planting patterns and food culture in China. With the caravans, Chinese tea and wheat were also exported to other places in the world, impacting their dinner tables.
Now, Chinese restaurants are everywhere across the world, and food of different countries is available also in China. Via food, people from different countries understand each other better. It is safe to say that food is a facilitator of international exchanges and will surely play a vital role in bridging cultural differences.