In recent years, China's annual sessions of its top legislature, the National People's Congress (NPC) and top political advisory body, the Chinese People's Political Consultative Conference (CPPCC), have never failed to attract global attention, in particular from those observers who want to fathom the orientation of the country's foreign policy and global vision. After the tumultuous year of fighting the COVID-19 pandemic and struggling with the economic downturn, the world wants to know how the only major economy that registered a positive growth in 2020 will plan its development for the coming year and beyond and how the country will relate to the rest of the world.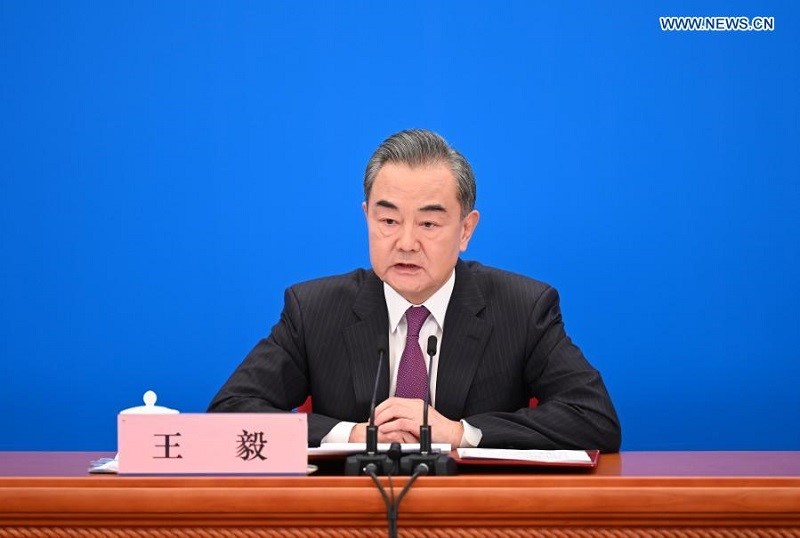 Chinese State Councilor and Foreign Minister Wang Yi attends a press conference on China's foreign policy and foreign relations via video link on the sidelines of the fourth session of the 13th National People's Congress (NPC) at the Great Hall of the People in Beijing, capital of China, March 7, 2021. (Xinhua/Chen Yehua)
The signal is positive. "We will set our eyes on the post-COVID era. We will promote international cooperation against COVID-19 and work for a global community of health for all. We will advance high-quality Belt and Road cooperation, facilitate an early recovery of the world economy, and strengthen the global response to climate change and other global challenges," indicated State Councilor and Foreign Minister Wang Yi on March 7, 2021 at a press conference held via video link on the margins of the Fourth Session of the 13th National People's Congress (NPC) at the Great Hall of the People in Beijing.
According to the report of the work of the government delivered at the Fourth Session of the 13th National People's Congress by Premier Li Keqiang, China will deepen multilateral, bilateral, and regional economic cooperation while upholding the multilateral trading regime. "China stands ready to work with other countries to achieve mutual benefits on the basis of greater mutual opening," said Premier Li.
Actually, what distinguishes China from many Western countries is the consistency and continuity of its foreign and domestic policies, which is definitely a benefit of China's system. The country's international ties have enhanced its value and principles in foreign affairs: fairness and justice on the basis of mutual respect and win-win cooperation with equality at the core, which has laid the foundation for lasting peace, friendliness and multilateral cohesion. China values its friendly relations with other countries. In this regard, on March 2, China and Pakistan launched their celebrations to commemorate the 70th anniversary of China-Pakistan diplomatic relations. The commemorations that came right prior to the annual "two sessions" are of great importance, as they convey the message that relations encompassing the period 1951-2021 never lose their importance. It is the charm of China's diplomacy that despite undergoing many ebbs and flows in the global arena, China has not changed the basic standpoints of its foreign policy. "In the past 70 years since the establishment of diplomatic ties between the two countries, thanks to the commitment of generations of our leaders, China and Pakistan shared weal and woe and sincerely helped each other, and thus built all-round cooperation and all-weather friendship," Wang Yi said on March 2, 2021, while attending the launch ceremony in celebration of the 70th anniversary of China-Pakistan diplomatic relations with Pakistani Foreign Minister Shah Mahmood Qureshi via video link in Beijing.
The annual mega gatherings of the NPC and CPPCC, known as a window to discern concepts and action plans designed by top-notch legislative and advisory bodies, is the epitome of China's diplomatic face to the world. Setting the tone of the way forward regarding Chinese diplomatic blueprints, the "two sessions" also help facilitate the international community to understand the global perspective of Chinese President Xi Jinping, which goes beyond traditional theories on international relations that have failed to interpret today's world as views such as the zero-sum game ideology.
Since becoming general secretary of the Central Committee of the Communist Party of China (CPC) in November 2012, Xi has used bilateral or multilateral diplomatic occasions to propose a series of ideas and visions on what kind of relationship China should have with the rest of the world and how the country will work to build such a relationship.
In his diplomatic insights, Xi deems countries, forging partnerships in which they treat each other as equals and engage in mutual consultation and understanding, create a security architecture that features fairness, justice, joint contributions and shared benefits, and promote open, innovative and inclusive development that benefits all. This year's "two sessions" also encapsulates Xi's diplomatic perspective that anchors the Belt and Road Initiative (BRI) to promote international cooperation for common development. According to the government work report, China will further promote high-quality Belt and Road cooperation by sticking to the principle of achieving shared growth through consultation and collaboration, and work to steadily advance cooperation on major projects and promote infrastructure connectivity.
In 2019, trade in goods between China and its BRI partners topped US $1.3 trillion, up by 6 percent year-on-year. Despite the COVID-19 pandemic, trade between China and BRI partners in the first quarter of 2020 rose by 3.2 percent, and direct investment by China increased 11.7 percent on a yearly basis, according to China's Foreign Ministry.
If analyzed, the annual "two sessions" have introduced the world to China's diplomatic trends and tenets which the country has unswervingly pursued in its independent foreign policy of peace. Through this important annual political event, the international community has learned the basic objectives of China's foreign policy that center on safeguarding national independence and state sovereignty, and creating an international environment favorable to its reform, opening-up and modernization efforts, as well as maintaining world peace and promoting common development.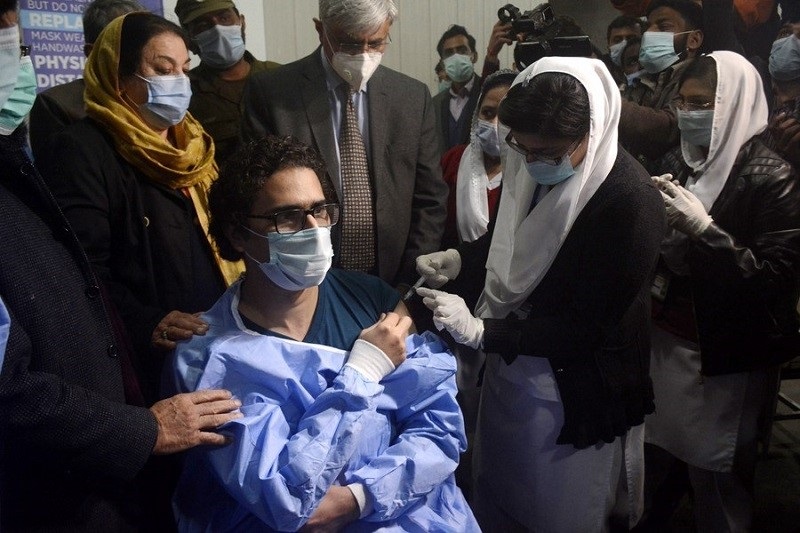 A medical worker receives a dose of COVID-19 vaccine at a hospital in Lahore, capital of Pakistan's Punjab province on Feb. 3, 2021. (Photo/Xinhua)
The finest example of diplomatic relations can be seen between China and Pakistan. Standing by China through thick and thin, Pakistan has rubbished Western propaganda regarding human rights, forced labor, espionage, intellectual property rights and debt-traps, intended to defame China. China also supported Pakistan on many issues, for example, its nuclear power program and the battle against COVID-19.
No matter how the regional and international landscapes may evolve, and what challenges and risks may arise, China will continue to work with Pakistan to cement their ironclad friendship, Chinese State Councilor and Foreign Minister Wang Yi said in a signed article published on the Pakistani newspaper The Express Tribune on March 2.
"China-Pakistan friendship has deep roots among the two peoples. In times of hardship, one always extends a helping hand to the other as early as possible. Such mutual support and assistance have no strings attached, and are pure acts of goodwill and friendship. When the great earthquake hit Wenchuan of China in 2008, Pakistan donated all its tents in reserve. When Pakistan suffered devastating floods in 2010, China launched the largest humanitarian operation in its history to help Pakistan from land and air. There are numerous touching stories like these. Indeed, developing China-Pakistan friendship is a nation-wide consensus in both countries," he said.
Wang emphasized in the article that practical cooperation is fruitful. "We have put in place a "1+4" cooperation structure that centers on the China-Pakistan Economic Corridor (CPEC) and prioritizes the Gwadar Port, transportation infrastructure, energy and industrial cooperation. Under the CPEC, 70 early-harvest projects have been identified, among which 46 have been launched or completed. A total of US $25.4 billion has been invested, creating 70,000 jobs for Pakistan. CPEC, as a signature project under the Belt and Road Initiative, has served as a fine example of China and other Islamic countries work to synergize their development strategies," Wang said.
This year marks the centenary of the founding of the Communist Party of China. The country will embark on a new journey toward a modern socialist country and realizing its second centenary goal. Pakistan is advancing economic and social development at full speed and improving social welfare in order to turn into reality the vision of Prime Minister Imran Khan for Naya Pakistan. As an all-weather strategic cooperative partner, China always gives priority to its cooperation with Pakistan in its overall external cooperation.
In my opinion, the "two sessions" have innate potential to inject fresh hope to global diplomacy, encouraging all international players to set aside their differences, put their hands together and gear up for the global public good. Unveiling its 14th Five-Year Plan that also outlines new connotations of China's foreign policy, the country's top legislative and advisory bodies lay the foundation of peace, prosperity and progress for all.
YASIR HABIB KHAN is special correspondent of China Today in Pakistan. He is also founder and president of Institute of International Relations and Media Research (IIRMR).