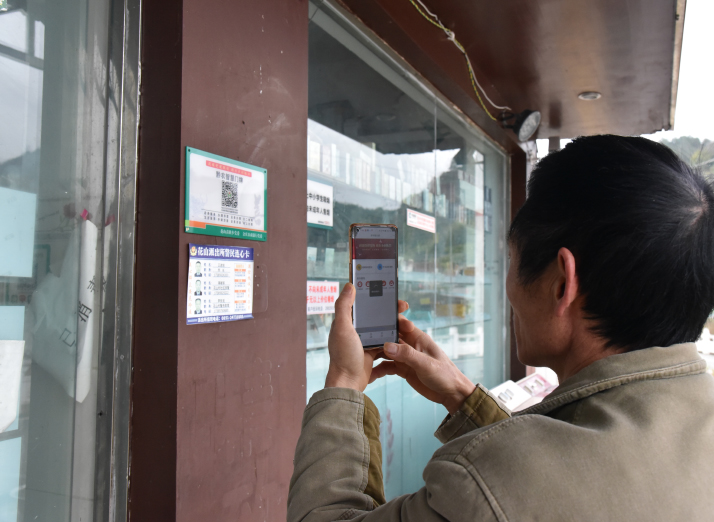 A farmer scans a QR code to log onto a government service platform in Yuqing, a county in Guizhou Province, on February 18 (XINHUA)
When Liu Fuhui, head of a rural cooperative in Tengzhou, Shandong Province, recently checked the growth of dragon fruits in a greenhouse, he noticed yellow spots on the leaves.
He picked up his phone, opened an app and consulted an agricultural expert via video link. The expert explained that the problem could have been caused by excessive water, lack of sunshine or an improper amount of fertilizer, and gave him suggestions on how to fix it.
Through the app, agricultural experts can monitor the moisture, temperature and carbon dioxide density in greenhouses and provide farmers with the necessary guidance.
The application of digital technologies is giving wings to rural revitalization, a strategy first proposed in 2017. China is working on consolidating and extending its achievements in poverty alleviation and driving rural development following the nation's 2020 victory over absolute poverty.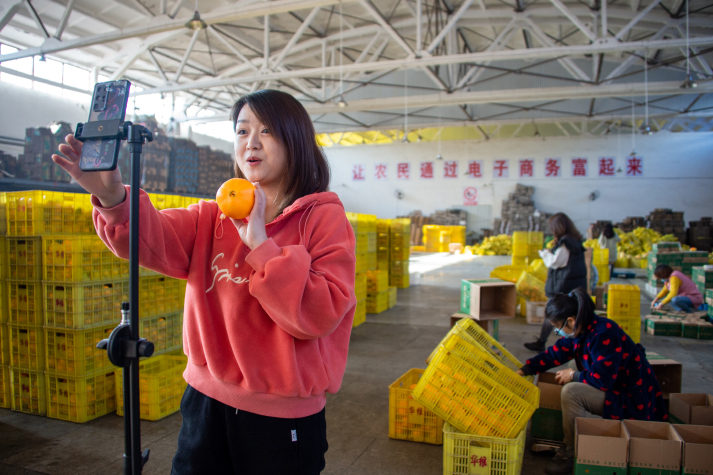 A staff member sells oranges via live-streaming in Zigui, Hubei Province, on November 10, 2021 (XINHUA)
Reshaping agriculture
It's the season for harvesting summer oranges now and in Chenjiawan, a village in Zigui, Hubei Province, farmer Chen Yixuan is transporting baskets of oranges from the mountains to the road via the tracks and cableways he installed earlier this year.
Previously, Chen's nearly 3 hectares of oranges were transported by more than 200 workers every year, at a cost of 0.8 yuan ($0.1) per kg. Now, he only needs to press a button on a remote control to have them transported down the hillside onto the tracks and then by cableway to the road, where they are loaded onto trucks.
At present, Zigui County has 130,000 meters of these transport systems, slashing the cost of transportation by 0.3 yuan ($0.04) per kg.
In 2020, Zigui was listed as a national pilot zone for the digitalization of rural areas.
Yandengbao Village in Zigui has 133 hectares of demonstration area for digitalized orange planting. The orange fields are equipped with intelligent tools for collecting meteorological data such as temperature and sunshine, monitoring soil moisture and spotting pests.
There are four blue droppers for watering orange trees and applying fertilizers, which are half buried under each tree and connected with an operation room 200 meters away. Under this system, farmers can remotely water the trees and apply fertilizers through a mobile phone app. By managing the orchard according to meteorological and soil moisture data collected by the smart equipment, farmers can reduce water use by 70 percent, fertilizer use by 40 percent and labor cost by more than 90 percent.
At the information office of the Zigui County Agriculture and Rural Affairs Bureau, head of the office Chen Li can check data about the county's orange growing on a screen, including remote sensing images of the orchards, soil moisture, and basic information about orange farmers.
Farmers are also able to check the farmgate prices and selling prices on e-commerce platforms via a phone app developed by the county. The app also shows the price movements to provide reference for farmers about when to sell their oranges to make more money.
At an orange washing factory in the county, digital technologies are applied to sort the good ones from the bad ones.
The factory uses infrared rays to analyze the color, sweetness and water content of the oranges and classify them into different categories. The system has accelerated the standardized production of the fruit in the county.
The county has developed orange processing, producing more than 80 products, including canned oranges and wine. Through these value-adding processing projects, the county has achieved the zero-waste utilization of oranges, with even the flowers and peel being fully utilized.
As of the end of last year, the output of oranges in Zigui reached 800,000 tons and output value 10 billion yuan ($1.5 billion).
Digital technologies have not only changed the methods of agricultural production, but also the sales models of agricultural products.
The county now has 2,600 e-commerce companies selling oranges and orange products, which have an annual sales volume of 3 billion yuan ($444 million).
In Pizhou, Jiangsu Province, digital technologies have been applied to raising chickens. Yu Xin, a chicken farmer, said in the past when he went out, he worried about his more than 40,000 chickens. Now, with the "pasture in the cloud" app, he is able to check up on them while he is away.
Muyuan Farm in Pizhou, enabled by technologies including big data and the Internet of Things, has realized the whole-process management of chicken farming.
Bao Feng, head of Muyuan Farm, said while his father relied on experience to raise chickens, he relies on data. In the past the temperature difference within a day in the sheds was 3 degrees Celsius, but now it's only 0.3 degree Celsius thanks to a smart platform. The system can adjust the moisture, carbon dioxide density and light in the sheds to suit the chickens' needs. As a result, the chickens are more comfortable and their survival rate has improved.
In recent years, Pizhou has advanced the digitalization of its rural areas, with all villages now having 4G coverage. Many local farmers are selling fried nuts through live-streaming. Li Yu, a local villager, said he live-streamed more than 10 hours a day during Spring Festival in February this year and sold more than 20,000 yuan ($2,962) worth of nuts every day.
Improved governance
In addition to facilitating agricultural production and product sales, digital technologies have also helped improve rural governance.
In Shanzhuang, a village in Tengzhou, Shandong Province, a loudspeaker automatically broadcasts notices to villagers. This has been made possible thanks to an app. Liu Fayin, a village official, said in the past he had to go to the office to broadcast notices and that the system often malfunctioned when it rained. Now, with the app, he only needs to type in the notice he wants to broadcast and the app will transmit the message to the speakers.
The village has also installed 5G networks and villagers can check the footage on their phones via the surveillance cameras in their private properties.
Villager Wang Jialun said he can check the area outside his gate on his phone and doesn't need to worry, not even when he forgets to lock the gate. He can also access the financial and administrative information of the village via a mobile app, which has improved village governance transparency.
(Print Edition Title: Intelligent Agriculture)
Copyedited by G.P. Wilson
Comments to jijing@cicgamericas.com