Chinese President Xi Jinping noted in his phone conversation with German Chancellor Angela Merkel on September 10 that the frequent and effective exchanges between their countries reflect the high level of trust between them. Xi expressed his appreciation for Merkel's efforts to promote practical cooperation and friendly exchanges, not just between China and Germany, but also between China and countries in the European Union.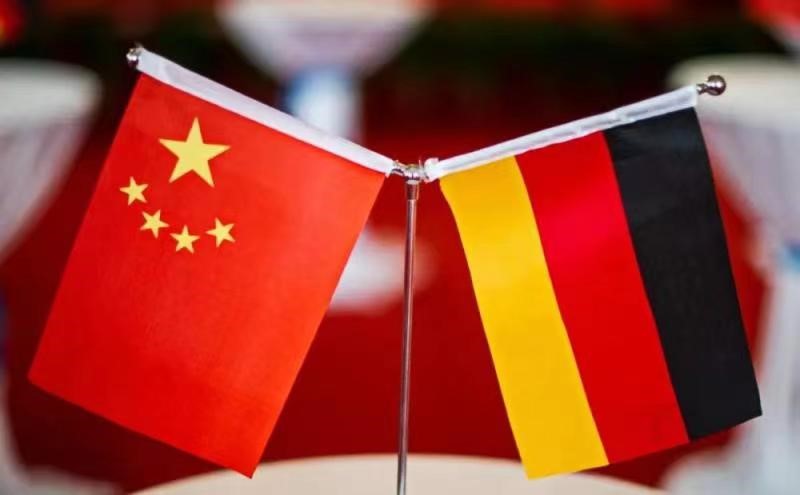 Comprehensive Strategic Partnership Benefits Both Countries
Despite various difficulties, the bilateral relations have steadily upgraded over the years from a partnership with global responsibility to today's comprehensive strategic partnership.
The two countries launched their intergovernmental consultation mechanism in the wake of Angela Merkel's China visit in 2010. In place for over ten years, the mechanism's importance to Chinese-German relations has been ever more evident over time. Against the current backdrop of a complex international environment, the two leaders' phone conversation reaffirmed the close relationship between their countries.
By and large, Chinese-German relations have experienced smooth progress. In particular, their cooperation throughout the COVID-19 pandemic in diverse fields reflects the relationship's resilience. The two leaders maintain close contact, and high-level intergovernmental communications proceed without major problems.
Cooperation between China and Germany spans a wide range of international affairs. The two countries have worked in unison to conclude, on schedule, negotiations in regard to the China-EU Comprehensive Agreement on Investment (CAI). Both, moreover, advocate multilateralism, free trade, and combating climate change, and contribute significantly to maintaining world peace and stability. China and Germany's leaders have reached a high level of consensus on the CAI, which they believe will be of benefit to both China and the EU. The two countries share similar hopes of the Agreement's early entry into force .
Despite the COVID-19 pandemic's negative impact on global trade over the past two years, economic and trade cooperation between China and Germany continues to deepen. Indeed, their trade volume showed a decisive growth last year at a time when the effects of the pandemic had hit the global economy particularly hard. That China remains one of Germany's most important trading partners is evident from the 41.5 percent trade increase in the first quarter of 2021 compared to the previous year. It is another impressive manifestation of the extent and enormous potential of German-Chinese cooperation.
Solidarity at a Difficult Time
In light of the current situation, the two countries' leaders concur on the need to join forces in fighting against the pandemic. China and Germany have cooperated extensively since the COVID-19 outbreak in the area of disease and infection control. Germany expended considerable effort on helping China combat the pandemic at its early stages by supplying the country with tons of protective equipment, ventilators, and other medical necessities which were then in short supply.
In addition to concerted, proactive anti-pandemic cooperation at the government level is that throughout on the part of private companies and individuals in Germany and China. The German company BioNtech and China's Fosun Pharma, for example, are currently working on the joint development of a COVID-19-vaccine. When the pandemic hit Germany, many Chinese companies and overseas Chinese students there contributed what they could to fighting the virus. Chinese medical students in particular gave their support through their frontline efforts in Germany. Angela Merkel explicitly expressed in her recent phone conversation with Xi Jinping Germany's hopes of reinforcing cooperation with China on the development of a vaccine.
In view of today's complicated international climate, that cooperation between China and Germany is generally smooth is by no means self-evident. In recent years China has faced groundless and false accusations from certain Western countries, notably the U.S., in regard to such issues as Hong Kong and Xinjiang. These allegations drew prompt rebuttals from China based on irrefutable facts. The stability of German-Chinese relations, however, was inevitably affected the United States' actions.
Upon taking office, the newly-elected U.S. President Joe Biden did his utmost to get European countries on his side. But – led by Germany – EU states sought strategic autonomy born of unwillingness to choose between China and the U.S. Biden's controversial, internationally significant strategic decision in the international arena, by virtue of his sudden withdrawal of the U.S. troops from Afghanistan, exacerbated Germany and other European states' distrust of the U.S., and further impeded the formation of a U.S.-led "anti-China front." In the eyes of many Europeans, the move wrought irreversible damage to the leadership authority and integrity of the United States, to an extent where Europe now perceives itself as an equal of the United States.
China, meanwhile, displays a new self-confidence that underlines its determination to sustain confidence in its own path, its own theory, its own system, and its own culture. In his speech celebrating the 100th anniversary of the founding of the Communist Party of China (CPC), Xi Jinping said, "At the same time, we are also eager to learn what lessons we can from the achievements of other cultures, and welcome helpful suggestions and constructive criticism. We will not, however, accept sanctimonious preaching from those who feel they have the right to lecture us. The Party and the Chinese people will keep moving confidently forward in broad strides along the path that we have chosen for ourselves, and we will make sure the destiny of China's development and progress remains firmly in our own hands."
Broad Consensus on Important Issues
Today, China has more self-confidence and strength than ever, and plays an important role in the international community. The China of today is no longer the poor and weak nation of the past. Germany is aware that the decision to cooperate constitutes the sole path to serving the common interests of both peoples — Chinese and German. This is precisely the reason for the great successes that exchanges between the two countries in recent years have achieved.
During his visit to Europe in September 2020, China's Foreign Minister Wang Yi had a meeting in Berlin with German Foreign Minister Heiko Maas. Wang Yi remarked to journalists that the year 2020 was not only the 45th anniversary of the establishment of diplomatic relations between China and the EU, but also an important year for Germany, in light of its renewed presidency of the EU Council. Wang Yi spoke of the leading role that Chinese-German relations play in China-EU relations, and how the former's smooth development has substantively promoted that of the latter.
In April 2021, Chinese President Xi Jinping held a joint video summit in Beijing with French President Emmanuel Macron and German Chancellor Angela Merkel. The three leaders exchanged views on cooperation in regard to Chinese-European relations, the fight against COVID-19, combating climate change, and other important international and regional issues.
The three state leaders agreed to uphold multilateralism, fully implement the Paris Climate Agreement, jointly build a fair and reasonable global climate governance system through win-win cooperation, promote a positive, balanced and pragmatic outcome of the Leaders' Climate Summit, and cooperate with China on the fair distribution of vaccines. The consensus was that climate policy dialogue and cooperation on green development should be strengthened, and that response to climate change should become an important pillar of China-EU cooperation.
Sino-German Government Consultations, an Important Facilitator
A few days later, on April 28, Chinese Premier Li Keqiang spoke with German Chancellor Merkel from Beijing via video link in the sixth round of Sino-German intergovernmental consultations.
China and Germany are comprehensive strategic partners. As the main theme of their relations, win-win cooperation brings direct and practical benefits to both nations. Li Keqiang underlined China's willingness to promote further dialogue and cooperation with Germany, saying that as long as each side respects the other's core interests and main concerns, communicates on the basis of equal treatment and non-interference in each other's internal affairs, strengthens mutual trust and eliminates doubts, minimizes differences and relies on cooperation, so creating favorable conditions for further dialogue and cooperation, Chinese-German relations may expect healthy and stable development in the long run.
German Chancellor Angela Merkel expressed Germany's readiness to deepen mutual trust and expand cooperation with China in order to further promote bilateral relations. Germany, like China, is committed to openness and cooperation, against protectionism, and in favor of resolving differences through dialogue and consultation, Merkel said. She emphasized the key importance of the CAI to China-EU relations, and how both sides were working closely together to ensure its early implementation.
At the end of the intergovernmental consultations, the two countries signed numerous cooperation agreements on such matters as climate change, social security, health, food safety, international development, transport, and sustainable development. Since its launch, the bilateral consultations mechanism has acted as a facilitator of Chinese-German cooperation.
Mutual Respect and the Search for Common Ground
Angela Merkel emphasized once more during the phone conversation with President Xi the importance of the CAI's coming into effect. An improvement in Sino-American trade relations, she added, could also positively influence China's market for Germany.
Xi Jinping underlined in their conversation that the key to the great success of Chinese-German relations lies in mutual respect, finding common ground while putting aside differences, focusing on win-win cooperation, and promoting complementary strengths.
The common interests of China and Germany ultimately outweigh their differences. Further successful cooperation will benefit both countries; confrontation, on the other hand, could only be detrimental to both sides. It is to be hoped that Germany will encourage the EU's adoption of a fair dialogue policy, and that the country will itself deal objectively and rationally with systemic differences between China and Germany. The federal election in Germany approaches, and the development of Chinese-German relations will likely pivot on the new German government's China policy. Although the outcome of the upcoming election and its influence on bilateral relations remain uncertain, we consider the economic cooperation between the two countries to be stable, and look to the future with confidence.
_____________
LI WENHONG is a professor at Beijing Foreign Studies University.