Earlier this month, China has sent, as a gift, half a million doses of Sinopharm vaccine to Pakistan. This donation arrived at the right time when Pakistan is grappling with rising COVID-19 cases. Pakistan became the first country in Chinese entire cooperation on sharing vaccine doses to its global partner countries especially those on Belt and Road Initiative (BRI). With China-Pakistan Economic Corridor (CPEC) ongoing in its full swing, arrival of this support reflects all-weather friendship between Pakistan and China. Till writing, two Chinese Vaccines, Sinopharm and CanSinoBio have been given emergency approval for emergency use in Pakistan by Drug Regulatory institution.
This has been a timely and friendly gesture that only a friend indeed can help another friend in need. CanSinoBio has also been tested in Chile, Argentina, Russia and Mexico. In the fierce competition and politics involved in offering vaccine to the world, however, China through its important vaccine donation initiative has helped countries in need. BRI has also played an instrumental role for China to outreach its global partnership, collaboration and cooperation in sharing vaccine to help uplift communities dealing with huge economic, health, social and political crises as a result of the pandemic.
COVID-19 vaccine is becoming a rare commodity at the global scale. It is reported and estimated that the confirmed cases at the global scale have topped 100 million while nearly two million deaths recorded with 50 million recoveries. World over countries have been competing to have access to vaccine. But in this ruthless race, most of the countries are at the deprivation especially the developing countries and regions facing huge challenges in terms of low-income economies, poverty and fierce war.
In this entire war of vaccine, China is playing its constructive diplomacy effectively using its advancement of science and diplomacy in a right manner. With not only sharing the vaccine as gifts but China has also signed agreements with countries to offer them for purchase. Chinese Vaccine trials are ongoing in different parts of the regions. Through the effective vaccine diplomacy, China is helping the countries in coming out of the challenge of this pandemic. In other terms, China has not only invested in terms of road and networks in developing countries on BRI but at the same time helped through health diplomacy to come out of the economic and debt crisis. This health diplomacy is an important initiative on BRI truly creating communities of shared and common destiny.
The pandemic has revealed the strengths of the BRI and how the entire project is contributing towards global development goals. Dubbed as Space Silk Road, Digital Silk Road and now as Health Silk Road, COVID-19 pandemic has put BRI at a whole new dimension. Through BRI framework China is linking its efforts to combat COVID-19 in a joint manner. Through these efforts, China is proving itself to be a responsible great power. Since the inception of BRI, health has remained an important priority and in 2015, an important document on Vision and Actions on Jointly Building Silk Road Economic Belt and 21st Century Maritime Silk Road has explained at length the cooperation framework on health in BRI.
The framework has explained the cooperation that includes promotion of Traditional Chinese Medicine, free treatment abroad by Chinese Doctors, emergency medical relief in crisis, capacity building and training of the medical staff. An important document that was later released in 2019 reflects bilateral agreements not only with countries but also with international organizations like WHO and Bill and Melinda Gates Foundation to fight diseases. Several other important documents have also been signed and released to cement the aims and objectives of Health BRI. One such document is Health China 2030 which is a strategic document published in 2016, which has later resulted in China's strong collaboration with WHO on health. Recognizing Health Silk Road as a vision WHO has also including traditional Chinese Medicine in its international classification of diseases.
While other major powers were themselves coping with the internal pressure of the rise of the COVID death cases, China took lead in shaping the future through vaccine. Since the inception of BRI, there has been regular cooperation and dialogue has been done with the countries to build a consensus on dealing with health issues, even before the current ongoing pandemic. From ASEAN countries to Middle East, Africa and across Asia, Chinese vaccine and support has reached. For many who are unable to understand the background of the entire networks, substantial frameworks and steps involved by China, they reflect their ignorant statements here and there.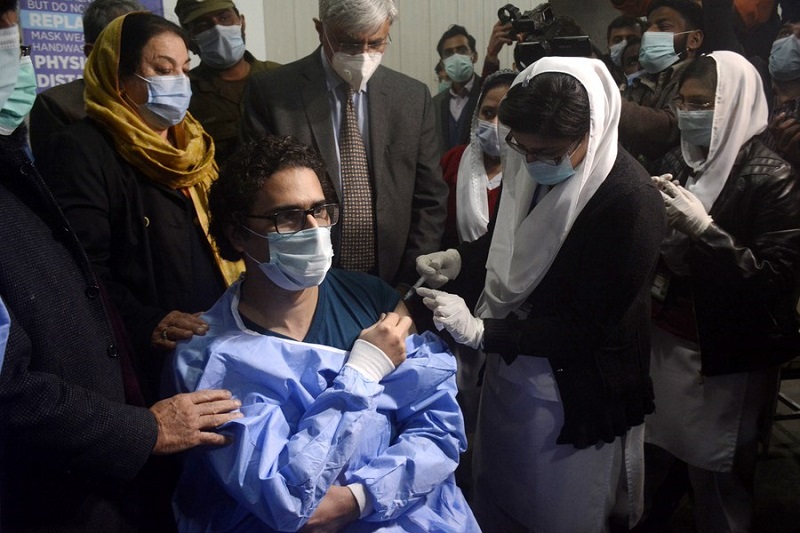 A medical worker receives a dose of COVID-19 vaccine at a hospital in Lahore, capital of Pakistan's Punjab province on Feb. 3, 2021. (Photo/Xinhua)
This vaccine aid or health cooperation does not happen in a day. This does take many years of dialogues and manifestation of Chinese seriousness in building a health ecosystem across the globe. Knowing about Nanning Declaration with ASEAN and Yinchuan Declaration with China and Arab States, the collaboration has remained ongoing however pandemic has given this a certain level of much needed and required push.
In June last year, Chinese State Council Information Office published a white paper on China's efforts in global fight against the pandemic. The paper titled "Fighting COVID-19: China in Action" is an important document to know in-depth about China's health diplomacy at the national, regional and global scale. It is important to note that when the pandemic was at full swing, China was the first country not only raised the alarms but also faced the most difficult challenge of health. At that countries stood by China including leaders from more than 170 countries, heads of international organizations, political leaders, diplomats from across the globe sent not only messages of hope but also helped China by providing assistance including medical supplies. Donations begin pouring. That was overwhelming situation for not only for the country but also for the entire world.
However, since the world stood by China at the time of need, it was China's return inspired by the wisdom of forefathers to return the good with good. Chinese nation has not forgotten the help and generous support given and is now helping the international community in its fight against the virus.
China has provided exchanges and cooperation, strengthened high level communication during this time, cooperated in the international scientific cooperation by sharing important information with the countries. Communist Party of China has together with the political parties from 110 countries to appeal for unity in order to save lives of the people on this planet. President Xi Jinping has also made phone calls to the world leaders, sharing the entire process of the transparency, achievements and challenges in the fight against virus and innovation in building vaccine. Multilateralism is what China is propagated to fight the challenge and through a shared community with common goals.
It is important to remember that the Chinese nation has faced tremendous challenges in the past and came out stronger and tougher with each test of times. This has helped the country and nation to grow and evolve itself to a higher level amongst the comity of nations. Through its health diplomacy and engagement with the global community, China has shown that not only the people of the country are united but also that unity from the Chinese nation resonates with the global community. Beyond political divides, we all need to play our role and the sun will continue shining on humanity with its full vigor and strength.
The author is President, Institute of Peace and Diplomatic Studies.