Pakistan received 500,000 doses of Sinopharm's COVID-19 vaccines gifted by China on February 1, thus becoming the first country that has received China's vaccines as a donation. The friendly gesture has set up a new standard of global leadership and humanitarian spirit that ensures early accessibility and affordability of vaccines, especially to developing nations. This monumental show of humanity and friendliness comes as a result of Chinese President Xi Jinping's commitment to make China's vaccines a global public good.
Guided by President Xi's clear message presented at the World Economic Forum Virtual Event of the Davos Agenda on January 25 to promote global public health governance, China doled out the first batch of China-made vaccines to Pakistan. The gift of Sinopharm vaccines landed in Islamabad at a time when China and Pakistan have been gearing up to celebrate their 70 years of diplomatic relations that have been tested and proven against all odds.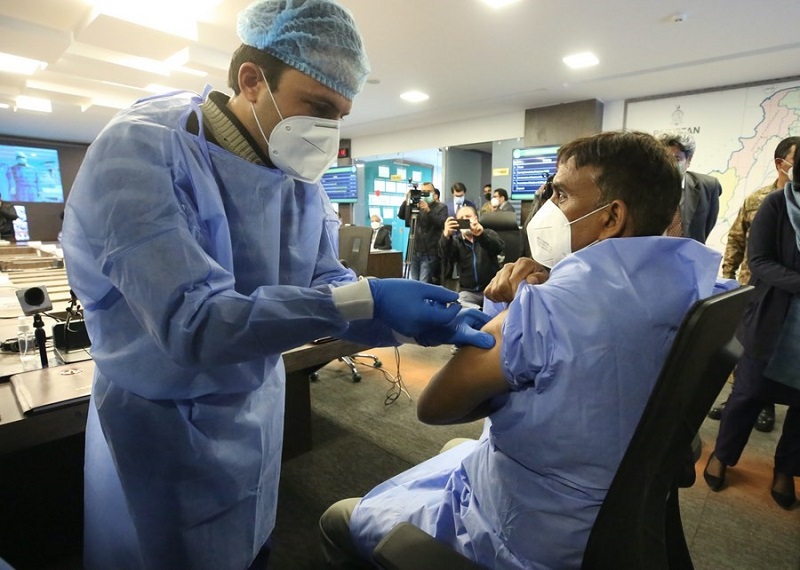 A frontline medical worker receives a Sinopharm COVID-19 vaccine shot at Pakistan's National Command and Operation Center on Feb. 3, 2021, in Islamabad, Pakistan. (Xinhua/Liu Tian)
The Drug Regulatory Authority of Pakistan (DRAP) has recently approved the Sinopharm vaccine for emergency use. China approved the drug this month, which is also being used in several other countries, including Bahrain and the United Arab Emirates.
Pakistan's Prime Minister Imran Khan thanked Chinese President Xi Jinping during the inaugural ceremony of the first inoculation drive in Pakistan for giving the country Sinopharm vaccines at the time when Pakistan people direly needed it. Pakistan Foreign Minister Shah Mehmood Qureshi commented that, "The gift is a practical proof of the friendship between the two countries," and added, "China once again has demonstrated its everlasting friendship with Pakistan by helping it in times of need. This is even more important as we are celebrating seven decades of diplomatic ties this year."
According to the priority ranking of those who receive the vaccine, health workers are at the top of the list. After this group will come elderly people above the age of 65, as another 1.1 million doses from China are expected to arrive later this month.
Nong Rong, Chinese Ambassador to Pakistan said, "Pakistan was the first country in the world to receive vaccines donated by the Chinese government," calling it a "manifestation of brotherhood."
"President Xi has repeatedly said that the Chinese COVID-19 vaccines, once developed and put into use, will be global public goods. China has honored its commitment. Keeping in mind the huge global need for vaccine, China has done its best to offer assistance and support. Pakistan, as our closest friend, is the priority of our cooperation," Nong added.
According to the Chinese Foreign Ministry Spokesperson Wang Wenbin's at a regular press conference on February 1, 2021, in addition to Pakistan, China is also providing vaccine aid to 13 developing countries and promises that "Going forward, we will also assist another 38 developing countries with vaccines. We also take an active part in the WHO-led COVAX and provide vaccines through this platform to developing countries."
China supports Chinese companies in conducting joint vaccine R&D and production with foreign partners. Vaccines made by Sinopharm and Sinovac have been exported to countries including the UAE, Morocco, Indonesia, Turkey, Brazil, and Chile, where clinical studies have been conducted. Wang also revealed that China supports relevant companies in exporting vaccines to countries in urgent need that have approved Chinese vaccines and authorized their emergency use. For instance, Serbia has started vaccination with recently imported Chinese-made vaccines. More and more countries are approving the domestic use of Chinese vaccines.
Pakistan and China are also in partnership for conducting the phase-III clinical trial of CanSino's COVID-19 vaccine. On January 26, the trial with 18,000 volunteer participants concluded, and the survey indicates that trial participants showed complete satisfaction on the performance of CanSino vaccine.
A man surnamed Hussain, aged 54, is one of the volunteer participants receiving CanSino vaccine during Pakistan's first ever massive phase-III clinical trial at the University of Health Sciences (UHS), the solely public sector institution, officially approved by the Pakistani government under strict guidelines of the World Health Organization (WHO).
"48 days after receiving vaccination, my health condition is 100 percent fit. My body has not experienced any change since the day I was injected with the COVID-19 CanSino vaccine on December 7, 2020," Hussain said, and then added, "I had a bit of sporadic feelings of nausea and soreness of throat, but it lasted only a few seconds." He appreciated the organizers for staying in touch with trial participants in order to be well-informed about day to day sensitivities of volunteers. "Such practices inculcate a sense of satisfaction among the trial participants, helping them feel that they are not used just as lab subjects, and also show that the prime motive of the organizers is about our wellness," he said.
Debunking myths and neutralizing the mist of disinformation about Chinese drug makers and their vaccines' performance, Dr. Javed Akram, Vice Chancellor of UHS and member of Scientific Task Force on COVID-19, claims in an interview with China Today that the information which has been swirling around to smear China's work in distributing vaccines is a bunch of lies. "So far, thousands of shots from CanSino have been administered, and not a single case has caused adverse illness or death," he added.
As for the vicious propaganda that downgrades Chinese vaccines in comparison to U.S. and European vaccines, he termed the debate invalid. Akram said that every vaccine has its own merits and demerits. "It is misleading to say that some vaccines either Chinese or Western are unfit for humans," he said.
Dr. Shaheen Shah, an important figure in the Pakistan phase-III clinical trial which is an essential part of the global multi-country and multi-institutional trials, said that unless a peer review procedure is completed, any discussion about the percentage of efficacy of either Chinese or Western vaccines is meaningless. Under Good Clinical Practices (GCP), it takes more than one year to furnish the final findings, he added.
Diffusing another myth, he said that scientifically approved vaccines with all safety rules that carry the seal of global authenticity are yet to be produced and hence are not in the market. "What is available and is being administered to people in many countries are a variety of COVID-19 vaccines that are allowed to market conditionally under emergency use authorization (EUA)," he said. Given the global crisis and shortage of time, "EUA is the order of the day," he added.
It merits mentioning here that globally there is a strong voice to discourage conspirators for whipping up competition between China and other western countries. In this regards, People's Vaccine Alliance (PVA) is calling on all pharmaceutical corporations working on COVID-19 vaccines to openly share their technology and intellectual property so that billions more doses can be manufactured and made available to everyone who needs them.
______________
YASIR HABIB KHAN is special correspondent of China Today in Pakistan. He is also founder and president of Institute of International Relations and Media Research (IIRMR).