Majid Baloch and Balaj Baloch are two fishermen from the coastal city of Gwadar, once one of the remotest and undeveloped areas of Pakistan. Years ago, these fishermen often talked and dreamed about a nice life and better future for themselves and their families. They knew it would be nothing short of a miracle for Gwadar, an old fishing town, to be transformed into a modern city.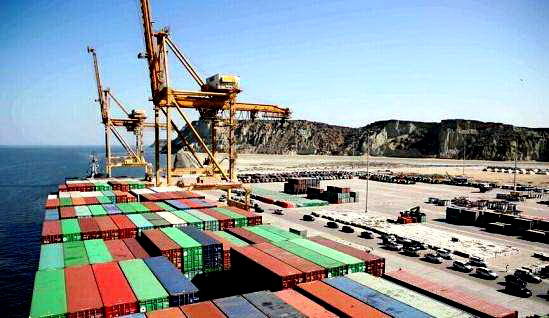 The CPEC Gwadar Port Project has totally changed the former fishing town of Gwadar, which is now well on its way to becoming one of the busiest ports in the world.
"Over the years we did not see any changes. However when we heard that China was going to help develop the Gwadar Port, our hopes began to run high that our dreams of having a quality life would soon be materialized," they said. "In the beginning, we thought the Chinese were coming as colonizers, but later we realized they were working to provide us with livelihood, health, educational facilities, road networks, and all those civic amenities which we deserved but were denied for a long time", they said as they explained their understanding of the Gwadar Project.
Clarity about the motives of Chinese development plans and high hopes for inclusive growth of local people are improving in the area of Gwadar Port, an integral part of the China-Pakistan Economic Corridor (CPEC) and a flagship project of the Belt and Road Initiative (BRI).
Gwadar Port is very key in helping realize the success of BRI and global trade. In an exclusive talk with Gwadar Port Authority (GPA) chairman, Naseer Khan Kashani, he asserted, "If the Gwadar Port works, CPEC will work, and if CPEC works, BRI will work."
On the shores of the Arabian Sea in the western province of Balochistan, the Gwadar Port is a strategically well located port that can ensure increasing regional and international trade. Situated at the mouth of the Persian Gulf, just outside the Straits of Hormuz, and located near key shipping routes, the port accommodates a flow of more than 18 million barrels of oil per day and a large quantity of bulk, break-bulk, and containerized cargo.
According to the U.S. Energy Information Administration, the port achieved a record of 18.5 million barrels per day of sea-borne oil shipped through it in 2016, and a 9 percent surge on flows in 2015, which made up 30 percent of all sea-borne traded crude oil and other liquids during the year. According to analytics from Vortexa, the flow of sea-borne crude and condensate passing through the Strait reached around 17.2 million bpd in 2017 and around 17.4 million bpd in the first half of 2018.
With the development of the Gwadar Port, its vitality will increase exponentially in the Strait of Hormuz, a strategic artery linking the Middle East's crude producers to key markets in the Asia Pacific, Europe, North America, and beyond.
In the east, the port neighbors include the emerging Indian and South East Asian economies. On land, the port does much to stimulate growth of the Pak-China Economic Corridor and has connectivity with all the major markets of Pakistan which will be further extended to neighboring markets including China, Iran, and Afghanistan.
Known as the "door of wind," Gwadar has great potential to be developed into a gateway to the economy of Pakistan and other countries. Its location at the converging point of three of the most commercially important regions of the world, the oil rich Middle East, Central Asia bestowed with natural resources, and South Asia having potential for growth, makes it one of the key ports for the development of global trade.
Evolving as a multifunctional Port, it is designed to last and be quite flexible. The Gwadar Terminal is a multi-purpose platform capable of providing diversified cargo handling (Bulk/Break-Bulk & Containerized) through its multi-purpose berths, RORO facility, and its highly capacitive terminal structure enables the workers to deal with all types of cargo in an appropriate manner. In order to ensure hinterland connectivity, the Makran Coastal Highway has been completed. This has substantially reduced the distance between Karachi and Gwadar and introduced Gwadar into the national mainstream.
Additionally, the following road networks presently under construction and soon to be completed aim at establishing a connectivity between the Gwadar Port and up-country. They are Gwadar-Turbat-Hoshab Road, Surab- Nag-Panjgur-Hoshab Road, and Kalat - Quetta - Chaman Road.
Gwadar will soon be able to handle about one million tons of cargo annually. Officials believe that with the expansion plans that are under way the port will become South Asia's biggest shipping center within five years, with a yearly capacity of handling 13-million tons of cargo. Then by 2030, it is said that it will be capable of handling up to 400-million tons of cargo annually.
The two-day "CPEC-BRI Cairo Dialogue and Trade Summit – Building Partnership for Trade Transformation," organized by the South Asian Strategic Stability Institute (SASSI), maintain that the Indian Ocean has emerged as a center for the regional trade, since around 90,000 vessels of the world's commercial fleet transport 9.84 billion tons of cargo through the ocean region. With 19.9 percent of the global trade volume passing through the Indian Ocean, it reveals that the total trade passing through that ocean region is 70 percent of the world trade in value.
It is quite clear that Gwadar is very near the Persian Gulf from which nearly 40 percent of the world's crude oil flows. According to officials, China fulfils around 50 percent of its oil demand through imports from the Middle East. Presently, oil supplies come via the Dubai-Shanghai-Urumqi route, covering a distance of around 10,000 kilometers. But by using the shortest possible route, crude oil could be supplied through the Dubai-Gwadar-Urumqi route – a distance of about 3,600 kilometers. This can be achieved by laying an oil pipeline through the energy corridor up to western China via Karakoram Highway and Khunjerab Pass. Trans-Alaska pipeline and trans-Asia gas pipeline are such examples.
In order to give a substantial push to global oil trade, future plans are being made to lay a crude oil pipeline from Gwadar to Kashgar in China's Xinjiang Uygur Autonomous Region. It will have a transmission capacity of one million barrels per day with an estimated cost standing at US $10 billion. This port would offer a substantial reduction in time and distance in shipping Gulf oil to China, cutting the distance from Dubai's Jebel Ali to Xinjiang from approximately 15,000 kilometers to roughly 2,500 kilometers.
Under the framework of the BRI, as a landmark global event, the 2nd Belt and Road Forum for International Cooperation (BRFIC) also serves as a platform to brainstorm how to accelerate people-oriented progress through enhancing all-around connectivity with infrastructure construction, exploring new driving forces for world economic growth, and building a new platform for world economic cooperation.
__________
YASIR HABIB KHAN is a senior journalist and president of the Institute of International Relations and Media Research (IIRMR).