The China-proposed Belt and Road Initiative (BRI) is now an important engine powering the countries involved, and one of the BRI's signature projects is the China-Pakistan Economic Corridor (CPEC). Over the last two years, CPEC has successfully kicked into high gear during the Pakistan's Tehreek-e-Insaf's (PTI) government, led by Prime Minister Imran Khan. Surmounting countless challenges, CPEC has shown its mettle to survive against all odds ranging from bureaucratic glitches, economic and financial obstacles, foreign pressure, and the COVID-19 pandemic.
In August 2018, Imran Khan took oath as Prime Minister of Pakistan with the resolve to ensure high momentum for CPEC going forward. In August 2020, he reiterated his commitment to take CPEC to its new heights. In the past two years, CPEC was exposed to many adversities but stayed afloat and is racing towards completion full steam ahead.
This saga of phenomenal development has silenced all malicious critics who spewed venom that the present government would prove to be the final nail in CPEC's coffin. Malignant campaigns run amok branding CPEC as a debt trap and Imran's government as incapable. In reality, events have proven naysayers' fears and negativity unfounded.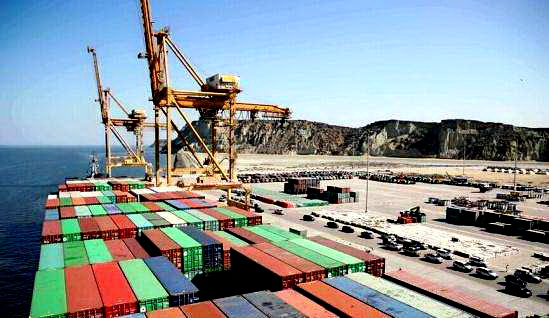 The CPEC Gwadar Port Project has totally changed the former fishing town of Gwadar, which is now well on its way to becoming one of the busiest ports in the world.
CPEC is playing a stabilizing role in filling economic gaps, curtailing the energy crisis, and rolling out resources for construction of dams. It has created thousands of jobs, laying down a network of roads, revamping ICT (information and communication technology), fostering modernizing agriculture, closing up infrastructure gaps, making progress on the health front, and advancing development of Gwadar Port.
An analysis of CPEC's role in generating inexpensive and environment-friendly electricity during the past few years highlights many success stories. Energy plays a dominant role in economic development and is also a fundamental part of any nation's economy. Pakistan's first joint venture, China Power Hub Generation Company's (CPHGC) 1,320MW coal-fired power plant (included in CPEC) in Balochistan, became operational last year. Before 2018, hydro power projects were not prioritized, forcing Pakistan to produce costly electricity and spent billions of rupees on imported furnace oil. CPEC changed the dynamics with the launch of hydropower projects in two years. Recently, two new hydro projects, Kohala and Azad Pattan, with a planned generation capacity of 1,800 MW with 8,000 job opportunities have been launched. Prime Minister Imran Khan personally unveiled construction of the mega hydroelectric project, the Diamer-Bhasha Dam. The hydro power project is to produce 4,500 MW of affordable and environmentally-friendly electricity along with boosting the cement and steel industry sectors. The project is also expected to generate around 16,000 jobs in the country.
In order to accelerate mass industrialization, the following SEZs have been prioritized in two years. They are the Rashakai Economic Zone, Allama Iqbal Industrial City, and the Faisalabad and Dhabeji Special Economic Zones.
Expressing views on industrialization, the CPEC chairman said that the SEZs would create a substantial amount of jobs resulting in a positive socio-economic impact on the public. The groundbreaking ceremony of Allama Iqbal Industrial City has already been done. Rashakai SEZ saw a development agreement in the third week of August. The opening tender of Dhabaji SEZ is on the way.
In the past two years, CPEC has put great emphasis on port infrastructure. Besides Karachi Port and Port Qasim, there are also other ports that need to be developed. Keti Bandar Port is one which the Sindh government has proposed to CPEC for development. Gwadar Port, being its sister and supporting port, has become operational already. Other infrastructure projects next to the port are also currently under development.
As far as phase two of China Pakistan Free Trade Agreement (CPFTA-II) is concerned, the duty-free export of products under 313 tariff lines has provided a huge opportunity to Pakistan to decrease its trade deficit with China. Local exporters now have a big opportunity to capture the Chinese market.
A new fiber optic communication cable from Khunjerab to Islamabad has become operational under the China-Pakistan Economic Corridor. In the next phase, the cable will be laid from Islamabad to Karachi and from Islamabad to Gwadar as part of the "Digital Highway Plan." These projects, with the support of China, are vital for revamping and revolutionizing the IT sector in Pakistan.
Gwadar Port has officially become operational. Pakistan has begun transit trade to Afghanistan via the Arabian Sea, which offers a much shorter link, particularly to southern regions of Afghanistan, for the rapid delivery of goods.
Another milestone has been the number of new development projects in the agriculture sector proposed to be included in the China Pakistan Economic Corridor (CPEC) socio-economic development framework.
Under the framework, a joint cotton research laboratory would be established in Multan at a cost of Rs 186 million to help improve the productivity of the agriculture sector by increasing cotton cultivation area and production. It will also help in development of climate resilient cotton varieties that will ensure reliability and productivity. The project will help farmers by lowering the need to invest in insecticides and pesticides and will help alleviate poverty in rural Punjab.
Under the socio-economic development framework, China has agreed to provide Pakistan a grant of US $1 billion for initiating various projects across the country, especially in under-developed areas. A pest warning system and quality control mechanism of pesticides are projects to be set up in Sahiwal, Sargodha, D.G.Khan, and Bahawalpur to benefit farmers by increasing their livelihoods and standard of living and ensuring greater crop security through increasing epidemic resilience. The project is in line with the provincial growth strategy and will also help Punjab with its compliance of Sustainable Development Goals (SDG's).
Before CPEC, the National Highway Authority (NHA) estimated that Pakistan needed US $1.2 billion to rehabilitate the transportation infrastructure, which along with the energy shortage, had been hindering the country's economic growth. CPEC's road infrastructure projects have been plugging these gaps. In the last two years, most roads have been completed and the rest are about to be ready soon. The CPEC projects have helped Pakistan fulfill the economic essentials direly needed to put the country on the path to modernization and progress in true letter and spirit.
Yasir Habib Khan is a special correspondent of China Today. He is also the president and founder of Institute of International Relations and Media Research (IIRMR).