Queen Elizabeth II, Britain's longest-reigning monarch, died on September 8 at age 96. Chinese President Xi Jinping sent a message of condolence the next day to Britain's new monarch, King Charles III on the passing of his mother and Queen. Queen Elizabeth II was the first British monarch ever to visit China.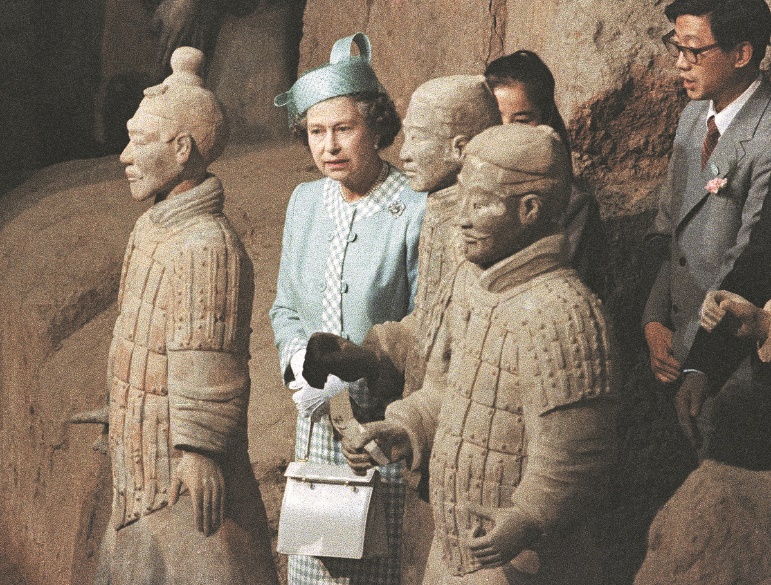 Queen Elizabeth II visits the Terracotta Warriors Museum in Xi'an, Shaanxi Province, on October 16, 1986. [Photo/Agencies]
Xi emphasized the store he lays by the development of China-Britain relations, and his readiness to work with King Charles III to take the 50th anniversary of the establishment of diplomatic relations between the two countries at the ambassadorial level as an opportunity to promote healthy and stable development of bilateral relations for the benefit of the two countries and their people.
The Queen's Moments with President Xi
In February, 2022, President Xi sent a congratulatory message to Queen Elizabeth II on the 70th anniversary of her accession to the British throne, expressing his hopes that China and the U.K. might take this opportunity to deepen their friendship and mutual trust, expand exchanges and cooperation, and work together towards international solidarity.
In October 2015, Queen Elizabeth II received President Xi Jinping and his wife Peng Liyuan with due royal pomp and pageantry on the occasion of President Xi's state visit to Britain. The first by a Chinese head of state in 10 years, the visit cemented the two countries' economic ties. Before Xi's arrival, five tweets about China were successively posted on Her Majesty's official twitter account, including pictures of her first visit to China in 1986.
On the first day of his U.K. state visit, Xi met with three generations of the British royal family, and attended a private lunch and state banquet hosted by Queen Elizabeth II. Her Majesty said in her speech at the grand welcoming banquet for President Xi and his wife Peng Liyuan at Buckingham Palace that President Xi Jinping's visit to the U.K. was a milestone that would elevate friendly relations between the two countries to new heights. U.K.-China relations are a truly global partnership. In his reciprocal speech President Xi said that China and the U.K. are two outstanding representatives of the East and West's great civilizations whose mutual exchanges and achievements have both enriched and promoted their social progress and made remarkable contributions to human progress.
Meetings with Other Distinguished Chinese Guests
The meeting of Queen Elizabeth II in March 1998 with the then Chinese Premier Zhu Rongji was the monarch's first with a Chinese state leader in London. Ma Zhengang, the then Chinese Ambassador to the U.K. recalled, "Showing great interest in China's reform and opening-up, the queen enquired about the overall situation. And Premier Zhu briefed her."
The then Chinese President Jiang Zemin's state visit to the U.K. the next year marked the first by a Chinese head of state. During the grand state banquet held at Buckingham Palace, Queen Elizabeth II recalled her exchanges with Jiang in 1986 during her first visit to China when he was mayor of Shanghai, and the discovery that they were both born in 1926, the Chinese year of Tiger.
Since then, Chinese state leaders have been regular guests of Her Majesty. On June 17, 2014, Queen Elizabeth II received Chinese Premier Li Keqiang at Windsor Castle in southern England, where they held a friendly and cordial dialogue. British media reported that inviting Li Keqiang to meet with Queen Elizabeth II also constituted a break with official procedures, so reflecting the importance the U.K. attaches to Sino-British relations.
The Queen's First Visit to China
Queen Elizabeth II mentioned her first visit to China in 1986, the first ever by a British monarch, on many occasions. The historic visit featured a letter, her meeting with an elder statesman, and a number of photos.
The Queen brought to China a copy of the letter from Queen Elizabeth I to Ming Emperor Wanli in 1602. Owing to the messenger's death, however, it never reached the imperial Ming Dynasty court. Queen Elizabeth II said that visiting China had been her long-cherished wish, and that thanks to progress in the postal sector since 1602 her invitation letter from China, which she joyfully accepted, arrived without incident.
The elder statesman who met with the Queen during her 1986 China visit was Deng Xiaoping, then head of Central Advisory Commission of the CPC Central Committee. On learning that the Queen did not smoke, Deng, a heavy smoker, did not light a single cigarette during their meeting — one successful enough to be deemed the climax of the monarch's China visit. Her Majesty said later said that Deng's advanced age in no way impaired his impressive vitality and sharp wit.
Many photos of Queen Elizabeth II's China visit have been widely circulated. In a one, clad in a red hat and coat in honor of China's national flag, the Queen inspected the guard of honor, accompanied by the then President Li Xiannian. Another captures a moment when, during their talks, Queen Elizabeth II and Deng Xiaoping share a hearty laugh. And yet another shows the queen taking a long look at the Terracotta Warriors in Xi'an.
Chinaware Passion
Chinese culture held a strong fascination for the Queen, doubtless driven by her ready access to the royal family's collection of Chinese antiques.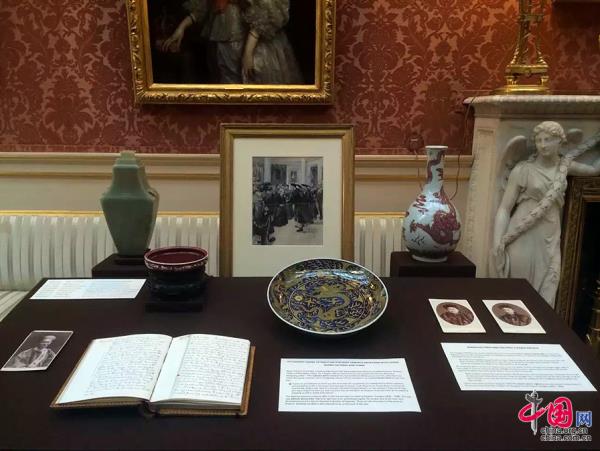 Items from China in the Queen's collection. [China.org.cn]
In 1947 Princess Elizabeth received a Xiang embroidery from China as a wedding gift. In 2002 she received a carved wooden screen as a gift from the then President Jiang Zemin on the 50th anniversary of her accession to the throne. And in 2006 she received as a gift for her 80th birthday a snuff bottle bearing her image. Other Chinese gifts include replicas of the Terracotta Warriors, a dragon-patterned vase, a crane-patterned plate, and her embroidered portrait.
The Queen was keen to experiment with certain features of Chinese dining culture. During her 1986 China visit she used chopsticks to eat longan fruits, sampled a sea cucumber dish, something which took "great courage" for a Briton, and enjoyed a cup of green tea in Shanghai's Yuyuan Garden. Having grown Chinese plants in the garden at Buckingham Palace, she also planted British roses in China's frontier province of Yunnan.
But chinaware was what the Queen most admired. She ordered a Chengni stone teapot from China for her grandson Prince William and his newly-wed wife Kate in 2011. Made by Suzhou-based stone carving artist Cai Yundi, it is decorated with carvings of dates, peanuts and longan — fruits offered at traditional Chinese weddings as a wish that the happy couple may soon bear male heirs.
There is indeed much fine Chinese porcelain at Windsor Castle. And the owner of a gift shop in London's Regent Street confirms that all the porcelain plates in his shop printed with the Queen's image are made in China.
May she rest in peace. The endearing, memorable and historic China moments of "Elizabeth the Great" during her seven-decade reign will be cherished by the Chinese and Britons alike.