"Our civilizations are a living social, political, and cultural ecology. Civilizations are one and many at the same time, thus forming a win-win or lose-lose model of development," Roger T. Ames, renowned American sinologist and Humanities Chair professor at Peking University, observed on January 10 at the Second Dialogue on Exchanges and Mutual Learning among Civilizations.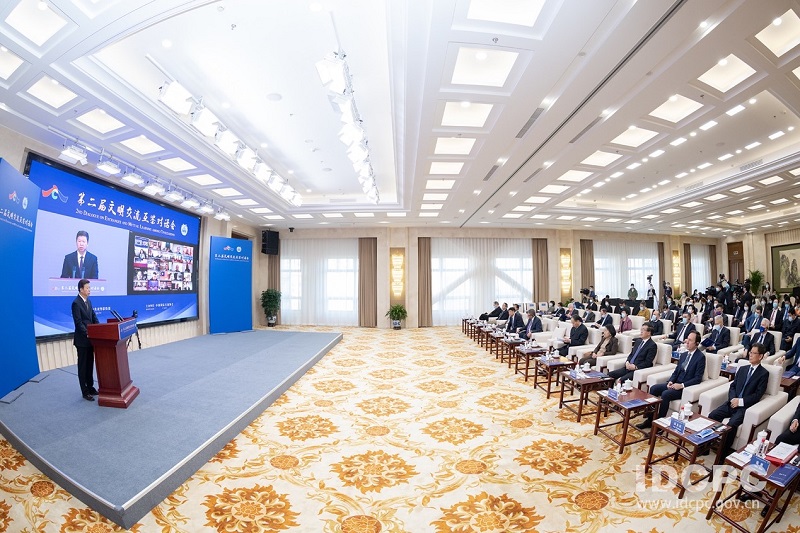 Song Tao, minister of the International Department of the CPC Central Committee, presides over the opening ceremony of the Second Dialogue on Exchanges and Mutual Learning among Civilizations. Photo courtesy of IDCPC
Held less than one month before the 2022 Beijing Winter Olympics, the dialogue among civilizations, themed, "upholding diversity of civilizations and carrying forward shared values of mankind," was hosted by the Chinese Association for International Understanding under the auspices of the International Department of the Central Committee of the Communist Party of China (IDCPC) in Beijing. The dialogue drew the online and offline participation of around 260 attendees from home and abroad.
Chinese President Xi Jinping has emphasized on multiple occasions the need to strengthen exchanges and mutual learning among different civilizations in order to promote the building of a community with a shared future for mankind. Xi, moreover, confirmed at the celebration event marking the CPC's centennial on July 1, 2021 that the Party would continue to promote the shared human values of peace, development, fairness, justice, democracy, and freedom.
In his video speech at the Dialogue opening ceremony Chinese Vice President Wang Qishan held that promoting exchanges and mutual learning among civilizations is a major task to achieve world peace and development, as well as a better life for the people. "We need to deepen the understanding of our own and other civilizations, find the key to inter-civilization exchanges from the perspective of all mankind, gain confidence from history, culture and philosophy, and build consensus on building a community with a shared future for humanity," Vice President Wang said.
Solidarity, Essence of the Olympic Spirit
Sinologist Roger T. Ames believes that the upcoming Beijing Winter Olympics will be an excellent platform for cultural exchanges. "I think that sports are a good way to promote education of young people from different cultures," he told China Today. That could surely strengthen mutual understanding among civilizations, he indicated.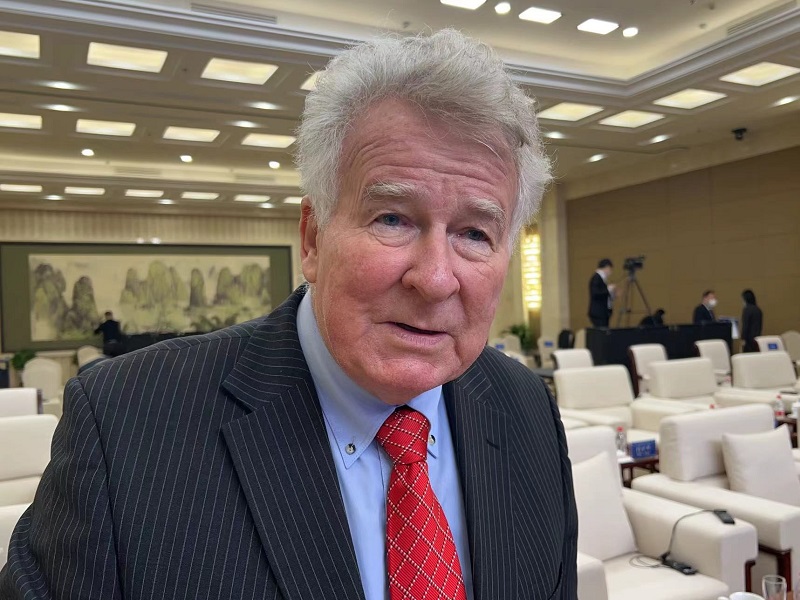 Renowned sinologist Roger T. Ames in an interview with China Today. Photos by Zhang Hui
The International Olympic Committee session held in July 2021 approved a change in the Olympic motto which recognizes the unifying power of sport and the importance of solidarity by adding the word "together" after an en dash to "Faster, Higher, Stronger." Thus, the new Olympic motto reads: "Faster, Higher, Stronger – Together."
"Solidarity fuels our mission to make the world a better place through sport. We can only go faster, we can only aim higher, we can only become stronger by standing together — in solidarity," IOC President Thomas Bach said.
American basketball player Stephon Marbury, head coach of the CBA Beijing Royal Fighters, who has lived in China for over ten years, was named the event's "messenger of civilization." He expressed keen endorsement of the change, saying, "I fully agree with IOC President Bach's explanation about the link between the change and the original motto."
Affectionately called "Ma Zhengwei," which means "Political Commissar Marbury," by his teammates and colleagues, Marbury enjoys being around everyday people in China and, in his words, "sharing the fruit of the mutual integration of the Chinese and American cultures."
"It is my deep understanding that solidarity not only serves as the basis for a team to make achievements and progress, but also ensures the happiness and self-fulfillment of individuals," he said.
Marbury also commended the slogan "Together for a Shared Future" of the upcoming Beijing Olympic and Paralympic Winter Games. "It perfectly echoes the new Olympic motto and conforms to the core values and vision of the Olympic movement. It is a further interpretation of 'Together.'"
Egyptian Ambassador to China Mohamed Elbadri praised China's punctilious, well-organized preparations for the Winter Olympics, despite the still-raging COVID-19 pandemic. "The great idea of the Olympics was to bring all Greek city states together to share their greatness through competition, and so unify. I think the same Olympic concept of upholding solidarity with sports and through sports, with different peoples, and different athletes, still stands," Elbadri told China Today.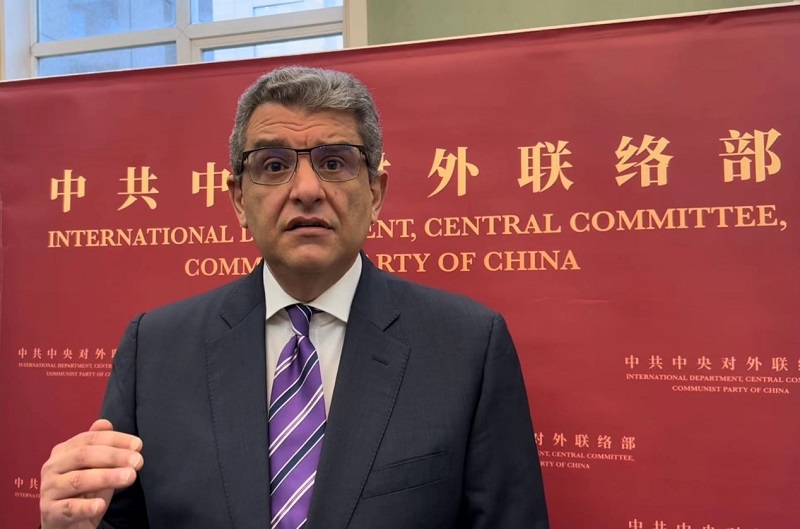 Egyptian Ambassador to China Mohamed Elbadri answers China Today's question in a media interview.
"I think China's approach of holding the Olympics under such challenging circumstances really stands testament to the benevolence of the values of the Chinese system of government, and to the competence of that government at the national, provincial, municipal, and even neighborhood level, in actualizing these values in ways that enable the holding of the Olympics," Andrew Tien-on Mok, faculty member of Beijing Foreign Studies University, said in a media interview on the sidelines of the Dialogue.
Wang Huiyao, founder and president of the Center for China and Globalization (CCG), spoke of the open, friendly and inclusive image China is projecting to the world as host country of the 2022 Winter Games — an indisputably important event for exchanges among civilizations.
Tracing the Cultural Roots of Chinese Proposals
As the 2022 Olympic Winter Games draws near, Beijing will become the world's sole city ever to host both a Summer and Winter Olympics, which is, however, no surprise to Andrew Mok. "If we look at it from a broader historical perspective, over the course of hundreds, even thousands of years, China has occupied a prime place — economically, culturally and spiritually — as one of mankind's great, enduring civilizations. So to me it's no surprise that Beijing, as capital of China, should host two Olympics, and possibly even more in the future," Mok said.
Mok emphasized the role of "benevolence," the traditional Chinese cultural value, in the country's effective governance, for example, in containing COVID-19 and preparing for the Olympics. "Chinese culture, due to its traditional elements, is most concerned about benevolence and responsibility. This constitutes the duty of leaders to those they lead," Mok told China Today.
Roger T. Ames highlighted the Confucian idea of "optimal harmony," which underpins such Chinese proposals and concepts as building a community of a shared future for mankind. "I don't think there's any alternative to that concept. There's only one concept that we can have, and that's a shared future for humanity," Ames told China Today.
"Striving for such optimal harmony is not a matter of necessity, but rather an attempt to make the most of creative possibilities in any situation," Ames said at the Dialogue. To better understand the Confucian way of thinking, he stressed the need to respect the postulate, "the inseparability of one and many."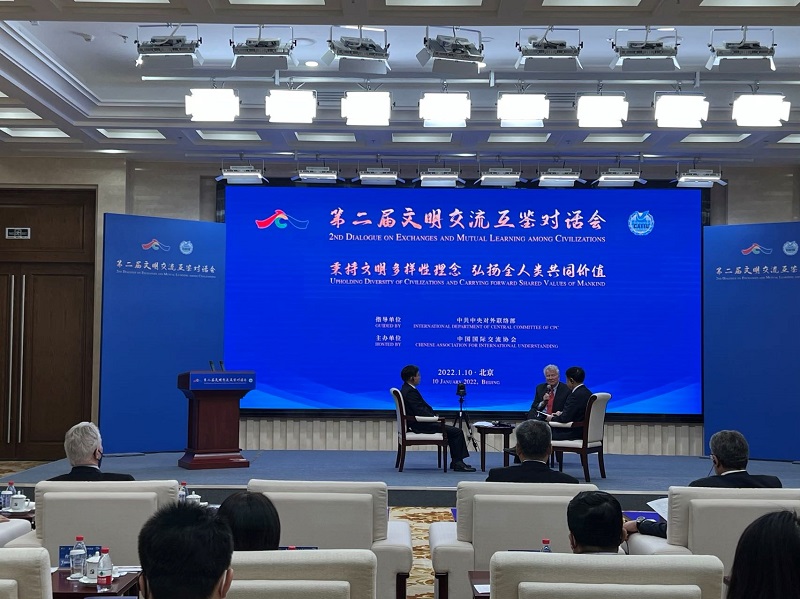 The Second Dialogue on Exchanges and Mutual Learning among Civilizations is held on January 10, 2022 in Beijing.
"This Confucian understanding of achieved 'harmony' is not simply the mutual accommodation of difference that would attenuate dissonance. More importantly, it refers to the creative and productive consequences of coordinating such differences to optimum, superlative effect," Ames said.
"When we bring this understanding of 'harmony' as an optimizing symbiosis, to exchanges and mutual learning among civilizations, the mission becomes clear," Ames said. He added, "If your neighbor does better, you do better. The mutual understanding and accommodation we can achieve is the ultimate source of a shared flourishing."
Ames also laid emphasis on the family's importance to Chinese society and to the Confucian cultural tradition. "Such an emphasis on family relations is because it is the single social institution to which persons will give everything they have. Family feeling is perhaps the minimalist morality that can bring solidarity to humankind as a species," he said.
Civilizations Flourish through Mutual Learning
Fully embodying the traditional Chinese cultural idea of "optimizing symbiosis," Chinese President Xi Jinping observed on May 15, 2019, at the Conference on Dialogue of Asian Civilizations, "A civilization can flourish only through exchanges and mutual learning with other civilizations."
Echoing President Xi's point, Martin Shulz, former Speaker of the European Parliament and President of Friedrich-Ebert-Stiftung (FES, Friedrich Ebert Foundation of Germany), reviewed the human history of mutual learning and exchanges among different civilizations in Europe and other parts of the world, and observed, "The advancement of cultural features – or the progress of civilization – was the result of exchanges." He concluded, "All kinds of actual civilizations have benefitted from exchange and mutual learning."
President Xi once emphasized that people are the best bridge among civilizations for exchanges and mutual learning. More frequent people-to-people exchanges and mutual learning are, indeed, a sure way of eliminating estrangement and misunderstanding among nations and promoting mutual understanding.
The American attendee of the Dialogue, Andrew Tien-on Mok, believes that cultural and people-to-people exchanges are vitally important to fostering a healthier U.S.-China relationship. "Many people in the United States still rely on Western media for their understanding of China, which can lead not only to misunderstanding, but also potential conflict, which is completely unwarranted," Mok said. "I think a truer understanding among more Americans of China would influence the political leadership and lead to a healthier relationship between the U.S. and China," he told China Today.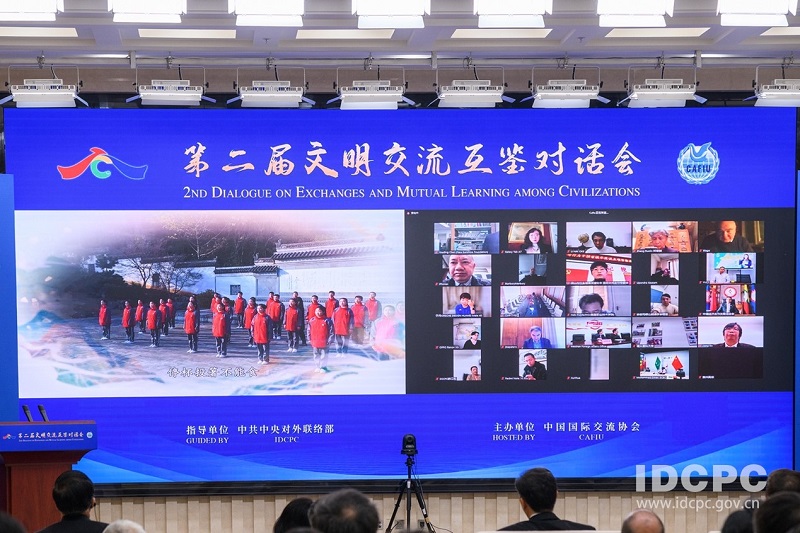 Attendees join the Second Dialogue on Exchanges and Mutual Learning among Civilizations both online and offline. Photo courtesy of IDCPC
Goran Durdevic, a Croatian-born archaeologist and now lecturer at Beijing Foreign Studies University, expressed to China Today his amazement at how civilizations have connected with each other. Durdevic ascribes the rise of cultural exchanges between China and Croatia to the favorable policies and sound environment the two governments have nurtured. "We have many sportsmen moving between the two countries. Chinese sportsmen come to Croatia and Croatian athletes to China," he said. Durdevic made particular mention of the Chinese art and archaeology exhibitions frequently staged in Croatia that are drawing ever-larger audiences there. He believes that such exchanges help peoples of the two countries to know each other better and also boost the two countries' development.
President Xi once noted that civilizations do not have to clash with each other, and all that's needed is to see and appreciate with one's own eyes the beauty of civilizations. Egyptian Ambassador to China Mohamed Elbadri fully espouses Xi's view, "President Xi is right. There is no clash of civilizations. And I can tell you that this is a historically proven statement. History never recorded a clash between two civilizations, but rather clashes between different interests." The ambassador went on to emphasize the necessity to "inculcate our young generations and make sure that our societies and peoples know that diversity is a virtue, difference is an asset, cultures are a human legacy, and civilizations are a reflection of humanity."
Elbadri observed that these important concepts have been agreed upon and incorporated into some international treaties. Putting them into practice is what's important now. Today, neither peoples nor states can act like cultural pariahs living in seclusion, as mirrored in the flawed vision of cultural superiority that attempts to unify the world according to its own cultural models, Elbadri observed.