China International Import Expo (CIIE) is a symbol of China's determination to continuously open up and firmly support trade liberalization and economic globalization," Maria Sferruzza -- senior vice president of Baker Hughes in Asia Pacific, told China Today on November 5 during a one-to-one online interview. "Baker Hughes plans to strengthen partnerships with Chinese energy and industrial customers and position itself as a leading energy technology company by leveraging CIIE as one of its key enablers," she further added.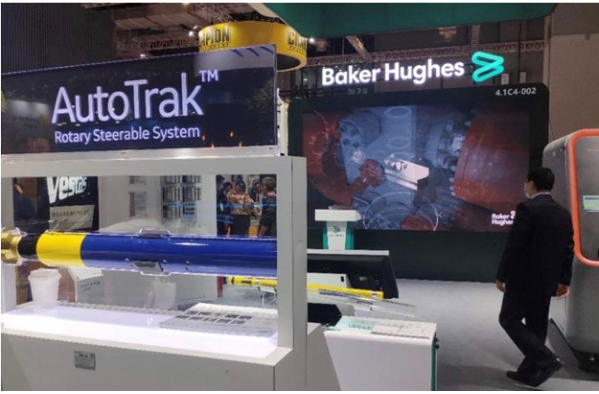 Baker Hughes' booth at the third CIIE.
Born through a merger between GE Oil & Gas and Baker Hughes, the new Baker Hughes is one of the world's largest energy technology companies. This is its first appearance at the CIIE. With the theme "Shaping the Future of Energy and Industry," the company's booth at the exhibit consists of four technology zones where the company showcases a wide range of innovative technologies that drive productivity and improve products across the oil and gas value chain. Their technologies have also been applied in other industrial fields like new energy.
She spoke highly of the event, saying, "Participating in CIIE for the first time as Baker Hughes, we're excited to better support China's national energy security agenda through our century-long continuous innovation and revolutionary inventions, collaborating with local industry champions to realize China's de-carbonization ambitions."
As the company's strategic development leader, when asked about the future development plans, Sferruzza said that those would be compatible with the Chinese market. She especially mentioned, "When Chinese President Xi Jinping announced that China aims to have CO2 emissions peak before 2030 and achieve carbon neutrality before 2060, Baker Hughes plans to be deeply involved in this process, not only with our unique technologies, but also by providing implementation solutions."
She further pointed out, "No matter what type of energy industry, all are actually facing the problem of energy transition. And vigorous investment in the development of energy transition technology serves as the third largest global strategy of our company, which involves four specific areas: geothermal, hydrogen energy, carbon capture and utilization, and energy storage."
Indeed, Baker Hughes has extended its support to China in a slew of major milestones for China's international collaboration and energy development over the past four decades. This dates back to the 1970s, when then vice premier Deng Xiaoping visited the Baker Hughes drill bits facility in Houston, thus initiating its collaboration with China. For more than 40 years, Baker Hughes has closely cooperated with China's oil companies on the exploration and production of oil and gas. Now, with its integrated product portfolio, the company can better meet the Chinese market's needs and offer greater value. "China will always be an important growth engine to Baker Hughes' future development," Sferruzza concluded.
It happened that on November 5 the Statistical Bulletin of Foreign Direct Investment (FDI) in China 2020 was released by China's Ministry of Commerce at the third CIIE. According to it, in 2019, the top five sectors for FDI from the United States were manufacturing, mining, finance, information transmission, software and information technology services, and leasing and business services; the newly established foreign investment enterprises account for 48.5 percent of the total by U.S. investors, with actual FDI reaching 84.6 percent of the total.