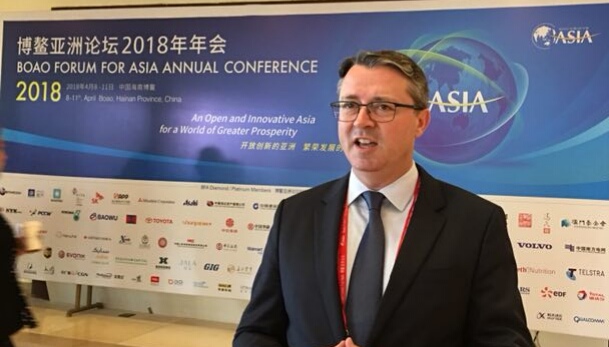 It's Chris Marlin's third time attending the Boao Forum for Asia (BFA). Marlin is founder and president of Lennar International, a division of the Miami-based Lennar Corporation, the largest homebuilder in the United States in terms of total revenue. "We found the forum an extremely valuable way to understand dialogues occurring in China and around Asia at the same time. Lennar has many customers and partners in China. We want to let them know we care deeply about the policies of the region and, of course, China," Marlin told China Today. In the afternoon of April 9, Marlin attended the session "From Big to Great" of the BFA Annual Conference 2018 as one of the five guest speakers. At the sideline of the conference, Marlin gave China Today an interview.
China is a major source of Lennar's international homebuyers. "About one third of Lennar's foreign buyers are from China. They are from around 30 Chinese cities, largely hailing from China's big cities. Chinese homebuyers are an extremely important and valuable part of Lennar's international system. They are buying our homes in the United States either for investment, immigration, or their children going to school in the country," Marlin said.
Apart from attracting Chinese customers, Lennar also seeks to solicit Chinese investment. Attending the BFA annual conference, Marlin met many of Lennar's Chinese business partners and institutional investors, and sought out potential ones. "We keep our friendship growing. We also make new friends and build new relationships here at the forum," Marlin said.
Marlin spoke highly of Lennar's partners in China, "They're innovative; they are diligent and intelligent. They are extremely motivated to succeed. We really value this partnership because it helps us to be a good partner too."
In recent years, Lennar has diversified its real estate platforms in the United States. Across all its sectors such as multi-family fund, asset management, mortgage operation, and home building, Chinese investment can be found.
Over the past decade, the United States has seen increasing investment from China. Marlin thinks it's very positive for the American society and business world. Taking the real estate market for example, he explained, "When you're buying homes in the U.S., it means you're becoming a part of that community, that specific location, that school district, that city. All of the societal elements come along with that. The more investment we have with one another, the closer together our people are going to become. After becoming friends, we're going to have more opportunities together. So I think this is a tremendously positive thing for communities of the U.S. to experience the investment."
Marlin thinks the Chinese market, from the U.S. real estate perspective, is still in its early stage. "Because there is so much growth to come; there are so many linkages that are going to occur between the U.S. market and the Chinese market when it comes to real estate matters, frankly also in the real economic matters as well. But in terms of real estate investment from China into the U.S. or from the U.S. into China, I think this is still very early days," Marlin remarked.
Lennar surely has plans about the promising Chinese market. "Our plan is to deepen our engagement at every single level with the Chinese market, so we'll be here often to demonstrate that kind of engagement and build our network. We anticipate spending more time outside large Chinese cities, spending tremendous amount of time in second- and third-tier cities, so we can get to know the people there and our future partners as well."
Marlin is quite confident about the future of China's reform and opening-up. "If you look at the last 40 years as China opened up, its economic environment has improved greatly and accelerated development internally and externally. It has been a remarkable run, and we hope and believe that it will keep going," Marlin said. He believes that China's development momentum is profound.
As China promises to make its opening-up deeper and broader, Marlin believes this is a tremendously positive trend for the world. "As China continues to engage more broadly in a more transparent way with the global economy, more opportunities will be brought about to the world, more opportunities for prosperity and peace," he said.
"It's very exciting that President Xi Jinping gave a speech at the forum to convey the message to the world that China will continue along the trend and continue to open up. It's very positive for the world in general," Marlin said.
As regards some qualms and criticism about China's reform and opening-up, Marlin dismissed them by saying, "Every year China implements more reforms; every year, China has more transparency; every year, China becomes more engaged with the global community. There's no evidence to the contrary. I believe China is becoming more integrated with the world. We see the evidence every day."