IN Fengdu County of southwest China's Chongqing Municipality, a slew of private entrepreneurs have joined in the targeted poverty alleviation initiative of "enterprises helping villages." They have not only contributed to promoting the local economy and revitalizing the countryside, but also achieved the high-quality development of their own business.
Chen Guohai is one of these entrepreneurs. He invested to develop the Jiuchongtian Scenic Area, therefore providing local villagers with jobs and business opportunities to increase their income. "In the past, the villagers joked that they were my poor relatives, but now the word 'poor' is going to be removed," Chen Guohai told China Today.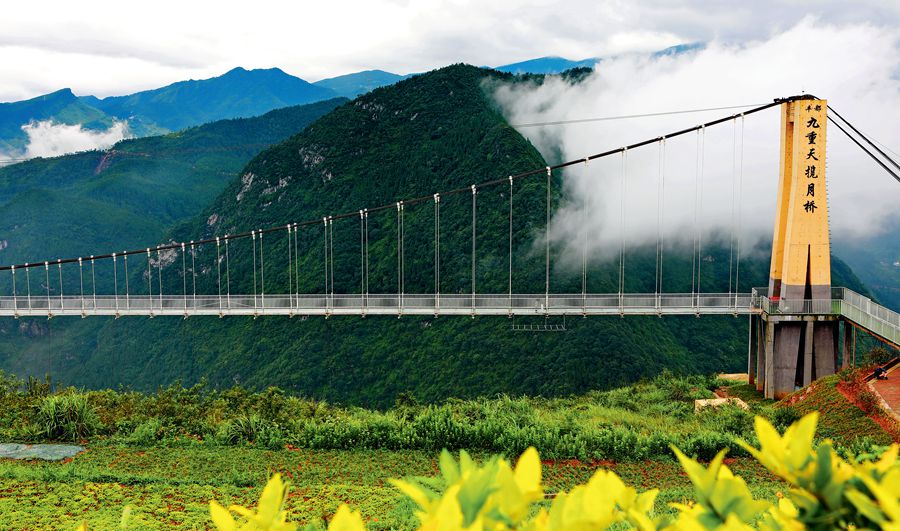 The beautiful Jiuchongtian Trestle Road Scenic Area built in Anningchang Village, Fengdu County, Chongqing.
Construction of the Jiuchongtian Scenic Area began in December 2015 and opened to visitors in July 2017. The poverty-stricken villagers living in the scenic area, by selling agricultural products and doing manual or service jobs, are gradually walking out of poverty.
Teaching a Man to Fish
Liao Changrong, 46, operates an agritainment business in Jiuchongtian Scenic Area with a net income of RMB 200,000 a year. A native of Lianhuadong Village, Liao and his wife had been working away from home as migrant workers until August 2015 when they returned home and got employed in Jiuchongtian.
In order to help Liao's family get rid of poverty as early as possible, Chen Guohai provided Liao Changrong with funds to run an agritainment facility in the scenic area in 2017. "Now with the increasing tourist arrivals, the original investment has been recovered," said Liao. In addition to running his agritainment business, he also does some managerial work for Chen Guohai in Jiuchongtian. Chen pays him RMB 3,000 a month.
In addition to unconditionally providing poor households with opportunities to get rid of poverty, Chen Guohai has also invited specialists in hotel and catering management to Jiuchongtian to impart management experiences to poor households operating agritainment business. What's more, he organized the villagers to visit other rural tourist attractions in places including Fuling and Chongqing, in order to broaden their horizons and change their mindsets, which effectively helped the villagers strengthen confidence and determination to lift themselves out of poverty.
With the assistance of Chen Guohai, seven poor households in Lianhuadong Village and 15 poor households in Anningchang Village have shaken off poverty successively. The scenic spot has directly and indirectly led to the increase in income of more than 1,000 residents in surrounding villages.
Great Transformation
Qin Dali and his wife in Anningchang Village used to be trapped in poverty because of illness. With the development of Jiuchongtian, they have greatly improved their lives.
Speaking of the changes brought about by the development of the scenic spot to the village and their own lives, Qin Dali, in his 50s, became excited, with tears in his eyes. "If it weren't for the boss, Chen, to build the road up the mountain and develop tourism, we would have no way out," he said. The village is 25 kilometers away from the county town. It used to take seven or eight hours for the villagers to travel to the county town. Now it only takes a little over half an hour, and they can take shuttle buses of the scenic area free of charge.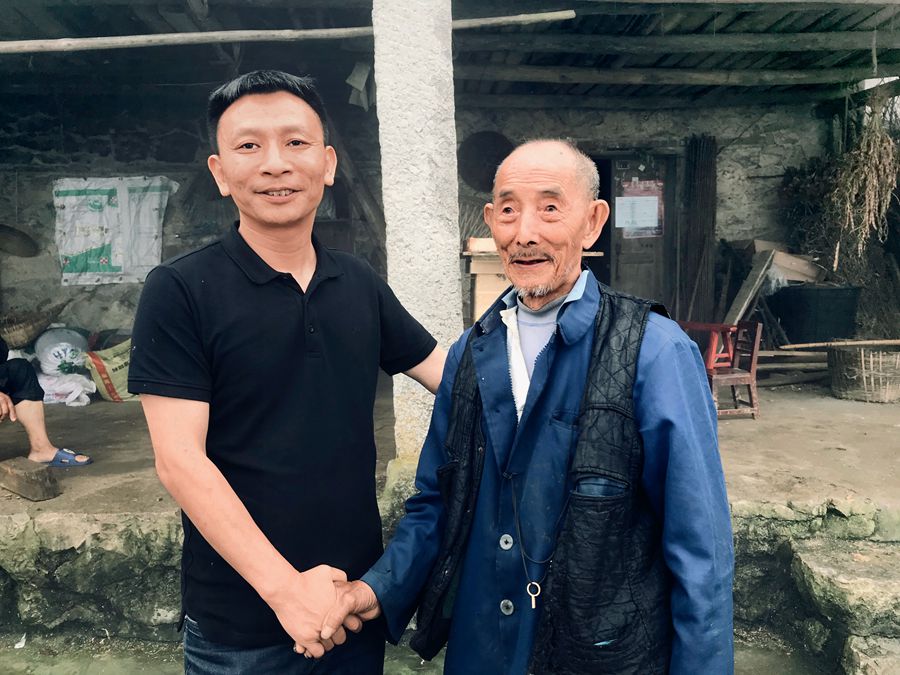 Luo Chaolu holds Chen Guohai's hand firmly and thanks him for giving him the chance to earn money.
In the past, what worried the villagers most was getting sick. As there was no highway access, if somebody got seriously ill, they would have died on the stretcher carried by the villagers before they were able to reach the hospital. But now, according to Qin, one just needs to call 120 for an ambulance to send a patient to a hospital as soon as possible.
Because of health reasons, neither Qin nor his wife can engage in heavy physical labor. They used to live by selling vegetables and fruits in the county town. They often got up at 3 or 4 o'clock in the morning, and walked down the mountain using a torch light or a flashlight to light the way. When they returned home from the county town, it was always late at night. "Those days of seeking a living were really bitter!" he recalled.
Following the development of the scenic area, Qin Dali was assigned to work there, and has since had a monthly salary. His farm produce, such as chickens, honey, and vegetables, can be sold in the scenic spot. Now the annual income of his family reaches RMB 40,000. "There is no extravagant expense for people living in the mountains, and now I have no worries about food and clothing," said Qin. He renovated his house last autumn, and plans to call his son who works in the city back to run a family lodging. "Better days lie ahead," Qin said.
Leaving No One Behind
Fengdu launched the "enterprises helping villages" initiative in 2015. A vast number of private enterprises have since combined their advantages in capital, technology, and talent with the resources of poor villages in ecology, land, and labor. Through multiple approaches, including industrial development, commercial programs, employment-driven programs, and educational programs, they have come up with a new way of targeted poverty alleviation featuring win-win cooperation. From about 30 private enterprises participating in poverty alleviation in 2015 to 192 private enterprises partnering with 138 poor villages in 2019, the private businesses have become a new force in Fengdu's campaign against poverty.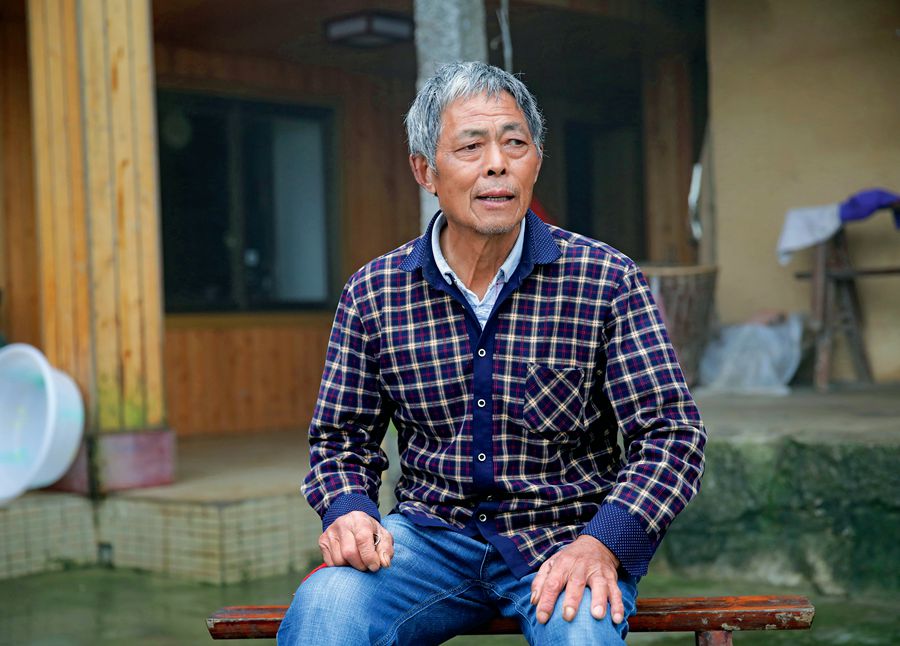 Qin Dali's eyes moisten up while talking about the positive impact of the scenic area on his life.
Chen Guohai and his Jiuchongtian Scenic Spot serves a good example. Jiuchongtian allows villagers to invest in it with their farmland and woodland, and become its shareholders.
During the first four years following the transfer of the land, according to Chen Guohai, the villagers would get a rent annually at the rate of RMB 400 per mu (15 mu equals 1 hectare) of farmland and RMB100 per mu of woodland, so that they could have a guaranted minimum income from their land investment. Starting from the fifth year, 20 percent of the scenic spot's revenue from entrance fees are used to pay dividends to the villagers, which ensures the maximization of their interests.
At present, one member of each family in the two villages has a full-time job with Jiuchongtian, engaging in basic manual work. The rest of the villagers can look for part-time job with the scenic spot according to seasonal and labor demands, and the daily wage ranges from RMB 60 to 80. As a result, the surplus labor force in the two villages has been well utilized.
When he chose to invest there, Chen Guohai settled on the simplicity, kindness, tenacity, and warmth of the villagers. He has taken every poor villager as his kin. His help and support over the past two years has made his relationship with them ever closer.
In the coming years, Chen plans to improve and expand tourist programs in Jiuchongtian, aiming to attract those young and middle-aged migrant workers back, so that they can get jobs at home, and take care of the elderly and children. "The elderly parents should be cared for by their sons and daughters, and children should be tended to by their parents; this is what family should be," Chen said, adding that his greatest wish is that all these villagers will live a better life.