THE G20 Osaka Summit in Japan convened on June 28-29 had the world hold its breath. Not only were front-burner issues, such as WTO reform and digitalization of the economy, discussed there, but there was much fanfare around the first high-level meeting between China and the United States since the last G20 summit in Buenos Aires late last year. Given the mounting trade tensions between the two countries, the meeting took global center stage.
President Xi Jinping's proposals at the summit struck a chord with the attending leaders and his declaration of China's new moves to further open up earned worldwide acclaims. It's believed that China has become a major contributor to the world's peaceful development.
China Fuels New Round of Trade Liberalization
While addressing the 14th G20 summit, Xi called on the G20 members to explore the driving force of growth by sticking to reform and innovation, improve global governance by keeping pace with the times, remove development bottlenecks by actively tackling challenges, and properly address differences by upholding the spirit of partnership. In his speech, Xi pledged a series of major measures to be taken by China to further open up and press ahead with high-quality development. These involved new moves to open up the Chinese market wider, initiatives to expand imports, more steps to improve the business environment, equal treatment to be extended to all foreign investment, and efforts to advance trade talks.
"I think President Xi's speech at the summit was very important. He promised not only to open the Chinese market, but added specifics to increase imports and treat foreign and Chinese companies equally, so they could all play by the same set of rules on a level playing field," said John Kirton, director and founder of G20 Research Groups based at the Munk School of Global Affairs and Public Policy at Trinity College in the University of Toronto.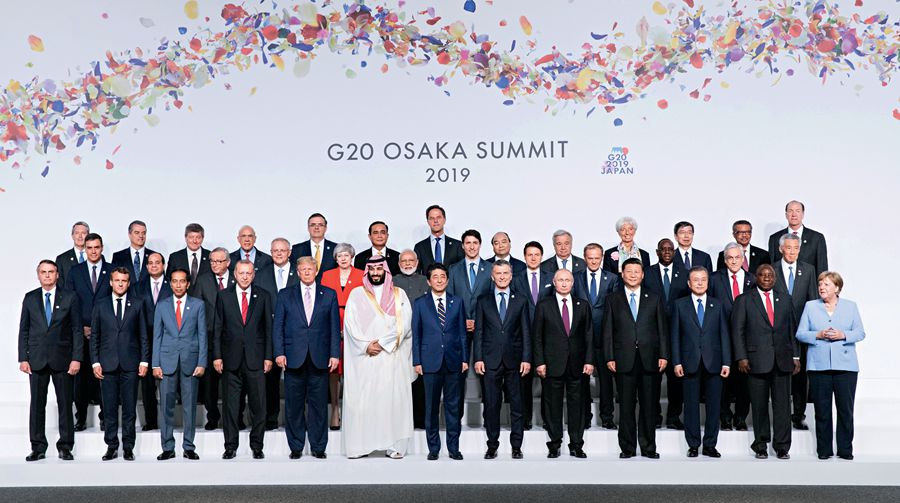 Chinese President Xi Jinping (4th from right, front row) poses for a group photo with the other leaders attending the 14th G20 summit in Osaka, Japan, on June 28, 2019.
Kirton further pointed out that the pledge was made to all countries, not just to a specific partner. "[I think this was] because many of the Chinese trading partners were worried that China did a private deal with the U.S. alone. I think it reminded everyone that while the China-U.S. relationship is important, Xi recognizes China's responsibilities to the global community as a whole."
The G20 Research Group has been closely following the evolvement of the G20 since its establishment and monitoring G20 members' compliance of their commitments. The 2018 G20 Buenos Aires Summit Final Compliance Report, released by the research group in Osaka on June 26 right before the summit indicated that China's compliance of 20 major commitments during the period from December 2, 2018 to May 10, 2019 ranked third among G20 members with a score of 88 percent, much higher than the average level of 78 percent.
Talking about China's development momentum, Kirton said, "China is certainly on the right path of guiding its economic development away from export-oriented growth through heavy state intervention, state-owned enterprises and state subsidies into a more private-sector economy, a more market-oriented economy, a more open and transparent economy at home."
He believed that based on what he had observed at the Osaka summit, China and the United States would launch a new round of trade liberalization. "That will benefit everyone," said Kirton.
He also indicated that China would increasingly become one of the major global players in many fields, including the digital economy, noting some Chinese e-commerce giants like Alibaba. "I think China's companies will spread their technical innovation internationally for the benefit of all," he said.
Kirton endorsed the concept of building a community with a shared future for mankind advocated by Xi. "The basic question was always what values would be at the core of the community. At the G20 Hangzhou Summit, Xi emphasized 'green mountains and clean water are as good as gold and silver.'"
He added that Xi's decision to prioritize natural environment issues was a correct move that could assist to mitigate climate change and place China as a genuine leader in environmental affairs.
Setting the Tone of China-U.S. Relations
On June 29, the highly-anticipated Xi-Trump meeting took place with important consensus reached. The two sides agreed to jointly advance a China-U.S. relationship featuring coordination, cooperation, and stability. They also clinched a deal to restart economic and trade consultations on the basis of equality and mutual respect, and the U.S. side will not add new tariffs on imports from China. The positive signal released by the bilateral top-level meeting has injected much-needed confidence into the global market, and brightened the world development prospects.
Robert Lawrence Kuhn, U.S. specialist on China, indicated that the China-U.S. top-level meeting in Osaka marked an important step forward for bilateral relations and the two sides should further step up their cooperation and communication in many fields. Kuhn believed that China's commitment to further open its economy at the G20 Osaka Summit would prompt the U.S. business world to become a stalwart supporter of strong U.S.-China ties.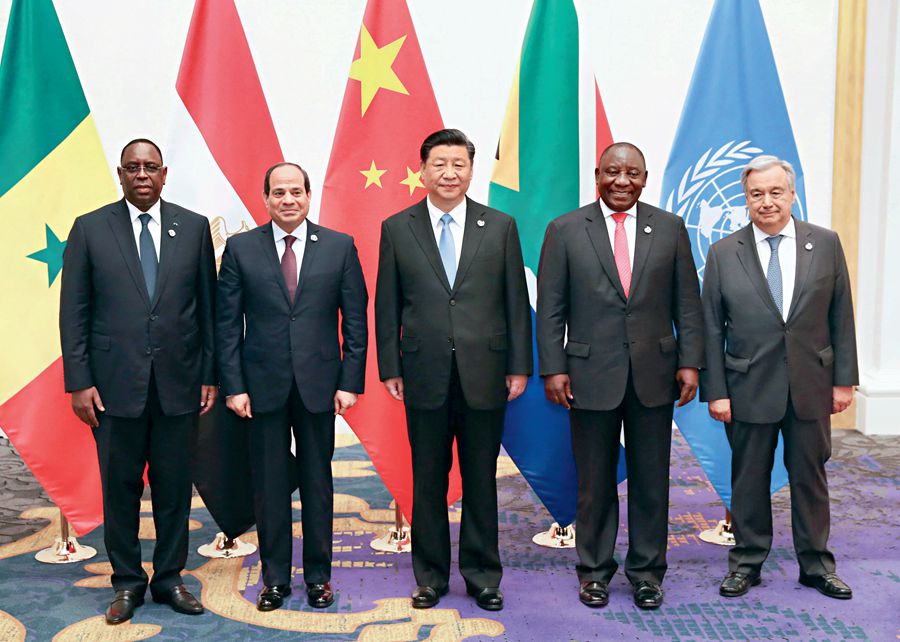 Chinese President Xi Jinping chairs a China-Africa leaders' meeting in Osaka, Japan, June 28, 2019. The meeting is also attended by South African President Cyril Ramaphosa, also former African co-chair of the Forum on China-Africa Cooperation (FOCAC); Egyptian President Abdel-Fattah al-Sisi, also rotating chair of the African Union; Senegalese President Macky Sall, current African co-chair of the FOCAC; and UN Secretary-General Antonio Guterres.
Stephen S. Roach, senior fellow at Yale University's Jackson Institute for Global Affairs, noted that the Xi-Trump meeting in Osaka steered the bilateral trade relations in a positive direction, but challenges ahead would still test the political wisdom of the two sides. He said that if the U.S. could acknowledge China's positive signal to further open its economy from its commitment made at the summit, the bilateral trade relations would have a chance of getting back onto the right track.
On the eve of the G20 Osaka Summit, the Office of the United States Trade Representative held a hearing in Washington on the Trump administration's plan to slap another US $300 billion worth of Chinese imports with duties of 25 percent. During the seven-day testimony, a wide range of U.S. companies showed their opposition to the move.
Instead of boosting American economic growth, the tariff measures are undermining the U.S. economy. Manufacturers and consumers are the victims bearing the brunt of the adverse effect caused by the rising production cost and hiked prices of consumer goods from China. According to some research by the U.S. National Retail Federation, the 25 percent additional tariffs on furniture alone will cost the U.S. consumer an additional US $4.6 billion a year.
In addition, tariffs can depress U.S. economic growth and adversely impact people's livelihoods. A report jointly released by the U.S. Chamber of Commerce and the Rhodium Group in March 2019 indicated that, influenced by China-U.S. economic and trade frictions, the U.S. GDP in 2019 and over the next four years could shrink by US $64-91 billion per year.
Meanwhile, the U.S.-provoked trade tensions with China have disrupted global industrial chains and supply chains, undermined market confidence, and posed challenges to global economic recovery. Global Economic Prospects introduced by the World Bank in January 2019 readjusted its forecast for global economic growth to 2.9 percent, listing continuous trade friction as a major downward risk. The International Monetary Fund also lowered its projection of world economic growth for 2019 to 3.3 percent from the 2018 estimate of 3.6 percent in its World Economic Outlook report published in April 2019, indicating that economic and trade friction could further dampen global economic growth and sap already anemic investment.
Undoubtedly, not only has the bilateral top-level meeting in Osaka meant much for the two countries, but it also sent a positive signal to the whole world. As Xi emphasized during his meeting with Trump, with highly integrated interests and extensive cooperation areas, China and the United States should become good partners, which is not only good for the two countries, but also benefits the whole world.
Reaching Multilateralism Consensus
On the sidelines of the summit, Xi also attended several small-sized multilateral meetings, including one among BRICS countries, the China-Africa leaders' meeting, and the China-Russia-India leaders' meeting. Xi urged that more efforts be made to promote global governance based on the principle of extensive consultation, joint contribution, and shared benefits, safeguard the international system with the UN at the core and international laws as the foundation, preserve the multilateral trade regime with the World Trade Organization at the core and its rules as the foundation, promote multilateralism and free trade, push forward the democratization of international relations, and build an open world economy. Xi's proposals met with agreement at these meetings.
While chairing the China-Africa leaders' meeting, Xi said no matter how the international situation may change, China and Africa will remain committed to win-win cooperation and common development, and that China will remain committed to building an even closer community with a shared future for China and Africa. Xi then put forward a three-point proposal for China and Africa to be pioneers of win-win development, pacesetters in opening up and cooperation, and champions of multilateralism.
African leaders attending the meeting expressed their thanks to the Chinese side for its long-term and positive contributions of support for Africa's development and appreciated China's non-interference in other countries' internal affairs. It is hoped that other countries can regard China as an example for how to help Africa with its development, provide development funds, and raise the level of Africa's development.
The China-Africa leaders' meeting in Osaka marked the first of its kind during a G20 summit.
At the meeting with other BRICS leaders, Xi proposed that BRICS countries strengthen their strategic partnership, promote the improvement of global governance, and deepen practical cooperation in various areas.
The BRICS leaders agreed that the group should better demonstrate the strategic value of their solidarity and cooperation, firmly uphold the development right of developing countries, and raise the status of emerging economies and developing countries in global affairs.
The BRICS leaders' meeting has been held for seven consecutive years during the G20 summit, and has become an important platform for the BRICS countries to reach consensus on important issues, contributing to positive results of the G20 summit.
The leaders' meeting of China, Russia, and India during a G20 summit started in 2018 in Buenos Aires. At their meeting in Osaka, Xi stressed that the three countries need to promote a multi-polar world and make international relations more democratic. He called on the three countries to build an open world economy that facilitates better development of emerging-market countries and developing countries, and endeavor to address imbalances and inequalities in world economic development. Xi added that China, Russia, and India need to safeguard global and regional peace and stability and advocate a common, comprehensive, cooperative and sustainable security concept.
Russian President Vladimir Putin said that Russia, China, and India should be firmly committed to upholding the international order with the United Nations at its core, safeguarding the international order based on international laws, defending the basic principles of international relations like respect for sovereignty and non-interference in other countries' internal affairs, and opposing unilateralism, protectionism, and unilateral sanctions.
Indian Prime Minister Narendra Modi stressed that the three countries should strengthen communication and coordination in such areas as global governance reform, regional security, and counter-terrorism.
Xi has indicated on several occasions that the world is undergoing major changes rarely seen in any century. He summarized the changes this way: the rising speed of emerging economies and developing countries is unprecedentedly fast, replacement and competition brought by the new round of scientific and industrial revolution is unprecedentedly far-reaching and intense, and the global governance system is unprecedentedly compatible with the changing international landscape.
Originally founded for economic cooperation and coordination, the G20 summit is going beyond the economic sphere, reaching into many other fields of global governance like climate change and world security. Meanwhile, the G20 summit also provides an excellent chance for emerging economies and developing countries to meet, strengthen their communication, and reinforce solidarity, thus contributing to the new consensus on more balanced global governance.