"In fact, I do this just for the things I like and the career I love," said Zhu Jianmin, a member of the 13th National Committee of the Chinese People's Political Consultative Conference (CPPCC) and chairman of Liaoning Oxiranchem Inc. After 30 years of dedication to his field, he has elevated his passion for chemistry to something of responsibility and mission.
In 1991, Zhu lost his right leg in an explosion at the age of 31. His near encounter with death did not make him flinch, but made him even more determined. Only one year later, Zhu started a business to commercialize his research achievements. Today, the company he founded is publicly traded, and is the largest and most competitive enterprise in the deep processing of ethylene oxide in China. It is also the world's largest manufacturer of silicon cutting fluid for solar cells.
Zhu was one of the entrepreneurs President Xi Jinping talked with in a meeting on November 1, 2018 to reaffirm support of private businesses. "China's private economy has entered a new era," Zhu recalled his feeling back then.
Scholar-Turned Businessman
Zhu grew up in a military family. In 1978, Zhu took the first national college entrance examination after the "cultural revolution"(1966-1976) and was accepted into the Shenyang University of Chemical Technology. Since then, his life has become attached to the chemical industry." I am very fortunate to live in the era of reform and opening-up and had the opportunity to attend university," Zhu said, adding that university education solidified his ideals and beliefs for dedicating his life to science and technology.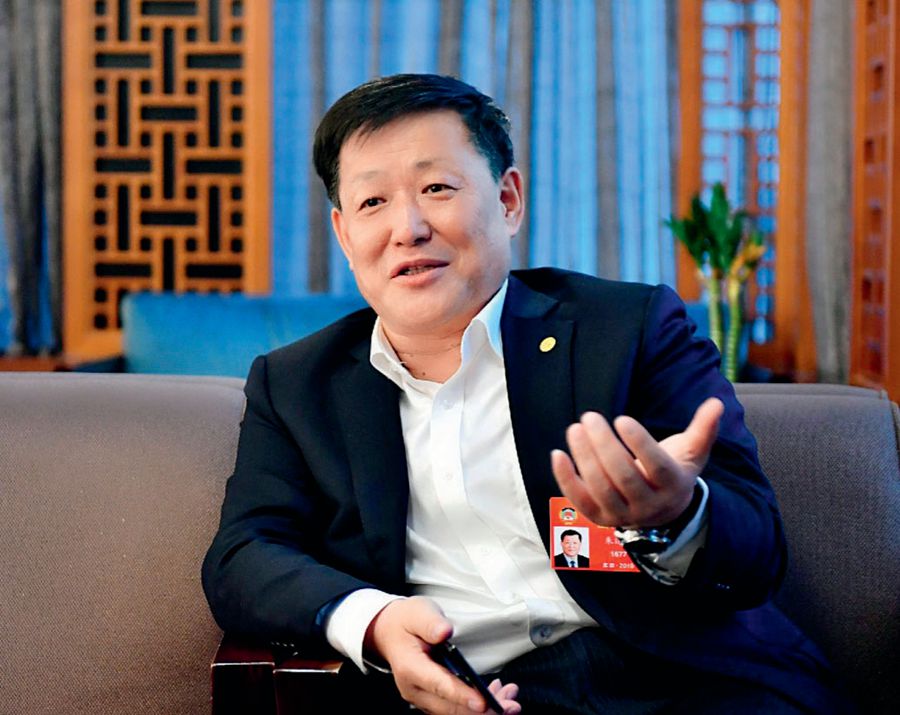 Zhu Jianmin, a CPPCC member and chairman of Liaoning Oxiranchem Inc.
After graduation, he first worked for three years and then began to pursue a master program in applied chemistry at the Dalian University of Technology. His research while there focused on ethylene oxide.
After finishing his master's studies, he worked as a teacher at the Liaoyang Branch of Shenyang Institute of Chemical Technology. "The projects we worked on became the foundation that led us to leading researchers in the field," said Zhu, who was keenly aware that his research results would have greater value. Later on, he began to explore the commercial application of his research achievements.
In the early 1990s, many Chinese people began to venture into business. Zhu and his colleagues Liu Zhaobin and Dong Zhenpeng established the company Oxiranchem. "We developed the technology from scratch and grew the business into an industry leader," he recalled. "Independent innovation is our core competitiveness and what made us successful."
From Independent Innovation to Integrated Innovation
"Oxiranchem is like an educational institute," Zhu said. This history of its affiliation to the university he worked at has created Oxiranchem's college-like culture.
In the second half of 1999, the company had to make a choice between going bankrupt or changing into a private business due to the institutional reform of the university. To keep it, Zhu and the other founders resigned.
At the beginning of 2000, Oxiranchem was restructured into a private enterprise. It started to run by a modern corporate system and rolled out an incentive stock option plan. "It is a good mechanism to spur innovation," said Zhu.
At the product research level, Zhu was certain about the huge potential of crystalline silicon cutting fluid, and decided to increase research and development in the field of new energy. In line with the rapid development of China's solar photovoltaic industry, the company's sales volume of crystalline silicon cutting fluid in 2010 jumped to 120,000 tons, accounting for 75 percent of the domestic market.
On May 20, 2010, Oxiranchem became the first listed company in China's ethylene oxide deep processing industry and the second listed company on China's Growth Enterprises Market Board from the northeastern old industrial base.
At this stage, Oxiranchem focused on the development of another derivative of ethylene oxide – water reducing agent, an important material in infrastructure construction, especially in the manufacturing of high performance concrete. "In 2014, I participated in the APEC meeting held in Beijing. I am very interested in the Belt and Road Initiative proposed by President Xi Jinping. Our products have gradually started to go global with related infrastructure construction projects."
"Independent innovation is the foundation of our company. However, with the expansion of industrial scale, independent innovation can no longer meet demands," he said. "Now we use our core advantages to conduct integrated innovation with other research and development institutions, and domestic and foreign talents to achieve more."
In 2018, Oxiranchem cooperated with academician Zhang Suojiang of the Chinese Academy of Sciences and realized the industrial application of ionic liquid immobilization. It was a world first and an industry leading development. More importantly, it laid a technological foundation for China to use carbon dioxide and the green, low-carbon, and sustainable development of businesses.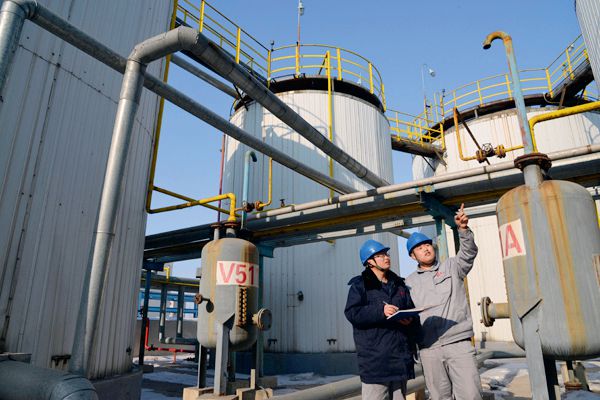 Staff conducting an inspection of the raw material tank section of Liaoning Oxiranchem Inc.
Nowadays, Oxiranchem, which was incubated in a unversity, began to act upon the national policy on encouraging vocational education by supporting schools. It funded the School of Petroleum and Chemical Engineering of the Open University of China, and is also preparing to build a private college specializing in chemistry in partnership with the Shenyang University of Technology.
Unprecedented Opportunities
"After the 19th National Congress of the Communist Party of China (CPC), our company has a new goal, to become a world-class leading enterprise in our industry by 2035. A first-class power cannot exist without first-class enterprises," Zhu said.
According to him, Chinese private enterprises have been facing fierce competition, financing difficulties, and transformation issues in recent years. The changes in the international economic environment, such as China-U.S. trade frictions, and China's supply-side structural reform have brought great challenges to private enterprises.
As a member of the National Committee of the CPPCC, Zhu this year brought a proposal calling for a substantial tax cut and administrative fee reduction to boost the real economy. He also proposed to build a technology transfer platform. He suggested that a tax and administrative fee reduction policy of the generalized system of preferences (GSP) should be formulated and introduced as soon as possible. "It is necessary to substantially reduce corporate value-added tax and income tax to reduce the burden of enterprises, create a fair business environment, and promote the healthy development of enterprises, especially private ones," he said.
He added that on the basis of the GSP tax reduction, more favorable policies should be offered to strategic emerging industries vital to the supply-side structural reform and regions with national strategic importance.
"From the supportive measures President Xi promised at the meeting with us last year, those unveiled at the last Central Economic Working Conference, and from President Xi's commitment of ensuring the sense of gain among private businesses in his New Year speech, we are fully confident about the future," said Zhu.