"Private enterprises must have internal impetus to grow. If you have strong internal impetus driving physical growth, you will have strong hematopoietic function. If you only rely on blood transfusion, you cannot stay healthy," said Ma Yushan, chairman of Ningxia Wuzhong Instrument Co., Ltd., on March 6. "Internal impetus is the foundation of enterprise survival, and innovation is the only way for enterprise development."
Founded in 1959, Wuzhong Instrument moved its headquarters from Shanghai to Ningxia Hui Autonomous Region in 1964. It started from scratch in Ningxia with RMB 20,000, and grew to be a well-known state-owned enterprise (SOE) in western China. After weathering many ups and downs, Wuzhong Instrument, which once boasted of a glorious past, faced bankruptcy. When the SOE switched to private ownership in 2009, it became one of the most promising private enterprises in western China by relying on independent innovation.
Ma Yushan, a deputy to the 13th National People's Congress, and chairman of Ningxia Wuzhong Instrument Co., Ltd.
"Looking back over our past, it is better to say that Wuzhong Instrument has achieved a revolution in the quality of Chinese-made goods. What we have practiced in these years is a simple development path, relying on the 'two-wheeled drive,' namely innovation and refined management," said Ma.
To Survive and Thrive
"When it moved from Shanghai to Ningxia in 1964, the factory had less than 500 employees, all of whom came from Shanghai," said Ma. "RMB 20,000 was the total amount of all the assets of Wuzhong Instrument at that time."
In the 1960s and 1970s, the company was the first to successively develop and produce hydraulic quick-disconnect valves, large-diameter ball valves, and straight-through single-seat control valves in China. In the 1980s, its products once accounted for 20 percent of the domestic market. In 1997, the company was the first in this industry of this country to be recognized by the then Ministry of Machinery Industry and received international quality certifications.
The journey towards business growth was not a smooth one. "In the 1990s, as China moved from a planned economy to a market economy, the instrument factory had no clear vision for its development," said Ma. To catch up with the tide of the market economy, the company became involved in projects such as medical equipment, and water and electricity meters without any market research. Such blind investment brought about tens of millions yuan of losses per year. After 2002, it could not even pay the wages of its employees, and a large number of technicians resigned. By 2006, "only less than 10 technicians and three information technology staff were left."
At that time, the quality of domestic-made control valves fell all the way, while the high-end market was almost monopolized by foreign products. "I can't forget the disappointed look that came onto the faces of the old employees when they looked at me," said Ma, who at that time had just become the technical leader of the company. "It is better to lead everyone to make a living and not just waiting for death."
Ma always believed that innovation and development are the only ways to develop enterprises. "There are only two things you can do without money. One is to organize technical personnel to make technological innovation, and the other is to lead technology staff to apply information technology to the management process. These two things have only personnel costs without additional expenses. At that time, I didn't dare think of things like exploring the market or investment in technical upgrading."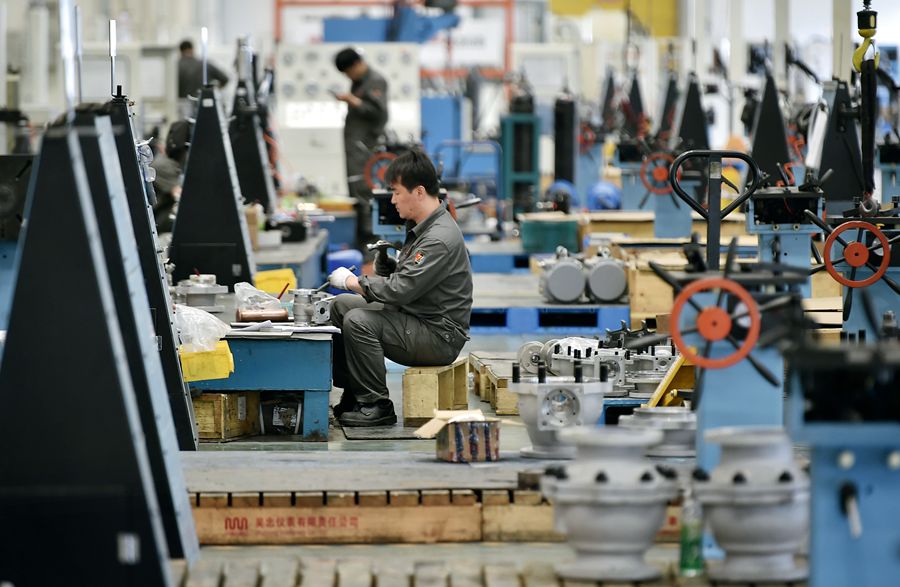 Workers are assembling control valves at a plant of Wuzhong Instrument Co., Ltd.
Ma later realized that the two things that were done at that time were innovation in a real sense. "One is product innovation, and the other is management innovation, which means improving management through information technology, namely a prototype of what is now called intelligent manufacturing in China," he added.
In 2009, under the leadership of Ma and his team, Wuzhong Instrument carried out institutional reforms, during which it switched to private ownership, returning back to the road of focusing on innovation and development of the real economy. With the support of the Ningxia regional government, the Wuzhong municipal government as well as relevant state ministries, the company placed priority of industrial development and technical research on the manufacture of high-end control valves. The company ushered in the spring of enterprise innovation and development. "Like awakening after a long hibernation, we are entering a new stage of well-grounded development in terms of innovation, and the lack of funds is no longer an issue impeding our development."
Innovation Is the Key
Under Ma's leadership, Wuzhong Instrument, which rose from the verge of bankruptcy, insists on putting innovation first in development. To achieve this end, it cooperates with some well-known universities and research institutions in China, aiming at products requiring complexity in research and development and have a high technology content. "We have not only increased market presence, but also expanded the application areas of our products. We are taking steady steps on the road to innovation."
In 2014, Wuzhong Instrument ushered in a rare opportunity. The quality problems with regulating valves imported by China Shenhua Ningxia Coal Industry Group (SNCG) caused damage to the gasification equipment of the group's coal-to-liquids project. Not only would it take a long time and have high financial costs to invite experts from abroad to fix the problem, but there also was no guarantee of its success. "My team and I took the initiative to undertake this project. In just 20 days, we completed the valve structural defect analysis, component modification, and repair," said Ma.
This success led Ma and his team to the idea of bidding to manufacture regulating valves for SNCG. "In the face of more than 30 outstanding counterparts at home and abroad, we defeated our competitors one by one and became a partner of SNCG," Ma said.
Even now, Ma said that their manufacturing orders are all obtained due to solid technological foundation, including the cooperation with well-known companies such as PetroChina and China National Offshore Oil Corp. (CNOOC).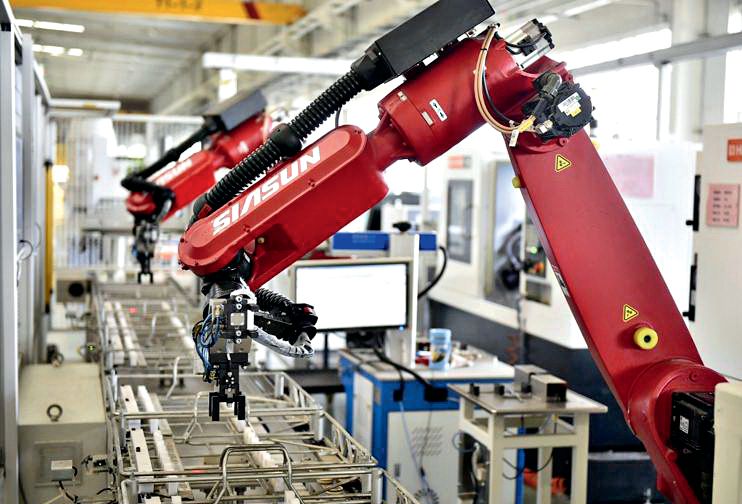 Intelligent machine arms are used in an automatic assembly plant of Wuzhong Instrument Co., Ltd.
"The price of the control valve we produce is only one-fourth of the price of similar foreign products with the life expectancy over twice that of imported ones. The annual cost savings for SNCG's coal-to-liquids project is as high as RMB 1 billion," said Ma with a smile, adding, "So, now you know why these famous companies eventually chose us."
The Sky Is the Limit
The company's business is not limited to the domestic market, as its excellent product quality and standing on overseas markets have also won them the favor of international customers.
"We have provided more than 1,300 control valves to the Iranian Abbas refinery platform through the China-Central Asia-West Asia Economic Corridor; we have cooperated with the world's top 500 company BASF to obtain the qualification of valve suppliers in the Asia-Pacific region; in cooperation with PetroChina and Sinopec, we are also involved in oil and gas drilling platform projects overseas," said Ma. Relying on innovation, the company has opened up more than 10 overseas markets in such countries as Iran, Pakistan, Brazil, and South Africa.
In 2015, Wuzhong Instrument launched the China Automation (Wuzhong) Industrial Park with a total investment of RMB 3 billion to build a platform of digital processing, assembly, logistics, and testing. By hiring foreign experts and researching and developing cutting-edge valve products, it has rolled out a number of products that have filled the gap in China's control valve industry.
In the past 10 years, Wuzhong Instrument has focused on R&D, and the annual investment in science and technology is about RMB 80 million, of which more than RMB 50 million goes into R&D. It can be said that innovation has enabled the company to survive past difficulties and achieve high-quality development, all of which in the end has stimulated the vitality of the enterprise.
"President Xi Jinping put forward the innovation-driven development strategy at the 18th National Congress of the Communist Party of China. We just took a step ahead of other companies," said Ma. "We benefit from innovation-driven development ourselves. At the time when the country is putting such great efforts in promoting innovation, we will seize the opportunity and realize the maximum development potential of the company."