CHINA has seized the opportunity provided by the Internet and undergone tremendous changes. By the end of June 2008, the number of Chinese netizens numbered 253 million, ranking first in the world for the first time. Up to June 30, 2018, the number of Chinese netizens reached 802 million, and the Internet penetration rate was 57.7 percent among its population. Chinese Internet companies have achieved rapid development by exploring a localized strategy. Three listed companies, namely Tencent, Alibaba, and Baidu, are among the world's top 10 Internet companies. Digital economy represented by e-commerce reached a scale of RMB 27.2 trillion in 2017, accounting for 32.9 percent of China's GDP. It has become a new form, new space, and new momentum for China's economic development.
Origin of China's Digital Economy
The development of the Internet in China is based on the pattern of reform and opening-up. The Internet promotes the integration of China and the world. On September 14, 1987, Professor Qian Tianbai sent China's first e-mail, and China's Internet development kicked off. On April 20, 1994, China realized the first full TCP/IP connection with the U.S. As Professor Qian Tianbai said in an email: "Across the Great Wall we can reach every corner in the world." The event heralded the digital era in China.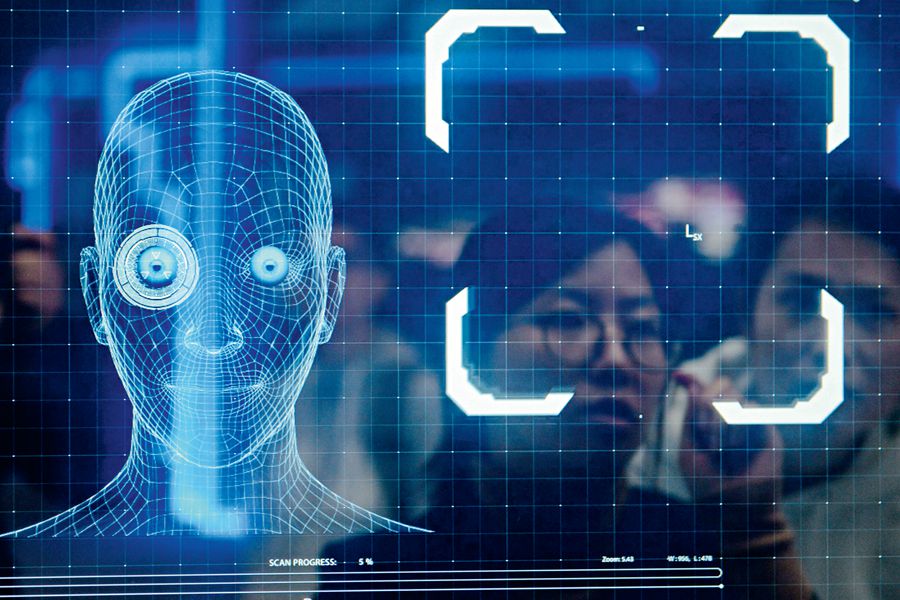 A computer scanned mesh of a human face is part of the display at the 5th World Internet Conference in Wuzhen, Zhejiang Province, on November 6, 2018.
In 1995, China's first Internet access service provider InfoHighWay began to provide services to ordinary families. From 1997 to 1998, portals such as Sina, Sohu, and Netease were founded. A year later, e-commerce websites such as Alibaba and JD were established. During this period, search engines and social media such as Baidu and Tencent also began to develop. News portals and mailbox services were the main features of digital economic activities at this stage. That was how things stood during the onset of the digital economy.
On April 7, 1998, Beijing Haixing Kaizhuo Computer Company and Shaanxi Huaxing Import and Export Company conducted the first e-commerce transaction in China using the e-commerce system of China Commodity Exchange Center. After the bursting of the global Internet bubble in 2000, China's Internet sector experienced a downturn for about three years. However, during the recovery, the e-commerce market represented by online retailing pushed China's digital economy to a new high. In 2003, Alibaba launched Taobao and Alipay, successfully localized the e-commerce model, and is now the world's largest C2C e-commerce platform. In 2013, China's online retail transaction volume exceeded RMB 1.85 trillion, making it the world's largest online retail market. Online shopping was the main feature of economic activities at this stage. China entered the stage of networked economy.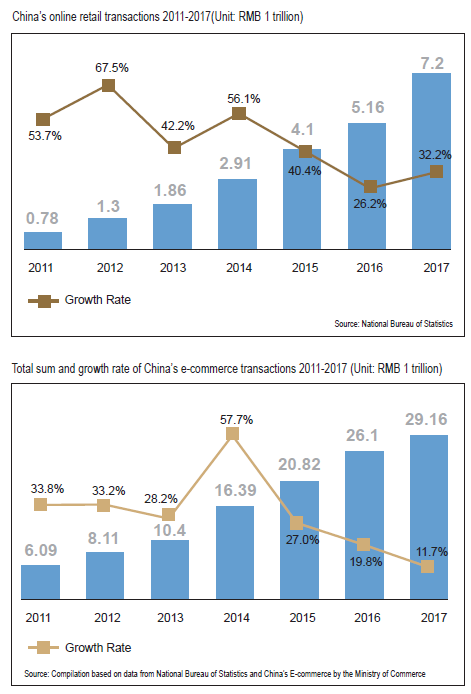 From the Internet on PCs to the mobile Internet, China's digital economy has entered a new stage. On November 10, 2000, China Mobile Communications Corporation launched the Monternet Plan. By June 2012, the total number of Internet users in China reached 538 million, of which mobile Internet users exceeded desktop computer users for the first time. By the end of June, 2014, 83.4 percent of Chinese netizens had used mobile Internet. The status of smart phones as the top terminal device was more stable, and the Internet industry ushered in the mobile era. Blogs, Weibo (microblog) and other social media emerged, social networking sites (SNS) became popular, many services transitioned to online, and some traditional industries turned to Internet-based. New business models such as social e-commerce, online food delivery, Internet celebrity economy, sharing economy, online streaming, and short video platforms have emerged. Internet finance, represented by mobile payments, has become the highlight of China's digital economy. With the further expansion of digital economic activities, the potential of information resources has been effectively unleashed, commodity transactions have expanded to service transactions on a large scale, and the shape of the service industry has changed. The proportion of information services has increased substantially. China's digital economy has entered the information economy stage. The intensive application of technologies such as Internet, cloud computing, and big data is the main feature of economic activities at this stage.
At present, the growth of the digital economy is driving a comprehensive digital transformation of the Chinese economy, and China's digital economy is at a critical point, transitioning from quantitative to qualitative change. China is enhancing and expanding the digital economy at two levels: First, accelerate digital industrialization, rely on information technologies to innovate, continue to promote new industries and new business models, promote new development with new momentum; second, promote industrial digitalization, utilize new technologies and new applications of the Internet to transform conventional industries in an all-round and integrated manner, promote deep integration of the Internet, big data, and artificial intelligence with the real economy, and realize the amplification, superposition, and multiplication effect of digital technologies on economic development. Information networks and economic activities such as equipment connectivity design, manufacture, circulation, consumption, and application constitute the global cyberspace, and the separation of service usage rights and ownership will greatly change the existing production methods and industrial organization forms. Technologies of 5G, artificial intelligence, quantum information, mobile communications, the Internet of Things, and blockchain are widely used.
Leading in Digital Economy
Since 1995, after the concept of digital economy was put forward, the connotation of digital economy has continued to deepen. In the early days, China's digital economy was dominated by informatization and e-commerce development. Digital economy has driven China's e-commerce into a new round of innovation and growth. After 20 years of development, the national e-commerce transaction volume reached RMB 29.16 trillion in 2017, which makes China the world's largest online retail market and the most innovative and energetic e-commerce market.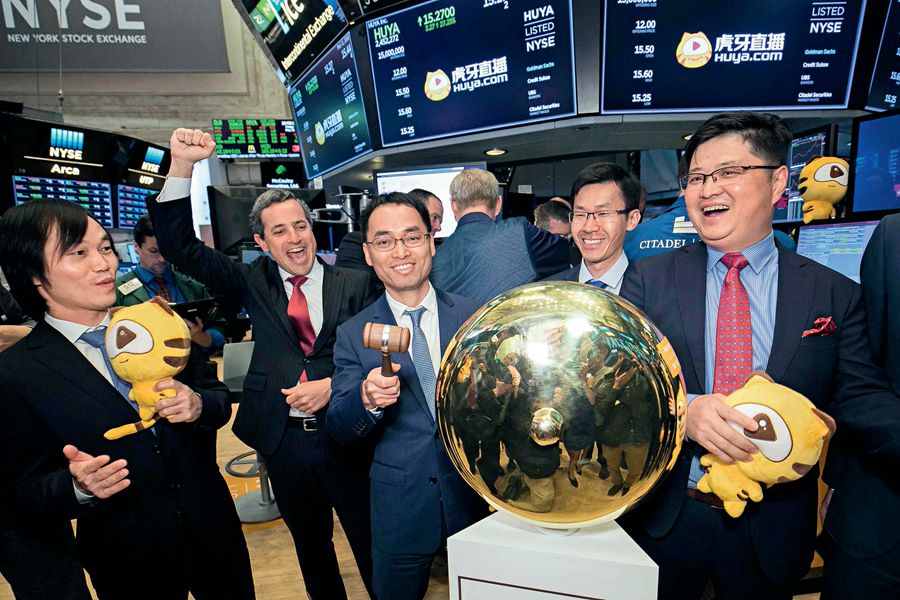 Huya.com, China's first listed game streaming platform, is listed on the New York Stock Exchange on May 11, 2018.
The Chinese government adapts to the new normal stage of economic development, accelerates e-commerce, Internet+ advanced manufacturing, Internet+ modern agriculture, Internet+ convenient transportation, and other programs to promote the integration of digital economy and real economy. As a result, new technologies, new industries, new commercial activities, and new business models are constantly emerging. In today's Hangzhou, more than 95 percent of supermarkets and convenience stores, more than 98 percent of taxis, and all public buses and subways in the urban area support mobile payments. At present, there are 139 enterprises involved in artificial intelligence medical treatment in China. Robots, cloud technology, and voiced electronic medical records are also in use in some medical institutions. The interaction between digital economy and the manufacturing industry comes in the form of public needs, crowd innovation, crowdfunding, and crowdsourcing to make manufacturing activities more flexible, agile, and intelligent. The concept of sharing economy was proposed by two professors in the United States as early as 1978. In China, because of the booming Internet in recent years, commercialization began, and new models such as bicycle sharing and paid content were born. Mobike, ofo, and Himalaya FM have become renowned enterprises; many idle resources have been given new business value.
China's digital economy has shifted from being a follower to being a leader. After the concept of "new retail" was put forward in 2016, the business model based on online and offline integrated development was launched in 2017. It was dedicated to satisfying users' needs for an enhanced experience online. Today, with a smart phone, Chinese consumers can satisfy the needs of everyday life and enjoy a more convenient and higher-quality life.
Although China missed the development opportunities of the previous two industrial revolutions, it seized those in the third industrial revolution represented by information technology. At present, China's digital economy ranks second in the world, and the country is leading in Internet development and digital economy. According to the Digital China Development Report (2017) released by the National Internet Information Office, in 2017 China's digital economy grew by 20.3 percent year-on-year, accounting for 32.9 percent of Chinese GDP. According to CrunchBase, so far among the 393 unicorn companies in the world, 149 newly established are in China, the largest number among all countries. According to the Global Unicorn Company List released by CB Insights, a U.S. venture capital research institution, in 2017, Didi Chuxing, Xiaomi, lu.com, and Meituan are in the top 10 global unicorn company list, all valued at over US $10 billion.
Boosting World Economic Development
After the U.S. Internet bubble burst in 2000, around half of Internet companies collapsed, and the digital economy imploded. China took over the baton of developing the digital economy. The Internet deeply penetrates Chinese society, reshapes business models, transforms production processes, industrial structures, economic patterns, and changes people's work and lifestyle. China has the largest number of Internet users in the world, and its innovation capability in the digital economy is world leading. China is empowering the world economy from the perspectives of technology, capital, and experience. The development of China's digital economy has not only changed the way of life of Chinese people, but also allowed the world to benefit from its development outcomes.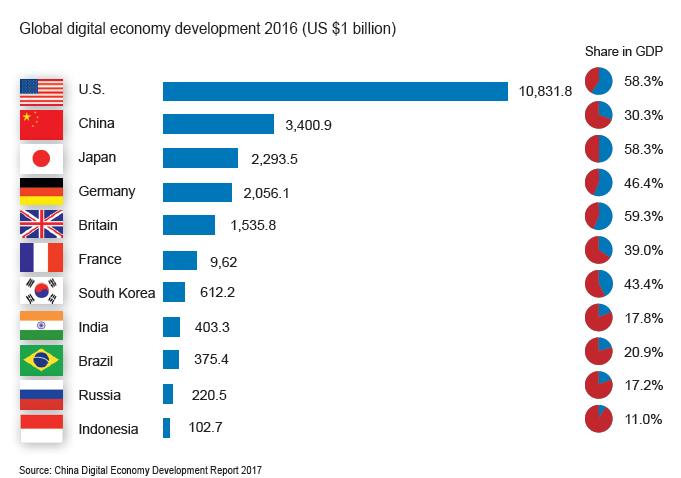 In 2016, as the host state of the G20 summit, China listed digital economy as an important topic at the event for the first time. The G20 Digital Economy Development and Cooperation Initiative, which was launched by the conference, believes that digital economy refers to a broad range of economic activities that include using digitized information and knowledge as the key factor of production, modern information networks as an important activity space, and the effective use of information and communication technology (ICT) as an important driver of productivity growth and economic structural optimization. The G20 Hangzhou Summit put forward the concept of global digital economy development. The initiative puts equal emphasis on development and security, which will definitely promote the healthy and rapid development of digital economy. As Luigi Gambardella, chairman of the ChinaEU (a business-led international association based in Brussels), said, China vigorously develops digital economy and sharing economy, fosters new growth points, and creates new momentum. This is the driving force for both the Chinese economy and the world economy.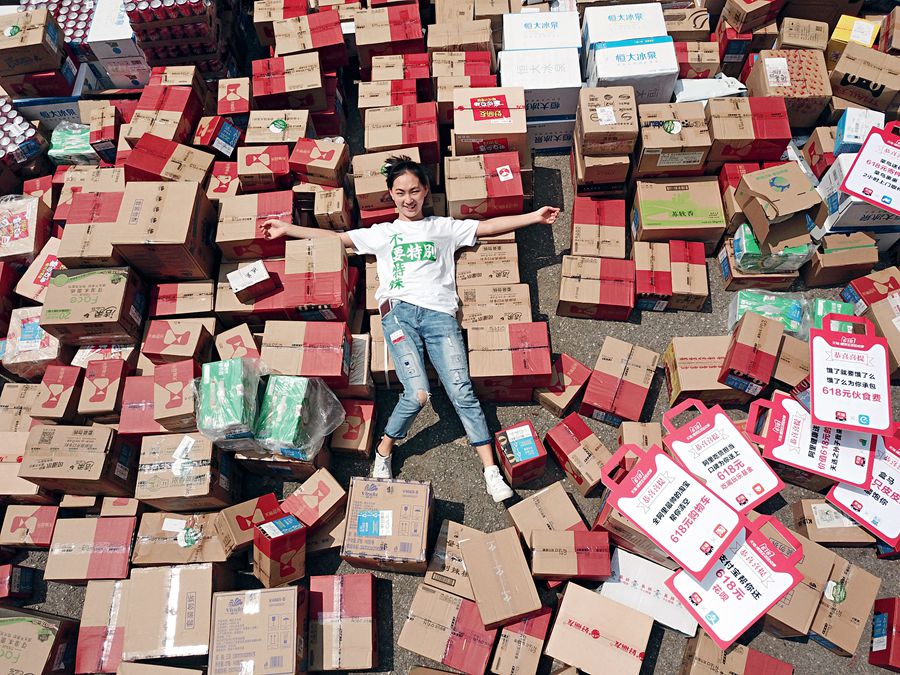 On June 18, 2018, Nanjing's sophomore student Peng lies on top of a cascade of rewards shipped from Tmall after defeating 800,000 netizens by reciting English words. 618 parcels were sent to her university in four trucks.
In recent years, China's payment industry has promoted the rapid development of the overseas mobile payment market. According to statistics from iResearch, as of 2017, the scale of China's mobile payment reached RMB 202.9 trillion. Compared with RMB 100 million in 2011, it has experienced exponential growth in scale and become a competitive industry in China. Obviously the industry also has the ability to share experiences with the rest of the world. Alibaba has already carried out related business in 40 countries and regions, and provides multi-dimensional assistance to the overseas mobile payment market, including capital injection, techno-logy empowerment, and business experience export. In particular, with the support of Alibaba, Paytm (the Indian version of Alipay) has rapidly become a mobile payment platform with a large user base and transaction scale. In the Arctic town of Rovaniemi, Finland, merchants have access to Alipay services, and tourism has become more convenient. China UnionPay's app Quick Pass is usable in 41 countries and regions around the world, providing QR code payment services in 23 countries and regions including Asia-Pacific, Central Asia, South Pacific, Middle East, and Africa. Tencent launched its mobile payment service in 2011 and now covers more than 20 countries and regions for hundreds of thousands of merchants and consumers.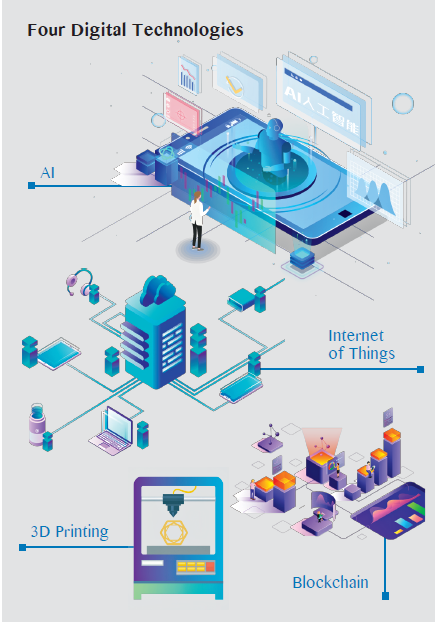 China's digital companies are also leading the way in business model innovation, linking China's digital economy with world development. The two giants of bike sharing, ofo and Mobike, have begun to accelerate development in Japan, Singapore, the U.K., the U.S., and other regions, adding one more travel tool which will undoubtedly bring greater convenience to local residents.
China's digital economy has already had a significant impact on the cross-border circulation of goods, services, capital, and data for countries with digital services and digital trade with China.
According to McKinsey data, China, as a net exporter of digital services, has achieved a surplus of US $10-15 billion in the past five years. At the same time, China's overseas venture investments have increased significantly year by year. From 2014 to 2016, its overseas venture capital reached US $38 billion, accounting for about 14 percent of global venture investment. Some experts pointed out that about 75 percent of China's overseas venture investment is in digital related industries, and China's digital corporations are active in overseas mergers and acquisitions.
In the history of global economic development, China has contributed its wisdom to the progress of the world's economic development. In the era of digital economy, China's digital economic development will contribute to global economic growth, provide China's experience and programs for global economic and social transformation, and promote higher-quality and fairer development of the global economy.
OUYANG RIHUI is the vice dean and a professor at the China Center for Internet Economy Research, Central University of Finance and Economics; MENG HONGXIA is a graduate student at the university's School of Economics.